Banana Baked Donuts with Peanut Butter and Bacon – A donut Elvis would have loved – a baked banana donut is covered in a peanut butter icing, then topped with bacon.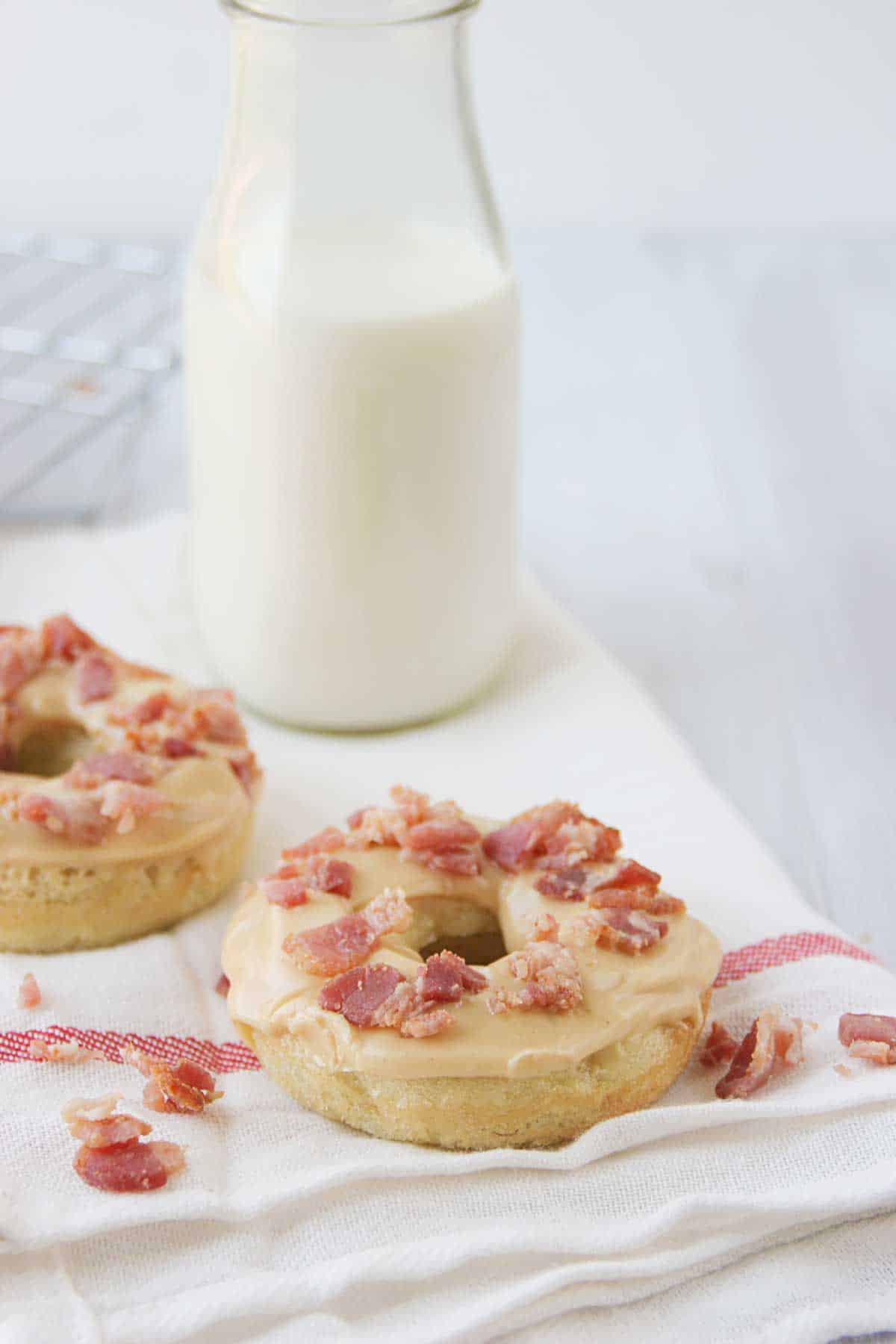 When it comes to food, are you more of a traditionalist, or do you like to try the newest fads and trends?
Overall, I'd say I'm mostly a traditionalist.  I like old-school foods, familiar foods.  Although I do have to say that I'm a very unpicky eater, so I will really try most things at least once.  But when it comes down to making my meal plan and deciding what to feed my family, I keep it pretty simple.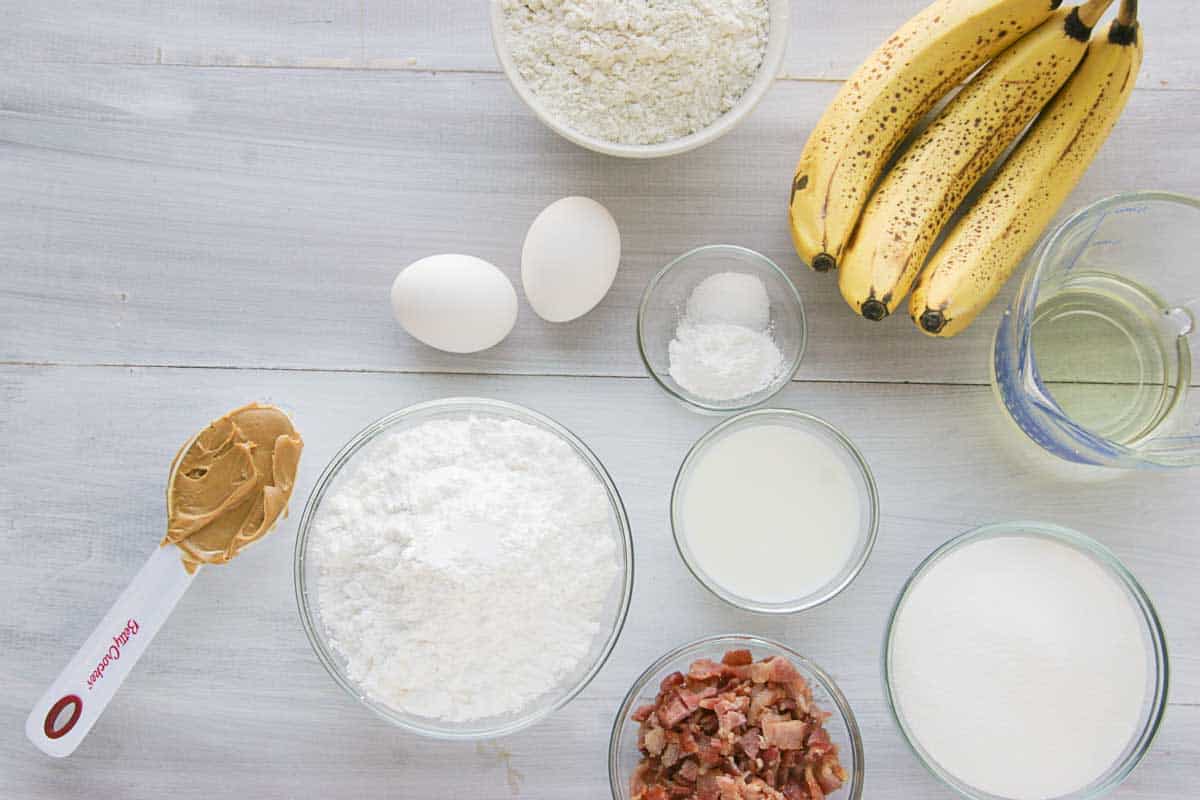 But sometimes, I have to jump on the trend bandwagons.  Because sometimes, there are flavor combinations that I just can't pass up.
Like bacon. With pretty much anything.
Really, can you think of anything that bacon isn't served on/in/with these days?  And I am a bacon lover!
If you go into pretty much any cupcake bakery these days, you'll see at least one cupcake that is topped with bacon.  And I see photos all of the time with other bacon topped desserts.  Hey, even fast food restaurants have jumped on the bacon dessert bandwagon.  So while these donuts may seem like they are a little bit out there, in reality, everyone is doing it!  Hey – even Elvis loved the combination.  So really, this sweet/salty combination has been around for years.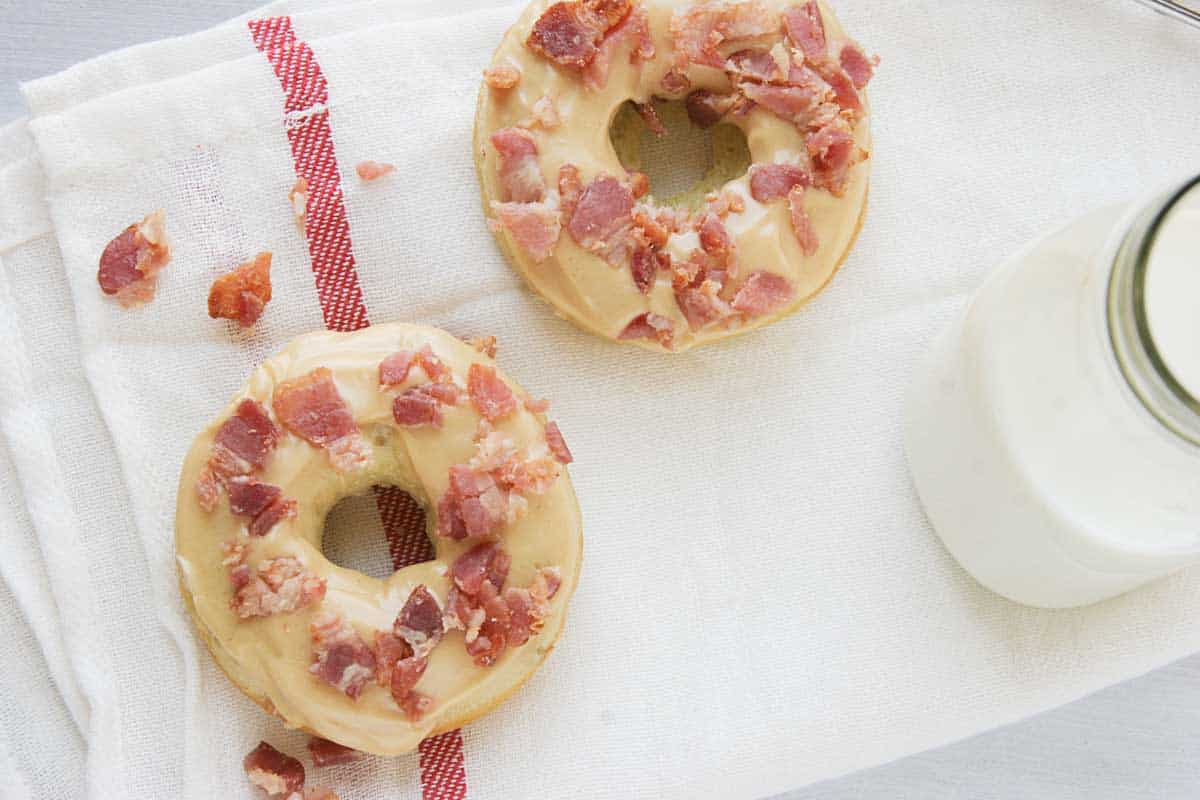 I've actually had the idea of these donuts floating around in my head for months.  Since late last year, to be exact.  I don't know what has taken me so long to take the plunge and make them – because now I'm wishing that I would have made them a lot sooner!  I'm always a sucker for the sweet and salty combination, and these donuts hit both of those notes so perfectly.  And if bacon on your donut isn't your thing, the great part about this recipe is that even without the bacon, the banana donut with the peanut butter glaze is pretty much perfection.  Forget saving those ripe bananas for banana bread – make donuts instead!!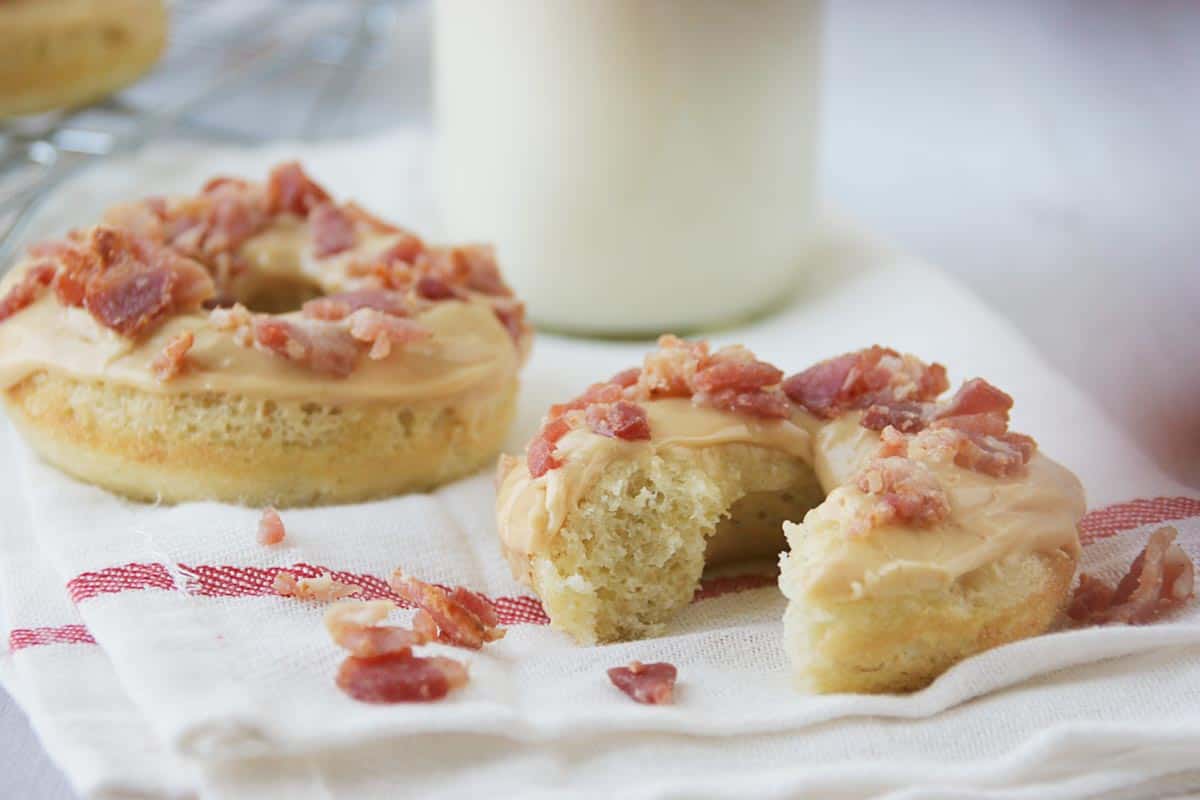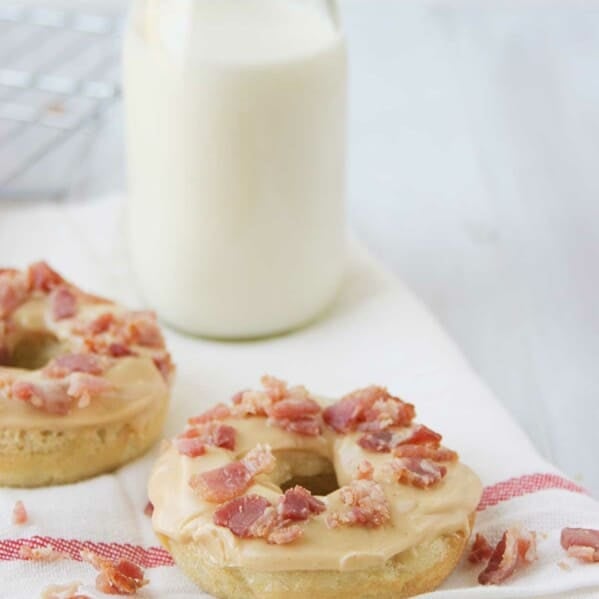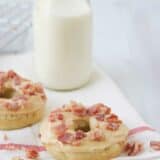 Banana Baked Donuts with Peanut Butter and Bacon
---
Author:
Prep Time: 10 minutes
Cook Time: 12 minutes
Total Time: 30 minutes
Yield: 2 dozen donuts 1x
Category: Breakfast
Method: Baked
Cuisine: American
Description
A donut Elvis would have loved – a baked banana donut is covered in a peanut butter icing, then topped with bacon.
---
Scale
Ingredients
Banana Donuts
1 3/4 cups flour
2 teaspoons baking powder
1/2 teaspoon salt
1 cup sugar
2 eggs
1/2 cup vegetable oil
1 1/2 cups mashed banana
Peanut Butter Icing
1 1/2 cups powdered sugar
1/4 cup creamy peanut butter
4–5 tablespoons milk
1/4 pound bacon, cooked and chopped or crumbled
---
Instructions
Preheat the oven to 350F. Spray a donut pan with nonstick cooking spray.
In a large bowl, combine the flour, baking powder, salt and sugar. In another bowl, whisk together the eggs and vegetable oil. Combine the wet ingredients with the dry ingredients, then stir in the bananas. Stir just until moistened.
Fill the donut pan with the mixture about 2/3 full. (I find that it is easiest to do this by putting the batter into a large ziptog bag and cutting off the corner, using it like a piping bag.)
Bake the donuts until a toothpick inserted comes out clean – 10-12 mintues. Let cool completely on a wire rack.
To make the icing: In a small bowl, combine the powdered sugar, peanut butter and 3 tablespoons of the milk. Continue adding milk until you reach the desired consistency.
When the donuts are cool, frost with the peanut butter icing. Sprinkle on the bacon before the icing sets up.
Keywords: banana baked donuts