Perfect for breakfast on the run, this Sausage and Cheese Biscuit Recipe has all the goodness of breakfast combined into one jumbo biscuit that is tender and filled with flavor.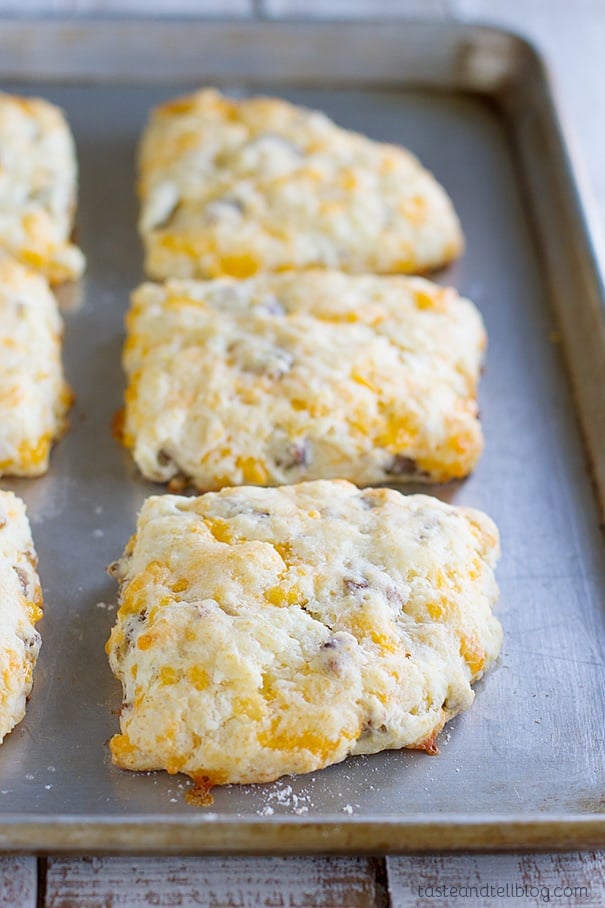 Months ago, when I went to register my daughter for kindergarten, we had the chance to request either morning or afternoon kindergarten. I already knew I wanted morning. I thought to myself that my kids are early risers anyway, and this way, we would have our afternoons open to do things if we needed/wanted to.
And then school started. And my daughter decided that she actually likes to sleep in. So for the first time in forever, I'm having to go in and wake her up, usually at least an hour after the boys get up. Then we rush through the morning routine.
Eat your breakfast, wash your face, brush your teeth, make your bed. Oh no, the bus will be here in 5 minutes and we can't find your shoes! Did we put your homework in your backpack? The boys want to go out to the bus stop, too – hurry, let's get their shoes on!!
And then we all rush out, with me usually still in my pajamas.

You wouldn't think it would be so hard to get out to the bus stop by 8:45am.
(But just for the record – I am still glad with my choice of morning kindergarten. It sure is great to have that afternoon to go on adventures if we want to!)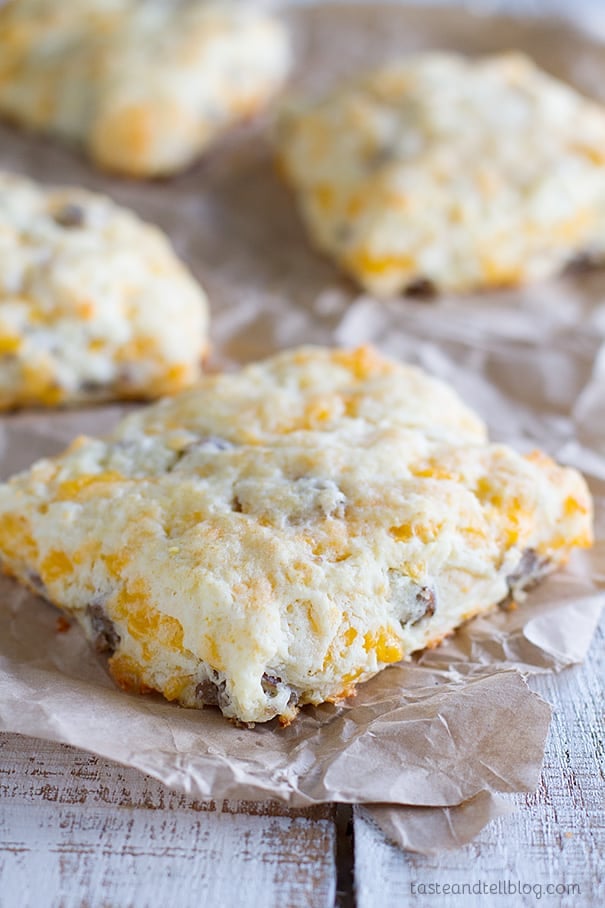 So needless to say, I have been searching high and low for easy breakfast ideas that I can put together quickly. Ones that don't take long to make, or that can be eaten on the run.
This Sausage and Cheese Biscuit Recipe right here? The perfect on the go breakfast.
These aren't your typical biscuits. They are still buttery and flaky and light, but they are packed with cheese and chopped up Jones Dairy Farm Maple Sausage Links – putting all of the goodness of breakfast right into the biscuit!! These are super easy to make the night before and then simply heat up for a great on the go breakfast. And since they are made with Jones Dairy Farm Sausage Links, I can feel good about feeding them to my family since the sausages are all natural with no msg, no nitrates and no preservatives. (And if you are following a gluten-free lifestyle, they are certified gluen-free! These biscuits are not, ;), but the sausage and cheese would go great in a gluten free biscuit recipe as well!)
I made these monster sized biscuits – so that they would be the meal in and of itself. But for the kids, a half is all they needed. So feel free to cut them smaller, especially if you want to serve them with breakfast instead of for breakfast!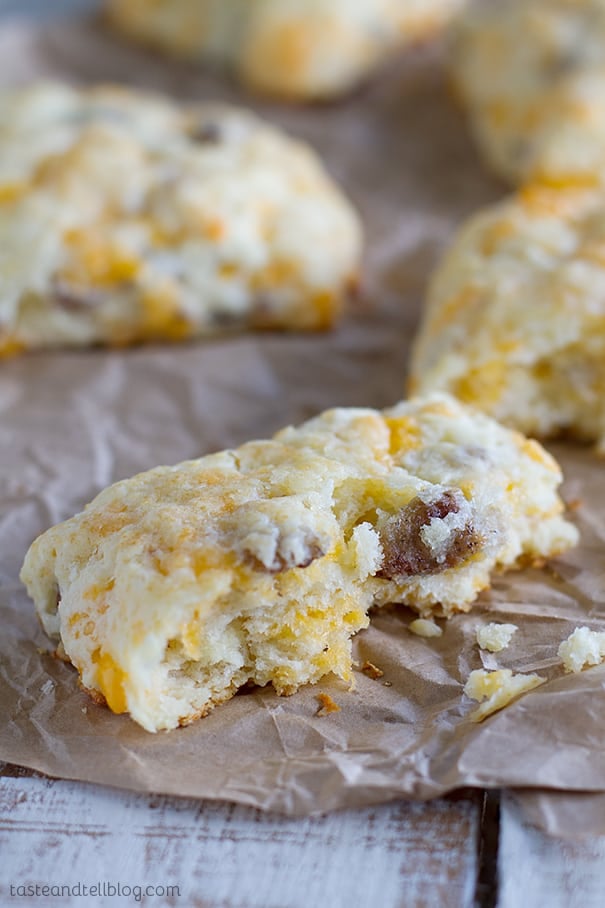 Like what you see here? Make sure you are following Taste and Tell for more great recipes and ideas!!

Facebook ** Pinterest ** Twitter ** Instagram ** Google+
or you can subscribe to my newsletter or Feedly or Bloglovin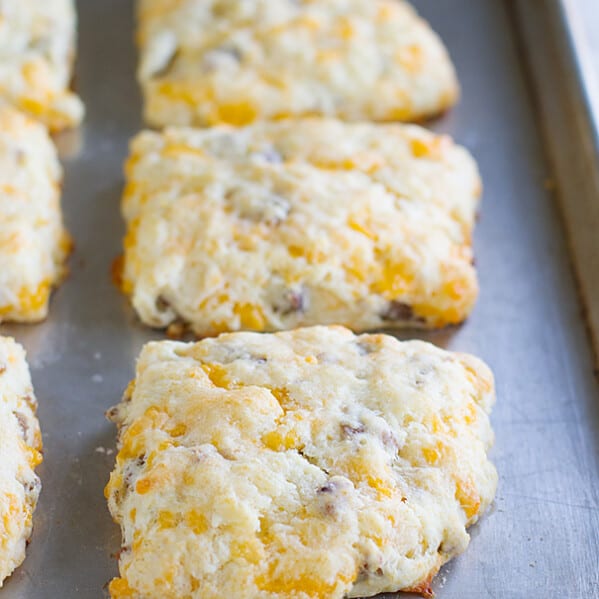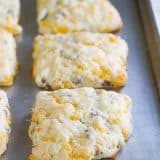 Sausage and Cheese Biscuit Recipe
---
Prep Time: 15 minutes
Cook Time: 15 minutes
Total Time: 30 minutes
Yield: 4 servings 1x
Description
Perfect for breakfast on the run, this Sausage and Cheese Biscuit Recipe has all the goodness of breakfast combined into one jumbo biscuit that is tender and filled with flavor.
---
Scale
Ingredients
2 cups all-purpose flour
1 tablespoon baking powder
1/2 teaspoon salt
1 teaspoon sugar
1/3 cup butter
4 oz shredded sharp cheddar cheese
5 Jones Dairy Farm Maple Sausage Links(1/2 of a 7 oz package), cooked and chopped
1 cup milk
2 tablespoons melted butter
---
Instructions
Preheat the oven to 425°F.
In a bowl, stir together the flour, baking powder, salt and sugar. Cut in the butter with a fork or pastry cutter until the mixture resembles coarse meal. Stir in the cheese and the chopped sausage. Pour in the milk and stir just until it pulls away from the sides of the bowl.
Pour the mixture out onto a work surface dusted with flour. Knead just until it comes together – the dough will be sticky. Pat into a rectangle 10-1/2×7-inches. Cut into 6 squares. Place biscuits on an ungreased baking sheet.
Bake for 13 to 15 minutes, or until lightly browned. Brush with the melted butter.
I am in a working relationship with Jones Dairy Farm, and this post has been sponsored. I'm so glad to be able to work with companies and organizations that I truly believe in. Thank you for supporting them, too.