Forget the bagels and the cereal – you can have a hot breakfast even when mornings are crazy when you are camping with these make-ahead Camping Breakfast Burritos!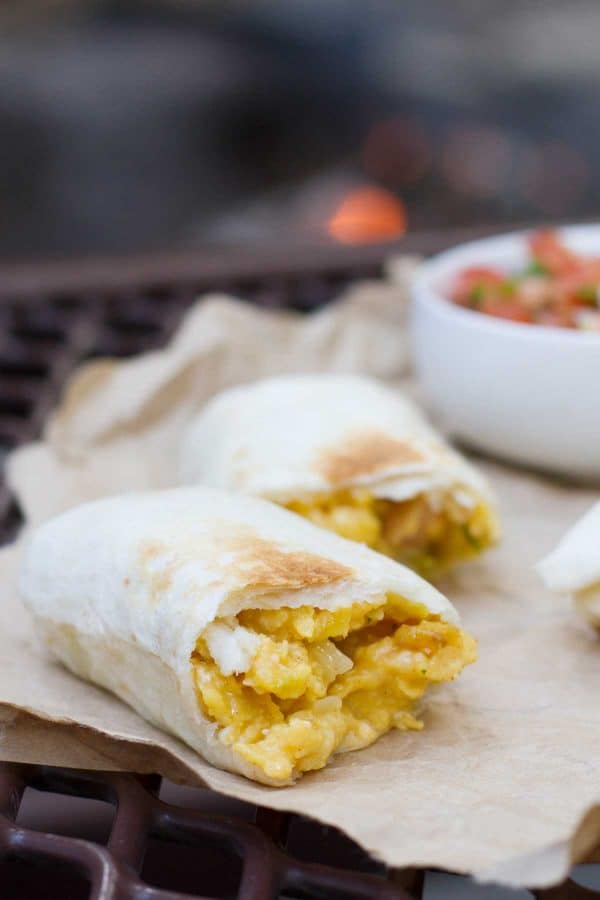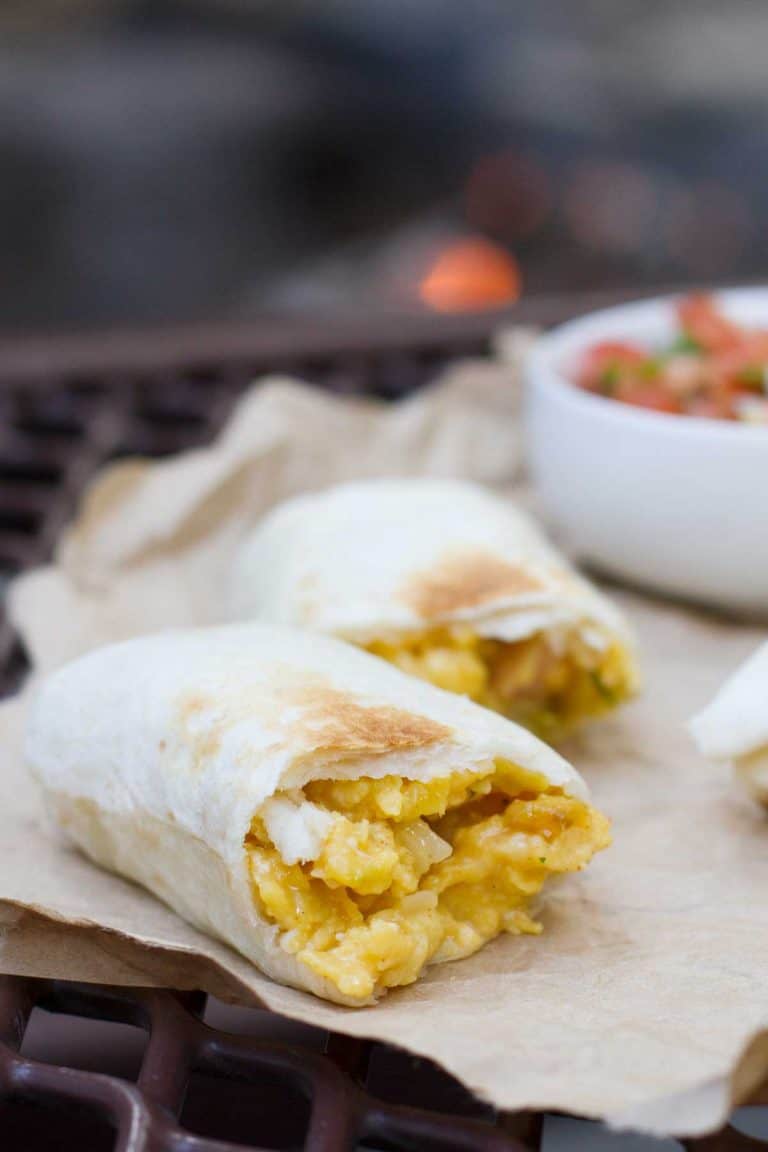 One of my biggest memories from camping when I was a kid is – of course – the food. My mom didn't keep a lot of junk food in the house, but whenever we'd go camping, that's the only time I'd see Twinkies and Ding Dongs and little powdered donuts. When you don't get these kinds of treats very often, it's quite the event when they are just there for the taking.
But as excited as I always was for the junk food, I was even more excited for my mom's breakfast burritos.
Let me just tell you – my mom makes the best breakfast burritos. Camping or not – whenever the family is together and there is breakfast to be had, you can bet that everyone will be requesting my mom's breakfast burritos.
Now, no matter how hard I've tried, I've never been able to make breakfast burritos quite like she does. I seriously think she just has the magic touch, because I can duplicate the ingredients exactly, but they never taste the same.
So instead of trying to imitate, I decided that I should just make them my own way. And maybe after I make these hundreds of times, my kids might come to me one day down the road when they are grown, asking me to make "mom's breakfast burritos".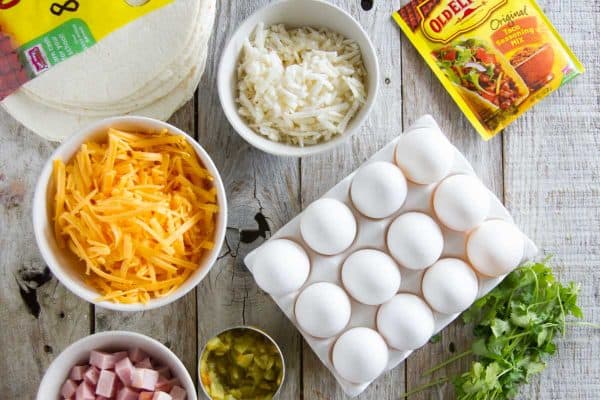 SEE HOW TO MAKE THESE BREAKFAST BURRITOS HERE:
Make Ahead Camping Food
The thing I love the most about these breakfast burritos is that they are totally make ahead. I have 3 kids. 3 young kids. 3 adventurous kids. 3 kids that I must keep an eye on at all times, especially when we are in the woods and there is a fire burning. Anything that has as much of the work done as possible before we leave to go camping makes for a more enjoyable camping trip. (Plus less dishes to do – because we all know that doing dishes while camping without a sink is no fun!)
I like to make these up ahead of time and wrap them tightly in foil. Make sure you are using heavy duty foil, and even double wrap them if you can. If the foil comes undone while your burritos are in the fire, it's hard to save them. Once they are wrapped in foil, throw them all into a large ziptop bag, and then they can hang out in a fridge or in an ice chest until you need to cook them up for breakfast.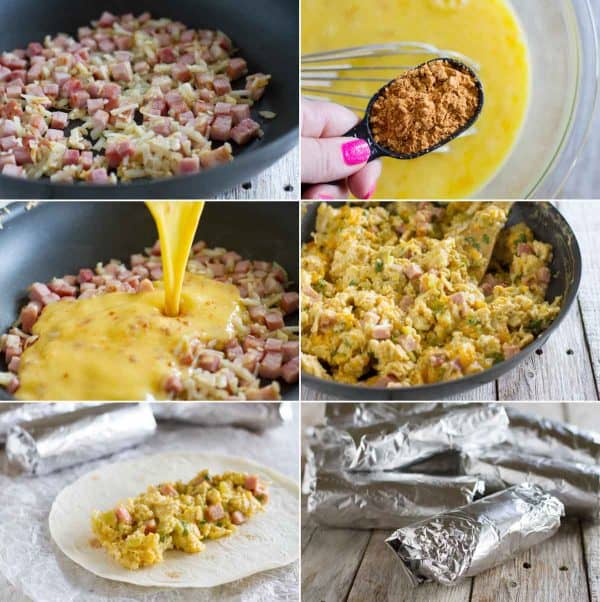 Ingredients in these Breakfast Burritos
I made these breakfast burritos with my current favorite combo of breakfast flavors. I love everything with a southwestern flair, and these do not disappoint. My favorite part is probably that I add Old El Paso Taco Seasoning into the eggs – such an easy way to bring an extra punch of flavor to your eggs!! The taco seasoned eggs are combined with hash browns, cooked cubed ham, cheese, cilantro and my other favorite part – the Old El Paso green chiles. I bet you didn't see that coming, did you? 😉 (Ok, ok – we all know that I'm a green chile addict at this point.) All of the ingredients are wrapped up in a tortilla before they are rolled into burritos.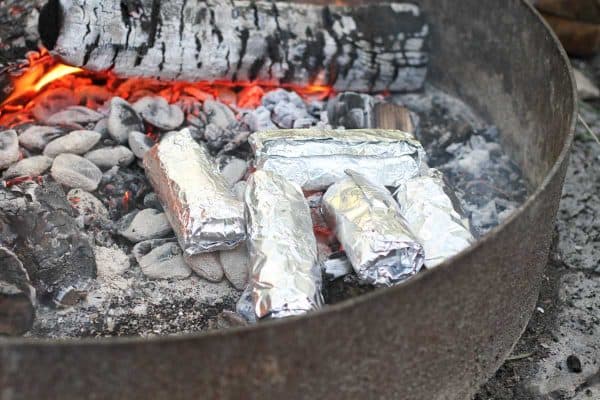 More Camping Food
Dutch Oven Frito Pie
Campfire Cinnamon Blueberry Bread
Hot Ham and Cheese Campfire Sandwiches
Pound Cake and Berry Campfire Skillet Dessert
Dutch Oven Chicken Stew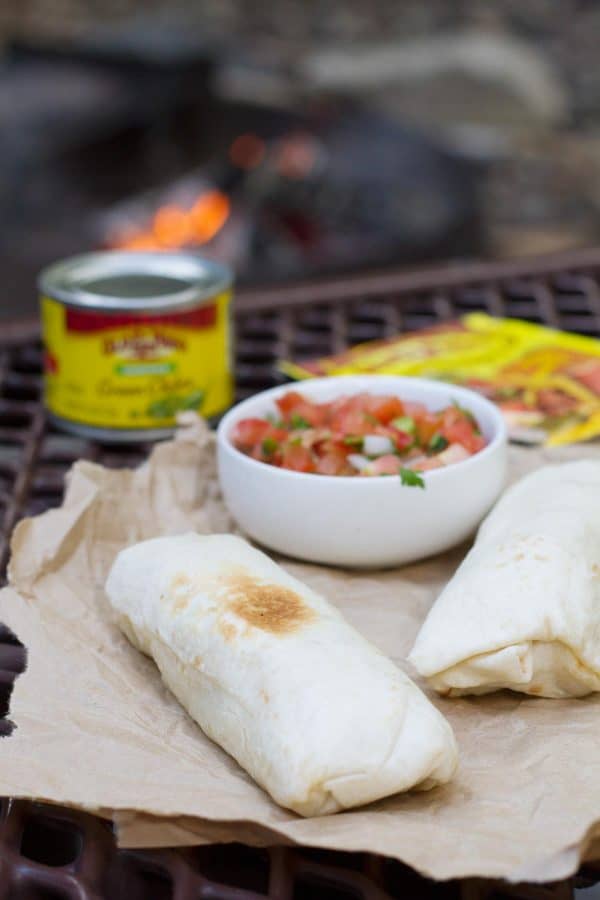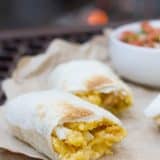 Camping Breakfast Burritos
---
Author:
Prep Time: 15 minutes
Cook Time: 30 minutes
Total Time: 45 minutes
Yield: 8 burritos 1x
Category: Breakfast
Method: Campfire
Cuisine: Tex-Mex
Description
Forget the bagels and the cereal – you can have a hot breakfast even when mornings are crazy when you are camping with these make-ahead breakfast burritos!
---
---
Instructions
Heat the olive oil in a large skillet. Add the hash browns and cook for 1 minute, stirring continuously. Add in the ham. Continue to cook, stirring occasionally, until the hash browns and ham have both browned, about 8-10 minutes.
Meanwhile, in a large bowl, lightly whisk the eggs. Whisk in the taco seasoning. When the hash browns and ham have browned, pour the eggs into the skillet. Cook, stirring frequently, until the eggs have set. Stir in the green chiles, cheese and cilantro.
Warm the tortillas. Put 1/8 of the egg mixture down the center of each tortilla. Roll up like a burrito and wrap tightly in foil. Store in a ziptop bag in the refrigerator or in a cooler.
When ready to cook, place wrapped burritos in hot coals next to fire. Let the burritos sit in the coals, turning once, until heated through, about 10-15 minutes. (The time will depend on how hot your fire is.)
Recipe Notes:
Nutrition information provided as an estimate only. Various brands and products can change the counts.
Nutrition
Serving Size: 1 burrito
Calories: 366
Sugar: 1 g
Sodium: 870 mg
Fat: 22 g
Saturated Fat: 10 g
Unsaturated Fat: 8 g
Trans Fat: 0 g
Carbohydrates: 17 g
Fiber: 0 g
Protein: 23 g
Cholesterol: 324 mg
Keywords: breakfast Burrito
I am in a working relationship with Old El Paso, and this post has been sponsored. I'm so glad to be able to work with companies and organizations that I truly believe in. Thank you for supporting them, too.