Banana cream pie meets raspberry goodness in this Raspberry Banana Pie recipe that is sweet and creamy and perfect. Who would have ever guessed that raspberry and banana were such a perfect match?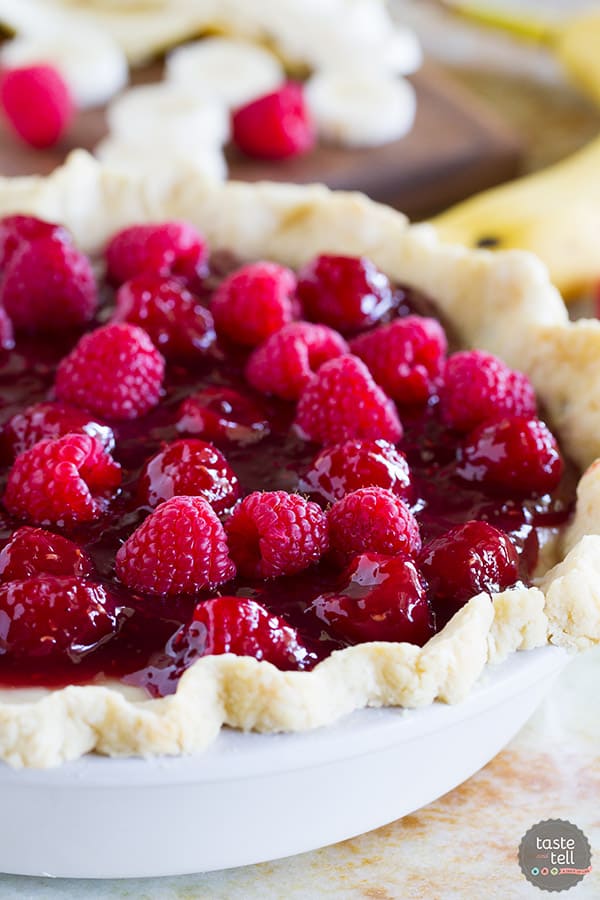 Yum


Is it just me, or does summer just zap out the motivation to do anything productive? This past week has been really rough – I've just wanted to sit around a play and watch tv. I haven't been motivated to cook, or to clean, or to really do anything.
I think it's because I'm out of my groove. I dropped my computer off to get fixed for a few days, so I had a forced vacation. Which I think turned me lazy. 🙂 I actually thought that I'd get a ton of things done around the house those 3 days I didn't have a computer to distract me, but I think I pretty much spent that whole time being lazy and playing with the kids.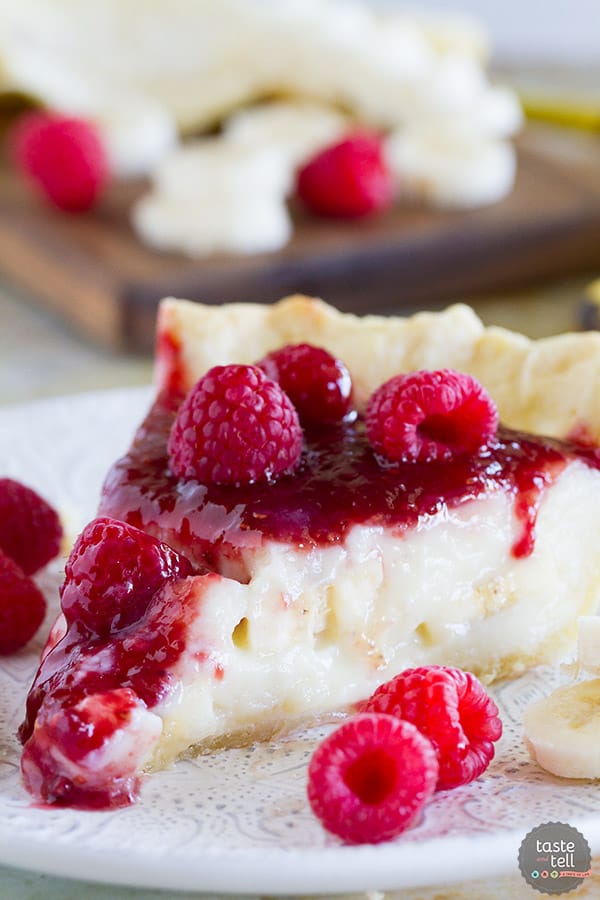 I'm not going to lie – dinnertime was kind of a joke last week, too. There were days that I made peanut butter sandwiches and called it good. But for some reason, I was totally ok to make dessert. Go figure!
I always think that I'll crave dessert less in the summer – you know, short sleeves and bathing suits and shorts and all – but for some reason, dessert is easier for me to find the motivation to make than dinner. Which is why there is an onslaught of sweet recipes coming at you. (But don't worry, there are still a few dinner recipes coming, too!)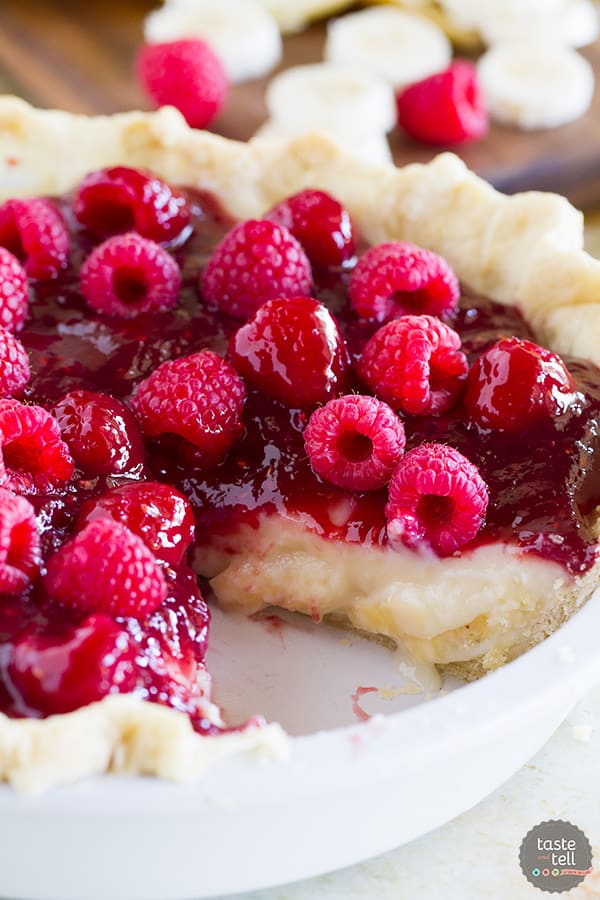 But good thing I wanted dessert, because it gave me the excuse to make this month's pie for my Year of Pie. When I was trying to decide what to make, I kept gravitating towards chocolate and peanut butter, but then I told myself that I need to take advantage of the fresh, in season fruit while I've got it. Which led me to this Raspberry Banana Pie Recipe.
I actually took this idea from a Lion House Pie cookbook that I have. But that recipe made 2 pies, and I knew I didn't need 2 pies hanging around my house, and that most of you wouldn't want a pie recipe where you had to make 2 pies. So I took the idea, and adapted from that.
I had never had the banana and raspberry combination before, but I'm so glad that I decided to go for it. I loved this combo. I haven't had the best luck with banana cream pies in the past, but this banana filling was perfect. It was easy to make, and the flavor was perfect. It sliced pretty well, too. The raspberry topping is as simple as a bit of raspberry preserves combined with fresh raspberries.
I made the filling and let it set up overnight in the refrigerator, and then added the raspberry topping just before serving. Once this pie is cut, it's best to serve it all right away. It still tastes awesome the next day (who else loves leftover pie for breakfast??) but the filling does get a bit soft and the pie doesn't stand up as well as it does before it is sliced.
I think I found a new flavor combination that I'm going to need to incorporate into more desserts!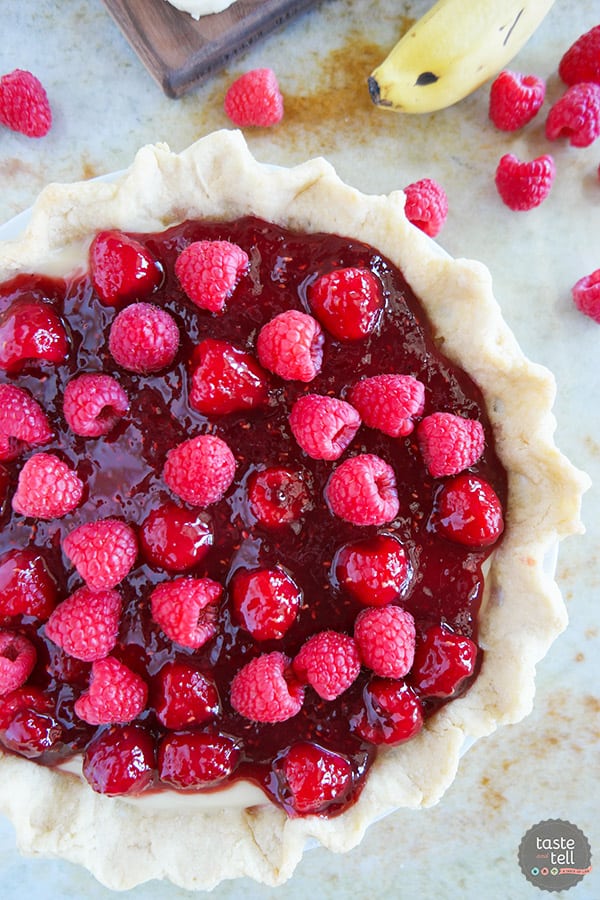 Like what you see here? Make sure you are following Taste and Tell for more recipes and ideas!
Facebook | Pinterest | Instagram | Twitter | Google+ | Weekly Newsletter | Feedly | Bloglovin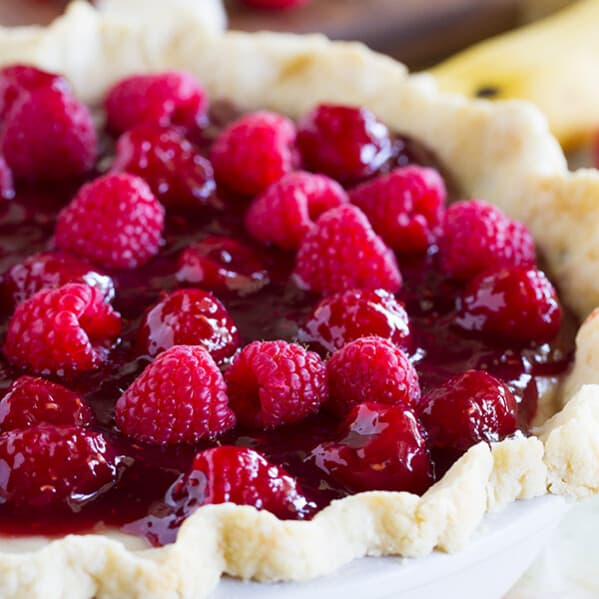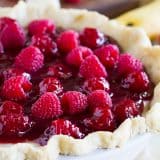 Raspberry Banana Pie Recipe
---
Author:
Prep Time: 30 mins
Cook Time: 15 mins
Total Time: 45 mins
Yield: 8 servings 1x
Description
Banana cream pie meets raspberry goodness in this Raspberry Banana Pie recipe that is sweet and creamy and perfect. Who would have ever guessed that raspberry and banana were such a perfect match?
---
Scale
Ingredients
1 fully baked 9" pie crust
1 cup sugar
1/4 cup cornstarch
1/2 teaspoon salt
3 cups milk (I used 2%)
2 large eggs
3 tablespoons butter
1 1/2 teaspoons vanilla extract
2 large bananas
3/4 cup raspberry preserves
6 oz fresh raspberries
---
Instructions
Combine the sugar, cornstarch and salt in a medium saucepan and whisk to combine. Stir in the milk. Set over medium-high heat and cook until thickened and bubbly, stirring constantly. Reduce the heat and continue to stir for 2 more minutes. Remove from the heat.
In a medium bowl, lightly whisk the eggs. Slowly whisk in about 1/2 cup of the hot mixture, whisking constantly. Return all of the mixture to the saucepan and return to the heat. Bring to a gentle boil, then cook and stir for 2 minutes longer.
Remove the pan from the heat and stir in the butter and the vanilla. Let the mixture cool slightly, then press plastic wrap directly on the surface of the custard. Refrigerate for 30 minutes, or until almost room temperature.
Slice the bananas. Spread half of the custard in the bottom of the baked pie crust. Top with a single layer of banana slices. Pour the remaining custard over the top of the bananas. Cover with plastic wrap and refrigerate for at least 6 hours.
Combine the raspberry preserves with 2 tablespoons of warm water. Stir in half of the fresh raspberries.
Remove the plastic wrap from the pie and spread the raspberry mixture over the top. Sprinkle the remaining fresh raspberries on top.
Pie can be served immediately or refrigerated until ready to serve.
Recipe Notes:
This pie is best served the same day it is cut.
filling recipe slightly adapted from Taste of Home
SHOP THIS POST!
[show_shopthepost_widget id="1775751″]
More Raspberry Desserts You Can't Miss: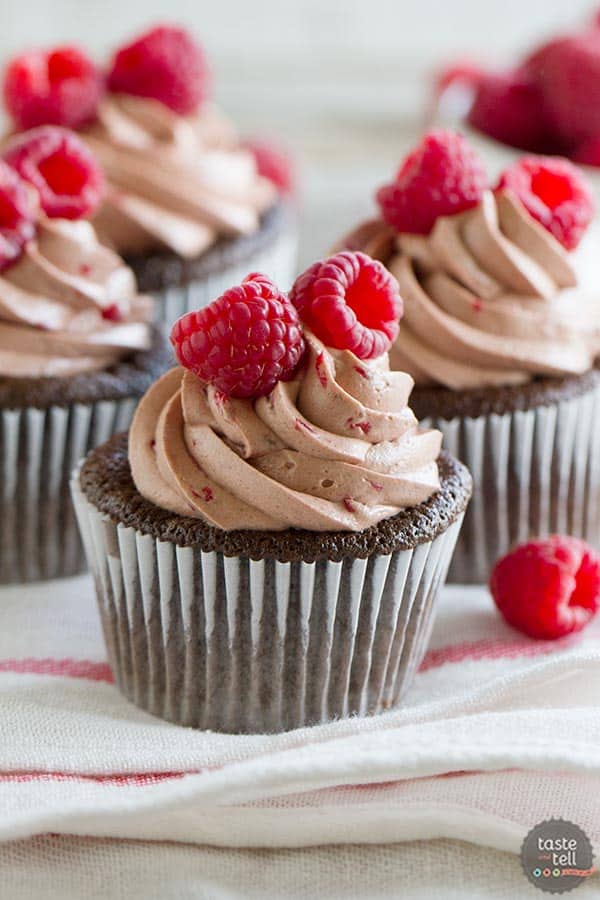 Chocolate Cupcakes with Raspberry Filling and Raspberry Chocolate Buttercream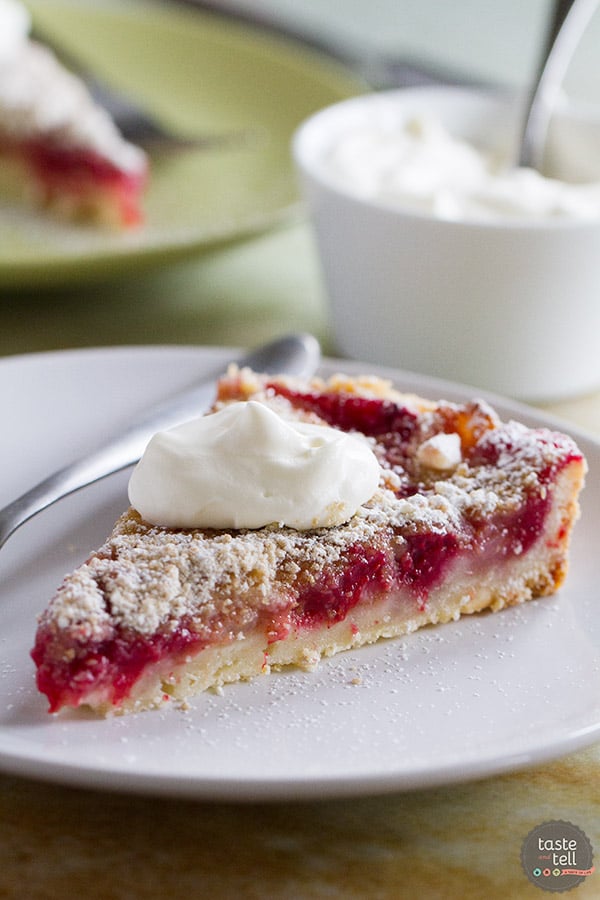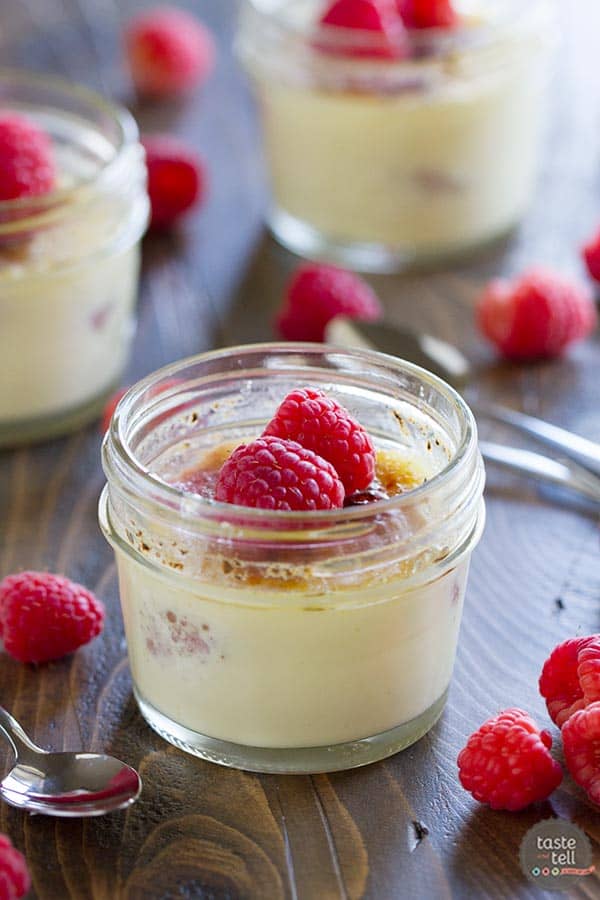 Around the Web:
Raspberry Lemonade Yogurt Popsicles from Cookie Dough and Oven Mitt
Lemon Crepes with Raspberry Sauce from Diethood
Lemon Raspberry Cupcakes from I Heart Naptime
Don't miss a thing! Follow me on Pinterest to see what I'm pinning!
Visit Taste and Tell's profile on Pinterest.