The perfect way to serve a steak dinner to your family, this Flank Steak Marinade is super simple and only takes 6 ingredients. Marinate your flank steak in the morning, and have a flavor filled steak for dinner.
I am all about easy dinner! Pair this Flank Steak Marinade up with this Quinoa Salad, Broccoli Salad, or Lemon Broccoli for a simple, yet delicious dinner.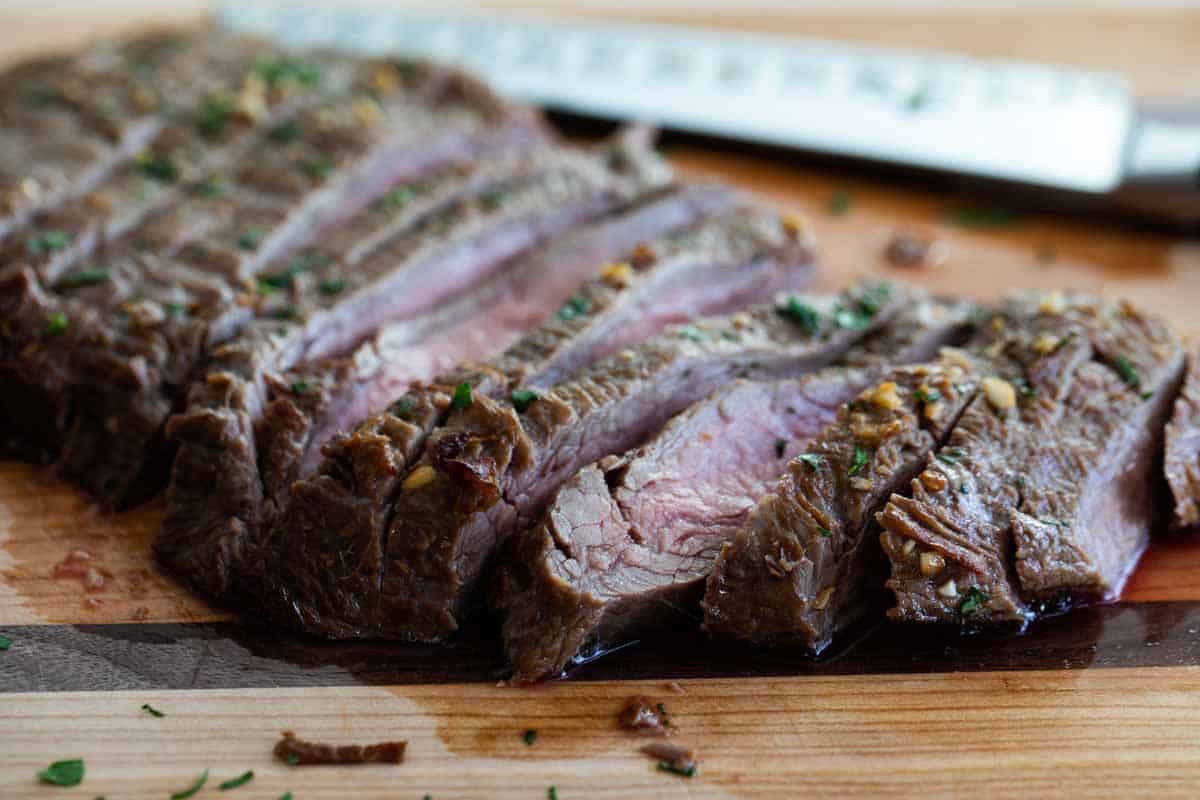 I am living with a family of steak lovers. I have started letting each person pick a dinner each week, and 90% of the time, one of them will say steak. I have to remind them that a steak dinner is a not a weekly dinner, and let them choose something else. Even my husband tries to get away with asking for steak every week!
So what do you do when your family loves steak, but your budget does not?
Flank steak to the rescue!
Not only is flank steak more affordable, but it's really easy to make. And fast (minus the marinating time). I love that a flank steak can feed my whole family, and that it doesn't take a ton of effort.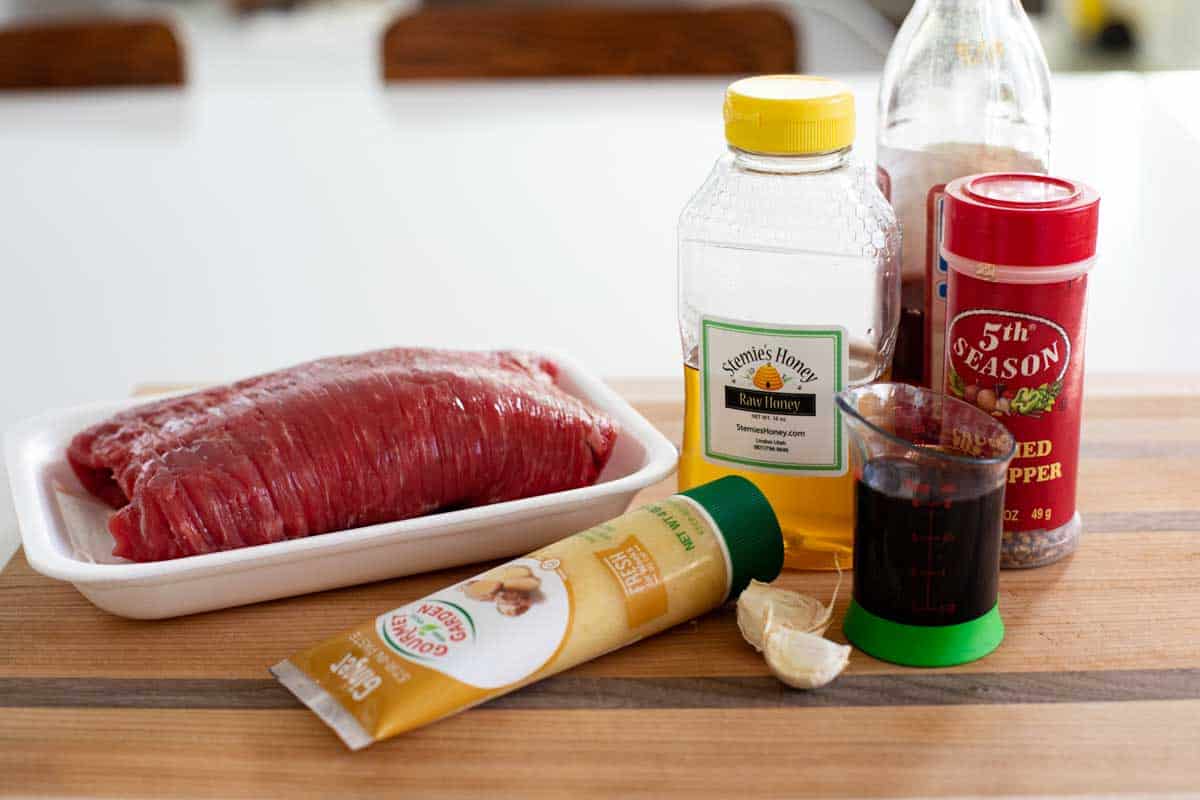 Marinade Ingredients
All you need are 6 simple ingredients, plus your flank steak.
Soy Sauce – I always use low-sodium soy sauce. If you use regular soy sauce, you'll probably want to cut back the amount.
Red Wine Vinegar – Having a vinegar is important. The vinegar is an acid, and will work at breaking down the proteins, making the steak tender.
Honey – a little bit of sweetness goes a long way here!
Ginger – I like using fresh ginger over powdered. I like to buy the squeeze bottles (pictured above) because they last a long time and are super easy. If you only have powdered ginger, add about 1 teaspoon.
Garlic – Again, I think using fresh garlic is the best way to get the most flavor. But if all you have is powdered, add about 1 teaspoon.
Crushed Red Pepper – I will only use a pinch of this if my whole family is eating, so that it's not too spicy for the kids. But if it were up to me, it would be a rather large pinch!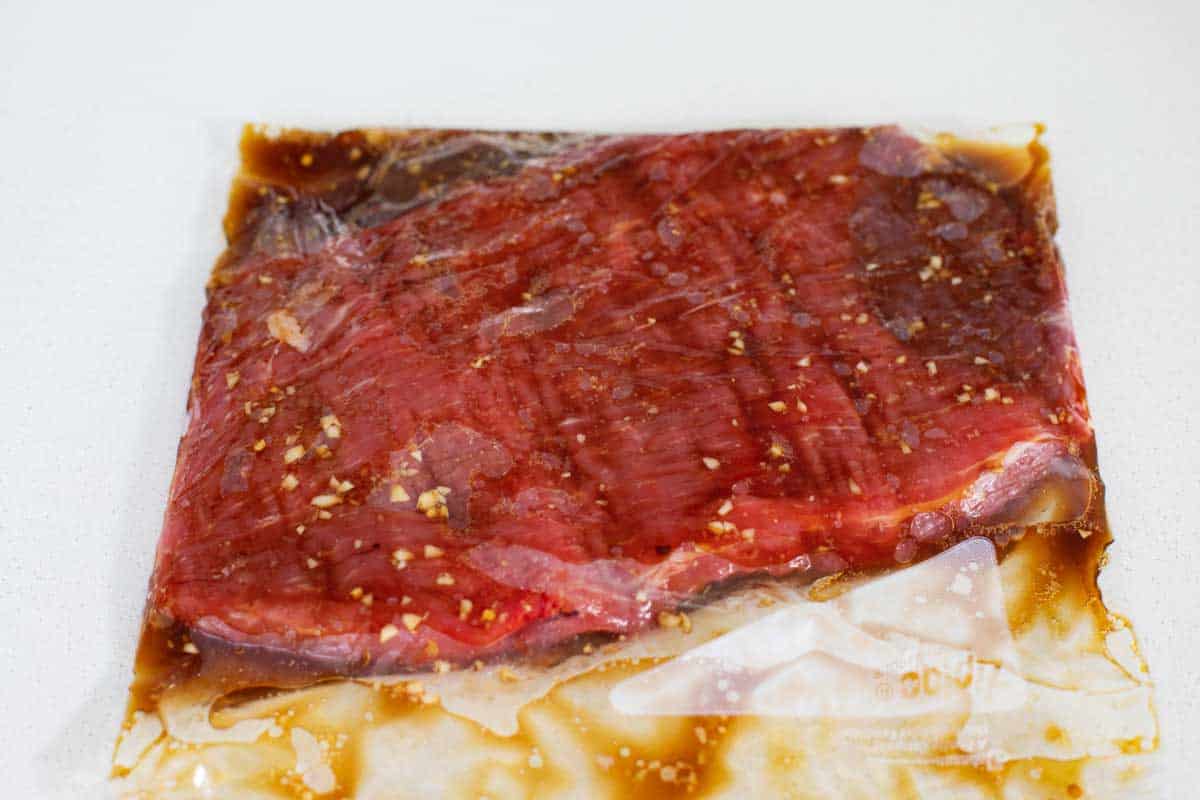 How to Cook Flank Steak
This recipe is very simple, and really only takes a few minutes of hands on time.
MARINATE THE STEAK: Combine all of your marinade ingredients in a gallon sized ziplock bag. If you prefer, you can also use a shallow dish with a lid, but I always think the ziplock bag is a little easier. Add your steak, then refrigerate the whole thing. A few times during the marinating, go in and flip the bag to the opposite side.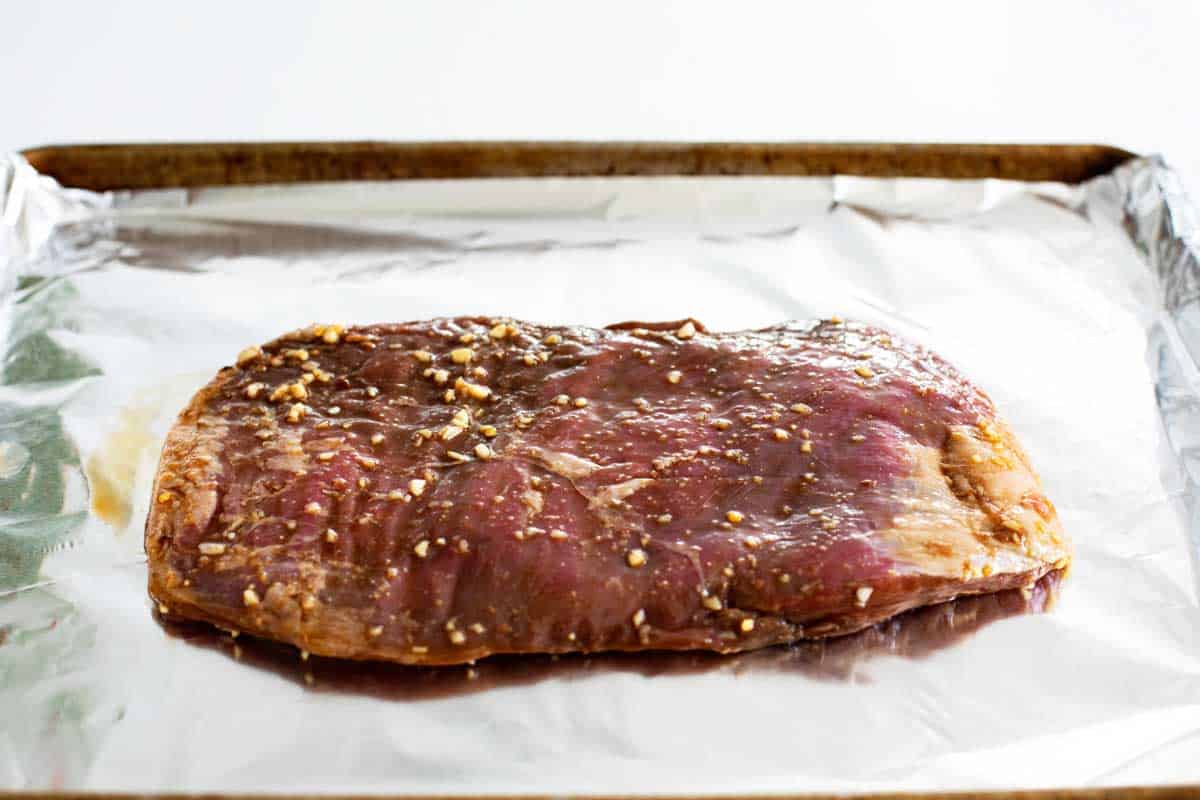 COOK THE STEAK: Let the steak sit at room temperature for about 30 minutes. Place it on a baking sheet that has been lined with foil. Broil it on high, turning it once after about 4 minutes. The whole cook time should only be 8-10 minutes, depending on how well you want it done.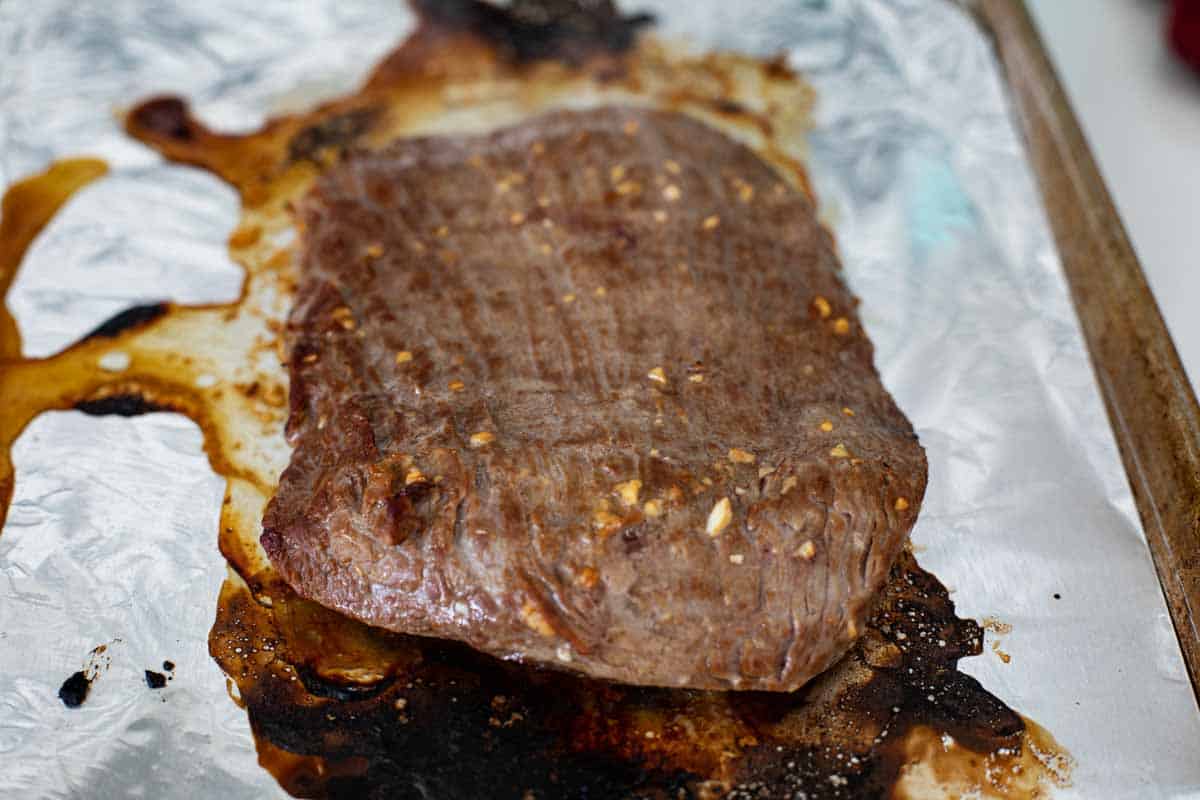 SLICE AND SERVE: Once the steak is cooked, let it sit for 5-10 minutes before slicing it against the grain to serve.
Frequently Asked Questions:
Can I marinate this more than 8 hours? Technically, yes, but I like to keep it between 6-8 hours. First of all, the longer it marinates, the more the vinegar will break down the steak. You would think this is a good thing, but the steak will become mushy if it breaks down too much. I wouldn't suggest marinating it longer than 24 hours at the most.
Can I use this marinade for other steak besides flank steak? Yes! This would actually be a great marinade for most cuts of steak. It would probably even be good on chicken!
Is there another way to cook this besides broiling it? I love broiling this because it cooks so quickly, leaves very little to clean up, and is easy to make year round. But this would be a great steak to grill, as well. You could also cook this in a cast iron pan on the stove, but I don't think this version is the easiest way to cook it.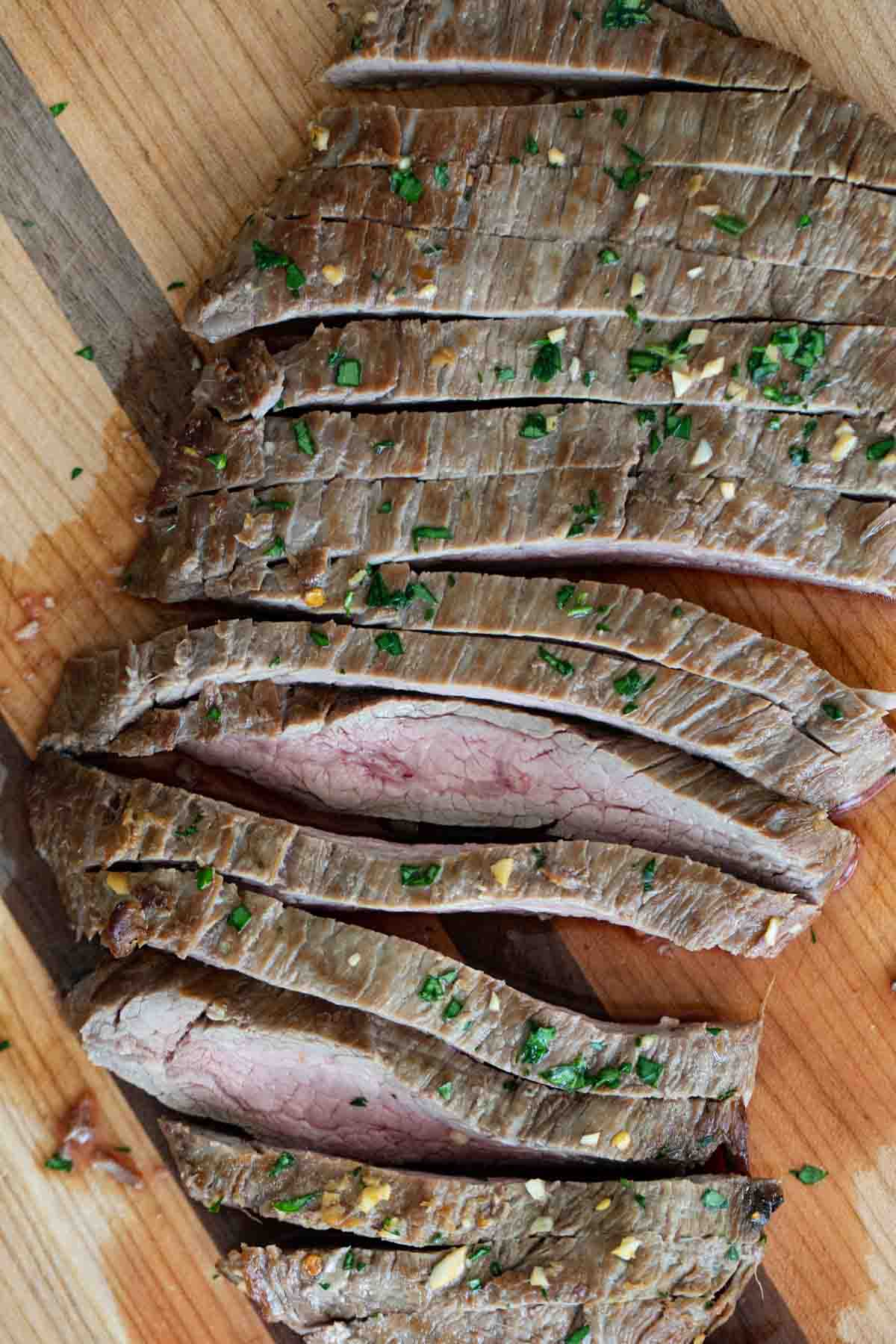 More Flank Steak Recipes
Balsamic Grilled Flank Steak – I am a balsamic lover, so this one is always on repeat all summer long!
Korean BBQ Flank Steak Recipe – this one is a little bit sweet and a little bit salty. Such great flavors.
Chipotle Herb Flank Steak – I love the heat from the chipotles in this one.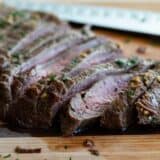 Flank Steak Marinade
---
Author:
Prep Time: 10 minutes
Cook Time: 8 minutes
Total Time: 8 hours 30 minutes
Yield: 4 servings 1x
Category: Main Dish
Method: Broil
Cuisine: American
Description
The perfect way to serve a steak dinner to your family, this Flank Steak Marinade is super simple and only takes 6 ingredients. Marinate your flank steak in the morning, and have a flavor filled steak for dinner.
---
Scale
Ingredients
1/4 cup reduced-sodium soy sauce
1 tablespoon red wine vinegar
2 teaspoons honey
2 teaspoons fresh grated ginger
2 garlic cloves, minced
Pinch of crushed red pepper
1 (around 1.5 lbs) flank steak
---
Instructions
In a gallon-sized ziplock bag or container with a lid, combine the soy sauce, vinegar, honey, ginger, garlic, and red pepper. Add the flank steak and seal the bag, squeezing out as much air as possible. Turn to coat.
Place the bag on a plate or in a shallow dish.
Refrigerate the steak, turning the bag occasionally, for 6 to 8 hours.
30 minutes before you are ready to cook the steak, remove it from the refrigerator.
Preheat the broiler.
Line a baking sheet with foil. Remove the steak from the bag and place it on the baking sheet, discarding the marinade.
Broil the steak in the middle of the oven for 4 minutes, then turn the steak and cook an additional 4-5 minutes. (Watch the steak, as the marinade can start to burn.)
Transfer the steak to a cutting board. Let it rest for 5-10 minutes, then cut into slices to serve.
Recipe Notes:
Nutrition information provided as an estimate only. Various brands and products can change the counts. Any nutritional information should be used as a general guide.
Nutrition
Serving Size: 1/4 of steak
Calories: 294
Sugar: 3 g
Sodium: 660 mg
Fat: 14 g
Saturated Fat: 6 g
Unsaturated Fat: 0 g
Trans Fat: 0 g
Carbohydrates: 5 g
Fiber: 0 g
Protein: 37 g
Cholesterol: 113 mg
Keywords: Flank steak marinade, flank steak recipes, how to cook flank steak, marinated flank steak