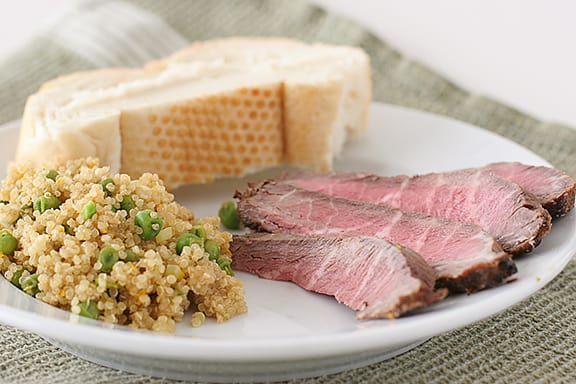 I don't know about you, but I feel like I already need a sweets detox, and it's only the 9th of December!!  So since I've brought you all kinds of sweets today, I thought I'd counter-act all those calories with a nice healthy meal today!
I have to say – I'm a pretty simple girl.  Steaks – they are one of my favorite foods.  But I don't usually need much with a steak to make me happy.  Years ago, I would only eat my meat well done, but since meeting my husband, he has taught me how to really enjoy a steak, and now I love them medium-rare.  But just give me a plain old steak and I'm happy.  I don't usually need the sauces or the toppings – or even the marinades.  So usually, I tend to stay away from them.  Which makes me wonder why I was attracted to this marinade!!
The good news is that it really is a tasty marinade.  The other good news is that I forgot to put this together the night before to give it 24 hours to marinate, like the original recipe says to do.  And I'm so glad I forgot, because I think if it were to marinate that long, the marinade would totally overpower the steak.  So I say 6-8 hours tops.  You'll still get plenty of flavor!!
As for the side dish – also a super healthy dish – I'm kind of on the fence with this one.  My husband really liked it, but I think I would have liked it without the cumin.  I don't know.  It was kind of a weird mix of flavors to me.  But I love quinoa and really need to make it more often – especially since it's so healthy.
So here's to eating a healthy dinner so we can make some more cookies tomorrow!!
Marinated Flank Steak
slightly adapted from Weight Watchers New Complete Cookbook
serves 4
1/4 cup reduced-sodium soy sauce
2 teaspoons honey
2 teaspoons grated peeled ginger or 1 teaspoon ground
2 teaspoons finely chopped lemongrass
2 garlic cloves, minced
1 tablespoon dry sherry
pinch crushed red pepper
1 (1-pound) flank steak
2 teaspoons olive oil
1/4 teaspoon salt
freshly ground pepper, to taste
Prepare the marinade:  in a gallon-sized zip top bag, combine the soy sauce, honey, ginger, lemongrass, garlic, sherry and red pepper.  Add the flank steak and seal the bag, squeezing out as much air as possible.  Turn to coat.  Refrigerate, turning the bag occasionally, for 6-8 hours.  Remove the meat from the fridge 30 minutes before cooking.
Preheat the broiler.  Discard the marinade and pat the steak dry then drizzle with the oil.  Broil 3 inches away from the heat, tuning once and sprinkling the cooked side with salt, about 4* minutes on each side.  Season with pepper.  Transfer the steak to a cutting board.  Let rest for a few minutes, then cut into 12 slices.
*My steak took much longer to cook.  It was bigger than 1 pound, so that may be why, but be cautious that it might take a bit longer.
Quinoa with Peas and Scallions
adapted from Weight Watchers New Complete Cookbook
serves4
1 cup quinoa, rinsed
1 cup orange juice
3/4 cup water
2 teaspoons ground cumin
1/2 teaspoon salt
2 teaspoons extra-virgin olive oil
1 garlic clove, minced
1 cup frozen peas, thawed
3 scallions, finely chopped
2 teaspoons grated orange zest
Combine the quinoa, orange juice, water, cumin, and 1/4 teaspoon of the salt in a medium saucepan; bring to a boil.  Reduce the heat and simmer, covered, until all of the liquid is absorbed, 15-18 minutes.
In a medium skillet over medium-high heat, heat the oil.  Add the garlic and saute until fragrant, about 30 seconds.  Add the peas, scallions, and remaining 1/4 teaspoon salt.  Saute until heated through, about 2 minutes.
Transfer the quinoa to a bowl and stir in the pea mixture and the orange zest; mix well.  Serve at once or at room temperature.