A steak dinner served with a flavorful Chipotle Herb sauce.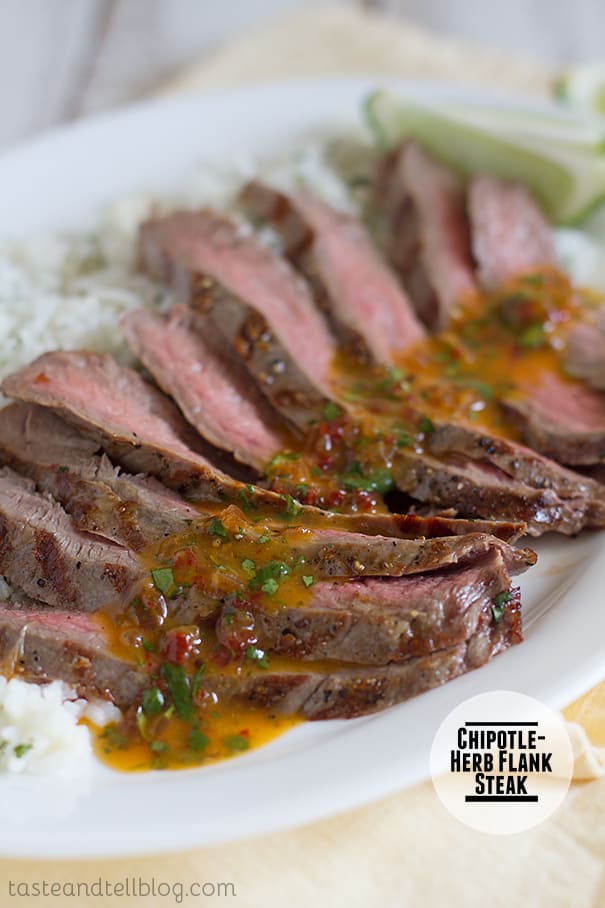 Photo Updated March 2014



Originally published April 22, 2009 – My daughter has decided that she loves steak, so I've been taking opportunities lately to re-try recipes that I know she will love. I remade this one, and it was a hit! The Chipotle-Herb Butter was a little too spicy for the kids, but that didn't stop Abbi from downing more than her fair share of steak. This one is one that I should have re-made sooner, and will be remaking again soon!!

What I need is the energy of a 3 year old…
My sister and her husband are out of town, so I took a turn yesterday watching her kids. She has 3-year old twin boys that I picked up from school at 11:30, and had a few hours to spend with them alone until the other kids came home from school. Wow – I really admire my sister now. Those boys are so full of energy, I could barely keep up!
I came home that evening exhausted. I'm used to just taking care of one needy almost-3-month-old, but throwing in those 2 three year olds really put me to the test!
But even though I don't have that kind of energy, I still have the energy to throw together a meal like this – especially since all it takes is half an hour! This was delicious, healthy, and easy – what more can you ask for?
UPDATE – You can find the recipe for the Cilantro Lime Rice HERE.
Chipotle-Herb Flank Steak
---
Prep Time: 5 minutes
Cook Time: 20 minutes
Total Time: 25 minutes
Yield: 4 servings 1x
Description
A steak dinner served with a flavorful Chipotle Herb sauce.
---
Scale
Ingredients
1 to 1 1/2 lbs flank steak
1 tablespoon vegetable oil
kosher salt and freshly ground pepper
1/4 cup butter, softened
1 chipotle in adobo, seeds removed and minced, plus 1 tablespoon of the adobo sauce
Juice of 1 lime
1 tablespoon finely chopped cilantro
---
Instructions
Preheat the oven to 350F. Heat a grill pan on the stove over medium-high heat for 5 minutes.
Brush half of the oil on one side of the steak. Sprinkle generously with salt and pepper. Place oiled side down on the hot grill. Brush the remaining oil on the other side of the steak and sprinkle with salt and pepper. Cook for about 4 minutes on each side, until a crust has formed and you can see the grill marks.
Transfer the steak to the oven and cook until medium-rare, 5-7 minutes. Let sit 5 minutes before slicing.
While the steak is cooking, combine the butter, chipotle, lime juice and cilantro .
Just before serving, microwave the the butter for 20 seconds, until just melted. Pour the butter over thin slices of the steak to serve.