An easy recipe for Baked Chocolate Donuts with an easy Cherry Glaze. Perfect for breakfast, dessert, or a special holiday treat.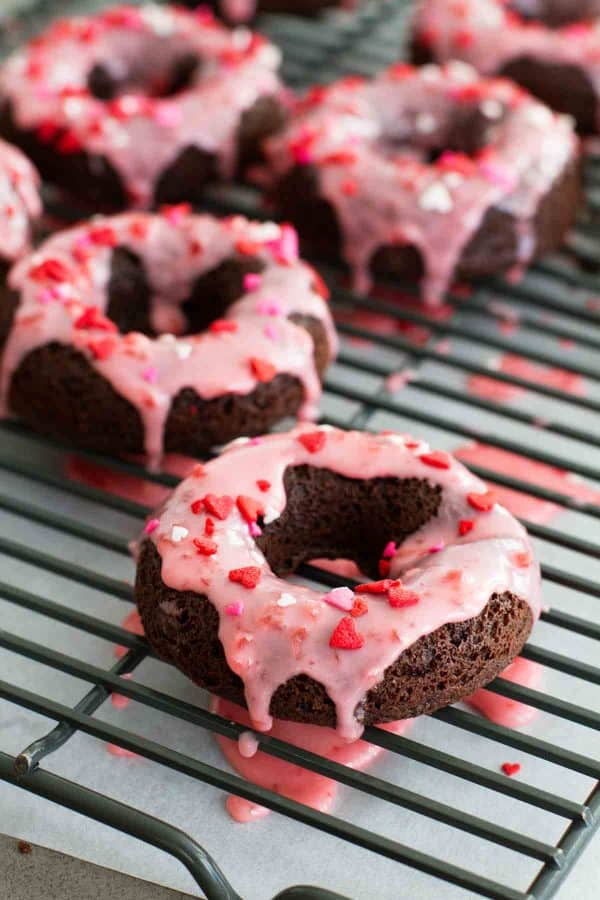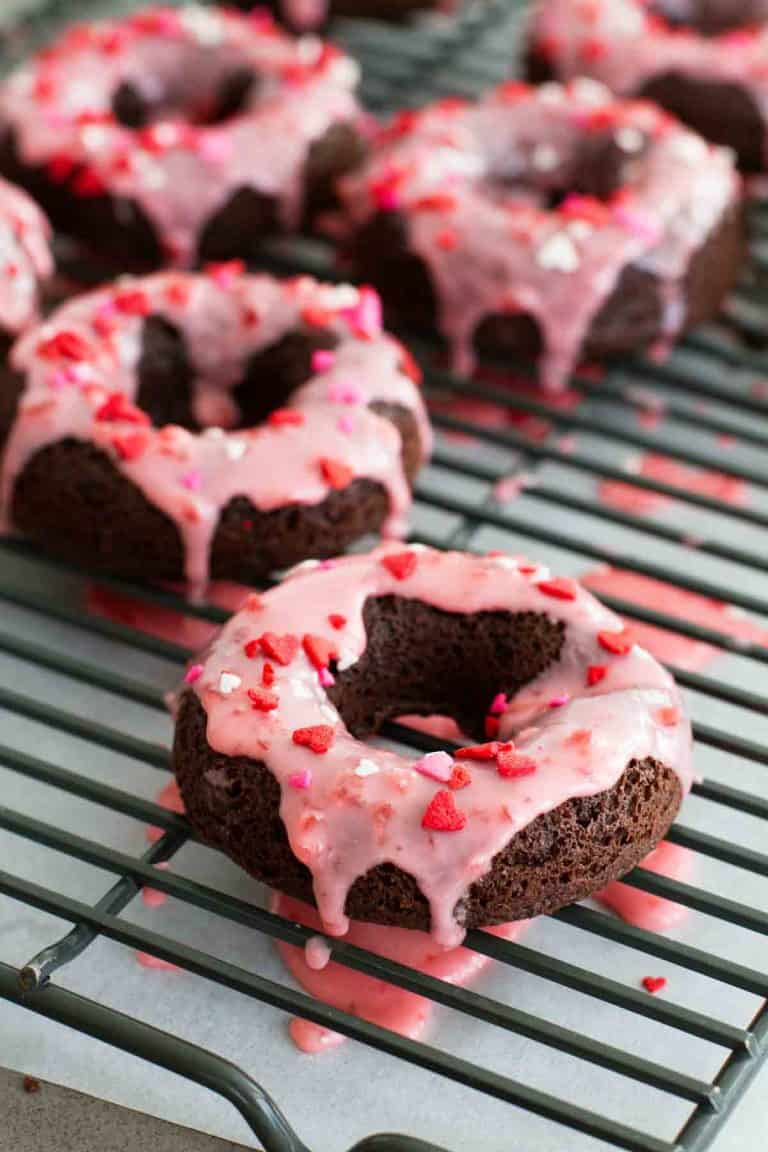 I don't usually have a hard time writing posts here on Taste and Tell. In fact, I'll often have the post basically written in my head as I'm cooking or baking or photographing. So when I sit down at the computer, the words will usually just flow.
For some reason, today's post is different. I've been staring at the screen. Words escaping me.
And maybe it's because I want to talk about something today that's a little more serious. We don't get very serious around here much – it's usually just talk of weeknight dinners and menu planning and buttercream. But today, I want to talk about the big C word:
Cancer.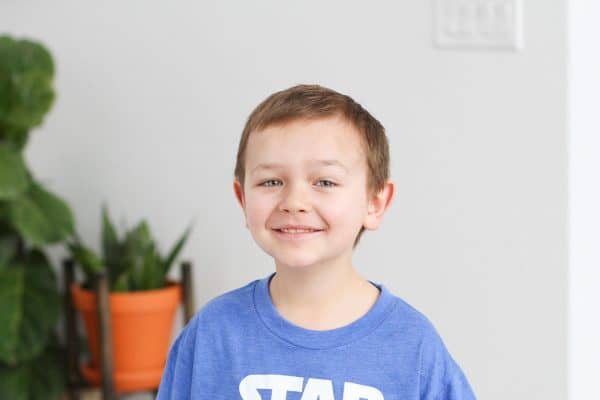 Easton currently – 2 years into treatment
As many of you know, my little boy – Easton – was diagnosed with leukemia just over 2 years ago. I don't talk about it a lot. Mostly because I never wanted to let it define my life, or the lives of my family members. Also because I like to think of myself as a positive person, and talking about cancer makes me sad. Easton's journey so far has been pretty easy (as far as cancer treatment goes) but I've seen too much now. My eyes have been opened to all that cancer can bring into people's lives. That pediatric cancer is the #1 cause of death of children by disease in the US. And that pediatric cancer research is grossly underfunded. Easton will be treated for his leukemia for a total of 3 1/2 years. We just passed the 2 year mark, but still have so far to go. I often think about how much better it would be for these kids – both physically and psychologically – if we had the funding to find treatments that worked faster and more efficiently. If we could take that 3 1/2 years, and find something that works even better in half that time. Or if we could find ways to treat those cancers with low survival rates even better. Our kids deserve it. They deserve way better than the little research money that is dedicated to pediatric cancer.
I've always said that once we are through Easton's treatment, I want to help others. To find ways to bring awareness to pediatric cancer, and to somehow give back. Luckily I don't have to wait, and today I am sharing a way that we can all help.
We can all help by donating to Cookies for Kids' Cancer. My friend Julie from The Little Kitchen has graciously organized this fundraiser in hopes to raise $3000. But it doesn't stop there. She has found some very generous sponsors who are matching our donations – up to $3000 per sponsor. That means that by pledging $3000 together, we can raise $12,000 to be donated for pediatric cancer research. That's pretty big, if you ask me! Donate a little, donate a lot – share with your friends, your family.
Together, we can all make a difference!!
To donate, go to this page to make sure your donations are matched by the wonderful sponsors!
And a huge shoutout to those generous sponsors, Dixie Crystals, OXO, and Mediavine.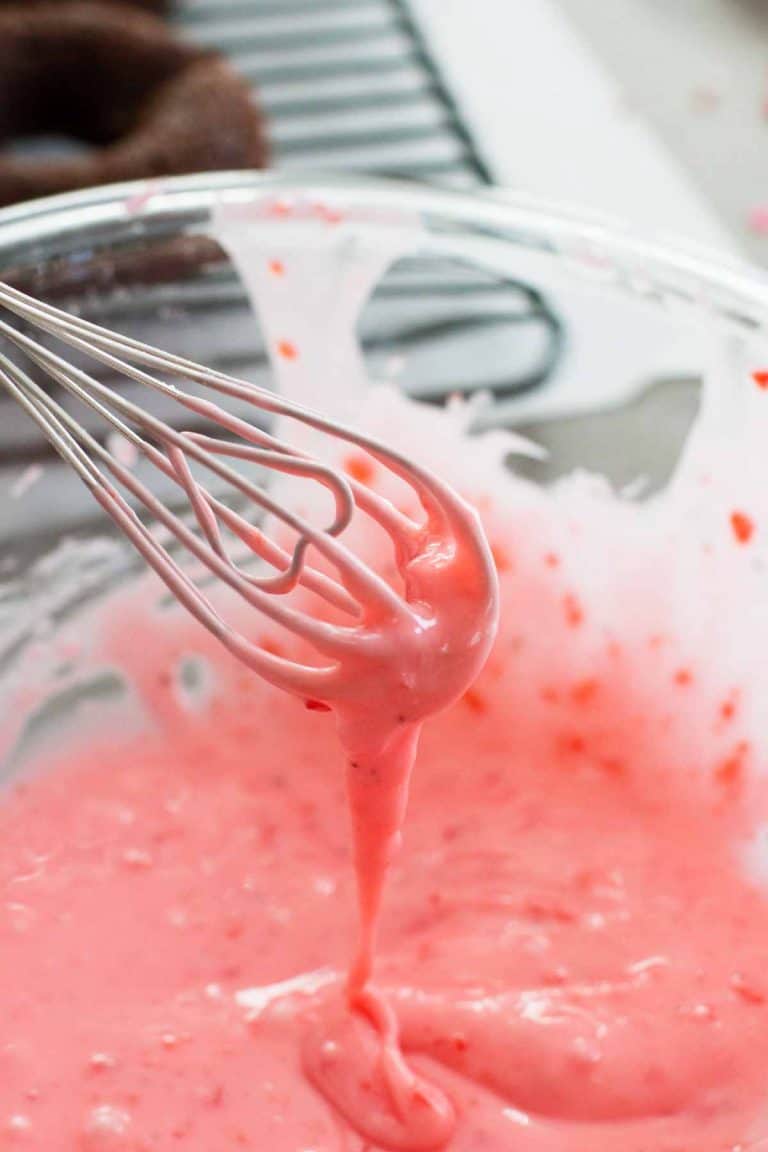 Today, some food bloggers and I are all posting some great Valentine's Day treats to bring awareness to this fundraiser as well as pediatric cancer. I really thought about making some new cookies like I did last year (since the fundraiser is with Cookies for Cancer) but I couldn't get the idea of baked chocolate donuts out of my head. And I knew they needed a pretty pink glaze, perfect for Valentine's Day.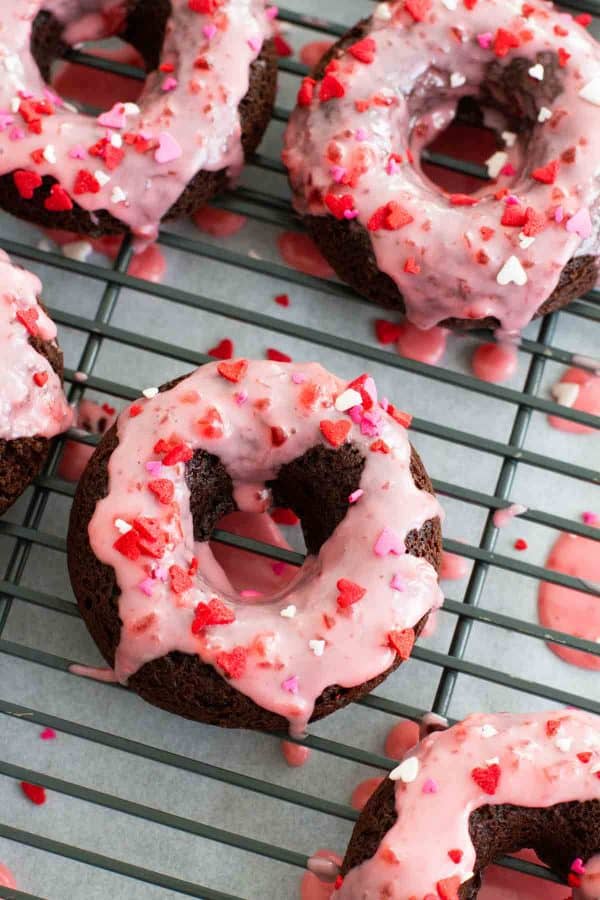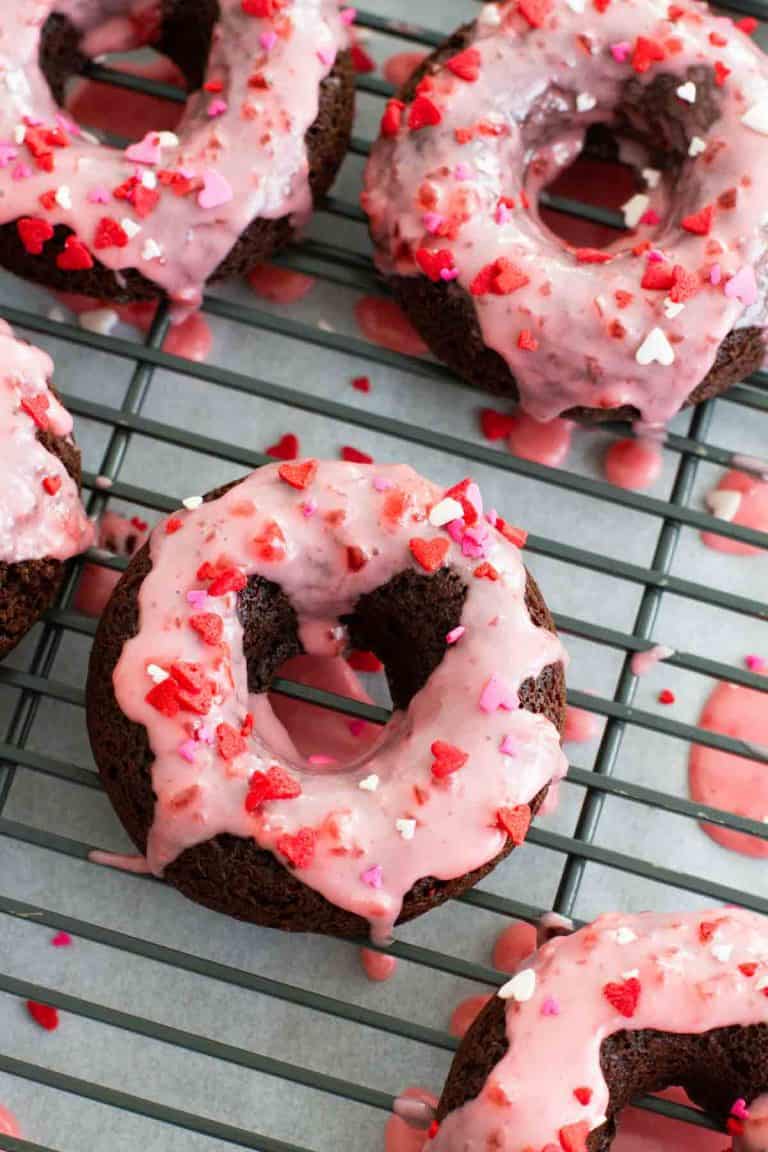 Donuts are my thing. I love them so much. And I really do like baked donuts (even though I don't make them nearly enough). But I didn't want to make chocolate donuts that just tasted like chocolate cupcakes in donut form. I wanted them a little more dense – like a fried cake donut is. I wanted them to have plenty of chocolate flavor.
These baked chocolate donuts took a little testing, but I really liked what I ended up with. I do have to warn you that these donuts aren't quite as sturdy as their lighter cupcake-like cousins, but they are a lot tastier, so that makes up for their ultra-tenderness, right? The texture is great, the flavor is great, and I really loved that maraschino cherry glaze.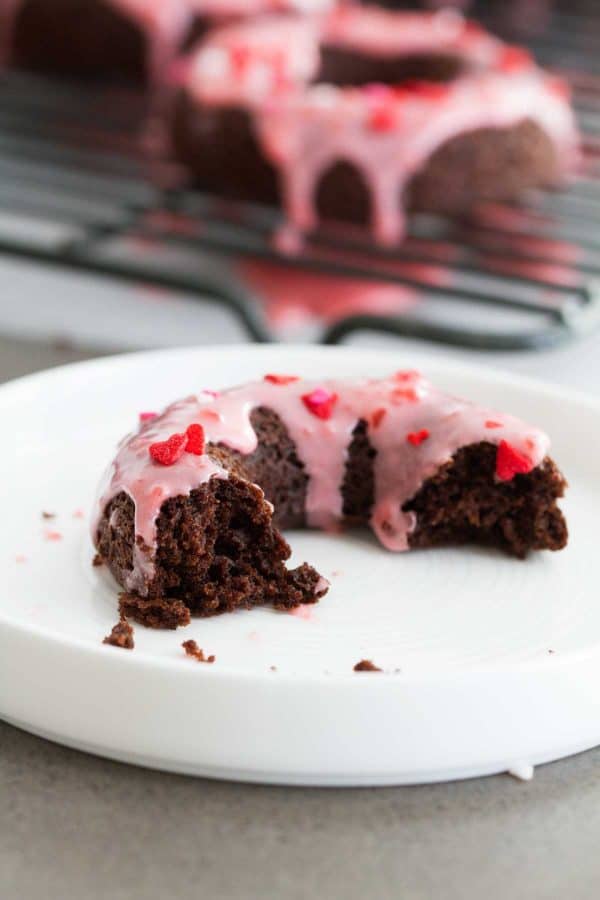 Here are a few tips for the perfect baked chocolate donuts:
Let them cool in the pan for a bit. This is when it would come in handy to have more than one donut pan. I only have one, so it took some time to wait for them to cool before being able to take them out and make the second half, but it's still doable. But if you try to take them out too soon, they will just fall apart.
I usually like to just dip the tops fo the donuts in the glaze, that that will not work with these donuts. I just took a spoonful of the glaze and drizzled it over the tops of the donuts.
The longer these sit, the less they will break apart.
I think these Baked Chocolate Donuts with Cherry Glaze belong on everyone's Valentine's Day baking list!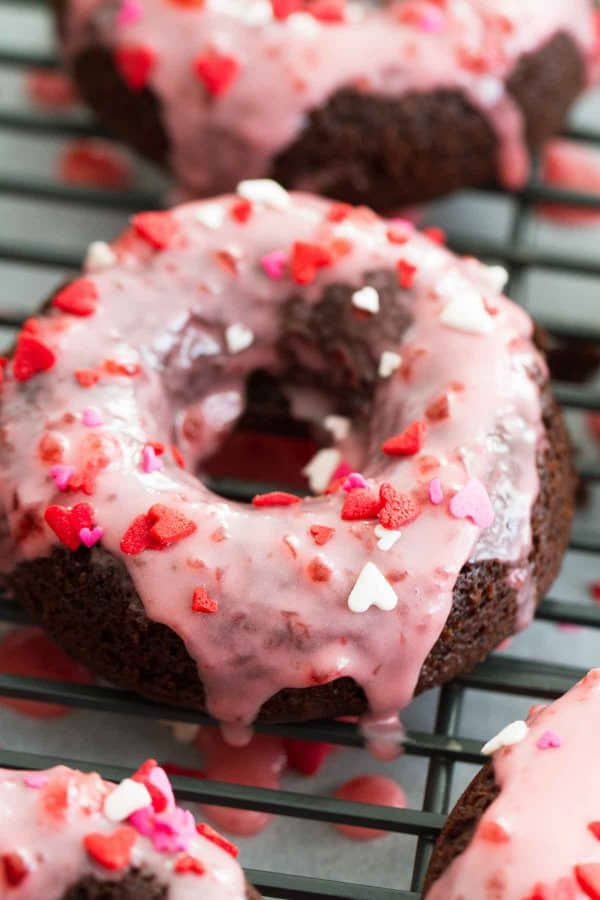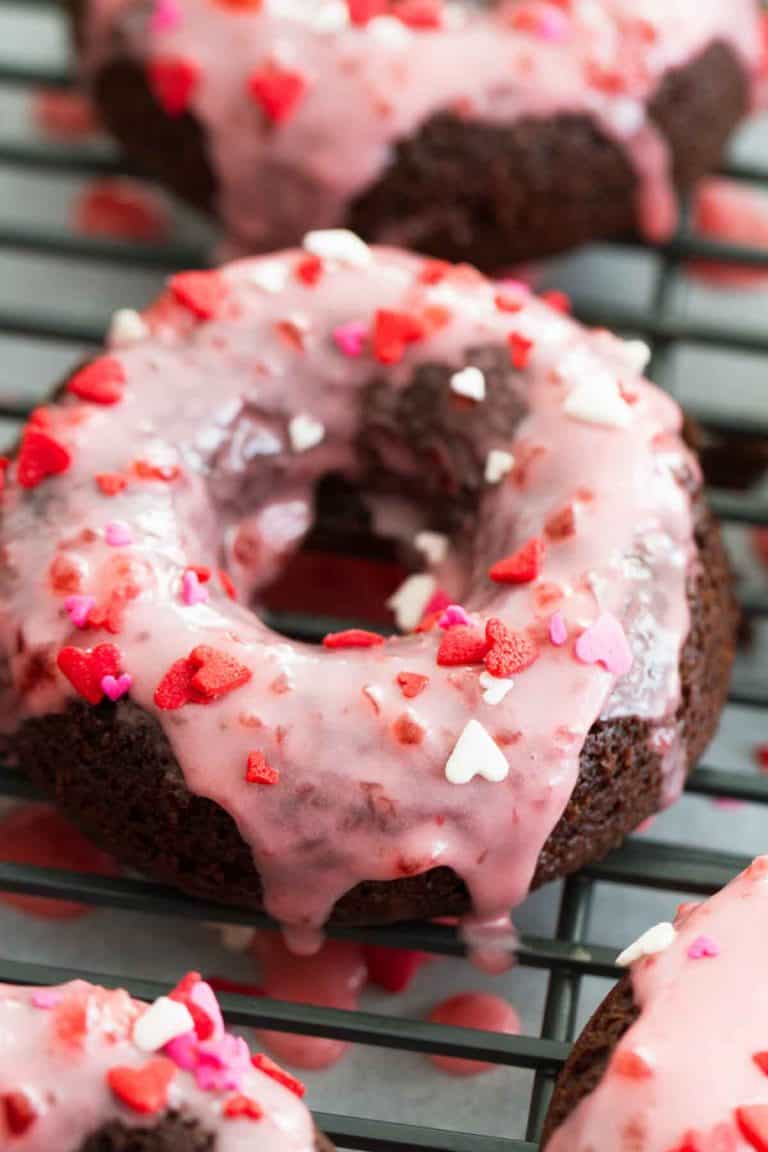 Like what you see here? Make sure you are following Taste and Tell for more great recipes and ideas!!

Facebook ** Pinterest ** Twitter ** Instagram ** Google+
or you can subscribe to my newsletter
How to make these Baked Chocolate Donuts with Cherry Glaze: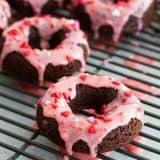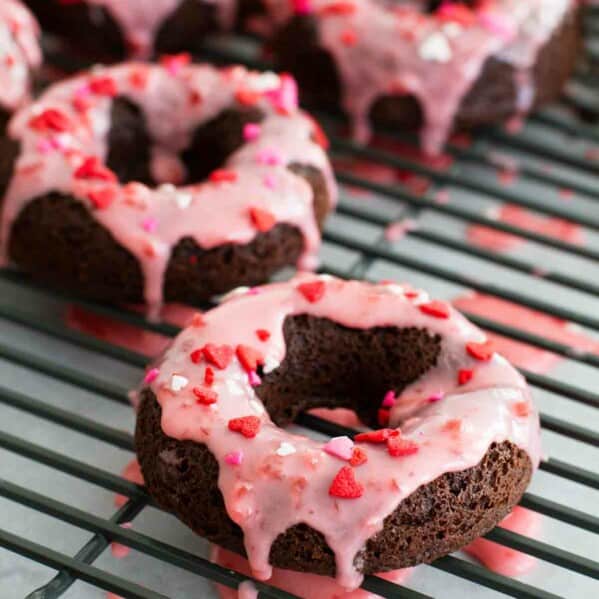 Baked Chocolate Donuts with Cherry Glaze
---
Author:
Prep Time: 15 mins
Cook Time: 8 mins
Total Time: 23 minutes
Yield: 12 donuts 1x
Category: Breakfast
Description
An easy recipe for Baked Chocolate Donuts with an easy Cherry Glaze. Perfect for breakfast, dessert, or a special holiday treat.
---
Scale
Ingredients
Chocolate Donuts:
1 cup all-purpose flour
1/2 cup unsweetened cocoa powder
1/2 cup granulated sugar
1/4 cup packed light brown sugar
1/2 teaspoon baking soda
Pinch of salt
1/2 cup sour cream
1/4 cup butter, melted
1/4 cup vegetable oil
1 large egg
Cherry Glaze:
1 1/2 cups powdered sugar, sifted
3 tablespoons maraschino cherry juice (from the jar of maraschino cherries)
4 maraschino cherries, very finely chopped
1/2 teaspoon cherry extract
---
Instructions
Preheat the oven to 350ºF.  Generously spray a donut pan with nonstick cooking spray.
In a large bowl, whisk together the flour, cocoa powder, sugar, brown sugar, baking soda and salt. 
In another bowl, whisk together the sour cream, melted butter, vegetable oil and egg.
Add the wet ingredients to the dry ingredients and stir just until combined. The batter will be very thick – more like a dough than a batter.
Transfer the batter to a ziplock bag. Cut the corner off and pipe the mixture into the donut pan, filling each about 1/2 full.
Bake for about 8 minutes, until a tester inserted comes out clean. Let cool for at least 10 minutes before removing from the pan. (You may need to gently run a knife around the edges, but the donuts should come out fairly easy.)
Let the donuts cool completely on a wire rack.
To make the glaze, whisk the powdered sugar and cherry juice together until smooth. Mix in the chopped cherries and the cherry extract.
To glaze the donuts, spoon the glaze over the tops of the donuts and allow the glaze to run down the sides. Add sprinkles, if desired.
Recipe Notes:
The donuts are a bit tender and will crumble if you handle them too much. They are too tender to dip into the glaze (they will fall apart!) so just spoon the glaze over the tops. They will firm up a bit the longer they sit.
Nutrition information provided as an estimate only. Various brands and products can change the counts.
Nutrition
Serving Size: 1 donut
Calories: 262
Sugar: 28 g
Sodium: 104 mg
Fat: 12 g
Saturated Fat: 8 g
Unsaturated Fat: 3 g
Trans Fat: 0 g
Carbohydrates: 38 g
Fiber: 2 g
Protein: 3 g
Cholesterol: 30 mg
Don't miss a thing! Follow me on Pinterest to see what I'm pinning!