Warm spiced baked doughnuts are filled with pumpkin flavor, and then topped with maple-cinnamon glaze that will make you wish it was always pumpkin season!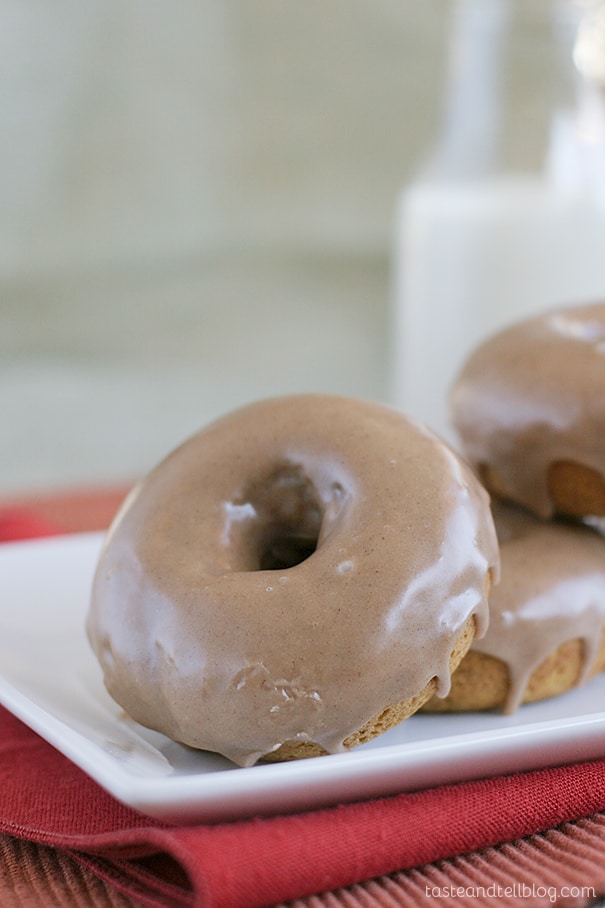 I've been having a hard time switching over into fall mode. I think it's because the daytime temps here have still been in the 80s. While other people have been throwing out pumpkin and apple and comfort food, I've been hanging onto summer foods like crazy. But I guess the official first day of fall on Friday kicked me into fall mode, because all of a sudden I am going crazy with the pumpkin, and burning my vanilla spiced candles at home. There definitely is hint of cooler temperatures in the air, and maybe now I'll start feeling it with the scents of fall going through my house!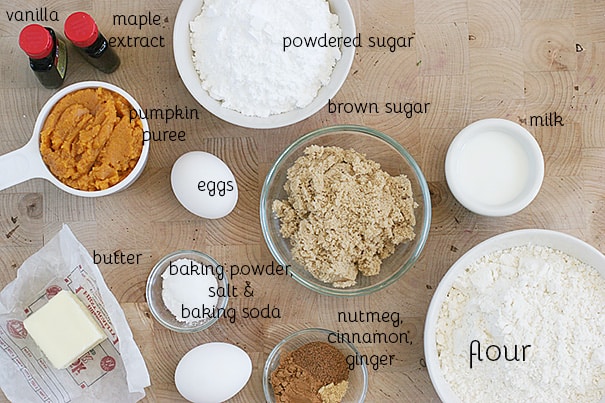 Up first in a line of many upcoming pumpkin recipes is this baked pumpkin doughnut recipe. Oh, these doughnuts. If you lack self control, please don't make these. Because you will end up like me – eating way too many because you just can't stay away!! I was so happy with how these turned out. The bad news is the recipe calls for a doughnut pan. I know most people don't have one, but I'm telling you – it has been a really fun investment for me. But, the good news is that I'm pretty sure these would bake up just as delicious as a muffin. I haven't tried it, but I'm pretty sure these would be just as good as muffins. And I don't know when or how the idea of the maple-cinnamon glaze came into my mind, but people – that is a winning combination. Especially if you have a good quality cinnamon.
If this is what fall is going to taste like this year, I'm regretting that I didn't start earlier!!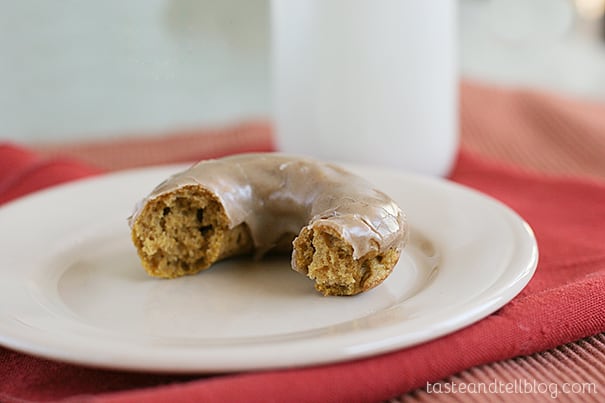 Like what you see here? Make sure you are following Taste and Tell for more great recipes and ideas!!

Facebook ** Pinterest ** Twitter ** Instagram ** Google+
or you can subscribe to my newsletter or Feedly or Bloglovin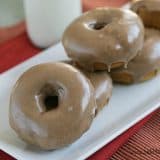 Baked Pumpkin Doughnuts with Maple-Cinnamon Glaze
---
Prep Time: 15 minutes
Cook Time: 10 minutes
Total Time: 45 minutes
Yield: 12 doughnuts 1x
Scale
Ingredients
Doughnuts
2 cups all-purpose flour
1 1/2 teaspoons baking powder
1/2 teaspoon salt
1/4 teaspoon baking soda
1/2 teaspoon nutmeg
1 1/2 teaspoons cinnamon
1/4 teaspoon ginger
1/2 cup brown sugar
1 cup pumpkin puree
2 eggs
2 tablespoons milk
1/4 cup butter, at room temperature
1 teaspoon vanilla extract
Maple-Cinnamon Glaze
1 1/2 cups powdered sugar
1/2 teaspoon maple extract
1/2 teaspoon cinnamon
2 tablespoons milk
---
Instructions
Preheat the oven to 350F. Prepare a doughnut pan by spraying with non-stick cooking spray.
In a large bowl, sift together the flour, baking powder, salt, baking soda, nutmeg, cinnamon and ginger. Set aside.
In another bowl, cream together the brown sugar, butter and pumpkin. Add in the eggs, mix well, then mix in the milk and vanilla. Stir in the reserved dry ingredients.
Place the mix in a large zip-top bag. Cut off the corner and pipe into the doughnut pan.
Bake in the preheated oven until a toothpick inserted in the center comes out clean, about 10 minutes. Remove pan from oven, let rest for 5 minutes, then remove from pan and allow to cool completely on a wire rack.
Meanwhile, make the glaze: In a small bowl, whisk together the powdered sugar, maple extract, cinnamon and milk.
When the doughnuts are cool, dip them in the glaze. Return to the wire rack to allow the glaze to set.
————————-
More Pumpkin Goodness:
Pumpkin Cream Cheese Muffins from Tracey's Culinary Adventures
Pumpkin Cinnamon Roll Pancakes from Recipe Girl
Pumpkin Snickerdoodles from Sweet Pea's Kitchen