Chocolate cookies hold a cherry in the center with a chocolate frosting over the top creating a cookie reminiscent of chocolate covered cherries.
Chocolate covered cherries seem to be one of those candies that people have a strong opinion about – they either love them or hate them.  To me, I can't imagine Christmas without them!  When I was younger, I remember my mom would always have a box of them wrapped under the tree for each child.  I always thought it was such a treat to have a whole box of those chocolates to myself!!  And now that I'm older, I still have to buy myself a box every year, or it just doesn't feel like Christmas!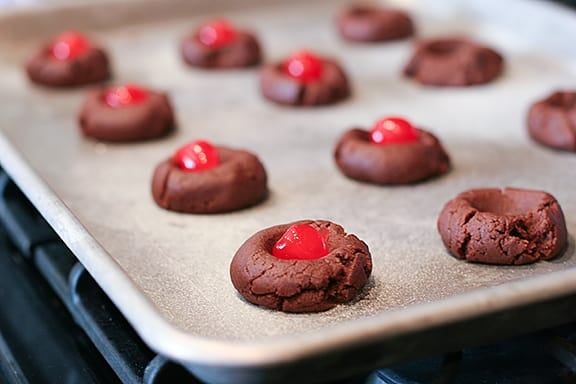 Back in August, I read a book called The Chocolate Chip Cookie Murder by Joanne Fluke.  The main character in the book owns a bakery, and several of her cookie recipes are included in the book.  As soon as I read about these Chocolate-Covered Cherry Delights, I knew that I wanted to try them out.  I copied down the recipe, and have been waiting for the perfect time to make them.  And now that the Christmas season is in full swing, there couldn't be a better time!!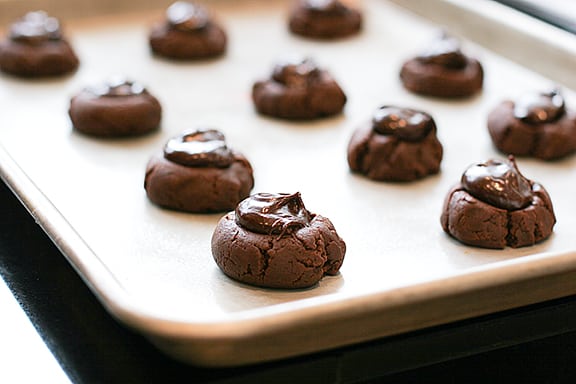 Now, if you don't like the liquid-filled chocolate covered cherries, don't worry – these cookies don't resemble the candies too much.  There is chocolate, and there are cherries.  But the cherry flavor actually takes a back seat to the chocolate.  Me – I loved these cookies.  They are a little bit different than most cookies in that you put the frosting on the cookies before baking.  I had to read the instructions a few times, thinking that they were wrong, but in the end, everything worked out perfectly.  You'll want to make sure you don't over-bake the cookies – they should still be soft.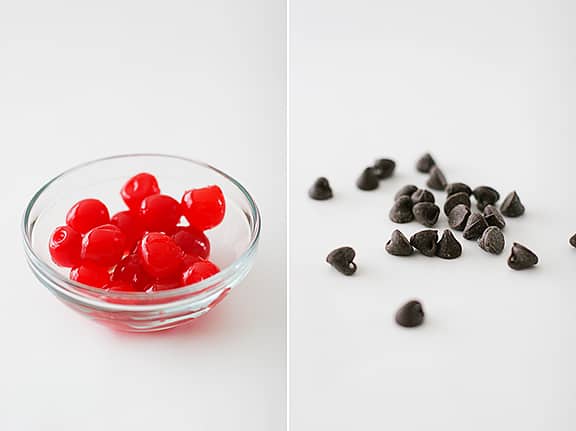 I'm so glad this is how I chose to kick off the Christmas season!!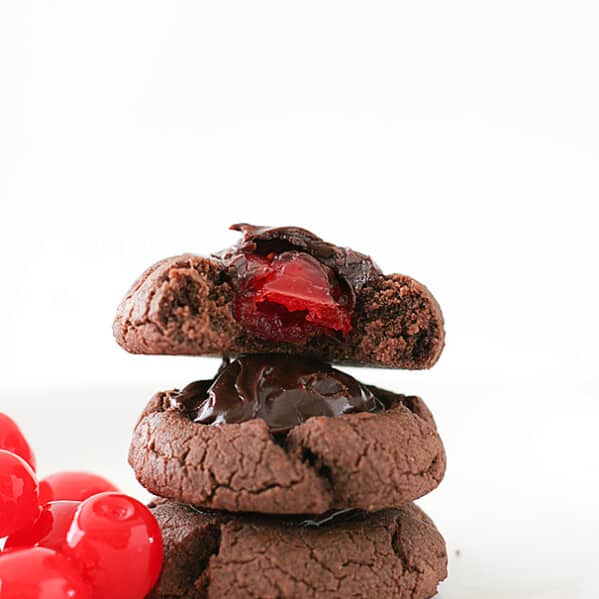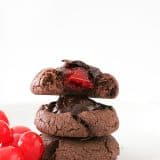 Chocolate-Covered Cherry Delights
---
Prep Time: 20 minutes
Cook Time: 20 minutes
Total Time: 1 hour 30 minutes
Yield: 2 dozen cookies 1x
Description
Chocolate cookies hold a cherry in the center with a chocolate frosting over the top creating a cookie reminiscent of chocolate covered cherries.
---
Scale
Ingredients
1/2 cup melted butter (1 stick)
1 cup white sugar
1 egg
1/4 teaspoon baking powder
1/4 teaspoon baking soda
1/4 teaspoon salt
1 teaspoon vanilla
1/2 cup cocoa
1 1/2 cups all-purpose flour
1 10–oz. jar maraschino cherries*
1 cup chocolate chips
1/4 cup sweetened condensed milk
---
Instructions
Preheat the oven to 350F.
Melt the butter and mix in the sugar. When the mixture has cooled off a bit, add the egg and mix. Add the baking powder, baking soda, salt, vanilla and cocoa, stirring after each addition. Add the flour and mix well. The dough will be stiff and a bit crumbly.
Drain the cherries and reserve the juice.
Roll the dough into walnut-sized balls and place on a greased cookie sheet, 12 per sheet. Press down in the center of each ball to make an indentation. Place one cherry in each indentation.
In a double boiler, combine the chocolate chips and the sweetened condensed milk. Heat on low, stirring, until the chocolate chips have melted. Start adding in some of the reserved cherry juice, 1 teaspoon at a time, until the sauce is thick and will glob off a spoon. If it won't glob off, keep adding juice until it is the right consistency. Spoon a small bit of the sauce over the center of each cookie – just enough to cover the cherry. It shouldn't drip down the sides.**
Bake in the preheated oven for 10 minutes. Let the cookies cool on the baking sheet for 2 minutes, then remove to a wire rack to cool completely.
Recipe Notes:
*you probably won't use the whole jar of cherries
**I had quite a bit of the chocolate frosting left over. Good thing it makes a great snack on top of graham crackers!!