This old-fashioned oatmeal cake might not win any beauty awards, but one bite and it will instantly become a family favorite!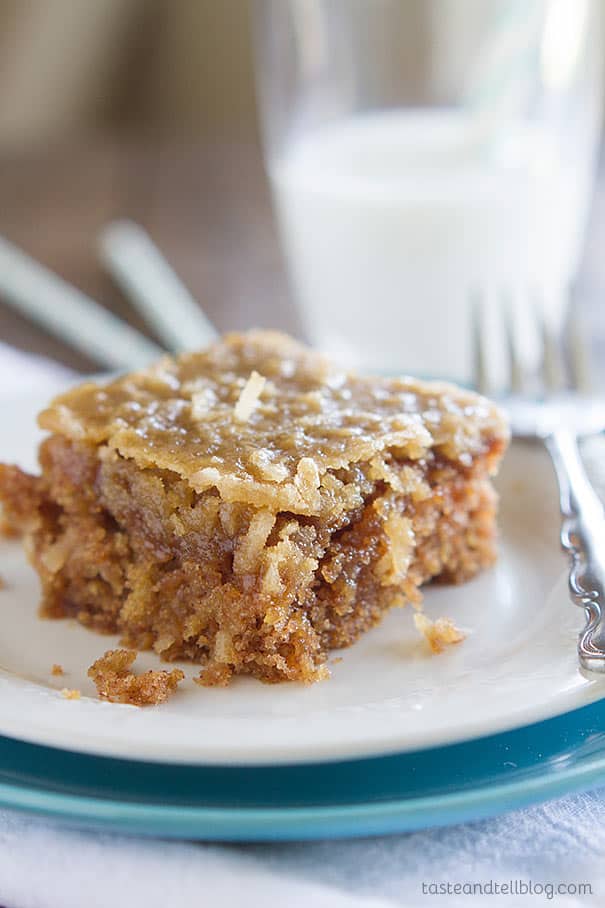 This cake almost didn't make it to the blog. Here's how it went down:
I was looking through a family cookbook a little while ago, and came across a recipe from my aunt for this Oatmeal Cake. I was intrigued. It seemed so simple – one of those recipes that you'd whip up on a Sunday night for your family. I wanted to try it, and that family cookbook rarely lets me down.
So I made the cake. Simple enough. Nothing fancy.

And then I went to make the topping. As it is with family cookbooks a lot of the time, the instructions were a little bit vague. Like the coconut – it just listed coconut as an ingredient – not how much. So I guessed. Butter and brown sugar are boiled together, then coconut is stirred in before putting it on the cake and then putting it all under the broiler. It seemed simple enough, but I don't know if I messed up somewhere along the line or if it's just the recipe, but when I went to spread the topping on the cake, it was totally grainy. Maybe I cooked it too quickly, maybe the sugar from the coconut caused it to crystalize, who knows. But I had already poured it on, so there was no turning back.
I broiled the topping, then put the cake on the counter to cool. I was disappointed, because of that crystallized topping. Right then, I told myself that I'd have to start over.
But then I took a bite.
And another.
And another.
Before I knew it, I had eaten a whole piece. Let me just say – it is very rare for my family to eat a whole dessert. I just make too many, and a lot of it gets given away. But this cake? Gone in 24 hours. All of us loved it. It's incredibly moist, filled with warm spices, and even though it's simple, it still packs a punch. And even though the topping was a little bit crunchy, it was so good and addictive.
I just love it when a simple recipe like this becomes a family favorite!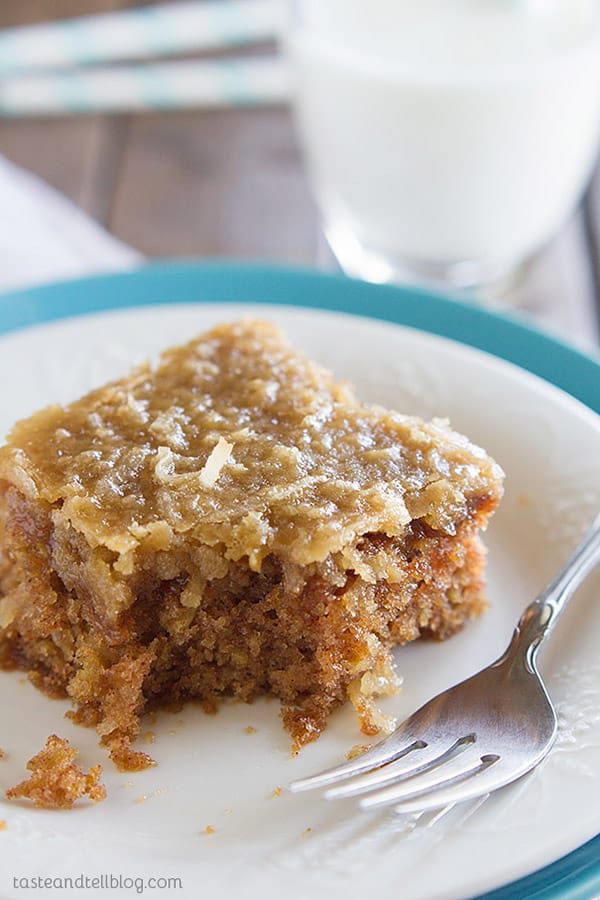 WATCH HOW TO MAKE THIS OATMEAL CAKE BELOW!
Like what you see here? Make sure you are following Taste and Tell for more recipes and ideas!
Facebook | Pinterest | Instagram | Twitter | Google+ | Weekly Newsletter | Feedly | Bloglovin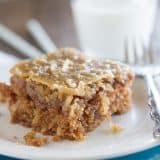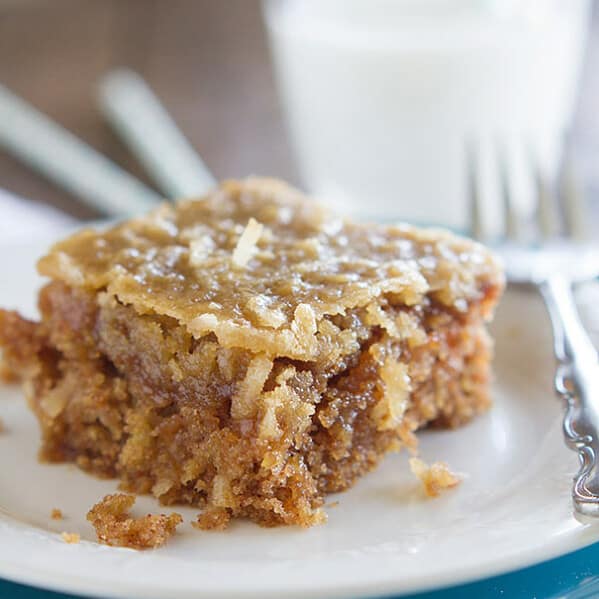 Oatmeal Cake
---
Author:
Prep Time: 15 mins
Cook Time: 50 mins
Total Time: 1 hour 5 mins
Yield: 16 servings 1x
Description
This old-fashioned oatmeal cake might not win any beauty awards, but one bite and it will instantly become a family favorite!
---
Scale
Ingredients
Cake
1 1/2 cups hot water
1 cup old fashioned oats
1 cup brown sugar
1 cup white sugar
1/2 cup butter, at room temperature
2 eggs
1 1/3 cups all-purpose flour
1 teaspoon cinnamon
1 teaspoon baking soda
1/2 teaspoon salt
Topping
1/2 cup butter
1 cup brown sugar
1 tablespoon milk
1 cup coconut
---
Instructions
Preheat the oven to 350°F. Spray a 9×13-inch baking dish with nonstick cooking spray.
Combine the water and the oatmeal and allow to soak while you prepare the remaining ingredients.
Cream together the butter and both sugars. Beat in the eggs. In another bowl, mix together the flour, cinnamon, baking soda and salt. Add half of the flour to the creamed butter mixture, followed by the soaked oatmeal, then the remaining flour, mixing between additions. Pour into the prepared baking dish and bake until set, 35-40 minutes.
For the topping, turn the oven to broil. Combine the butter, brown sugar and milk in a saucepan. Bring to a boil, while stirring. Boil for one minute. Stir in the coconut. Pour over the cake, spread, then broil for one minute.
SHOP THIS POST!
More easy, family favorite cakes: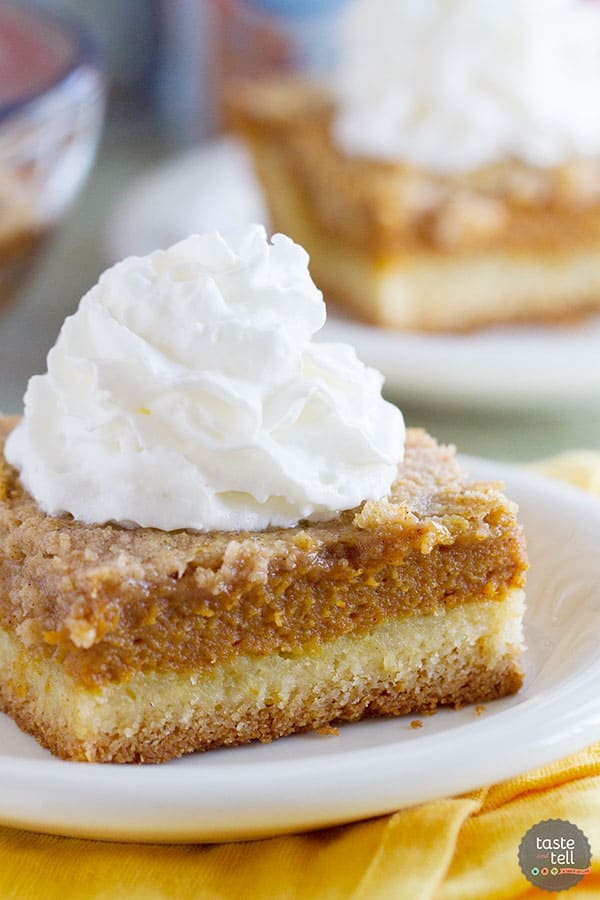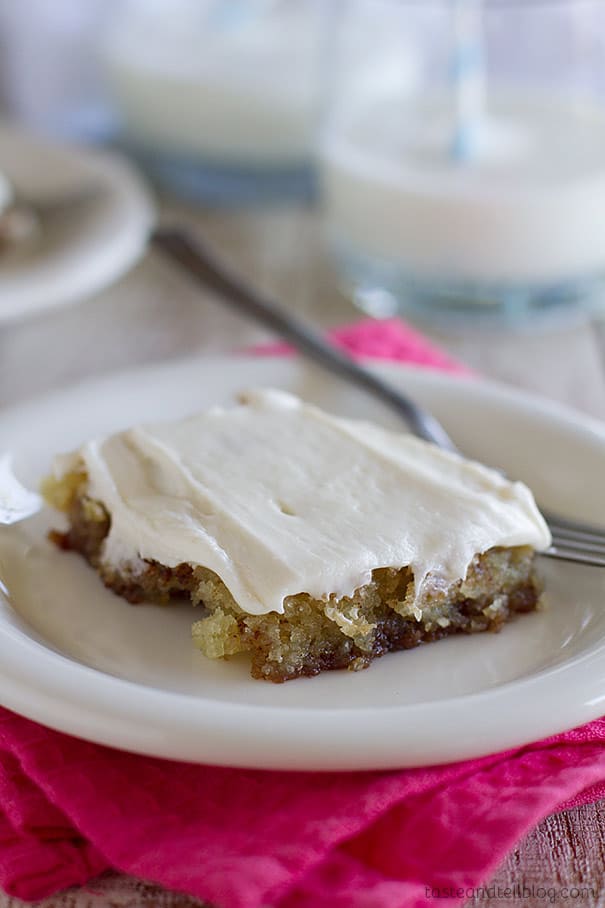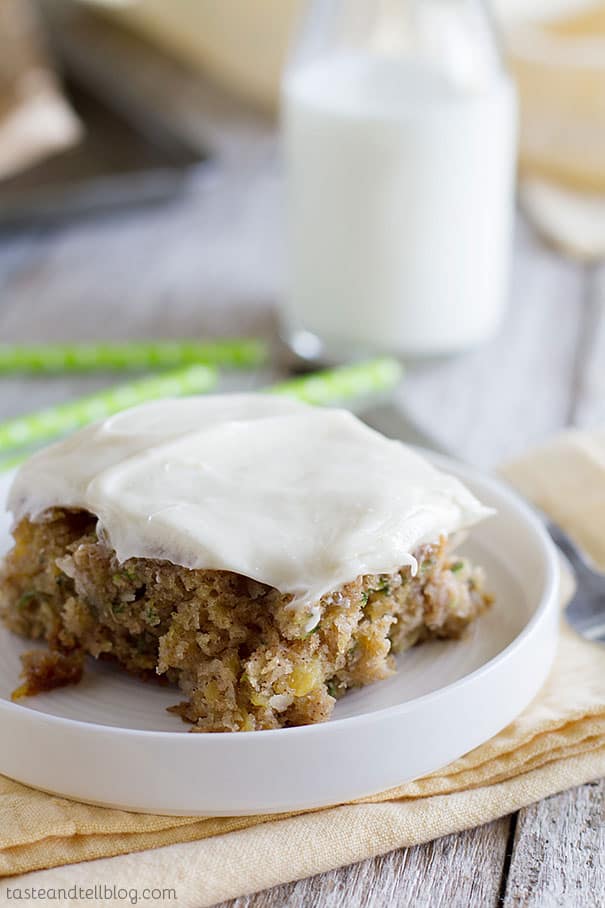 Pineapple Zucchini Cake with Cream Cheese Frosting
Around the Web:
Texas Sheet Cake on Brown Eyed Baker
Cinnamon Sugar Cake on The Recipe Critic
Yellow Sheet Cake with Chocolate Fudge Frosting on Sally's Baking Addiction
Don't miss a thing! Follow me on Pinterest to see what I'm pinning!
Visit Taste and Tell's profile on Pinterest.