Growing up, we had a rotation of recipes that my mom would make.  One of those meals – and one of my favorites – was sloppy joes.  I can imagine that most kids had sloppy joes as a kid, and now as a mother, I can see why.  Not only are they easy and fast, but they are pretty family friendly and relatively inexpensive.
I still love a good sloppy joe these days.  And I can't tell you how these popped into my head – but once the idea was there – I had to run with it.  All I know is one day, I found myself thinking "what about sloppy joe on top of a hot dog?"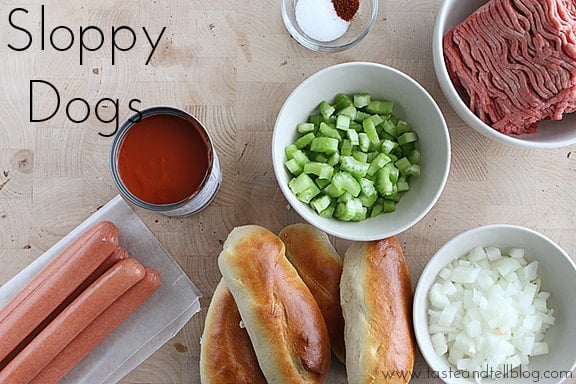 Honestly, I had no idea how these would turn out.  But I figured that I love chili dogs, so why not sloppy joe dogs?  Luckily the experiment was a big success.  I think these may have even been my husband's favorite hot dog recipe.  He devoured 2 the night I made them, and then had 2 more for lunch the next day.  I can usually judge how successful a recipe is by how much my husband eats – and this one was a true winner!!