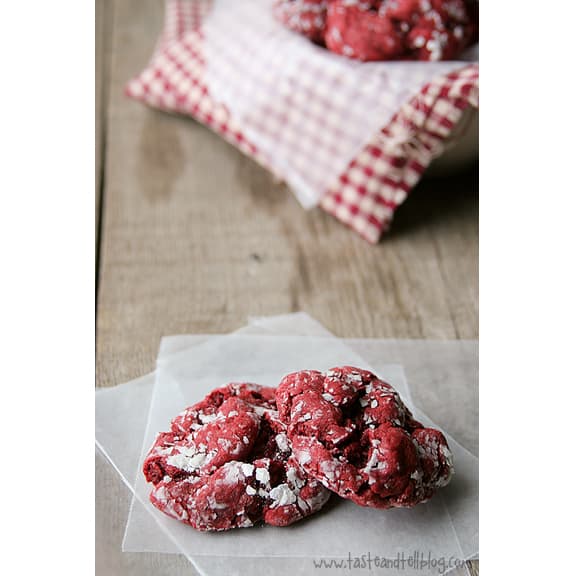 If you've been reading Taste and Tell for awhile, you will remember that last year, I did a week full of red velvet recipes around this time. It turned out so well, and it was so much fun, that I told myself that I would make it an annual event. So here we are – the 2nd annual Red Velvet Week!
It's time to start thinking about Valentine's Day, if you haven't been thinking about it already. And to me, nothing screams Valentine's Day more than red velvet!! I'm so excited for all of the recipes that I am bringing you this week – starting off with these amazing cookies.
I think that cake mix cookies are making a comeback. I first posted about these back in the summer of 2007. Thanks to Pinterest, they have become the most viewed recipe here on my blog lately!! And I've been seeing cake mix cookies pop up from some of my favorite bloggers. There is a reason these cookies are so popular. Not only are they delicious, but they are so darn easy that anyone can make them!!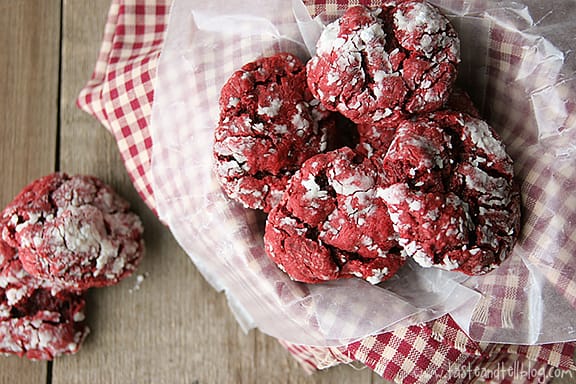 This cake mix cookie is a little different than those cookies I posted many years ago. The queen of butter – Paula Deen (who I have decided is the red velvet queen) – was the genius who came up with the idea to turn one of my favorite desserts – Gooey Butter Cake – into cookies. I just took it one step further and turned them into red velvet gooey butter cookies.
If you are a fan of crisp cookies, you'll want to turn away now, because these cookies are nothing close to crisp. They are super, super soft. Super, super moist. Even days after I made them they were still soft and gooey on the inside. I absolutely loved these cookies!!