A holiday twist on red velvet, these Red Velvet Peppermint Gooey Butter Cookies are a cinch to make and have the perfect amount of holiday flair.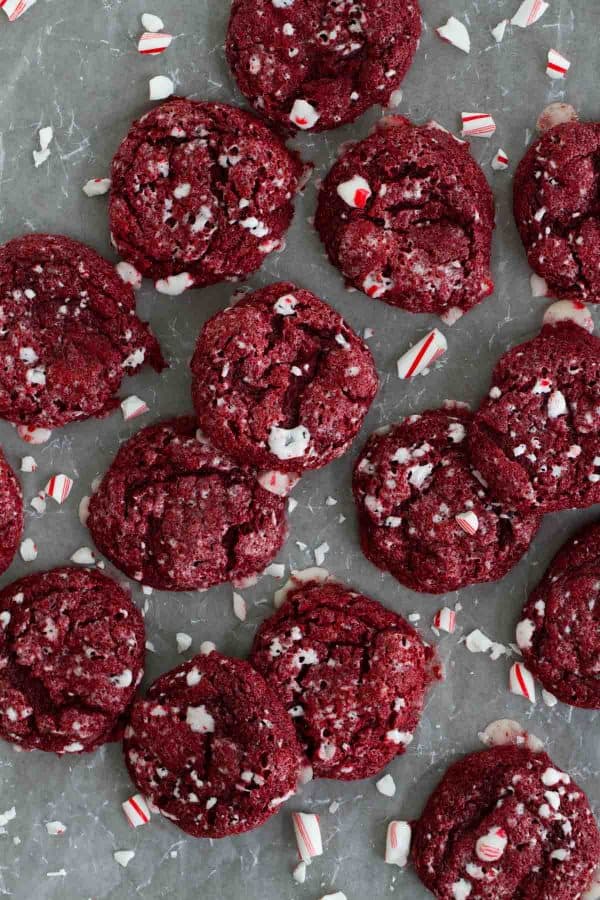 This post has been sponsored by Clorox®. All opinions are my own.
Tis the season for holiday baking, and we have been baking up a storm in my kitchen!! What is your favorite holiday treat to make? I feel like there are so many opportunities to bake around Christmas, so I decided that this is the year that I'd get my daughter in the kitchen with me. Not only because it's easier when you have an extra pair of hands, but I want her to have memories of baking Christmas cookies with mom when she gets older. I can teach her my tricks, and then one day, maybe she'll be teaching those same tricks to a daughter of her own.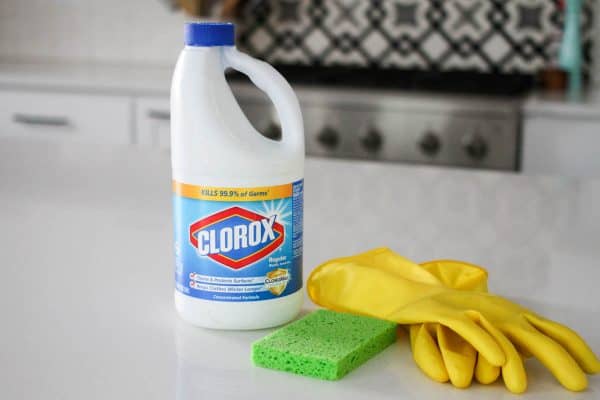 This year, I have teamed up with Clorox® to talk about keeping things clean and sanitary all holiday season long, which is super important when you are sharing your Christmas treats with friends, neighbors and family. As we all know, things can get messy when you are in the kitchen with kids, so it's a great time to teach my daughter all about making sure things are clean before we start because a clean space sets us up for making delicious cookies.
I always like to start with clean countertops, a clean sink, and a clean refrigerator. And Clorox® is here to help! I have been using Clorox® bleach for as long as I can remember, but I'm totally loving their new patented formula – Clorox® Regular Bleach with CLOROMAX™. It's great on any surfaces that are frequently touched – like countertops, light switches and sinks. It can even be used to disinfect things like your cutting boards, trash cans and kitchenware. And if you use it regularly, it forms a protective shield that makes messes in the future easier to clean up.
If you aren't sure how to tackle those stains or keep your kitchen in tip-top shape for holiday fun, Clorox® has made it easy with all kinds of tutorials on how to disinfect everything from your countertops to your sink to your cutting boards.
For our first cookie of the season, my daughter and I made up a batch of these Red Velvet Peppermint Gooey Butter Cookies. They are a twist on an old favorite from here on the blog, and the peppermint gives it just the perfect amount of holiday flair. These Red Velvet Peppermint Gooey Butter Cookies are perfect for making with kids because they are super easy, and you get to get your hands dirty!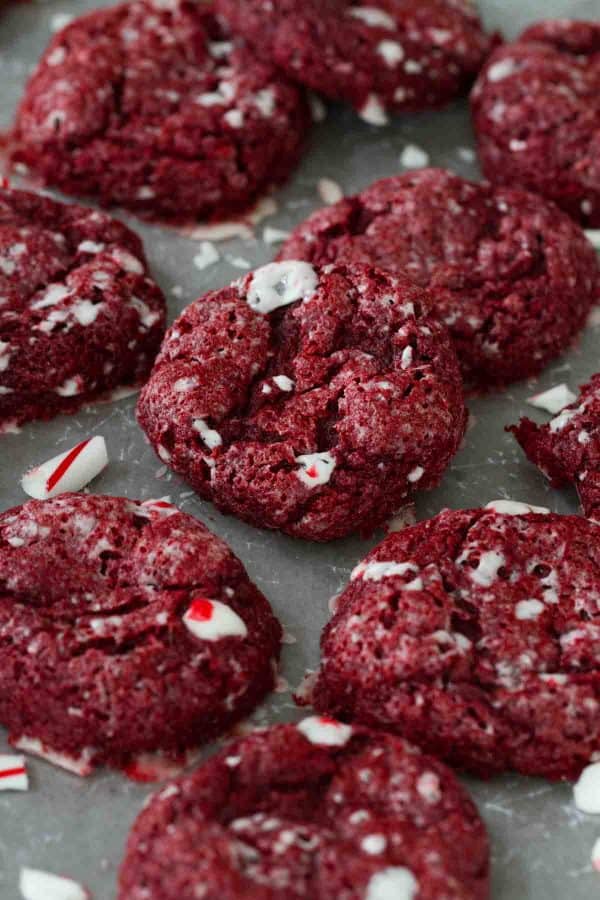 My biggest tip with these cookies is to make sure the crushed candy canes that you roll the dough in are crushed super finely, because any chunks will melt in the oven. It's not a huge deal, but the cookies are prettier and easier to get off the cookie sheet if they don't have the big melted pieces.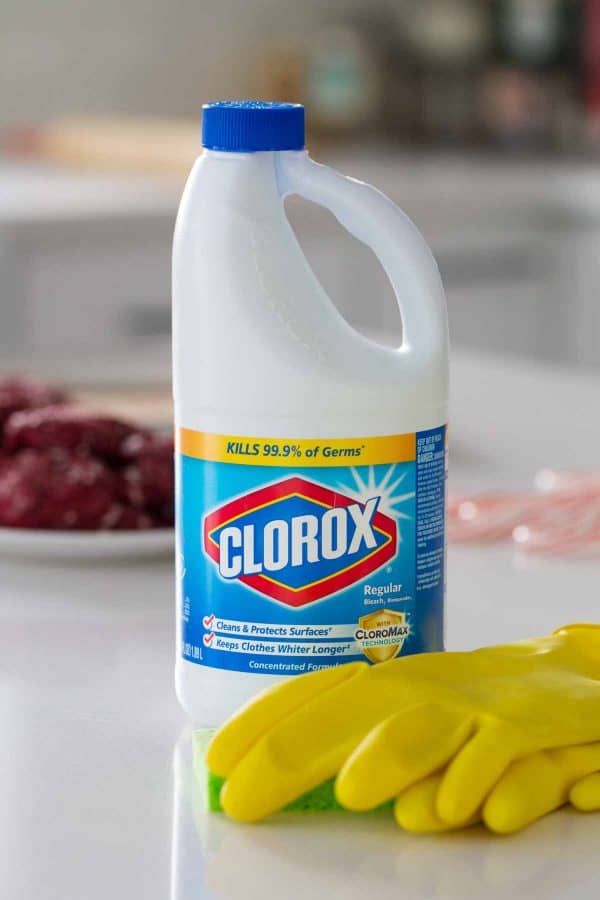 My other tip, of course, is to make sure everything is cleaned in advance with your Clorox® Regular Bleach with CLOROMAX™, because we all know how messy red velvet can get!
So, here's to not only delicious holiday baking, but clean kitchens as well. Because a clean kitchen sets us up for enjoying time with friends, family and making those unforgettable memories with our kids. Plus, we'll have the peace of mind knowing our loved ones won't go home sick from cross-contamination.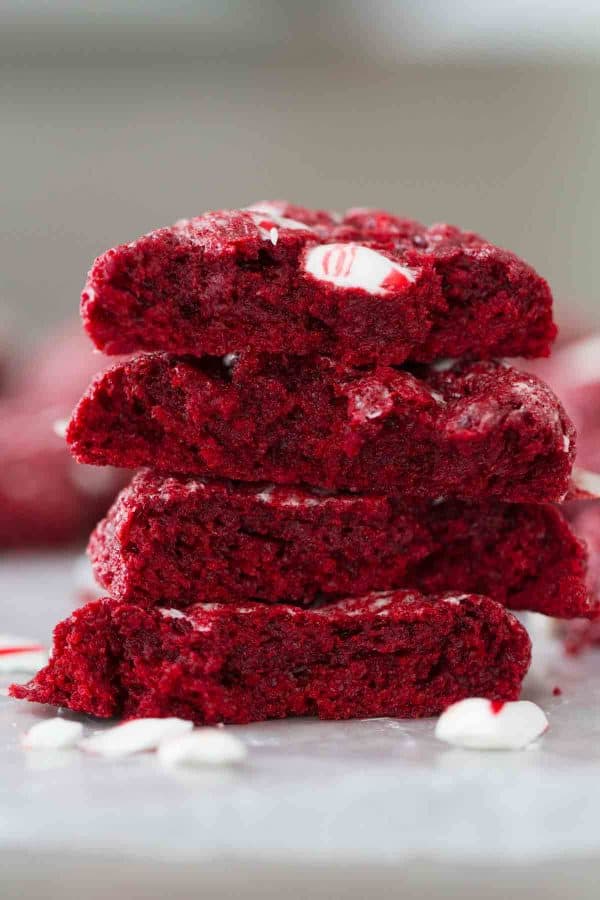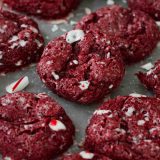 Red Velvet Peppermint Gooey Butter Cookies
---
Author:
Prep Time: 15 mins
Cook Time: 12 mins
Total Time: 2 hr 30 mins
Yield: 24 cookies 1x
Category: Dessert
Description
A holiday twist on red velvet, these Red Velvet Peppermint Gooey Butter Cookies are a cinch to make and have the perfect amount of holiday flair.
---
Scale
Ingredients
8 oz cream cheese, at room temperature
1/2 cup butter, at room temperature
1 egg
1 teaspoon peppermint extract
1 box red velvet cake mix
6 full sized peppermint candy canes
---
Instructions
Place the cream cheese and the butter in a large bowl or the bowl of a stand mixer and beat until completely smooth. Beat in the egg and the peppermint extract.  Add the cake mix and beat on low just until completely combined.  Cover and refrigerate for at least 2 hours.
Place the unwrapped candy canes in a food processor or blender. Pulse until you have fine crumbs.  Pour into a bowl.
Preheat the oven to 350ºF.
Using a small scoop, about 1 1/2 tablespoons, scoop out some fo the dough. Using clean hands, roll the dough into a ball, then roll in the candy cane crumbs.  Place on an uncreased baking sheet.
Bake for 11-12 minutes, or until just set.  Let cool then serve.
Don't miss a thing! Follow me on Pinterest to see what I'm pinning!