A creamy pumpkin cheesecake is topped with a caramel sauce for this decadent fall dessert.
Yesterday was my birthday. The big 3-1. And somehow, it feels much older than 30. Maybe it's because I'm pregnant with my first child, and I somehow always thought I'd be done having kids by the time I was 30, not just starting. And being 30 and child-less feels younger than 31 with one on the way. And it could be that I'm finding gray hairs several times a week.
I always thought it was fun to have my birthday on September 21st – the last of summer. This year, it was the actual last day of summer, and today, I get to welcome in my favorite time of year. I've always loved the fall. The smells, the temperature, the looming of the holiday season – all my favorites.
My family got together last night, and I had originally volunteered to make dessert, but my mother thought that it wasn't really right for the birthday girl to bring her own cake. But I had really been wanting to welcome in the new season with a taste of fall, so I brought my own birthday dessert to work last Friday!
I don't usually make cheesecakes for work, because even cut into small slices, it's not enough to serve everyone. But since it was for my birthday, I figured I would get what I wanted! I had really been wanting to try out a pumpkin cheesecake, and when I ran across this one at Good Eats 'n Sweet Treats, I knew I had to try it. I had never thought to pair pumpkin cheesecake and caramel before, but seeing that they are two things that I love separately, how could they be bad together?
It was a delicious combination of flavors. The cheesecake recipe comes from RecipeZaar, and the caramel sauce from Baking: From My Home to Yours. Both were so easy, even cheesecake and caramel newbies could pull this off. Caramel seems to be my nemesis – sometimes it works for me, and sometimes it doesn't, but this recipe seems to be foolproof. I did cook mine a tad long, so it solidified before we ate the cheesecake, but a few seconds in the microwave, and it was good and runny again. And I was so grateful that there was quite a bit of the caramel sauce left over, because I've been eating it by the spoonful and loving every bite!
This was a great way to welcome in the Fall, and a new year with new adventures!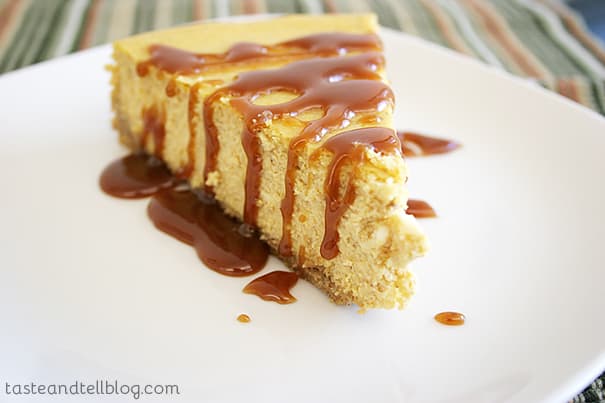 Pumpkin Cheesecake with Caramel Sauce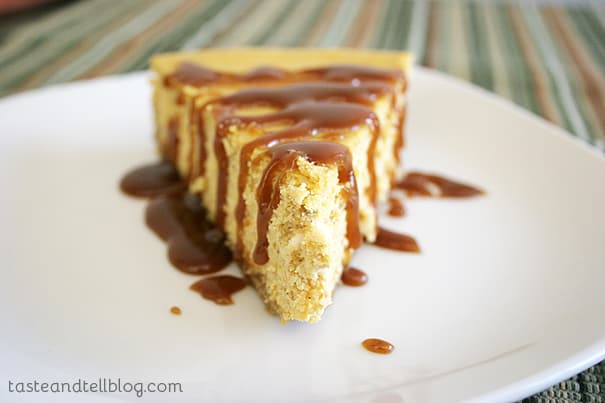 A creamy pumpkin cheesecake is topped with a caramel sauce for this decadent fall dessert.
Ingredients
Cheesecake:

1-1/2 cups graham cracker crumbs
5 tablespoons butter, melted
1 cup sugar, plus 1 tablespoon sugar
3 (8 ounce) packages cream cheese, softened
1 teaspoon vanilla
1 cup canned pumpkin
3 eggs
1 teaspoon cinnamon
1/2 teaspoon nutmeg
1/2 teaspoon allspice

Caramel Sauce

2 cups sugar
1/2 cup water
1-1/2 tbsp light corn syrup
2/3 cup heavy cream
2 tbsp unsalted butter, at room temperature
Instructions
Cheesecake:

Preheat oven to 350 degrees F.
Make the crust by combining the graham cracker crumbs with the melted butter and 1 tbsp sugar in a medium bowl. Stir well enough to coat all of the crumbs with the butter, but not so much as to turn the mixture into paste.
Put foil partway up the outside part of an 8-inch springform pan. Press the crumbs onto the bottom and about two-thirds of the way up the sides of the springform pan. You don't want the crust to form all of the way up the back of each slice of cheesecake. Bake the crust for 5 minutes, then set aside until you are ready to fill it.
In a large mixing bowl combine the cream cheese, 1 cup sugar, and vanilla. Mix with an electric mixer until smooth. Add the pumpkin, eggs, cinnamon, nutmeg and allspice and continue beating until smooth and creamy. Pour the filling into the pan. Bake for 60-70 minutes. The top will turn a bit darker at this point. Remove from the oven and allow the cheesecake to cool.
When the cheesecake has come to room temperature, put it into the refrigerator.

Caramel Sauce:

Put the sugar, water and corn syrup in a medium heavy bottomed saucepan, stir just to combine the ingredients and then put the pan over medium-high heat. Heat, without stirring , until the caramel turns deep amber., 5-10 minutes. Lower the heat a bit and, standing back from the saucepan add the cream and butter. When the spatters are less vehement, stir to calm down the caramel and dissolve any lumps.
Notes
http://www.tasteandtellblog.com/pumpkin-cheesecake-with-caramel-sauce/
Recipe from www.tasteandtellblog.com