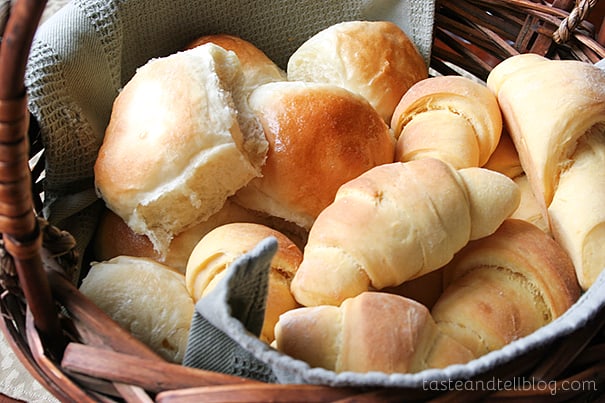 As a food blogger, and I'm sure most of you can relate since you are reading about food, I love trying new recipes. And really, the majority of the time, this is a really good thing. Most recipes turn out good, or at least edible, and we never get sick of eating one thing over and over again. But sometimes it can be a bad thing. I can think of a few times when I was supposed to bring something to an event, whether it be a dinner with family or just bringing treats to work, where the recipe I made was a complete flop. Then I had to struggle at the last minute to come up with something else.
So what do you do when it comes to a major food holiday, like Thanksgiving or Christmas? Do you try out recipes weeks before, making sure that it is good enough to grace the holiday table?? I didn't. But luckily, these rolls turned out delicious!
Last Thanksgiving, (yes, this is how far behind I am in my recipes to blog!), I volunteered to bring the bread. A risky decision for me, because with bread, you never know how it's going to turn out. Especially when you are trying not one, but two new recipes. And a Thanksgiving table is just not complete without good bread, so the pressure was really on. I must have been having a good day, though, because both recipes came out wonderful. In fact, they were probably the best rolls I have ever made!! And they are both recipes that I will be making again in the future.
Lion House Dinner Rolls
makes 2 – 2 1/2 dozen rolls
2 cups warm water
2/3 cup nonfat dry milk (instant)
2 tablespoons dry yeast
1/4 cup sugar
2 teaspoons salt
1/3 cup shortening, butter or margarine
1 egg
5 – 5 1/2 cups flour (either all purpose or bread)
In the large bowl of an electric mixer, combine the water and the milk powder and stir so the milk dissolves. Add the yeast to this mixture then the sugar, salt, shortening, egg and 2 cups of the flour. Mix on low speed of mixer until ingredients are wet, then turn to medium speed and mix for 2 minutes. Stop the mixer and add 2 more cups of flour then mix on low speed until the ingredients are wet, then turn mixer on medium speed and mix for 2 minutes. The dough will be getting stiff and you may need to remove the bowl from the mixer and mix in the remaining flour by hand.
Add approximately 1/2 cup of flour and mix again. The dough should be soft, not overly sticky, and not stiff. It is not necessary to use the entire amount of flour.
Scrape the dough off the sides of the bowl and pour approximately one tablespoon of vegetable oil all around the sides of the bowl. Turn the dough over in the bowl so it is covered with the oil. Cover with plastic and allow to rise in a warm place until double in size.
sprinkle a cutting board or counter with flour and put the dough on the flour. It is now ready to roll out and cut into desired shape and size of rolls. Place on greased baking pans. Let rise in a warm place until the rolls are double in size (approximately 1 – 1 1/2 hours.)
Bake in a 375F oven for 15-20 minutes or until they are browned to your satisfaction. Brush with melted butter while hot.
Sweet Potato Buttermilk Dinner Rolls
recipe found at Pinch My Salt