These Butterhorns are a simple, slightly sweet and buttery roll that can be served plain, or made with different fillings. Perfect for the dinner table or for dessert!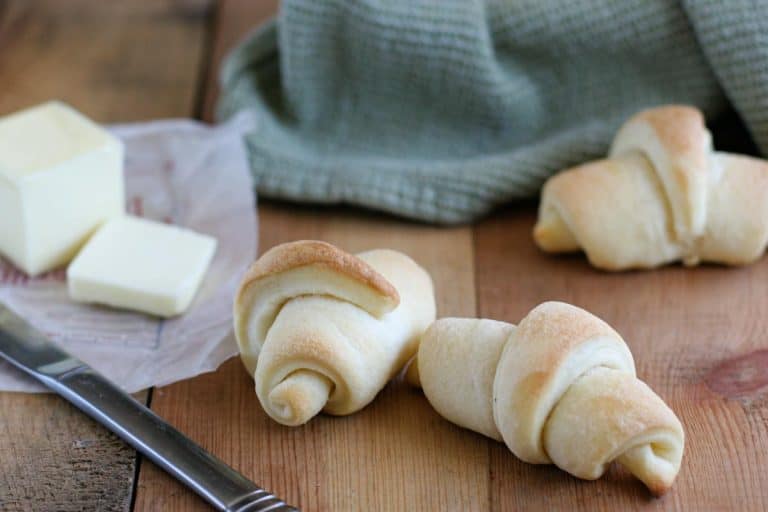 I sometimes think that I was born in the wrong era. At times I'll be in the kitchen, thinking about ancestors past and how they made everything from scratch. Call me crazy, but I can sometimes imagine myself back in the day as a farmer's wife, at home preparing all the meals, making something hearty and filling for when my husband came in from working the land. Granted, I'd miss air conditioning and running water and reality tv, but I often wonder what it would have been like to live back then.
I say that now, but then I don't even make all of my own bread. (This is something that I would really love to eventually do, but life seems to be getting in the way lately.) But I really do enjoy making bread. And even though I have a mixer, there is something about making the dough completely by hand – or at the very least, kneading the bread by hand – that is so satisfying and therapeutic. So I love to take advantage of any time I have to make bread from scratch.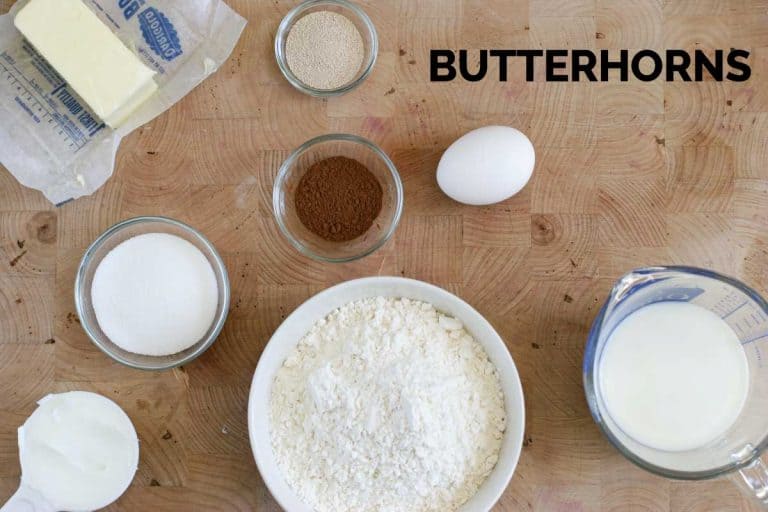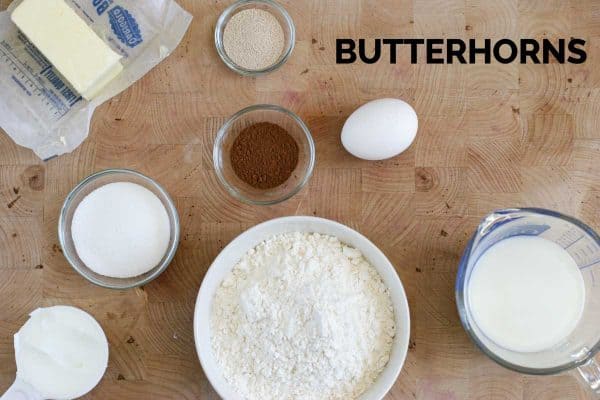 I saw these butterhorns in this month's Cookbook of the Month – Poor Girl Gourmet, and knew immediately that I wanted to make them. I especially loved that these rolls are so versatile – they don't have to be just plain rolls. Although there is definitely nothing wrong with plain rolls. I made half of mine plain, to eat with dinner that night, and the other half I sprinkled with cinnamon and sugar for a sweet treat. I loved that they were just sweet enough to be called sweet, but not so sticky sweet that you felt like you were on sugar overload after eating them.
If you are afraid of working with yeast, I implore you now to give it a try. It may be a little intimidating to start out with, but it really isn't as difficult as you'd imagine it to be. And it is so satisfying to see something like bread that you know made completely from scratch. And these rolls would be a perfect recipe for a beginner to start with! This is a recipe I'll be keeping around!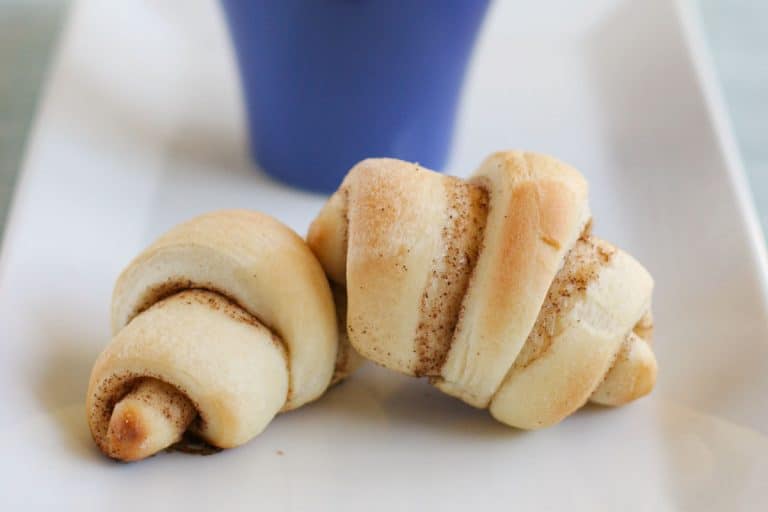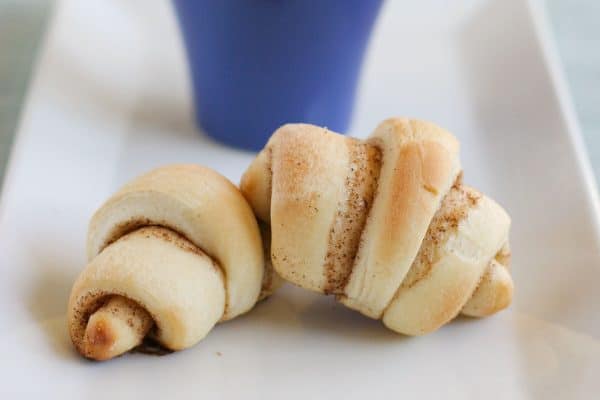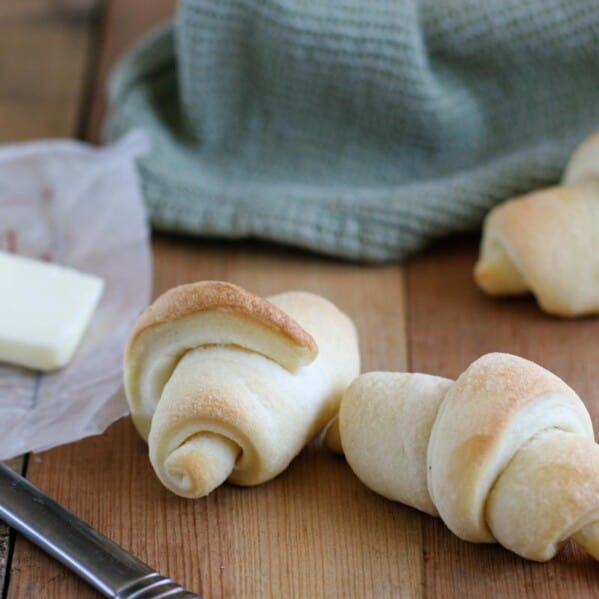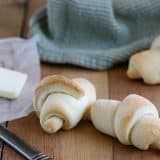 Butterhorns
---
Author:
Prep Time: 20 minutes
Cook Time: 15 minutes
Total Time: 3 hours 15 minutes
Yield: makes 24 rolls 1x
Category: Bread
Method: Bake
Description
These Butterhorns are a simple, slightly sweet and buttery roll that can be served plain, or made with different fillings. Perfect for the dinner table or for dessert!
---
Scale
Ingredients
3/4 cup milk
1/4 cup sugar
1/4 cup vegetable shortening
1 teaspoon kosher salt
1/4 cup warm water
2 1/4 teaspoons (1 envelope) active dry yeast
3 3/4 cups unbleached all-purpose flour, sifted
1 large egg, at room temperature
6 tablespoons unsalted butter
---
Instructions
Grease a large bowl with butter or oil and set aside.
In a small saucepan over medium heat, warm the milk just until it starts to steam.
In the bowl of a mixer, or in a large bowl, combine the milk, sugar, shortening and salt. Mix well. Let the mixture cool slightly.
Meanwhile, mix together the warm water and the yeast. Allow the yeast to dissolve for 5 minutes.
Sift the flour and add 1 1/2 cups to the milk mixture. Mix until blended. Add the egg and the yeast mixture and mix until you can no longer see the yellow of the yolk. Add the remaining flour gradually until it is fully incorporated and the dough pulls away from the sides of the bowl. Transfer the dough to a floured surface and knead until the dough comes together and is silken, 1 to 2 minutes. Form the dough into a ball and place in the greased bowl. Turn once to coat with the oil. Cover the dough with a clean kitchen towel or plastic wrap and set in a draft free area. Allow to rise until doubled, 1 1/2 to 2 hours.
Line 2 9×13-inch pans with parchment paper or grease lightly. Set aside.
When the dough has doubled, transfer to a floured surface and divide into 2 equal halves. Form each into a ball. Roll each ball out into a 12-inch circle. Using a sharp knife, pastry cutter or pizza wheel, cut the circle in half, then each half circle into 6 equal wedges.
Melt the butter and brush half of the butter onto the wedges. Roll the wedges up, starting at the wide end and rolling to the point. Place on the prepared baking sheet with the tip on the bottom to prevent it from unrolling. Cover again with a clean towel or plastic wrap and let them rise once more until doubled, 30 to 45 minutes.
Preheat the oven to 400F. Brush the tops of the butterhorns with the remaining butter and bake in the oven until golden brown, 12 to 15 minutes. Allow to cool slightly before transferring to a bread basket.
Cinnamon Sugar Version: Sprinkle cinnamon sugar over the round after you have brushed the dough with butter, before you roll them. You can also make other versions – cheese rolls, pesto rolls, garlic rolls – the possibilities are endless!