2.8K Flares
2.8K Flares
×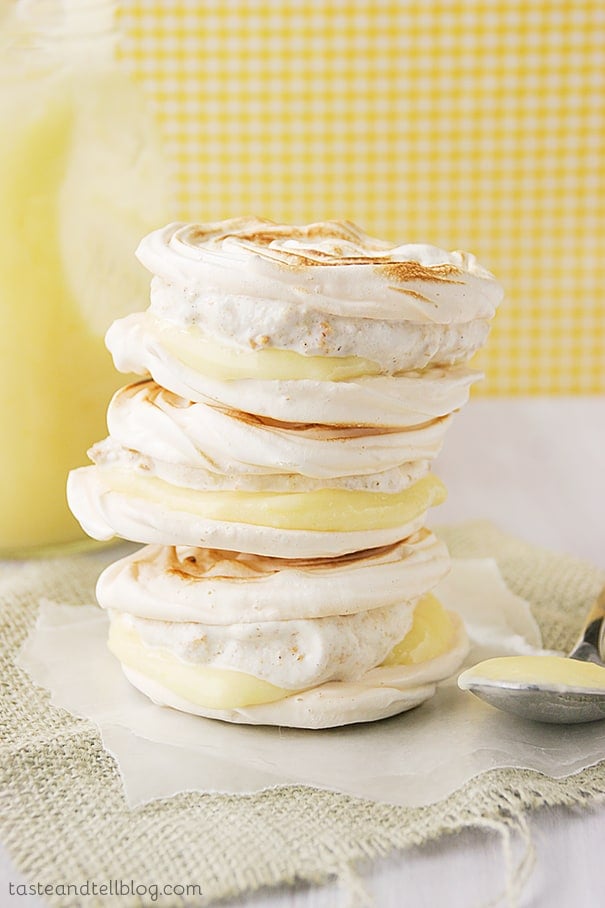 I promised another lemon curd recipe weeks ago, and somehow, things kept coming up that prevented me from posting these. And I almost skipped another week, because looking over my week, it has been full of oatmeal moon pies, peanut butter, peanut butter, and more peanut butter! But I am going to satisfy your sweet tooth with yet another sweet recipe, and I promise that I'll bring something a little more savory to the table next week.
I love lemon curd in just about any way, shape and form, but pairing it with meringue cookies and ice cream? Just brilliant. These were the perfect sweet treat. Sweet, creamy and tart, all coming together in a delicious ice cream treat. And it's getting so warm outside – you need your freezer stocked with great frozen treats to battle that afternoon sun. These ice cream cookies would be a perfect way to re-energize you any hot afternoon!
Just one word of advice on these – if you choose to brown the meringues in the oven under the broiler, keep a constant eye on them. My first batch did not go exactly as planned – unless we were willing to eat completely blackened meringue cookies. And after that happened, I was too scared to try the broiler again, so I ended up digging out my kitchen torch to brown the meringue. I'm sure the broiler works – you just need to keep a constant eye on them because they can go from browned to blackened in a matter of seconds!!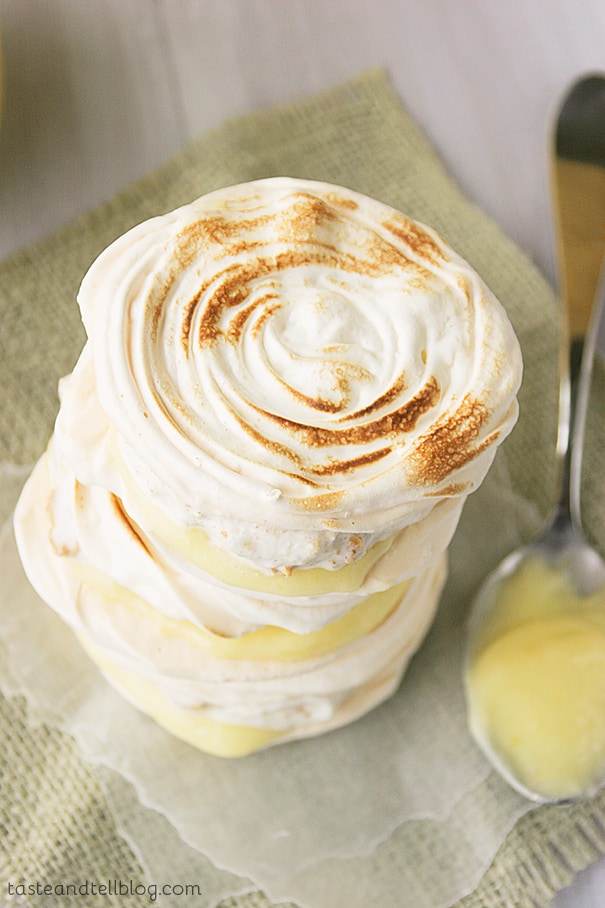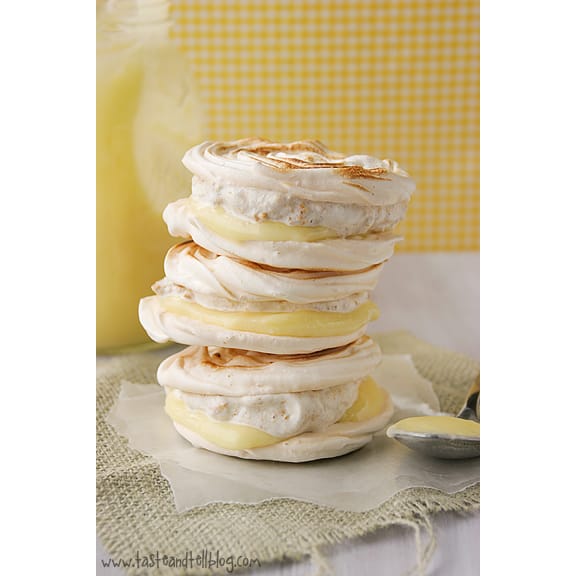 Forget the crust! This take on a lemon meringue pie is perfect for a warm day. Meringue cookies are sandwiched with graham cracker ice cream and lemon curd.
Ingredients
4 egg whites, at room temperature
1/4 teaspoon cream of tartar
1/8 teaspoon salt
3/4 cup sugar
1/2 teaspoon lemon extract
1 pint vanilla ice cream
4 graham cracker sheets, lightly crushed
3/4 cup Lemon Curd
Instructions
Place the oven racks in the top third and the bottom third of the oven. Preheat the oven to 250F. Line 2 baking sheets with parchment paper. Using a glass or bowl as a guide, trace 6 circles, about 3 1/2-inches in diameter, onto the parchement paper. Set aside.
Use an electric mixer to whisk the egg whites, cream of tartar and salt until they are frothy, about 1 minute. Gradually sprinkle in the sugar while the machine is running on high speed and beat until the meringue is glossy and stiff, about 3 minutes. Fold in the lemon extract.
Transfer the meringue into a piping bag with a large star tip. Pipe onto the circles on the parchment paper, starting at the center and working your way out.
Transfer to the oven. Immediately change the oven temperature to 200F. Bake for 45 minutes. Rotate the pans and cook an additional 30 minutes. Without opening the oven door, turn off the oven and let the meringues cool in the closed oven for at least 6 hours.
Let the ice cream soften slightly. Mix the graham crackers in with the ice cream.
Using a kitchen torch, (or the oven broiler - see tip in post above), brown the edges of of the meringues. Spread 1/3 cup of the graham cracker ice cream onto 6 of the meringues, and 2 tablespoons of lemon curd onto the other 6 meringues. Sandwich one of the ice cream topped meringues with one of the lemon curd topped meringues. Repeat with the remaining meringues. Serve immediately or freeze up to 2 hours.
slightly adapted from Every Day with Rachael Ray May 2012
http://www.tasteandtellblog.com/lemon-meringue-hand-pies-recipe/
Recipe from www.tasteandtellblog.com
2.8K Flares
2.8K Flares
×