Lemon meringue lovers will go crazy for these Lemon Meringue Eclairs – pate a choux eclair shells filled with lemon curd and then topped with toasted meringue.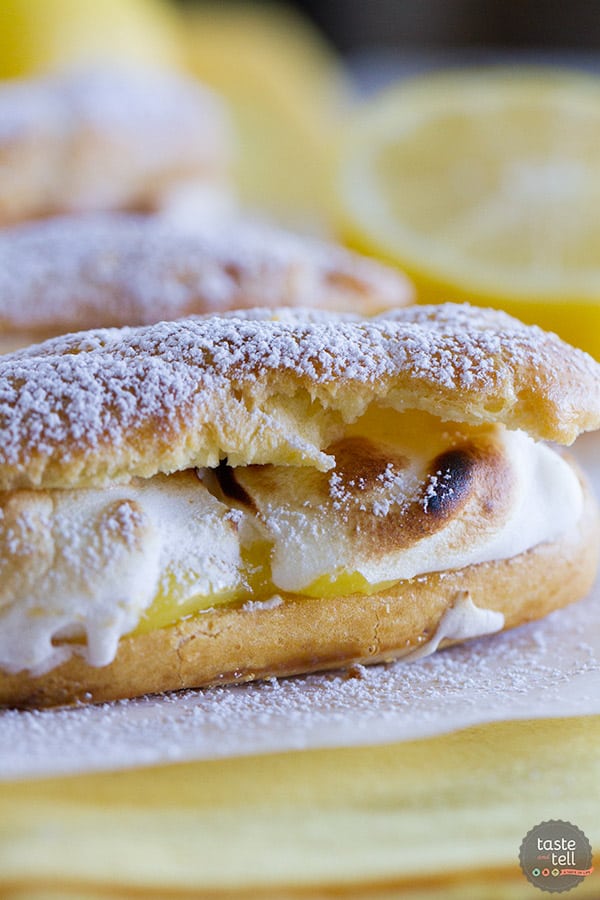 My mom is known for her eclairs. Seriously – ask anyone that knows her, and they will probably know of her eclairs. Whenever she makes them, they are gone so fast that you'd hardly even know that they had been there.
So naturally, having experienced countless eclairs from my mom over the last thirty-something years, I consider myself somewhat of an eclair expert. Expert in tasting them. In making them? Not so much.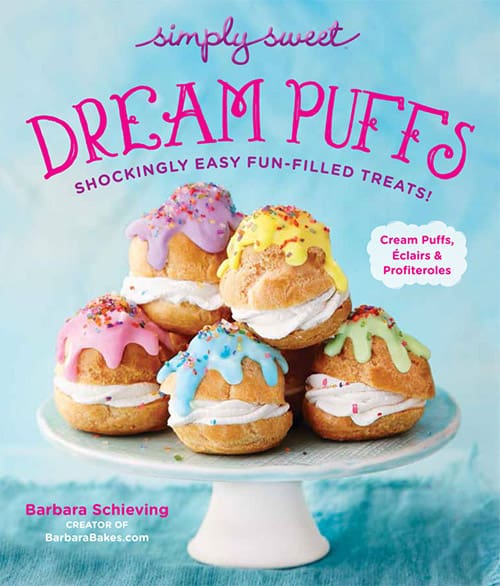 Which is why I was so excited to get to read through this ebook by my friend Barbara Schieving – Simply Sweet Dream Puffs.
Not only are the basics included – which aren't all that basic after all (regular pate a choux cream puffs and eclairs, but also chocolate, graham, and even red velvet!), but there is idea after idea of great fillings for this little pastry. I got more and more excited as I kept reading – every recipe tempting me and calling to me to make it.
If you are scared to make cream puffs or eclairs, Barbara is there to hold your hand through the process. There are tons of guidelines, and she even has a video showing you how to make cream puffs, and one for eclairs as well. She also has templates that make piping the eclairs easier, as well.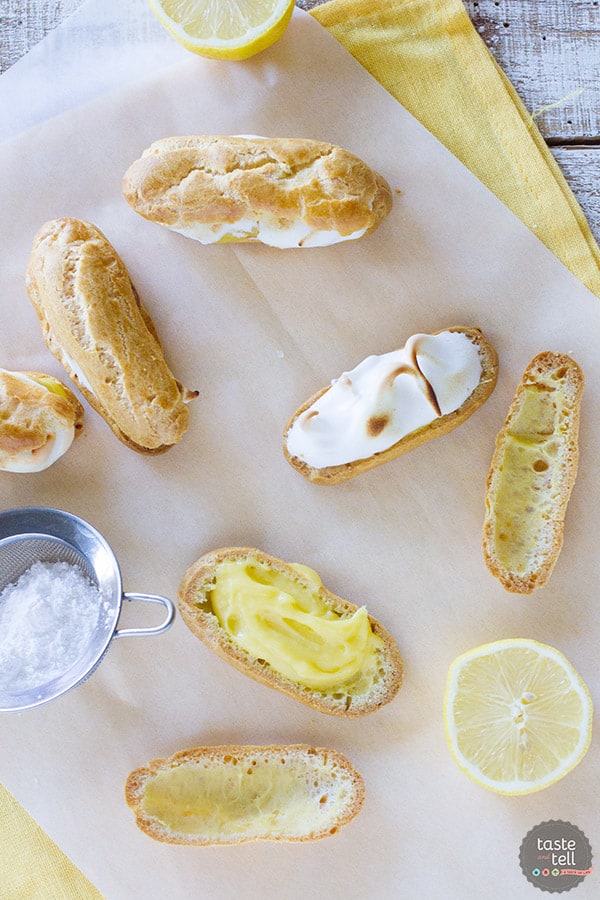 Here are the details:
Number of Photos: lots. There is a photo for every recipe, and they are beautiful.
Difficulty Level of Recipes: medium to hard. By nature, cream puffs and eclairs are a little more difficult, but the instructions and videos definitely help.
Availability of Ingredients: easy. You should be able to find the ingredients at any grocery store.
Other recipes I want to make:
Chocolate Orange Cream Puffs
Cherry-Almond Cream Puffs
S'mores Cream Puffs
Key Lime Eclairs
Strawberry Cheesecake Eclairs
Toffee Bar Eclairs
This book is only available as an ebook, but can be downloaded on Amazon.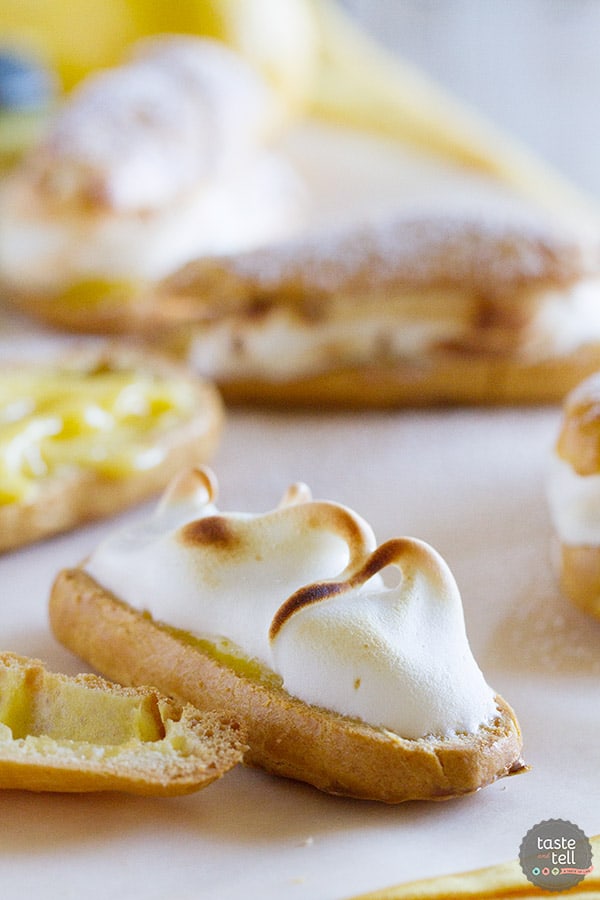 It wasn't even hard for me to choose which recipe I wanted to start with. You all know that I'm a bit of a lemon addict, so the minute I saw these Lemon Meringue Eclairs, I knew I had to try them.
I'm linking over to Barbara's video and recipe for the pate a choux to make the eclairs. My piping skills definitely need some work, but that's just an excuse to make more eclairs. The lemon curd can be made the day before, and so can the eclair shells. If you are in a pinch, you can use store bought lemon curd, but I highly suggest making the lemon curd from scratch. Homemade lemon curd is one of those things that will blow your mind the first time you have it.
These Lemon Meringue Eclairs totally hit it out of the park. SO good. They are messy, but so, so worth it. And with this ebook on my side, maybe one day I'll be the one that is known for her eclairs!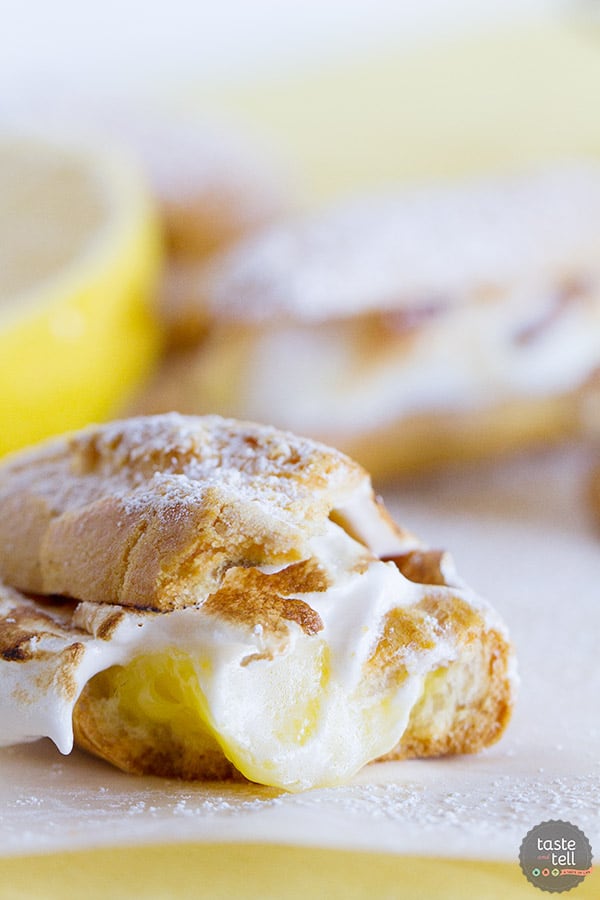 Like what you see here? Make sure you are following Taste and Tell for more recipes and ideas!
Facebook | Pinterest | Instagram | Twitter | Google+ | Weekly Newsletter | Feedly | Bloglovin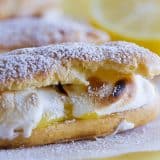 Lemon Meringue Eclairs
---
Description
Lemon meringue lovers will go crazy for these Lemon Meringue Eclairs – pate a choux eclair shells filled with lemon curd and then topped with toasted meringue.
---
Scale
Ingredients
1/3 cup sugar
1 tablespoon cornstarch
3 large egg yolks
1/4 cup fresh lemon juice (about 2 lemons)
zest of 1/2 lemon
1/4 cup cold, unsalted butter, cut into 4 pieces
3 large egg whites
1/4 teaspoon cream of tartar
pinch of salt
1/3 cup sugar
---
Instructions
Whisk together the sugar and cornstarch in a small heavy saucepan. Whisk egg yolks and lemon juice in a glass bowl. Gradually whisk egg mixture into sugar mixture. Cook over medium heat, whisking constantly, 5 minutes or until mixture thickens; remove from heat.
Stir in lemon zest. Add a little butter, 1 piece at a time, whisking until butter is melted and mixture is smooth; transfer to a small bowl. Place plastic wrap directly on warm filling to prevent film from forming. Let stand for 30 minutes; chill 4 to 24 hours.
Beat the egg whites, cream of tartar and pinch of salt at high speed with an electric mixer until soft peaks form. Gradually add the 1/3 cup sugar, 1 tablespoon at a time, beating until stiff peaks form and sugar dissolves, about 2 to 4 minutes.
Preheat oven to 400ºF. Cut each eclair in half horizontally. Place the bottom halves on a parchment paper-lined baking sheet; set top halves aside. Spoon lemon curd onto bottom halves. Spoon or pipe Meringue on top of lemon curd. Bake for 6 minutes, or until meringue is golden. Top with reserved halves.
Recipe Notes:
After baking the meringue, I took my kitchen torch and torched the tops to give them even some extra browning and char.
I sprinkled the finished eclairs with powdered sugar.
recipe source: Simply Sweet Dream Puffs by Barbara Schieving
Don't miss a thing! Follow me on Pinterest to see what I'm pinning!
Visit Taste and Tell's profile on Pinterest.



**This post contains affiliate links. If you purchase an item from Amazon from the link Taste and Tell receives a small commission. Thank you for supporting Taste and Tell through your purchases!**