Pin It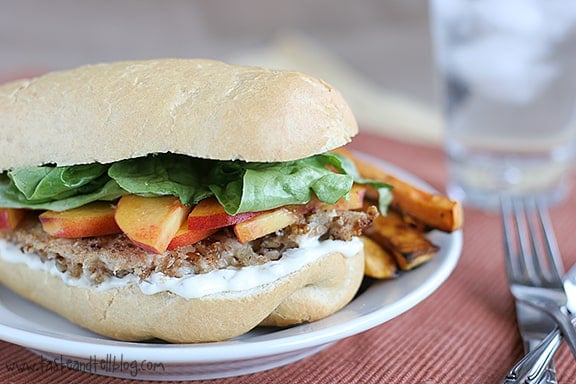 I sometimes wonder if Rachael Ray has any idea how many recipes she has developed over the course of her career.  Think about it – 30 Minute Meals since 1999, a daytime talk show since 2006, Week in a Day since 2010, 18 cookbooks and a magazine since 2005.  That is a lot of recipes.  Granted, I know many of the recipes show up in more than one place, but still, when looking for a Rachael Ray recipe, there is no shortage!!
This is one reason I really love doing Saturdays with Rachael Ray.  Not only so I have a dedicated day each week to show some Rachael love, but I also get to see what Rachael recipes you are making.  Sometimes they are recipes I've made in the past, sometimes they are recipes that I already have bookmarked, and sometimes they are recipes that I totally missed out on for some reason or another.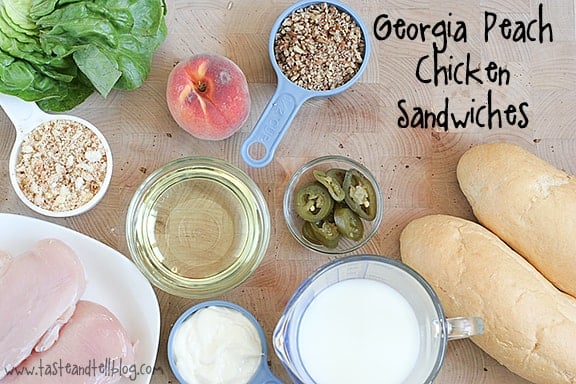 This is one of those recipes that I somehow missed the first time around.  But thank you to Cassie at Cassie Craves for making these sandwiches and linking up to Saturdays with Rachael Ray, because otherwise, I may have missed out on these sandwiches forever! Cassie declared these sandwiches her favorite chicken sandwich.  EVER.  And I totally trust her judgment, because I want to make everything that she makes.  After seeing her post, I immediately put the recipe on my menu.  And as luck (or fate) would have it, the day I was going to make these, my mother-in-law dropped off some peaches from their tree! And thank you, Cassie, because these truly were delicious sandwiches.
The flavor combination was pure magic.  I especially loved how the heat from the jalapenos went so well with the sweet from the peaches. The only problem I had with it was purely because of the way I made them. First of all, I should have ground my pecans much finer. And second, I made homemade breadcrumbs, and they were a little too fluffy for this recipe. I think that store-bought breadcrumbs would have stuck to the chicken better and created a better crust. But even despite those 2 issues, these sandwiches were so good!
So keep sharing your Rachael Ray recipes – I don't want to miss out on the best ones!!
—————————————————-
Other peach sandwich inspiration:
Bacon, Lettuce and Peach Sandwich from Dishing Up Delights
Grilled Portobello and Peach Sandwich from Serious Eats
Grilled Peach and Pancetta Sandwich from YumSugar
—————————————————-
Saturdays with Rachael Ray rules:
* You can link any blog post, present or past, as long as it is a Rachael Ray recipe.
* Your blog post must link back to this post, mentioning Saturdays with Rachael Ray.
That's it!! Simple, simple. Just make sure the recipe is a Rachael Ray recipe – it doesn't matter if it comes from her talk show, 30-Minute Meals, her magazine, or one of her cookbooks. But it must be from Rachael Ray. Any posts that don't follow these two rules will be deleted from the linky. I can't wait to see what you've made!