A super easy, budget friendly dish of bone in chicken thighs with a honey and balsamic vinegar glaze.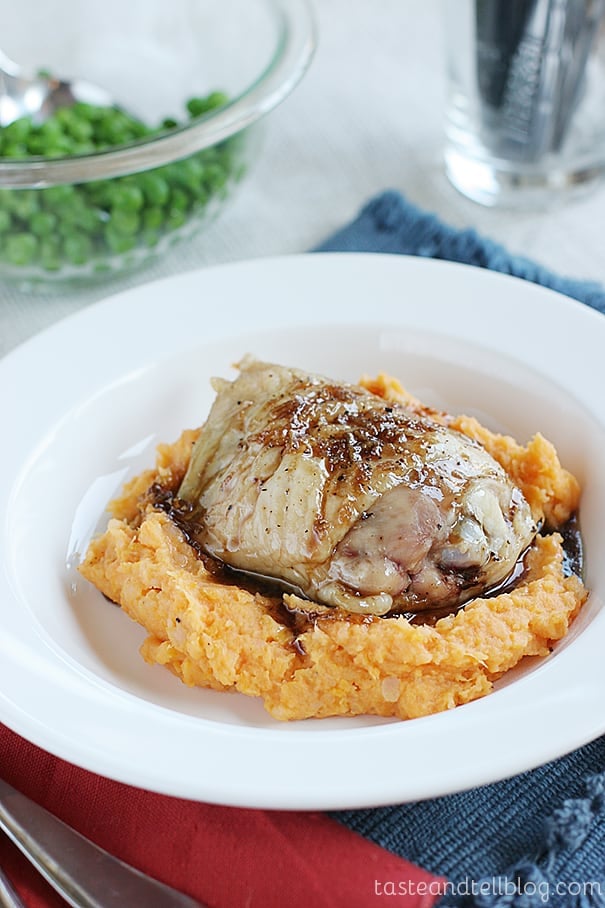 Being a food blogger totally changes how you eat.  It changes how you meal plan.  A few weeks ago, I was talking to a couple of other food bloggers.  One blogger was talking about all of the goodness she freezes from her garden, but that it's hard to use some of it in the dead of winter because she then can't blog about it.  Let's say she had some basil frozen away.  Well, come January, most of us don't have access to basil.  So she doesn't really want to feature a recipe with basil, even though she has it in her freezer, because it's not accessible to readers.
One thing I always find myself thinking about before choosing what recipes to make is if they will be photogenic.  We all know that we first eat with our eyes, so if you can't identify something by looking at it, why would you want to eat it?  (Plus, I have to admit that I get a bit giddy when I see that someone has pinned something of mine on Pinterest!)  So it's kind of sad, because many times, recipes get passed over because I'm afraid of how ugly they would be here on my blog.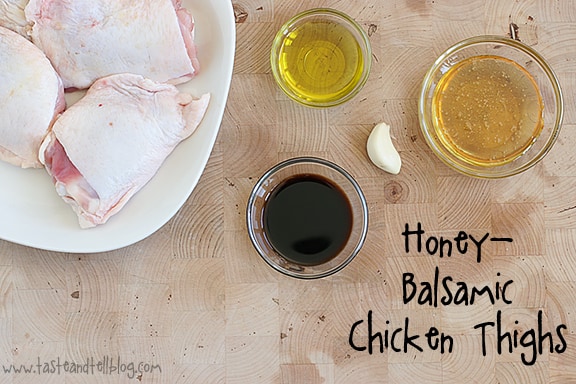 On my first go-through of this month's Cookbook of the Month, I came across this recipe.  I knew when I first read it that it would be a recipe that I would love.  But I passed it by.  Because a big chicken thigh is not usually all that photogenic.  But I kept coming back.  Eventually, my need to make this recipe won out, and I was going to make this chicken, photogenic or not.  I thought to myself, trying to figure out what would go with it.  And my first thought was to serve the chicken over polenta.  It would be tasty, and the polenta would be great to soak up all the extra glaze.  And then I realized I didn't have any polenta left.  So after a quick search through my kitchen, I came up with one regular potato and one sweet potato.  So I decided to serve the chicken over some mashed potatoes instead!
I'm so glad I didn't pass this over, simply because it's not really a looker.  My husband loved this chicken.  I cook so many new recipes, it's not really common that he raves about a meal, but he raved about this one.  And bonus – this is totally easy and super, super cheap.  My grocery store had chicken thighs on sale for $0.99/lb., so this was super, super economical!  And the fact that there are only 5 ingredients (not counting salt and pepper) is a total bonus.  It may not be all that much to look at, but usually, the uglier dishes are the tastiest ones!
Recipe Rating:  9 out of 10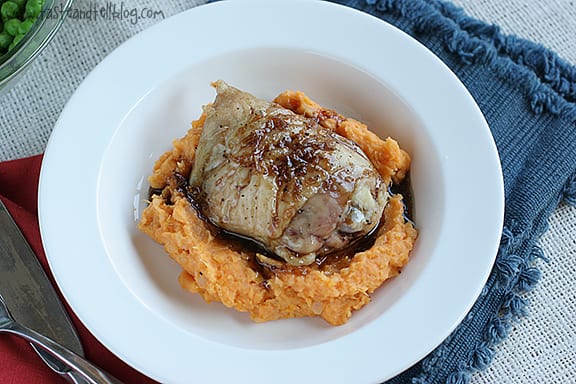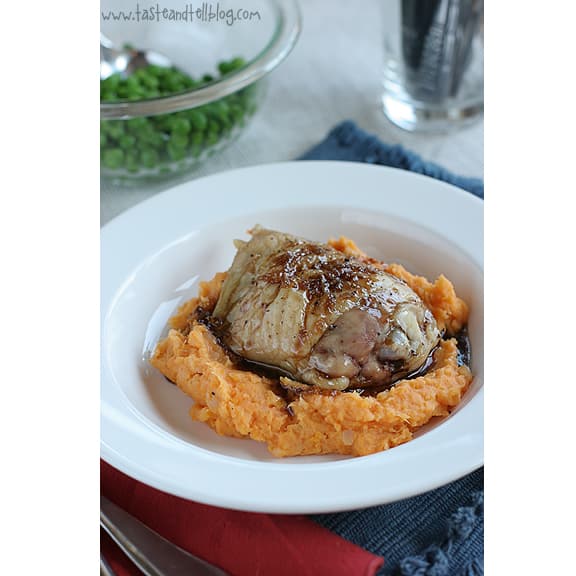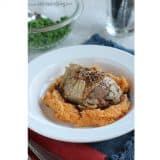 Honey-Balsamic Chicken Thighs
---
Total Time: 50 minutes
Yield: 4 servings 1x
Scale
Ingredients
4 bone-in, skin on chicken thighs, about 1 1/2 pounds
kosher salt
freshly ground black pepper
Honey-Balsamic Glaze
2 tablespoons extra-virgin olive oil
1/4 cup honey
2 tablespoons balsamic vinegar
1 large clove garlic, minced
---
Instructions
Preheat the oven to 375F.
Place the chicken in a small roasting pan, skin side up. Season with salt and pepper and bake in the preheated oven until cooked through and the skin is crispy, 40-45 minutes.
Meanwhile, in a small saucepan, combine the olive oil, honey, balsamic vinegar and garlic. Bring to a gentle simmer and cook until slightly reduced and thickened, stirring occasionally. This will take about 5-7 minutes. Remove from the heat and let sit for 5 minutes to thicken a little bit more.
Once the chicken is done, baste it with the glaze, and serve with a little more spooned over the top.