Pin It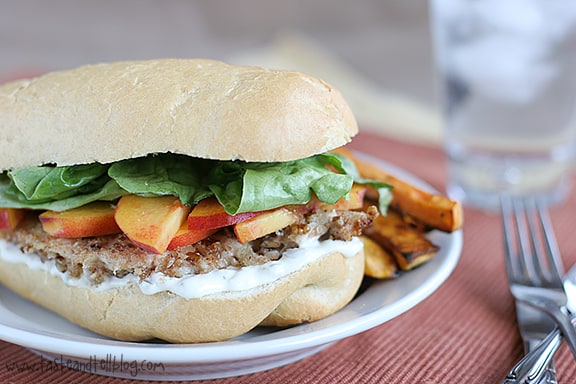 I sometimes wonder if Rachael Ray has any idea how many recipes she has developed over the course of her career.  Think about it – 30 Minute Meals since 1999, a daytime talk show since 2006, Week in a Day since 2010, 18 cookbooks and a magazine since 2005.  That is a lot of recipes.  Granted, I know many of the recipes show up in more than one place, but still, when looking for a Rachael Ray recipe, there is no shortage!!
This is one reason I really love doing Saturdays with Rachael Ray.  Not only so I have a dedicated day each week to show some Rachael love, but I also get to see what Rachael recipes you are making.  Sometimes they are recipes I've made in the past, sometimes they are recipes that I already have bookmarked, and sometimes they are recipes that I totally missed out on for some reason or another.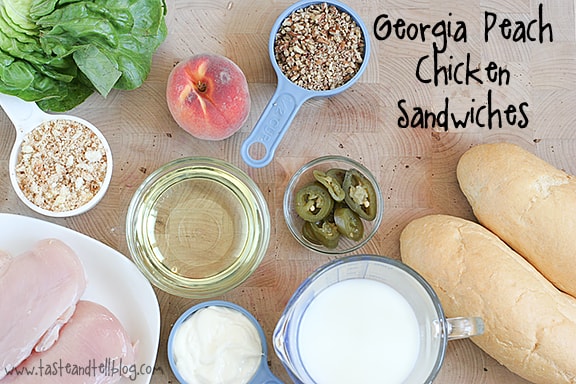 This is one of those recipes that I somehow missed the first time around.  But thank you to Cassie at Cassie Craves for making these sandwiches and linking up to Saturdays with Rachael Ray, because otherwise, I may have missed out on these sandwiches forever! Cassie declared these sandwiches her favorite chicken sandwich.  EVER.  And I totally trust her judgment, because I want to make everything that she makes.  After seeing her post, I immediately put the recipe on my menu.  And as luck (or fate) would have it, the day I was going to make these, my mother-in-law dropped off some peaches from their tree! And thank you, Cassie, because these truly were delicious sandwiches.
The flavor combination was pure magic.  I especially loved how the heat from the jalapenos went so well with the sweet from the peaches. The only problem I had with it was purely because of the way I made them. First of all, I should have ground my pecans much finer. And second, I made homemade breadcrumbs, and they were a little too fluffy for this recipe. I think that store-bought breadcrumbs would have stuck to the chicken better and created a better crust. But even despite those 2 issues, these sandwiches were so good!
So keep sharing your Rachael Ray recipes – I don't want to miss out on the best ones!!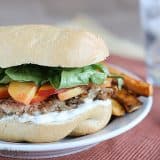 Georgia Peach Chicken Sandwiches
---
Prep Time: 15 minutes
Cook Time: 10 minutes
Total Time: 25 minutes
Yield: 4 sandwiches 1x
Scale
Ingredients
1 pound chicken breast cutlets, or 2 large chicken breast halves, cut open like a book to make 4 pieces
1 cup buttermilk
1/2 cup mayonnaise
3 tablespoons finely chopped pickled jalepeño chiles
1/2 cup pecans, finely ground
1/2 cup breadcrumbs
1/2 cup vegetable oil
4 rolls, split
1 peach, thinly sliced
8 lettuce leaves
---
Instructions
In a medium bowl, combine the chicken and the buttermilk. Set aside to marinate for a few minutes.
In a small bowl, mix together the mayonnaise and the jalepeños. Set aside.
In a large skillet, heat the oil over medium heat.
In a shallow bowl, combine the pecans and breadcrumbs. Dip one piece of the chicken into the pecans mixture, pressing in to coat if needed. Add the chicken to the hot oil and cook, turning once, until cooked through, 2-3 minutes on each side. Drain on paper towels. Repeat until all the chicken is cooked.
Spread the jalepeño mayonnaise on the roll. Layer the chicken, peaches and lettuce. Serve.
—————————————————-
Other peach sandwich inspiration:
Bacon, Lettuce and Peach Sandwich from Dishing Up Delights
Grilled Portobello and Peach Sandwich from Serious Eats
Grilled Peach and Pancetta Sandwich from YumSugar