Recipe for a roasted carrot soup with hints of ginger and lime, and spiced up with red pepper flakes.
I seem to be on a bit of a soup kick lately. This is the 3rd soup recipe I've featured in the last month or so. Maybe it's the hints of fall in the air. But I just keep being drawn to soup recipes. And I'm not really sure why this recipe stood out to me. I had never even had carrot soup before I made this.
I've had another carrot soup recipe from a different cookbook bookmarked for months now.  But every time I went to put it on the menu, I wasn't feeling it.  But this soup called right out to me.  I think it was the addition of the ginger and the red pepper flakes.  It had me wondering what it would taste like.  And I'm so glad I decided to try it!!
This soup comes together quite easily, although it does take some time.  And my soup didn't end up as smooth as the picture of the soup in the cookbook. I'm thinking it's because I over-roasted my carrots just a bit. This is what happens when you have a son that decides it's time to eat right when you are in the middle of making dinner!  I loved the flavor that the really roasted carrots brought to the soup, but it did make it a bit harder to puree them. And I ended up adding about a half a cup of milk (not reflected in the recipe below) because my soup was really thick – again, probably from really roasted carrots.
When we sat down to eat dinner, I ate my bowl and I liked it. I wasn't head over heels in love with it, but it was good. We had some leftover, so I packed it away. The next day at lunch, I got the leftover soup out to eat. And wow – what a difference letting it sit made!! It went from being a good soup to being a great soup! The lime flavor actually really came out the next day, and all of the flavors were just more pronounced. I gobbled down that remaining bowl of soup and wished for another bowl!! So, if you make this soup, it's a good one to be made ahead of time!
Recipe Rating: 8.25 out of 10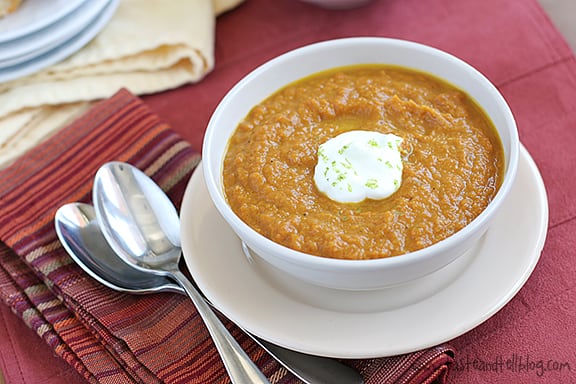 Spicy Carrot Ginger Soup
---
Author:
Prep Time: 20 minutes
Cook Time: 1 hour 15 minutes
Total Time: 1 hour 35 minutes
Yield: 4 servings 1x
Description
A carrot soup filled with the flavors of ginger and lime and spiced up with red pepper flakes.
---
Scale
Ingredients
2 pounds carrots, peeled and trimmed
3 tablespoons extra virgin olive oil
1/2 teaspoon dried thyme
1/4 teaspoon kosher salt
1/4 teaspoon freshly ground black pepper
3 tablespoons extra virgin olive oil
1 medium leek, white and light green parts only, coarsely chopped and cleaned
1 tablespoon freshly grated ginger
1/8 teaspoon crushed red pepper flakes
4 cups vegetable broth
zest and juice of 1 lime
salt and pepper
sour cream (optional)
---
Instructions
Preheat the oven to 400F.
Cut the carrots in half, then halve them lengthwise. Put them in a large bowl, along with 3 tablespoons of extra virgin olive oil, the thyme, salt and pepper. Toss to coat the carrots. Transfer them to a baking sheet and roast in the oven until they begin to brown, 45 to 50 minutes, turning half way through the cook time. Remove from oven.
In a large saucepan, heat the remaining 3 tablespoons of olive oil. Add the leek and saute until aromatic, 3 to 5 minutes. Add the ginger and red pepper flakes, stir to combine, and cook for an additional minute.
Add in the roasted carrots and vegetable broth. Bring to a simmer over medium heat; let simmer for 8-10 minutes. Turn the heat to low, cover, and simmer an additional 20 minutes. Remove from heat and let come to lukewarm.
Working in small batches, transfer the mixture into a blender or food processor and process until smooth. Return the mixture to the pot and bring back to the desired serving temperature. Add the lime zest and juice and season to taste with salt and pepper. Serve with sour cream, if desired.