Photo Updated February 2013

I usually use the nights that my husband works swing shifts to eat leftovers or something light I can find around the house. I have a hard time cooking for just one – I like to take the time to get other things done around the house that have been neglected. But Friday was a different story. All day at work, I just kept thinking about how much I was just in the mood to go home and cook. I looked through my bookmarked recipes, and decided to make the Bacon and Brie Fettuccine from Cooking with Amy along with Brilynn's Basketball Team Cookies from her blog at Jumbo Empanadas. Both were a huge success!!
I stopped at the grocery store on my way home to pick up a few ingredients, and they happened to be sampling some herb and garlic brie. I thought it would be wonderful in this recipe, so I picked some of it up. I was right. The brie was wonderful – I kept sneaking tastes before it even made it into the pasta. I have to say, I just might have a new favorite meal. Not only was this super easy, but absolutely delicious. I cleaned my plate. It would be fun to play with this recipe with different flavored cheeses – but this recipe will go in my book of make again dishes.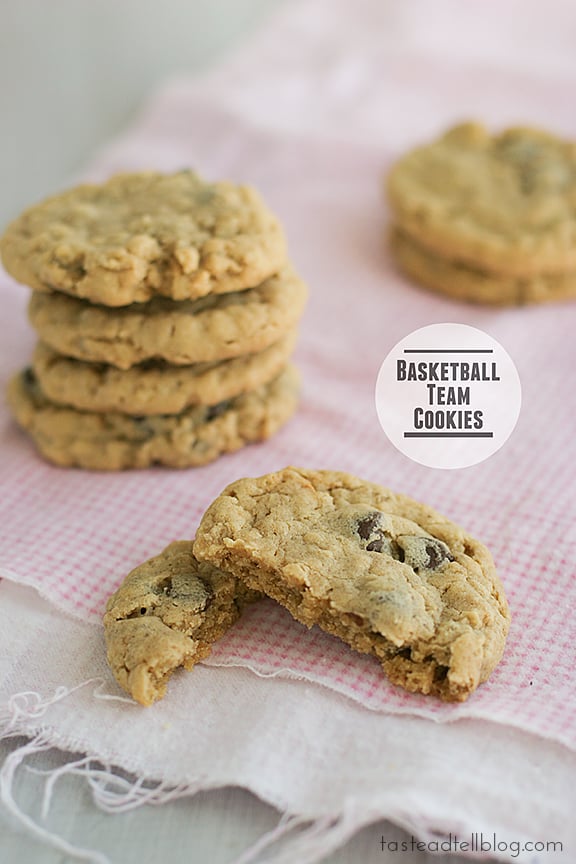 Photo Updated February 2013

The cookies were just as good. Thank goodness I made them first and sampled a few, because I was so full after dinner that I had to wait a bit before I could have dessert. We always have cookies in the house, and I have a feeling these are going to be made quite often in my kitchen.


Bacon and Brie Fettuccine
Bacon and brie make an easy pasta sauce for this easy fettuccine dinner.
Ingredients
1/2 lb fettuccine
1/2 cup thinly sliced onion
2 strips of bacon, chopped
2 oz garlic herb brie, rind removed
reserved pasta water
black pepper
parmesan cheese
Instructions
Bring a large pot of salted water to a boil. Add the pasta and cook until al dente. Reserve a mug full of the pasta water and drain.
Meanwhile, cook the bacon and onion until the bacon is crisp and the onion is tender. Add the cooked pasta to the bacon & onion. Add in the brie and stir to melt and combine. Add in enough of the pasta water to form a smooth sauce. Season generously with black pepper and serve with Parmesan cheese.
---------------------
slightly adapted from Cooking with Amy
http://www.tasteandtellblog.com/cookies-and-pasta-both-tried-and-true/
Recipe from www.tasteandtellblog.com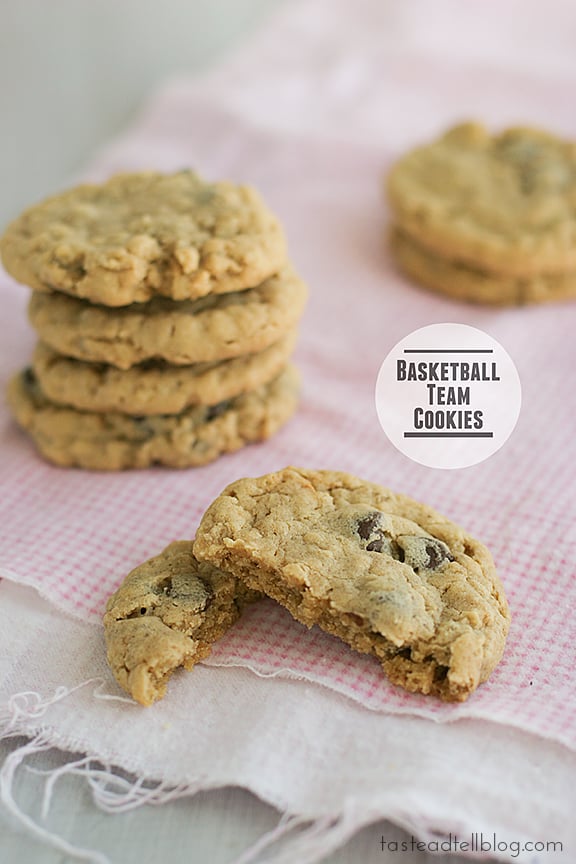 A perfect cookie for the cookie jar, these cookies are filled with peanut butter, oats and chocolate chips.
Ingredients
1 cup peanut butter
1 cup butter, at room temperature
1 cup white sugar
1 cup packed brown sugar
2 eggs
1 teaspoon vanilla
2 cups quick oats
2 cups all-purpose flour
1 teaspoon baking soda
1 1/2 cups semi-sweet chocolate chips
Instructions
Heat oven to 350F.
In a large bowl, cream together the peanut butter, butter and both sugars. Add in the eggs and the vanilla and beat until light and fluffy.
In another bowl, combine the oats, flour and baking soda. Mix into the creamed mixture. Stir in the chocolate chips.
Drop by spoonfuls onto ungreased cookie sheets, at least 2 inches apart. Bake for 10 minutes or until lightly browned. Do not overbake.
Cool on a wire rack.
---------------------
from Jumbo Empanadas
http://www.tasteandtellblog.com/cookies-and-pasta-both-tried-and-true/
Recipe from www.tasteandtellblog.com
0 Flares
Tweet
Email to a friend
0 Flares
×