Soft chocolate cookies are infused with malted milk powder, chopped malted milk candy and chocolate chunks in these Chocolate Malt Whopper Drops that are sure to be a favorite.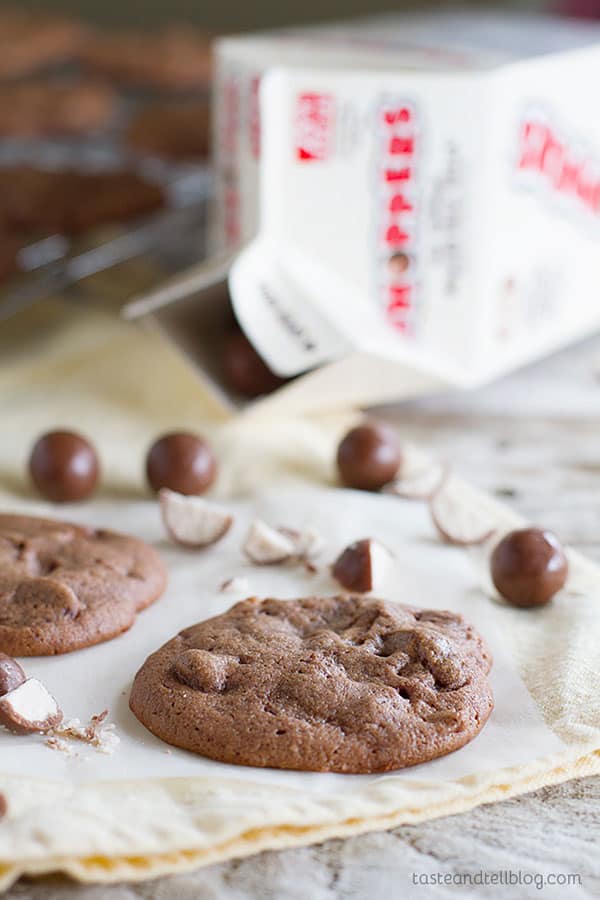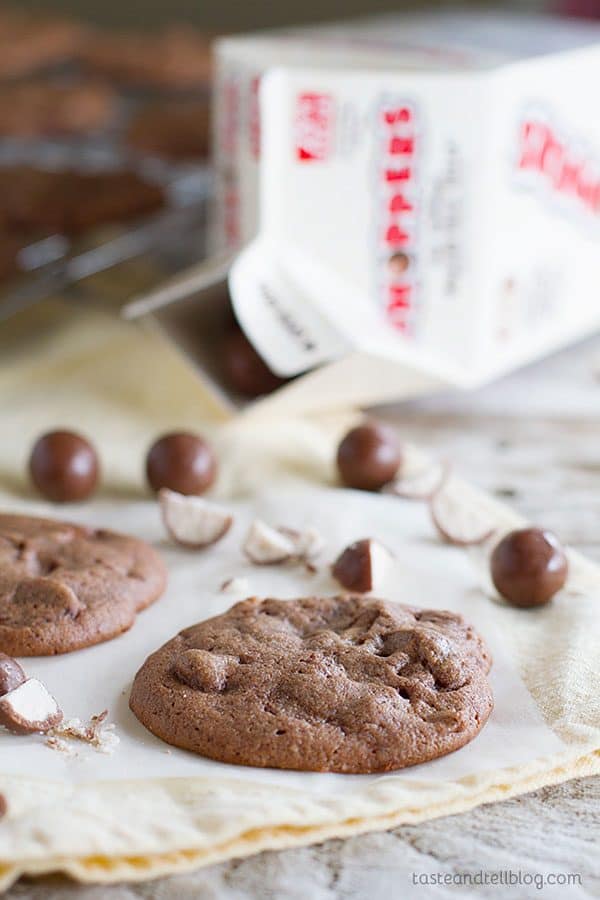 Photos Updated September 2014
NOTE: Homemade Vanilla Ice Cream was originally posted on this post, as well. You can now find it here.
Ahhhh, new cookbooks. I haven't bought a new cookbook in ages, but with all of the talk on the many blogs I read, I knew there were a few cookbooks that I just had to have. And although it hasn't even been a week since the cookbooks arrived on my doorstep, I realize that there is good reason behind all of the hype.
We'll start with the cookies first. I love to read through cookbooks like a novel – from cover to cover. I will usually start at the beginning, reading the description and ingredients of each recipe. I will mentally bookmark the recipes that look like something that would go over well in my house, or remember the ones that I want to make when my husband is away because it is something that only I would enjoy. I was reading through Dorie Greenspan's Baking From My Home to Yours, and just about every recipe was mentally bookmarked, but I stopped dead in my tracks when I saw this recipe. I KNEW I needed to make these Chocolate Malt Whopper Drops right away because my husband would absolutely love them. He is a huge chocolate malt fan and I knew that I didn't need to look for the perfect recipe any further.
And I was right.
I purchased the needed ingredients the next day and set to making these wonderful looking cookies. I followed the instructions exactly – which is not what I usually do!! When making cookies, I am notorious for not wanting to put the wet ingredients in one bowl and the dry in another. I hate to dirty more dishes than I need to. I usually just put them all together and mix, and although I have never had a problem, I decided that I am going to try to become a better baker, and becoming a better baker requires following the instructions. I beat the butter butter and sugar the full 3 minutes, I sifted all of the dry ingredients – I followed ALL of the instructions. It was worth it to dirty up that second bowl. These cookies are phenomenal.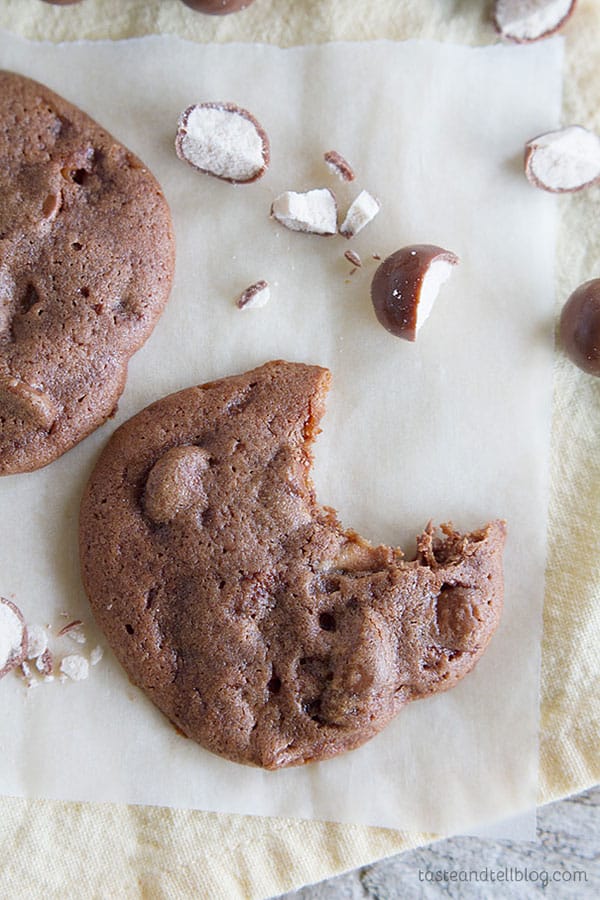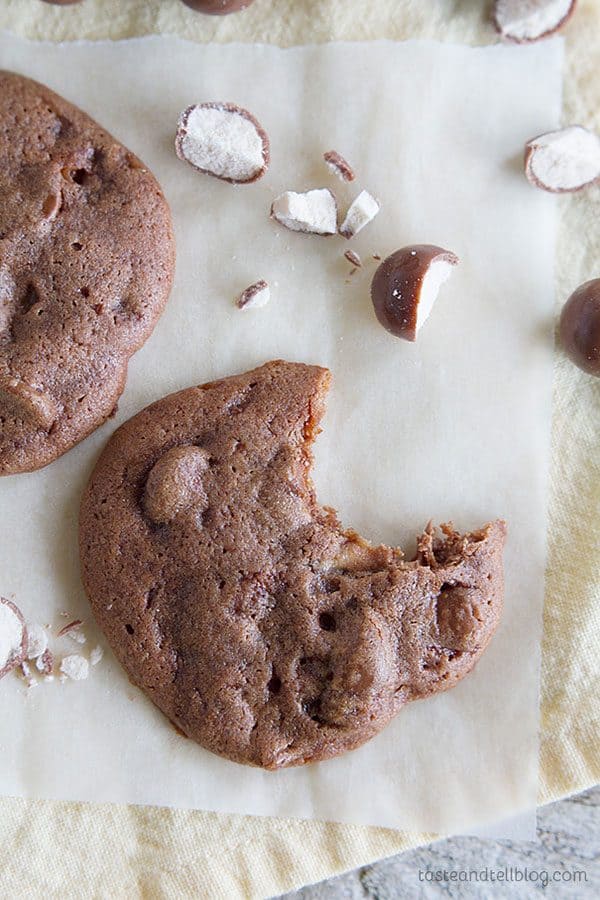 My husband is still singing my praises 2 days later. He had literally eaten 8 of them before the second batch even came out of the oven. He immediately called his brother to come over to try some of the cookies. The whole batch was gone that night (except for 4 cookies, which he wanted to save for the next day.) Granted, he did send some of the cookies home with his brother to share with his parents, but I really think that he ate at least half of the cookies himself. He liked them so much that I made another batch the next day so that he would have them for his lunches the rest of the week.
These Chocolate Malt Whopper Drops are great right out of the oven, but make sure to save some for the next day – they are even better then. The next day, you can really taste a lot more of the malt flavor. I'm sure this recipe will be a frequent one at our house!!
I do have to note that the only change I made was using 4 oz. of semi sweet chocolate instead of 6 oz of bittersweet chocolate. Also, it did not list a cooking temperature in my cookbook (?) so I just baked them at 350F and it worked well.
I know that there will be many, many more recipes coming from this book. I am in love!!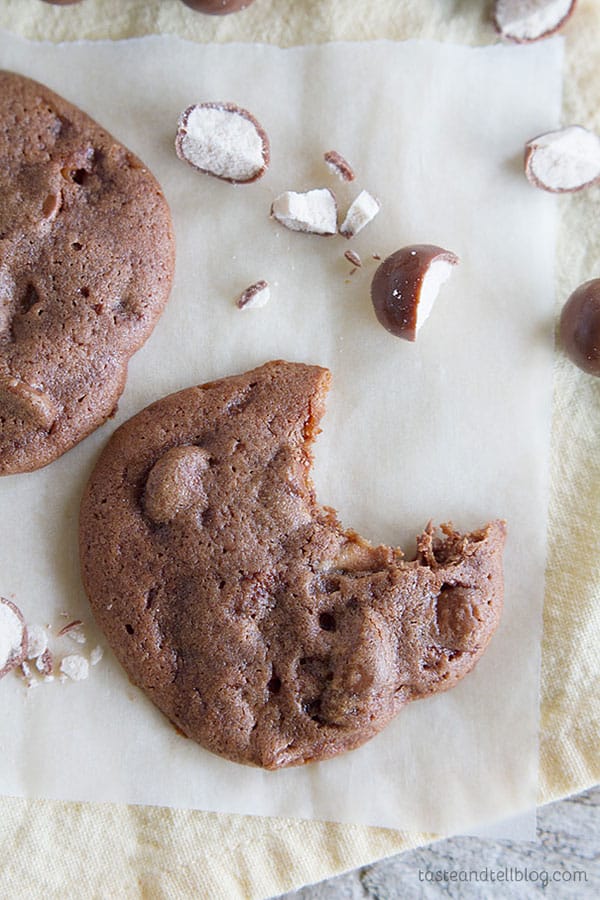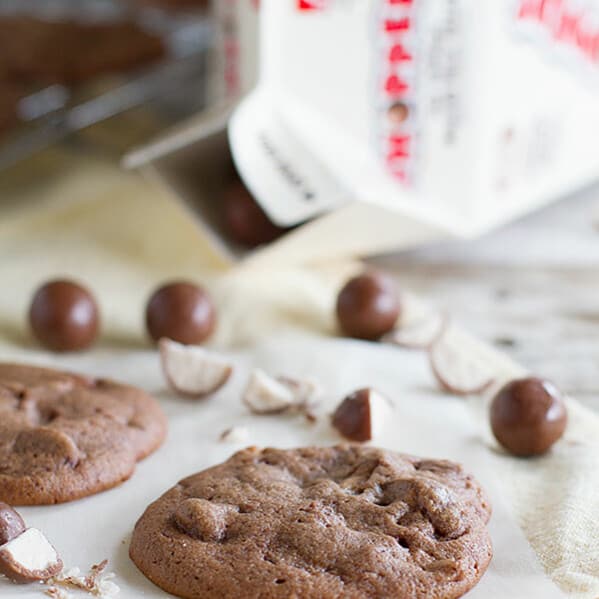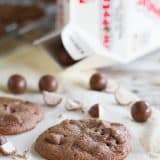 Chocolate Malt Whopper Drops
---
Prep Time: 15 mins
Cook Time: 13 mins
Total Time: 28 mins
Yield: about 30 cookies 1x
Description
Soft chocolate cookies are infused with malted milk powder, chopped malted milk candy and chocolate chunks in these Chocolate Malt Whopper Drops that are sure to be a favorite.
---
Scale
Ingredients
1 3/4 cups all-purpose flour
1 cup malted milk powder
1/4 cup unsweetened cocoa powder
1/4 teaspoons salt
11 tablespoons unsalted butter, at room temperature
2/3 cup granulated sugar
2 large eggs
1 teaspoon vanilla extract
1/4 cup milk
2 cups (6 oz) chocolate-covered malted milk balls (Whoppers), coarsely chopped
4 oz semi-sweet chocolate, coarsely chopped
---
Instructions
Preheat the oven to 350ºF. Line two baking sheets with parchment paper.
In a medium bowl, sift together the flour, malted milk powder, cocoa powder and salt.
In the bowl of a stand mixer, beat the butter and the sugar together until light and fluffy, 3 minutes. Add in the eggs, one at a time, beating for 1 full minute after each addition. Scrape down the sides of the bowl as needed. Beat in the vanilla. (The mixture may look curdled – don't be alarmed.) Reduce the speed of the mixer to low, and add in half of the dry ingredients. Mix just until combined. Add in the milk and the remaining dry ingredients, mixing just until incorporated. The batter will be thin, resembling a frosting more than cookie dough. Using a spatula, fold in the malted milk balls and chopped chocolate.
Using a cookie scoop or a spoon, drop the dough onto the prepared baking sheets, using about 1 tablespoon of dough per cookie, leaving at least 2 inches between each.
Bake for 11 to 13 minutes, rotating the sheets halfway through the baking time. When the cookies are done, they will be puffed and set, and they will still be slightly soft to the touch. Let the cookies cool for 2 minutes before transferring the cookies to a cooling rack to cool completely.