While normally I have the Blogger Spotlight feature on Fridays, we are interupting our regularly scheduled posting to bring you not one, but two recipes that you can put on your Cinco de Mayo menu for tomorrow. And if you are in Utah, I'll be making these today on KUTV's Fresh Living at 1pm!
Let's start with these empanadas. I know, I know. When I say "empanada", this is not what you picture.  I can already hear you saying – "aren't they supposed to be half moon shaped, and made from a pastry dough?  And aren't they usually filled with savory ingredients?"  True, true.  That is what a traditional empanada is.  But these aren't traditional.  These empanadas are actually a knock off of a dessert empanada that is sold at a fast food Mexican restaurant.  And I love them.  I can't remember the last time I bought one of these, but I have always wanted to try making them at home.  And guess what?  They are super easy, and just as tasty!!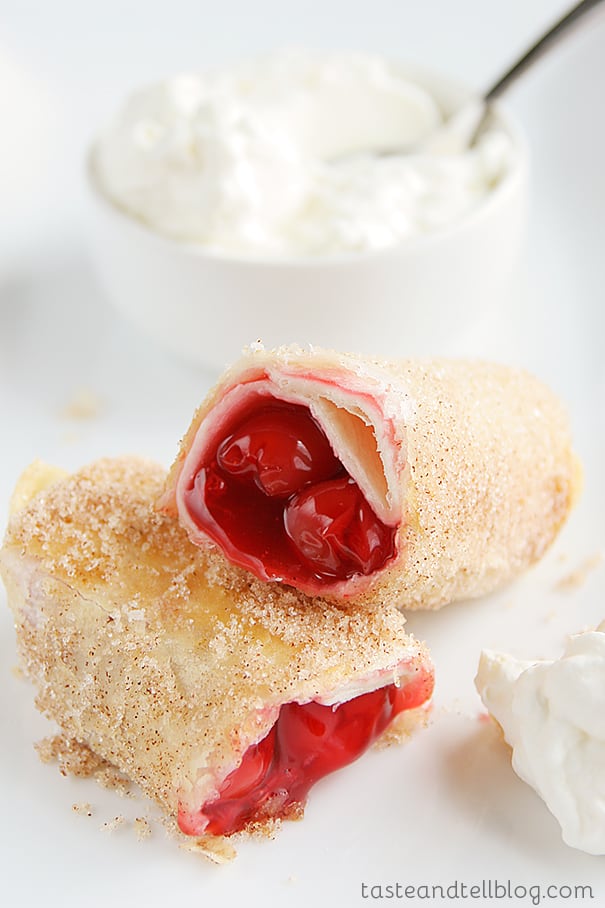 They are as simple as a flour tortilla, filled with pie filling, fried, and then rolled in cinnamon sugar.  I find that with fried, rolled things like this, it is best if they are made and then refrigerated for awhile before you fry them. It just helps the whole thing to stay together better.  Which is why these would be so easy to whip up tonight, and then fry tomorrow.  But if you want them now, they still work beautifully if you prepare them and fry them all in one go.  And they are super adaptable.  Don't like cherry?  Try a different flavor!  A perfect dessert for your Cinco de Mayo party!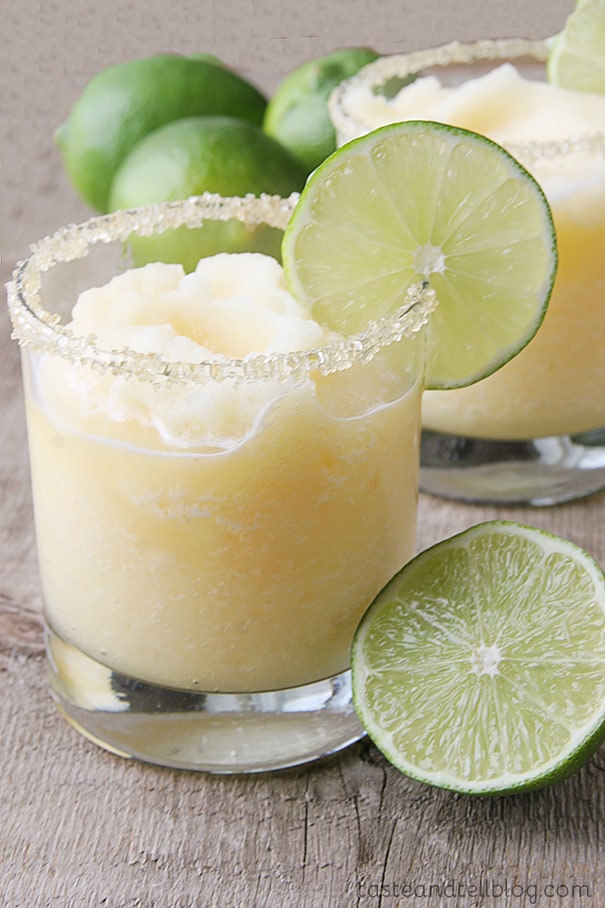 And don't forget the drink!   I don't drink alcohol, but that is not a reason to not have a festive drink for the holiday!  These frozen margaritas come together in just minutes, and both kids and adults would love them!  They are a bit tart from the lime and a bit bitter from the grapefruit juice, but combined with the sugar-rimmed glass, it all just came together perfectly.  I can't tell you how it compares to an actual margarita, but I know I'd be happy sipping one of these alongside my tacos and chips and salsa!
And if you need more ideas for Cinco de Mayo, don't forget to check out my 47 favorites!
Cherry Empanadas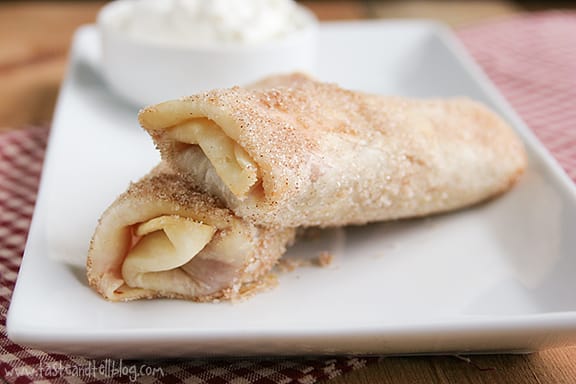 Cherry pie filling is wrapped in a flour tortilla, fried, and rolled in cinnamon sugar for a decadent dessert.
Ingredients
1/2 cup sugar
1/2 tablespoon cinnamon
8 (8-inch) flour tortillas
1 (21-oz) can cherry pie filling
vegetable oil, for frying
Sweetened whipped cream, for serving
Instructions
In a shallow dish, mix together the cinnamon and sugar. Set aside.
Lay the tortillas out on a work surface. Put about 1/4 cup of filling down the center of each tortilla. Fold the ends in, then roll up like a burrito. Make sure they are rolled tightly. Lay seam side down on a baking sheet. (At this point, you can refrigerate them. It makes them a little easier to fry, but it's not required.)
Heat about 3/4" of oil to 350F in a heavy duty skillet or Dutch oven. Once hot, add the empanadas, 2 or 3 at a time, to the oil. Cook until browned on one side, then turn to brown the other side. When browned, immediately roll in the cinnamon sugar mixture, then place on a clean plate. Continue until all empanadas are cooked.
Serve with sweetened whipped cream.
http://www.tasteandtellblog.com/cherry-empanadas-virgin-frozen-margaritas/
Recipe from www.tasteandtellblog.com
Virgin Frozen Margaritas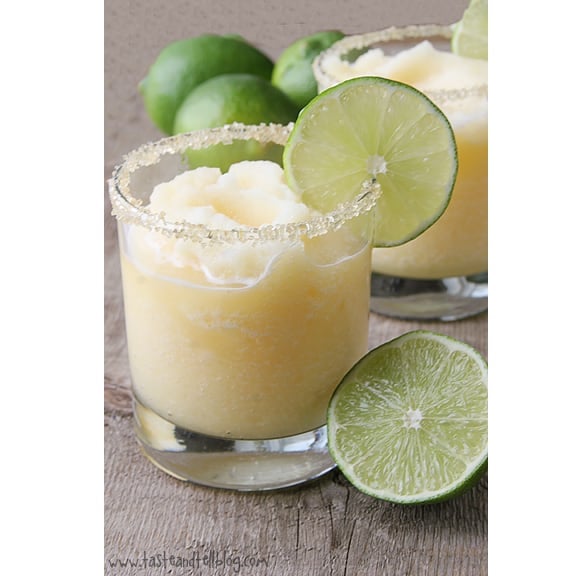 An easy recipe for non-alcoholic frozen margaritas.
Ingredients
Lime wedge
coarse sugar
1 (6-oz) can frozen limeade concentrate
3/4 cup orange juice
2/3 cup unsweetened grapefruit juice
4 cups ice cubes
Instructions
Rub the edge of margarita glasses with the lime wedge. Dip rims in the coarse sugar.
In a blender, combine the limeade concentrate, orange juice, unsweetened grapefruit juice and ice cubes. Blend until slushy. Serve in the margarita glasses.
----------------
from Recipe.com
http://www.tasteandtellblog.com/cherry-empanadas-virgin-frozen-margaritas/
Recipe from www.tasteandtellblog.com
Add these other Mexican recipes to your Cinco de Mayo menu:
Grilled Pineapple Guacamole from Confections of a Foodie Bride
Shrimp Tacos with Avocado-Chimichurri Sauce from RecipeGirl
Chili Relleno Tart from Urban Baker
Huevos Rancheros Breakfast Enchiladas from Ambitious Kitchen
Coconut Tres Leches Cake from Mel's Kitchen Cafe