They may not be traditional, but these Eggnog Empanadas will have you licking your fingers and begging for another! They are a fun holiday twist on a favorite restaurant copycat.



One of the things I get the most excited about every holiday season is all of the different holiday flavors. Those flavors that you only get once a year when December rolls around. Like peppermint. And eggnog.
I'll be the first to admit that when it comes to drinking eggnog, I'm not head over heels. I love the flavor, but drinking it straight up is just a little too much for me. But I love everything and anything that is eggnog flavored.






There is a fast food restaurant that serves up dessert empanadas – but not like the empanadas that you probably know. These are tortillas that are filled, rolled up, and then fried. Then they are rolled in cinnamon sugar. They are glorious and delicious, and although not traditional empanadas, that doesn't mean they aren't amazing! I decided that those empanadas needed a holiday makeover, so I turned them into these Eggnog Empanadas.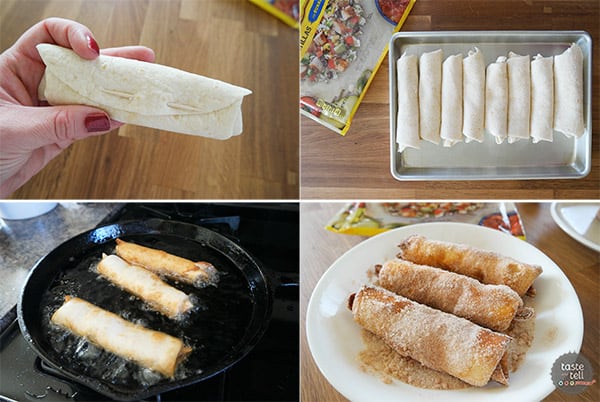 There is a creamy, eggnog flavored filling wrapped up in an Old El Paso tortilla, then fried and rolled in cinnamon sugar with a dash of nutmeg. Serve them up with whipped cream, and you have the perfect holiday dessert.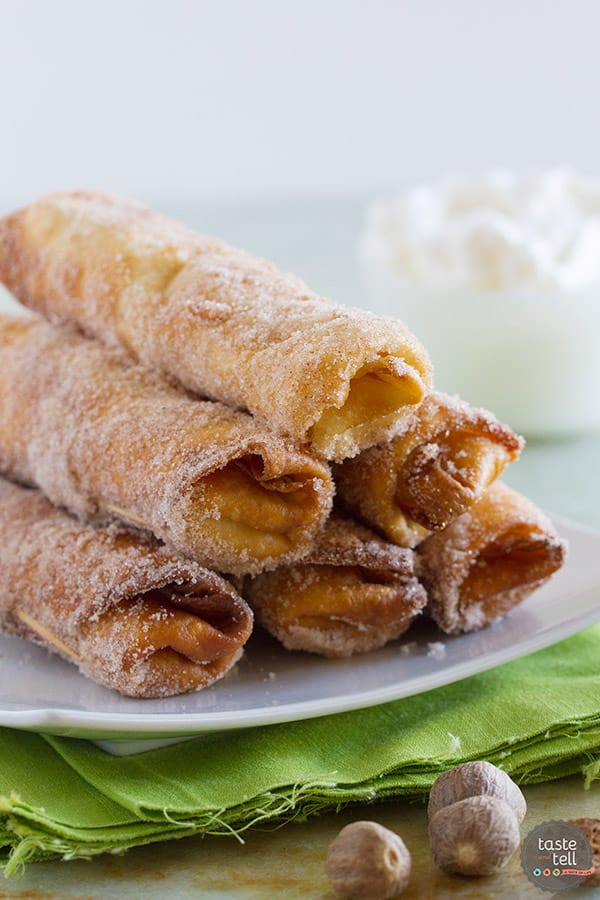 I think we'll be enjoying these after a night of looking at Christmas lights – I can't think of a better way to finish off a holiday night!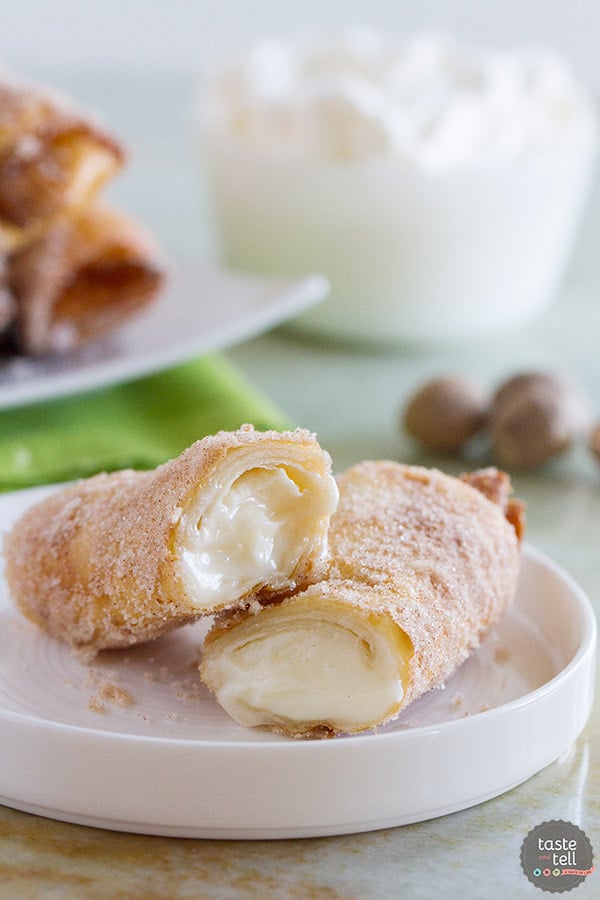 Like what you see here? Make sure you are following Taste and Tell for more recipes and ideas!
Facebook | Pinterest | Instagram | Twitter | Google+ | Weekly Newsletter | Feedly | Bloglovin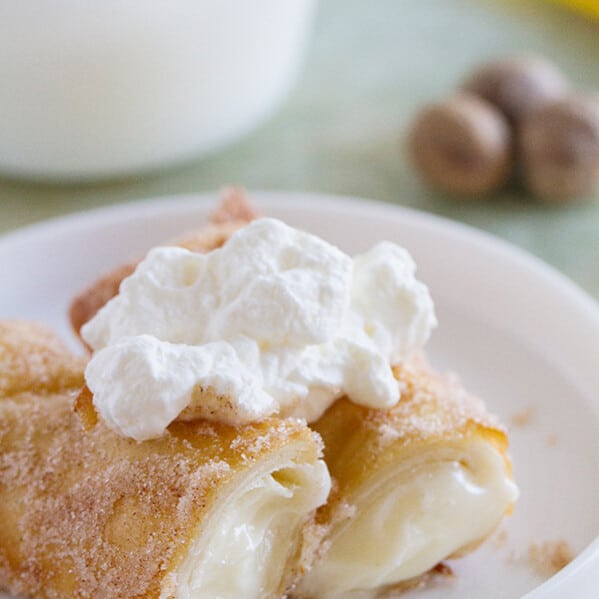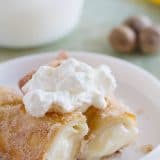 Eggnog Empanadas
---
Prep Time: 15 mins
Cook Time: 12 mins
Total Time: 27 mins
Yield: 8 servings 1x
Description
They may not be traditional, but these Eggnog Empanadas will have you licking your fingers and begging for another! They are a fun holiday twist on a favorite restaurant copycat.
---
Scale
Ingredients
8 oz cream cheese, at room temperature
1/2 cup sugar
1/4 teaspoon rum extract
1/8 teaspoon freshly grated nutmeg
8 Old El Paso burrito sized flour tortillas
1/2 cup sugar
1/2 tablespoon cinnamon
1/8 teaspoon freshly grated nutmeg
oil, for frying
fresh whipped cream, for serving
---
Instructions
Place the cream cheese in a large bowl and beat until smooth. Add in the sugar, rum extract and nutmeg and beat until combined and creamy.
If needed, place the tortillas in the microwave for 30 seconds to soften them up. Spread 1/8 of the mixture down the center of each tortilla. Fold in the sides, then roll like a burrito, making sure to roll tightly. If needed, secure the end with a toothpick.
At this point, you can refrigerate the empanadas, if desired. If ready to fry, combine the sugar, cinnamon and nutmeg in a shallow bowl. Set aside.
Heat about 1/2" to 3/4" of oil in a heavy skillet. Once the oil is hot, add the empanadas, working in batches to avoid crowding the skillet. Fry until browned on one side, about 1 minute, then flip and cook until the second side is browned. Immediately transfer the empanadas to the cinnamon sugar mixture and roll to coat, then transfer to a plate. Repeat with the remaining empanadas.
Serve with whipped cream, if desired.
Recipe Notes:
Empanadas can be made ahead of time – make the empanadas until right before frying, and refrigerate until ready to fry.
Once fried, the empanadas are best eaten the same day.
Don't miss a thing! Follow me on Pinterest to see what I'm pinning!
Visit Taste and Tell's profile on Pinterest.



I am in a working relationship with Old El Paso, and this post has been sponsored. I'm so glad to be able to work with companies and organizations that I truly believe in. Thank you for supporting them, too.