Sliced fresh zucchini and crumbled sausage are combined and covered with a creamy ranch sauce, and baked up until hot and bubbly in this Sausage and Zucchini Bake.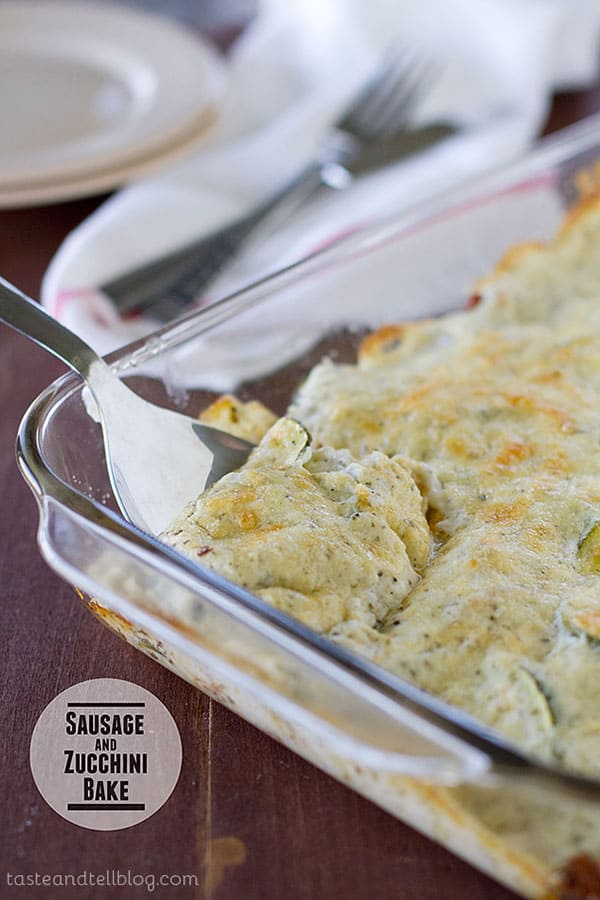 Sometimes, as a full time food blogger, cooking for my family is tricky. When I'm making my meal plan, I have to make sure I have enough new recipes to try. Sometimes they have to eat the same dish 5 times in a row, just so I can get it right. And sometimes, I skip over recipes or ideas that sound good, simply because they might be too simple to blog about. Or worse yet – not pretty food.
Yep – to a food blogger, one of the first things we'll think about is how the finished product will look, and if it will be "pretty" enough for photos.
This, my friends, breaks that rule. It is not pretty. Not in the least. And when I went to photograph it, I almost gave up because I just was having the hardest time making it look good.
But after one bite, I knew that I needed to share this zucchini bake with you all – no matter how it looks.
It may not go viral on Pinterest. Some may take one look at the photo and skip over it. But for the few of you that have an abundance of zucchini and are dying to try something new – I think you should give this one a try.
We aren't even in prime zucchini season here, but I couldn't resist getting a head start with this plentiful vegetable. Because we all know that by the end of the summer, you'll be so sick of zucchini, yet you'll still have a dozen of them in your fridge. (And if that does happen, I do have this roundup of 24 zucchini recipes that I put together last year!) But please add this one to the list. I don't think you'll regret it.
We ate this Sausage and Zucchini Bake as a main dish. At first, I was afraid that it wouldn't be filling enough, but it was perfect. But I also think it would make a great side dish in smaller quantities. But either way, I'm guessing you'll go back for seconds!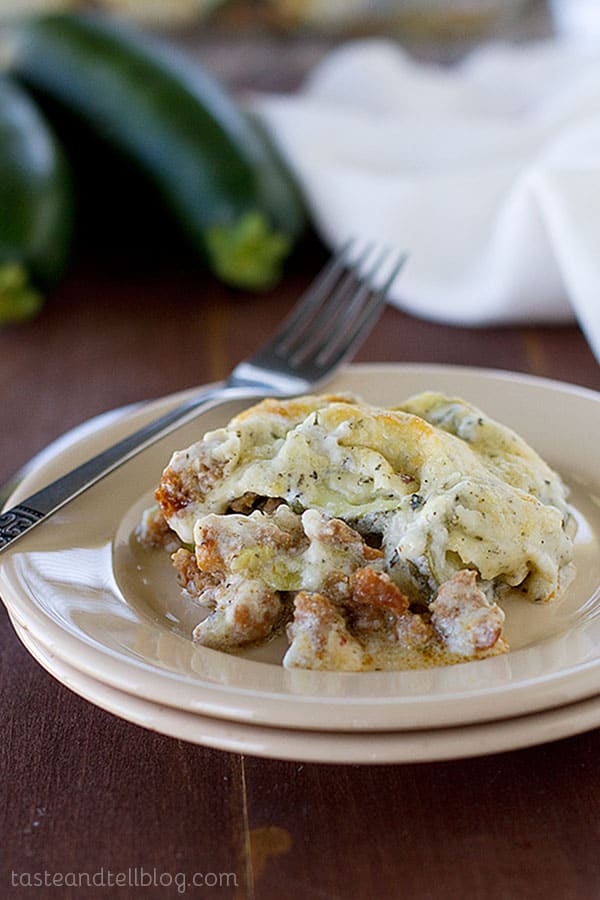 Like what you see here? Make sure you are following Taste and Tell for more recipes and ideas!
Facebook | Pinterest | Instagram | Twitter | Google+ | Weekly Newsletter | Feedly | Bloglovin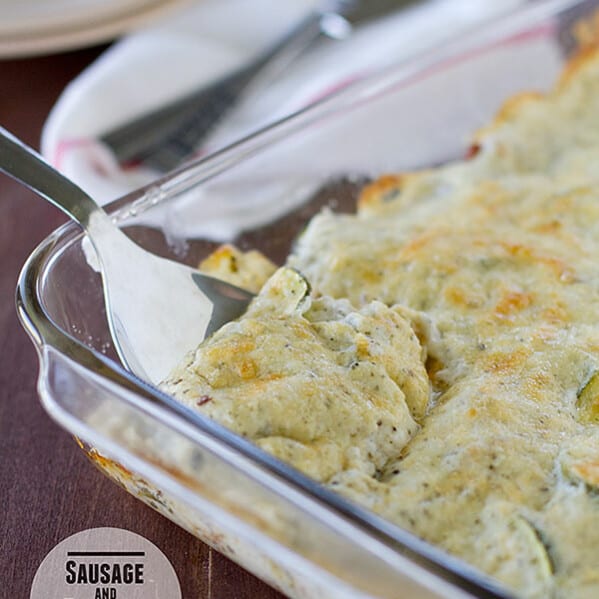 Sausage and Zucchini Bake
---
Prep Time: 15 mins
Cook Time: 40 mins
Total Time: 55 mins
Yield: 4-6 servings as a main dish 1x
Description
Sliced fresh zucchini and crumbled sausage are combined and covered with a creamy ranch sauce, and baked up until hot and bubbly.
---
Scale
Ingredients
1 lb sausage, casings removed
2/3 cup buttermilk ranch dressing
2 cups half and half
4 tablespoons flour
1 teaspoon basil
1/2 teaspoon oregano
1/4 teaspoon pepper
dash of garlic powder
4 cups sliced zucchini
1/2 cup grated Parmesan cheese
---
Instructions
Preheat oven to 350°F.
In a large sauté pan, cook the sausage until browned, breaking up as you cook it.
Meanwhile, in a saucepan, combine the half and half, ranch dressing, flour, basil, oregano, pepper and garlic powder. Cook over medium heat until warmed through and thickened.
Layer the zucchini in a 9×13-inch baking dish. Spread the cooked sausage over the top, then pour the sauce evenly over it all. Sprinkle on the grated parmesan.
Bake until golden and bubbly, about 40 minutes.
More zucchini favs: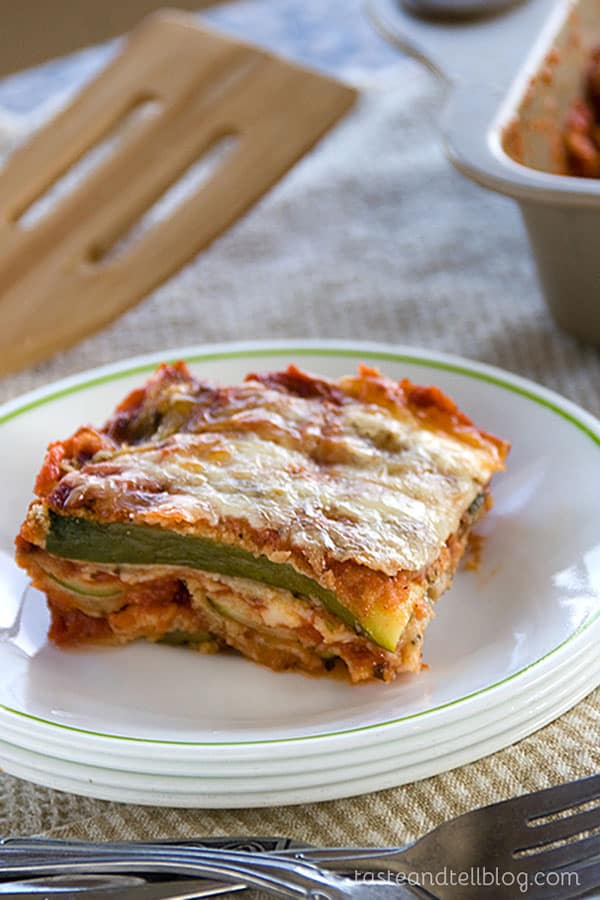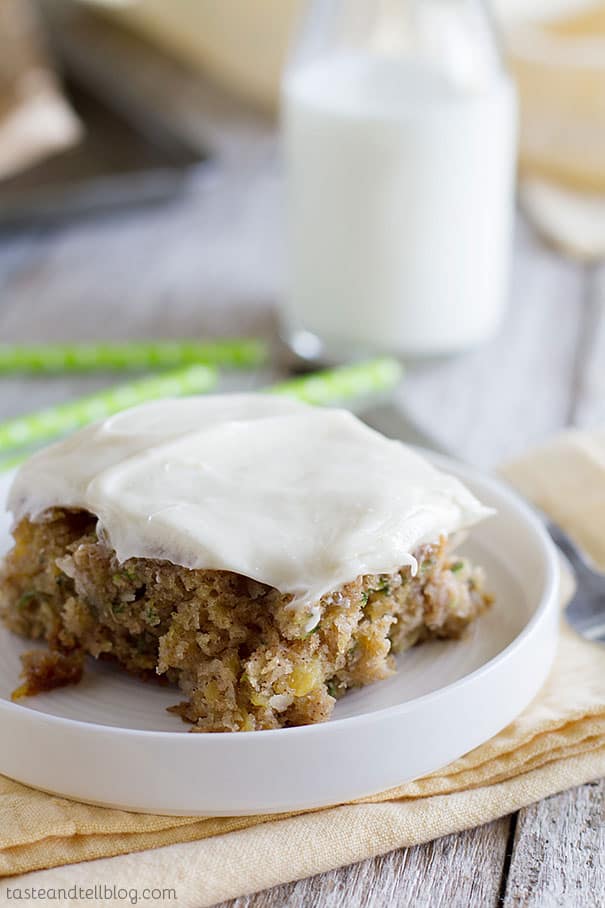 Pineapple Zucchini Sheet Cake with Cream Cheese Frosting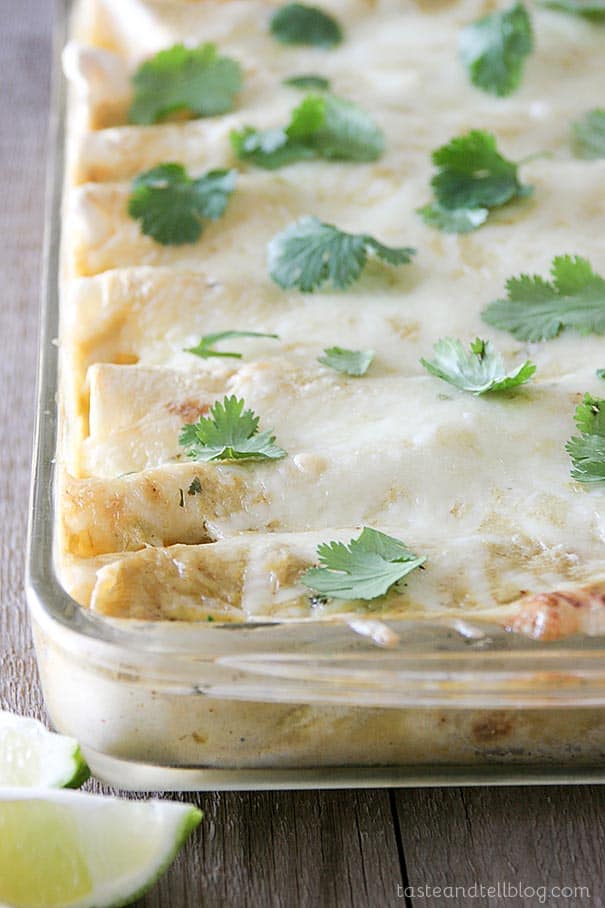 Chicken, Black Bean and Zucchini Enchiladas with Green Chile Sauce
Around the Web:
Lemon Zucchini Bread from Barbara Bakes
Zucchini Quesadillas from Mother Thyme
Cheesy Zucchini Rice from Buns in My Oven
Don't miss a thing! Follow me on Pinterest to see what I'm pinning!
Visit Taste and Tell's profile on Pinterest.