I hope all of you in the US celebrating Thanksgiving had a wonderful holiday yesterday!
Why is it that Chinese cooking is so intimidating?  Or is it just me that is intimidated?  One thing I have learned from this month's Cookbook of the Month is that it really isn't hard.  And once you have a few key ingredients, dinner is only minutes away.  And it's so much better, (and better for you!) than Americanized Chinese takeout.
Pot stickers are something that I really never thought I'd make at home, just because they look so complicated.  I went into this recipe completely ready to accept that I wouldn't be able to make a good pot sticker at home.  But guess what?  These were so easy.  It only took pleating one or two of them to get the hang of it, and before long, I was zipping right through them.  And they only take minutes to cook once you get that pleating done.  I really think that I had these done in about 30 minutes, from start to finish!!  (Minus the refrigerating time!)
My only problem was one that was completely my fault.  The recipe says that it makes 20 pot stickers, and I think that I was a little too stingy with the filling and ended up with about 30 of them.  My biggest problem with this was that when I put them in my pan, they were too close together.  This caused them to stick together when they were steamed, which wasn't a good thing.  And then I think the filling cooked to quickly (because I put too little filling in them) so it ended up a little bit dry.  But even with these problems, they were still so tasty that we finished off a whole batch in one night!
For the sauce, I do have to admit that I took the lazy way out because I didn't want to make an extra trip to a Chinese grocery store.  I couldn't find Chinese Black Vinegar, so I did a quick search for what I could use as a substitute.  I saw a website that said to substitute Balsamic Vinegar, so that is what I did.  I'm sure the Chinese Black Vinegar made the sauce completely different, but I did what I could without making that extra trip!  (Taking any sort of extra trip with 2 kids in tow takes a lot of effort!!)
Recipe Rating:  8 out of 10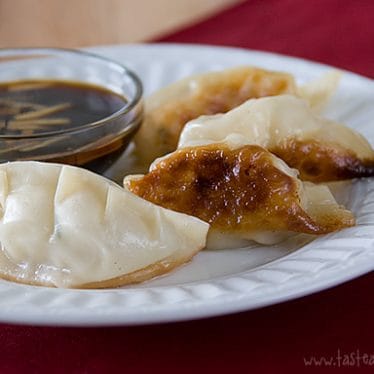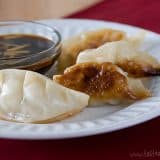 Pot Stickers
---
Prep Time: 20 minutes
Cook Time: 10 minutes
Total Time: 1 hour
Yield: 20 pot stickers 1x
Description
A Chinese dumpling that is filled with pork and shrimp, these pot stickers are pan fried and steamed for the perfect Chinese appetizer.
---
Scale
Ingredients
20 round pot sticker wrappers
1 1/2 tablespoons oil
1/2 cup water
Filling
8 ounces ground pork
4 ounces shelled and deveined medium-sized raw shrimp, cut into chunks
1/2 cup thinly sliced Napa cabbage, squeezed of excess water
2 tablespoons finely chopped green onion
One 1-inch piece fresh ginger, peeled and grated
1 teaspoon Chinese rice wine
1/2 teaspoon sesame oil
1/2 teaspoon salt
3 dashes white pepper
Dumpling Dipping Sauce
1/2 cup Chinese black vinegar
2 tablespoons soy sauce
1 teaspoon store-bought or homemade Chili oil, optional
One 1 1/2-inch piece fresh young ginger, peeled and cut into fine matchstick strips, optional
---
Instructions
Make the filling by combining all of the filling ingredients. Cover and chill in the refrigerator for at least 30 minutes.
Combine all of the dipping sauce ingredients and store in the refrigerator until ready to eat.
Assemble the pot stickers: Place one wrapper on the palm of your hand. Spoon about 1 heaping teaspoon of the filling into the center of the wrapper. Dip your index finger into a bowl of water and moisten the outer edges of the wrapper.
Fold the wrapper over the filling to make a half moon shape. Pinch together the center only, leaving the edges open. Use your right thumb and index finger to make a pleat. Pinch to secure. Repeat, making 3-4 pleats. Turn the pot sticker around and repeat on the other side.
Finish by pressing all of the pleats together to ensure that it is sealed tightly. If it is sealed correctly, it should form a crescent shape.
Heat the oil in a skillet over medium heat. Arrange the dumplings in the skillet and cover with a lid. Cook until the bottoms get brown and crispy.
Add in the water and cover the skillet immediately. The water will steam the pot stickers. Once the water has evaporated, turn the heat to low and continue to cook for 2 more minutes.
Serve hot with the dipping sauce.
————————
Recipe from Easy Chinese Recipes: Family Favorites From Dim Sum to Kung Pao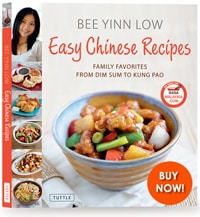 Chinese cooking has always been a fascination to me.  I've mentioned this before, but at a family dinner once, my brother in law said that he didn't think that it was possible to make good Chinese food at home.  So I've been on a quest since then!  And I truly believe that this cookbook is proof that you really can make good Chinese food at home.  And I feel like I've barely scratched the surface.  There are so many more that I want to try, like the Lettuce Wraps, and the Cashew Chicken and the Sweet Peanut Nuggets – just to name a few.  You also get tons of information with this book.  There is a whole section in the beginning on understanding Chinese ingredients, as well as photos of all the ingredients.  You also get basic techniques as well as tricks to deep frying and stir-frying.  This is so much more than just recipes!  If you are wanting to learn how to make Chinese food at home, I would definitely recommend this cookbook!
Prep Times and Total Recipe Times Listed:no
Number of Photos: lots
There is a photo of each finished recipe, along with several step by step photos on recipes that are a bit more difficult or intimidating, like the pot sticker recipe above, or for wrapping spring rolls.  This one is definitely not lacking on photos!
Difficulty Level of Recipes: medium
I almost want to say easy, because once you get into these recipes, they really are easy, but there still is a bit of the intimidation factor.  And I guess a very beginning cook would be a little overwhelmed, but these recipes really are what the title of the book states – Easy Chinese Recipes.
Availability of Ingredients: medium
In order to get all the right ingredients, you probably will need to find the closest Chinese grocer.  But I do have to admit that I just substituted a few things here and there, and was able to get everything at my normal grocery store.  There are a few ingredients in the book, like squid or pork belly, that I'd probably have to search a little harder for.
Here is what I made: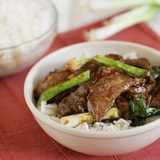 Mongolian Beef – 9.75 out of 10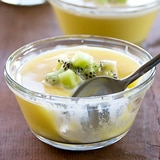 Fresh Mango Pudding – 8 out of 10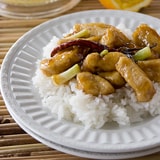 Orange Chicken – 9 out of 10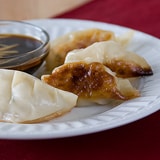 Pot Stickers – 8 out of 10 (above)
Overall Rating: 8.6875 out of 10
———————————————-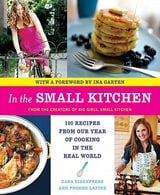 Can you believe that it's almost already December?  And that means a new Cookbook of the Month.  It also means that this is the last Cookbook of the Month for this year's theme – cookbooks from bloggers.  I'll have much more to say on this at a later date, but I just have to mention how much fun it has been going through all 12 of these cookbooks this year.  I am a total fan and advocate of buying cookbooks from these bloggers, because they really know their stuff!!
December's book comes from the 2 girls at In the Small Kitchen: 100 Recipes from Our Year of Cooking in the Real World.  I can already tell you that this is going to be a great cookbook, and I'm so excited to get started cooking from it!!