There are people who blog their way through a whole cookbook. Or some that do crock pot recipes every day for a year. I have decided that it would be entirely possible for me to do a blog where all I make is food from other blogs, or things that I've found on Pinterest. It would not only be possible, but it would be completely easy. (Except for the fact that I love, love, love my cookbooks.) There is just so much inspiration and talent out there. Seriously people – you are all amazing. In the last week alone, I think I've made at least 4 things that I've found on other blogs.
This delicious dish is one of them. I actually didn't even intend to blog about it, but this is a recipe that you need in your back pocket. Actually, it's not even much of a recipe, per say, because this is one of those recipes that can be changed up in a million ways, and (just about) every way will be delicious.
I saw this recipe on the wonderful Bev's blog, and immediately cataloged it in my mind. I had a ton of orzo, and some zucchini that needed to be used. Bev's recipe had corn in it – and I actually had some corn on hand that I needed to use up as well. So one night last week, I set out to make one last hurrah with the zucchini. I got to cooking, grilled my sausage and corn, and then went and cut the corn off the cobs. And then I tasted it. I knew that I probably should have used it a little sooner, but I didn't know that I had waited much too long. My corn basically had zero flavor to it. So I didn't want to add it. I contemplated just leaving it out and continuing on with the recipe, but I decided to search through my fridge. I found some mushrooms and decided they would make a perfect addition.
And this is exactly why I say that you need this recipe. This recipe could be changed up in about a million ways. No zucchini? Try some bell peppers instead. No sausage on hand? Try some grilled chicken, or go vegetarian. This would be a great way to clear out your veggie bins, and a great way to use up leftovers. With the sausage, this was substantial enough for dinner, as well.
So yes, I'm going to continue stalking many more blogs, because you all know what you are doing!!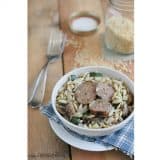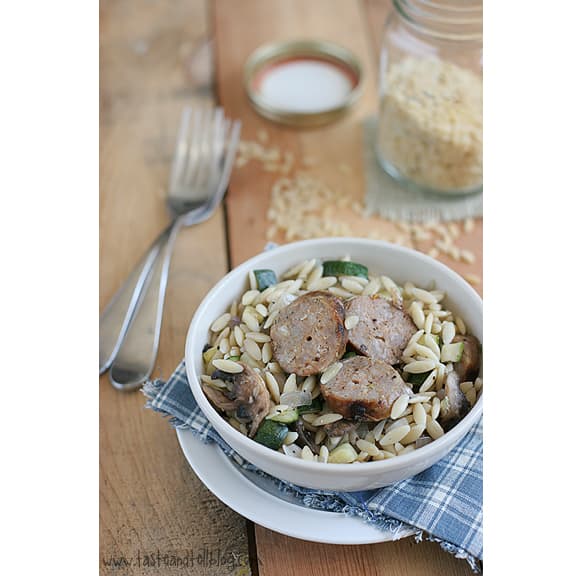 Orzo with Zucchini, Mushrooms and Sausage
---
Prep Time: 10 minutes
Cook Time: 25 minutes
Total Time: 35 minutes
Yield: 4 servings 1x
---
Scale
Ingredients
3 sausages
2 tablespoons extra-virgin olive oil
1/2 pound orzo
1 medium red onion, diced
3 cloves garlic, minced
2 zucchini, diced
1/4 lb. white mushrooms, sliced
salt and pepper
1/4 cup grated Parmesan
juice from 1 lemon
---
Instructions
Heat an indoor or outdoor grill to medium. Cook the sausages until cooked through. Remove from grill and slice into 1/2-inch pieces. Set aside.
Bring a large pot of water to a boil. When boiling, salt generously and add the orzo. Cook until al dente and drain.
In a large skillet, heat the olive oil. Add the onion and cook until translucent. Add the garlic and cook 1 minute more. Add in the zucchini and mushrooms and cook for 5-7 minutes. Season with salt and pepper.
Add the cooked orzo into the vegetables. Sprinkle on the Parmesan and stir well. Add in the sausages and squeeze the lemon juice over the top. Serve.
————————
More orzo inspiration:
Orzo Risotto with Spring Greens from Taste and Tell
Orzo Salad with Artichokes, Tomatoes, Chickpeas, Feta and Lemon Basil Dressing from Two Peas and Their Pod
Lemony Orzo with Chicken and Roasted Tomatoes from Confections of a Foodie Bride