Chocolate cookies with a chocolate frosting have a surprise marshmallow in the center in these Surprise Cookies.
Merry Christmas eve! I can't believe how the time has flown. Today, my mom celebrates her birthday. We helped her celebrate this morning over breakfast. It's always a crazy time with everyone and their kids, but it is so much fun! I will be spending the rest of the day preparing for tomorrow's festivities. Still more baking to do!!
I've wanted to make these cookies ever since I got this cookbook. I wish I wouldn't have waited so long, because they are so good! And as much as I liked them the day I made them, they were so much better the second day. So if you can have the will power to wait, I would suggest it!
I have one more sweet treat to bring you tomorrow!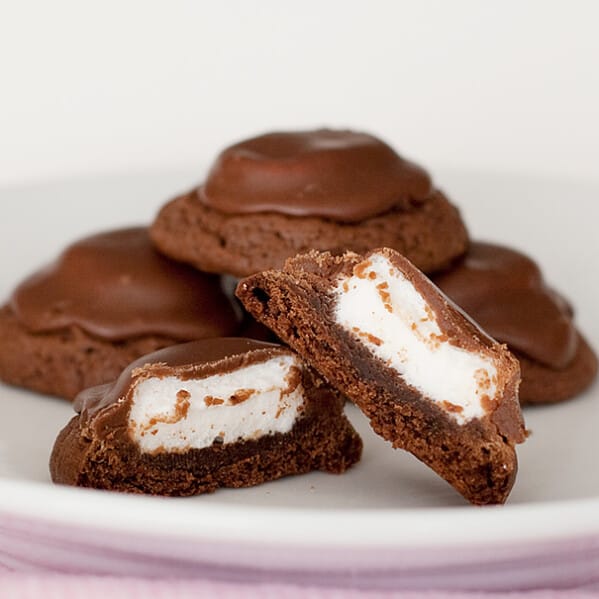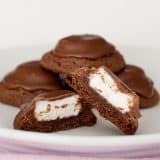 Surprise Cookies
---
Prep Time: 15 minutes
Cook Time: 12 minutes
Total Time: 1 hour
Yield: about 2 1/2 cookies 1x
Description
Chocolate cookies with a chocolate frosting have a surprise marshmallow in the center in these Surprise Cookies.
---
Scale
Ingredients
Cookies
1 3/4 cups all-purpose flour
3/4 cup cocoa powder
1/2 teaspoon baking soda
1/2 teaspoon salt
1/2 cup (1 stick) unsalted butter, softened
1 cup sugar
1 large egg
1/2 cup milk
1 teaspoon pure vanilla extract
about 15 large marshmallows, cut in half horizontally
Frosting
3 cups confectioners' sugar
6 tablespoons unsalted butter, at room temperature
1/4 cup plus 1 1/2 teaspoons cocoa powder
1/4 cup plus 2 tablespoons milk
3/4 teaspoon pure vanilla extract
---
Instructions
Preheat the oven to 375F. Line baking sheets with parchment paper.
Mix together the flour, cocoa powder, baking soda and salt in a bowl. Set aside. In the bowl of a mixer, beat the butter and sugar until light and fluffy, about 2 minutes. Add in the egg, milk and vanilla and beat to combine. Gradually add in the flour mixture and beat until it is completely combined.
Use a 1 3/4-inch scoop to make balls of dough and place on the prepared baking sheets, at least 2 inches apart. Bake, rotating the sheets halfway through, until the cookies are set, 8-10 minutes. Remove from the oven and immediately press a marshmallow half on the top of the cookie, return to the oven, and bake until the marshmallows begin to melt, about 2 minutes. Remove from the oven and allow to cool completely.
To make the frosting, put the confectioners' sugar in a medium bowl. Melt the butter in a small pan over medium heat, then stir in the cocoa powder. Pour the mixture into the bowl with the confectioners' sugar. Whisk in the milk and the vanilla. Spread 1 tablespoon of the frosting over the top of each cookie, covering the marshmallow.