Filled with lots of good for you ingredients, this Kale Smoothie with Pineapple and Banana is filled with iron, potassium, fiber and so much more. And it's such a delicious green smoothie recipe, even the kids will love it!
Trying to eat a little healthier? A smoothie is a great way to pack in those extra nutrients! If you like this Kale Smoothie, you should also check out this Tropical Smoothie, this Tropical Carrot Smoothie, or this Smoothie Bowl with Berries and Coconut.
Or pair it with another healthy breakfast recipe like these Egg Muffins!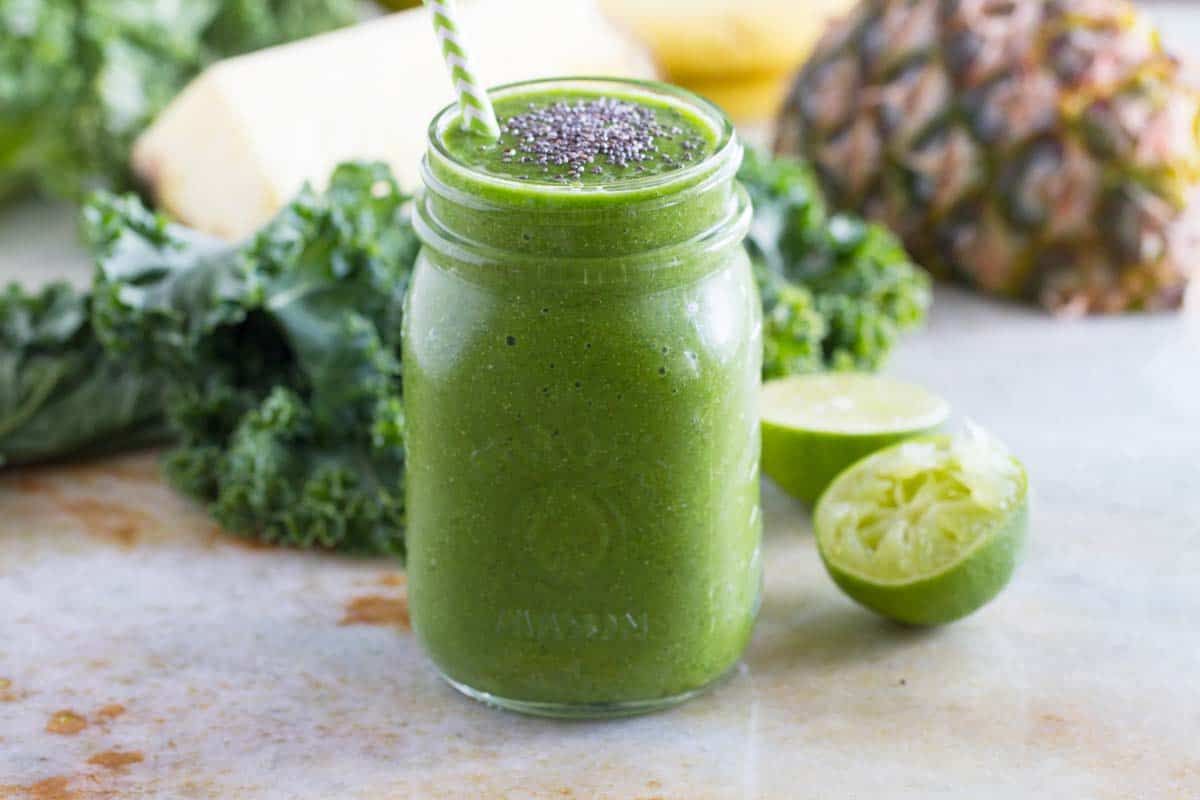 You all already know that I'm a big fan of the smoothie. (Hey- I have my own book all about them!) I love that smoothies are a way to make one simple change in your day that will benefit you in a big way. And I have a smoothie almost every day, so I'm always looking for different recipes.
I loved everything about this Kale Smoothie with Pineapple and Banana. The pineapple and banana are sweet enough to mask the bitterness of the kale, and with a frozen banana and frozen pineapple, the texture was just how I like them. I shared this smoothie with my boys, and they both gulped down their servings and then begged for more. It was one of those rare times when you feel like you are totally winning at the parenting thing!
And now I'm ready to up my smoothie game with this green smoothie recipe!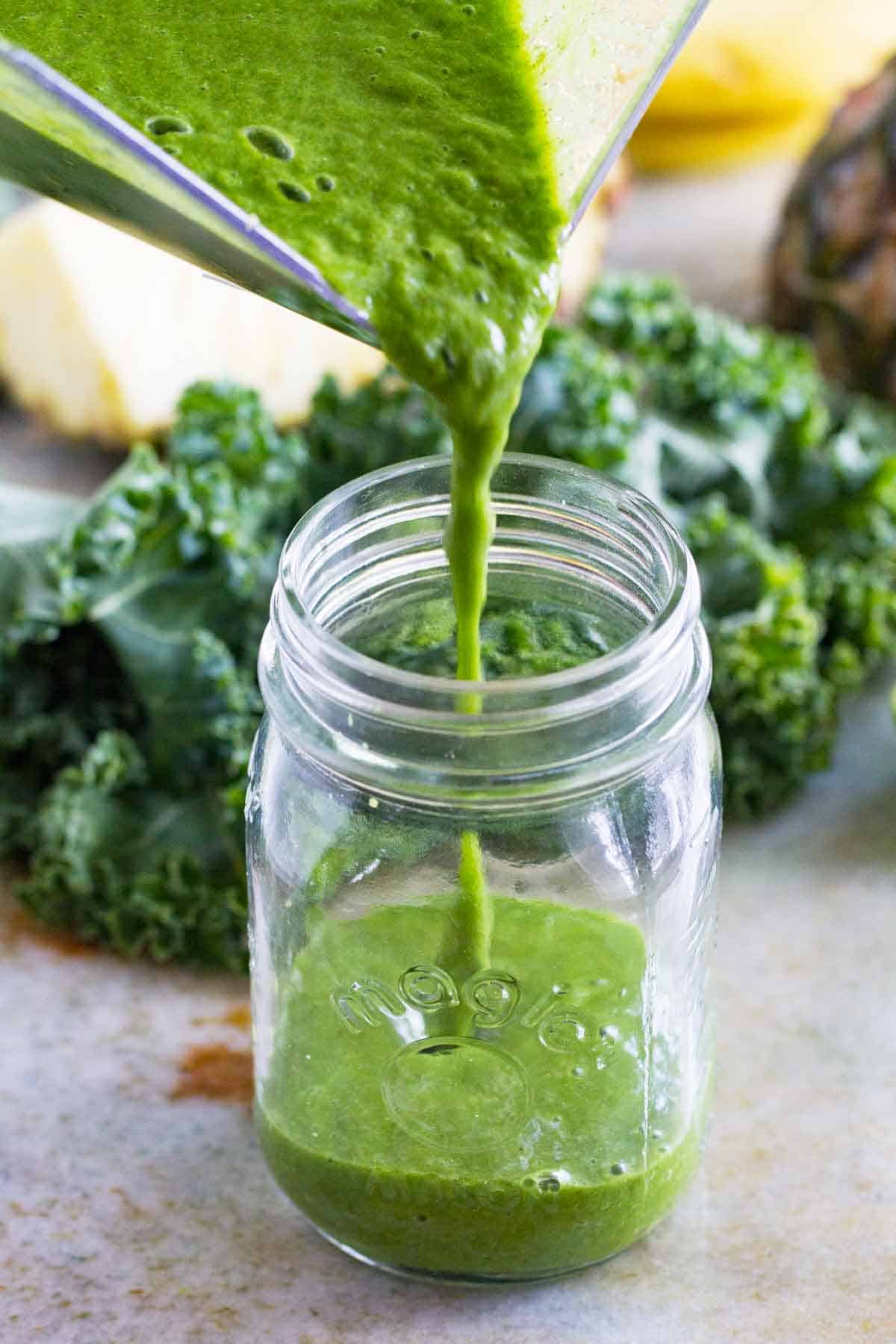 Ingredients
Now let's get down to what is in this super easy green smoothie!
Kale – make sure to remove the stems. I usually just get whatever is at the grocery store, which is curly kale most of the time. You can also use dinosaur kale or red Russian kale (although the last may give your smoothie a bit of a peppery flavor).
Water – I'm only mentioning this here because if you want to, you can use a different liquid (I will sometimes use coconut milk or almond milk). It will add calories, and water is still really great in this smoothie, but there are other options if you want. You could even use a fruit juice to really bring out the tropical flavors.
Pineapple – this is a great thing to keep in the freezer if you make smoothies often. It is easy to find frozen at the grocery store, but if you can get a fresh pineapple on sale, it is sometimes cheaper to chop it up and freeze it yourself.
Banana – I always have a surplus of frozen bananas in the freezer. The more ripe they are when you put them in the freezer, the sweeter your smoothie will be. I like to peel and slice them and freeze them on a baking sheet, then transfer them to a ziplock bag. It's much easier than dealing with a whole banana in the peel. If you do want to keep them whole, I would still suggest peeling it before freezing.
Lime juice – I really, really love the brightness the lime juice brings. This can be left out if you don't have one, but I'd encourage you to try it with the lime juice.
Chia Seeds – You can actually find chia seeds really easily these days – most grocery stores carry them. The chia seeds will help to thicken your smoothie. They also provide fiber, potassium, calcium, antioxidants and they are a good source of Omega-3 fatty acids.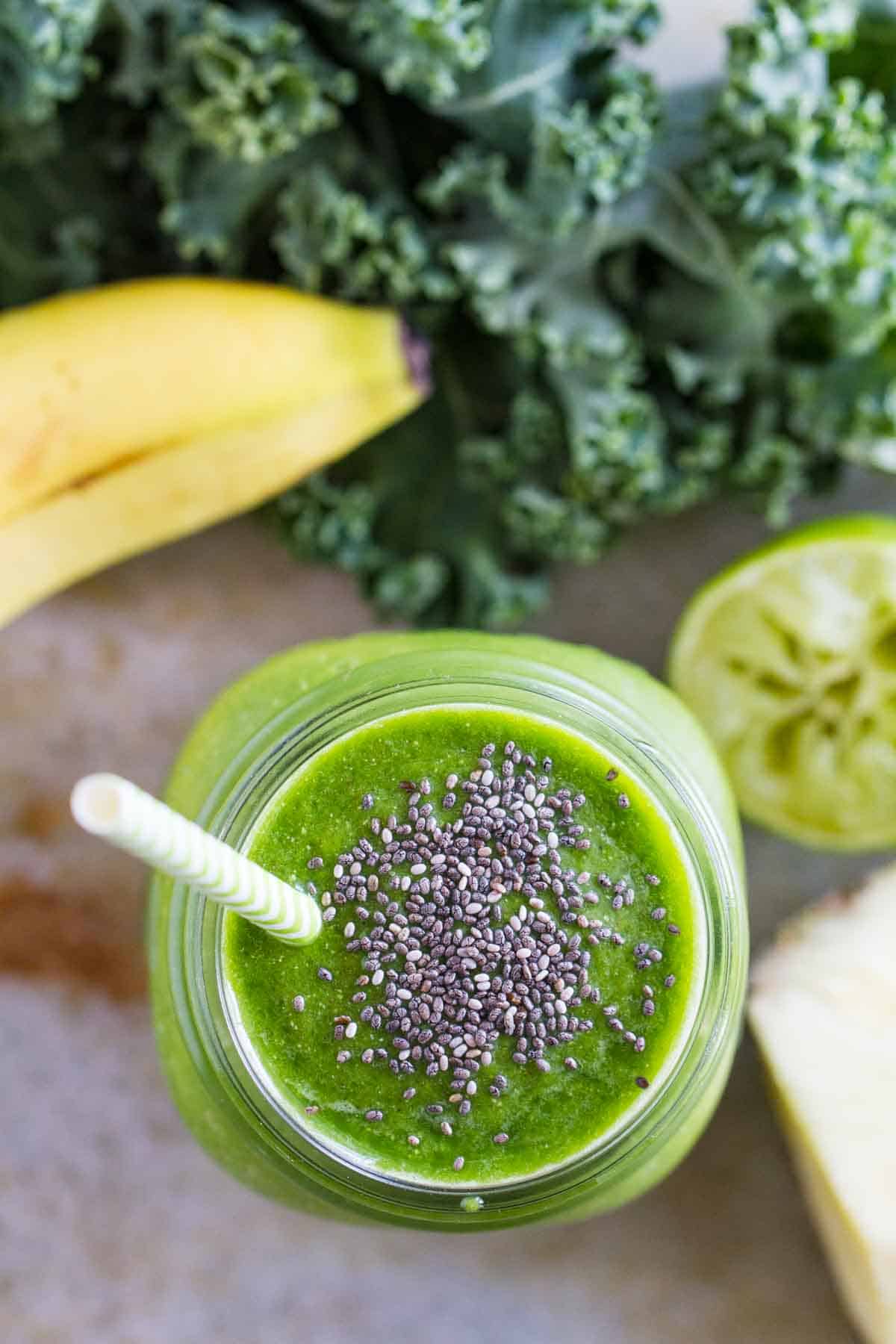 Other Additions
Boosters – These would include things like protein powders. There are all kinds of things you can add (like bee pollen or probiotics or wheatgrass) but I'm usually pretty simple and don't usually go beyond occasionally adding protein powder.
Thickeners – The thing I like to use the most for thickening my smoothies is frozen fruit. But you can always add things like yogurt, nut butters, oats, or chia seeds. I have even started adding cottage cheese, and I love the creaminess it adds. (Plus it adds extra protein!)
Any extras – there are a lot of things you can add, like extracts, sweeteners, or spices. I will often add vanilla extract or coconut extract. This smoothie recipe is pretty sweet as is, but if you want more sweetness, I suggest adding honey.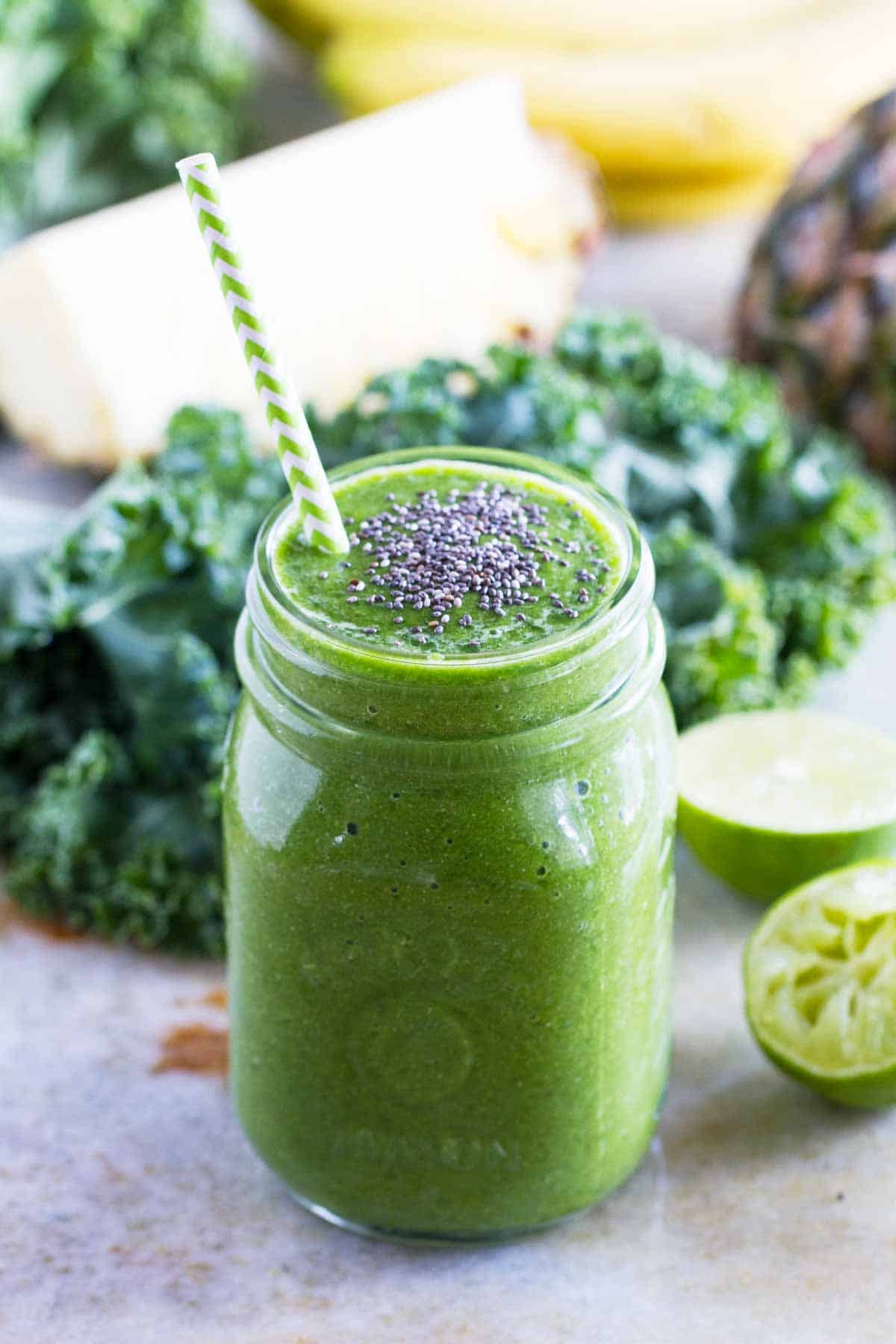 Tips to Make the Best Green Smoothie
The biggest complaint I always hear when it comes to green smoothies is that the texture is weird, with chunks of the "green". My first suggestion is to use a high powered blender, like a Blendtec or Vitamix, if possible. There are a few different brands on the market, and different people will rave about different blenders, so I think the brand is really preference. But I know they can get pretty pricey, so if you aren't making smoothies every day, it might be hard to justify the cost. So if you are using a cheaper blender, here are my tips for making the smoothest green smoothie possible.
In this recipe, the kale is blended with some water before you even add any other ingredients. I think this is a great way to get a smoother smoothie.
You may need some extra liquid. Since the cheaper blenders don't have as much power, it takes a little more liquid to get things moving around.
Be patient. You may have to blend a little longer, or stop the blender to stir a few times.
Make sure you get rid of any tough stems before adding the kale to the smoothie.
More Smoothie Recipes
Cherry Coconut Smoothie
Honeydew Lime Smoothie
Pineapple Banana Smoothie
Chocolate Berry Smoothie
Root Beer Float Smoothie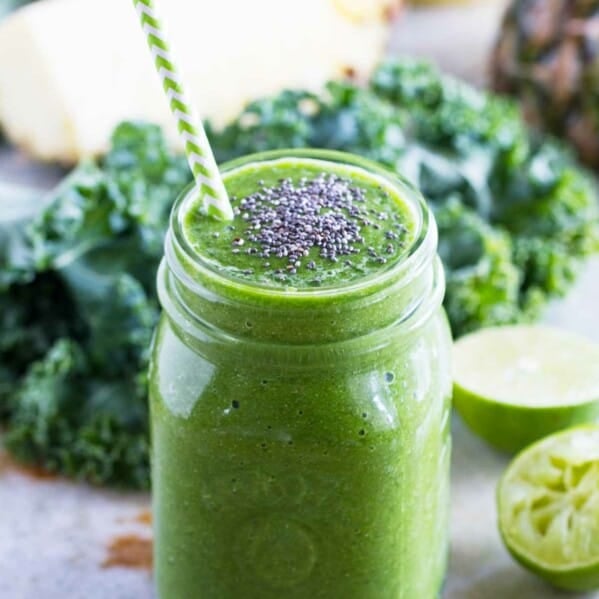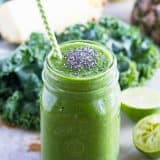 Kale Smoothie with Pineapple and Banana
---
Author:
Prep Time: 5 minutes
Total Time: 5 minutes
Yield: 2 servings 1x
Category: Beverage
Method: Blender
Cuisine: American
Description
Filled with lots of good for you ingredients, this Kale Smoothie with Pineapple and Banana is filled with iron, potassium, fiber and so much more. And it's such a delicious green smoothie recipe, even the kids will love it!
---
Scale
Ingredients
2 cups kale, stems removed
2 cups water
2 cups chopped pineapple (I like frozen)
1 banana (I like frozen)
Juice of 1/2 lime
2 tablespoons chia seeds
---
Instructions
Blend the kale and the water in a blender until smooth.
Add the remaining ingredients and blend again.
Recipe Notes:
recipe source: Simple Green Smoothies by Jen Hansard and Jadah Sellner
SUBSTITUTIONS: You can use any liquid in place of the water. Milk, almond milk, fruit juice – they will all work! You can also substitute the pineapple for another fruit, although I like that the pineapple covers the bitterness of the kale. You can also add in other nutritious ingredients, like peanut butter, flax seeds, or protein powder.
Nutrition information provided as an estimate only. Various brands and products can change the counts. Any nutritional information should be used as a general guide.
Nutrition
Serving Size: 1/2 of recipe
Calories: 251
Sugar: 27 g
Sodium: 46 mg
Fat: 4 g
Saturated Fat: 1 g
Unsaturated Fat: 3 g
Trans Fat: 0 g
Carbohydrates: 51 g
Fiber: 13 g
Protein: 9 g
Cholesterol: 0 mg
Keywords: kale smoothie, green smoothie recipe, kale smoothie recipe