Filled with lots of good for you ingredients, this Pineapple Banana Kale Smoothie recipe is filled with iron, potassium, fiber and so much more. And it's so delicious, even the kids will love it!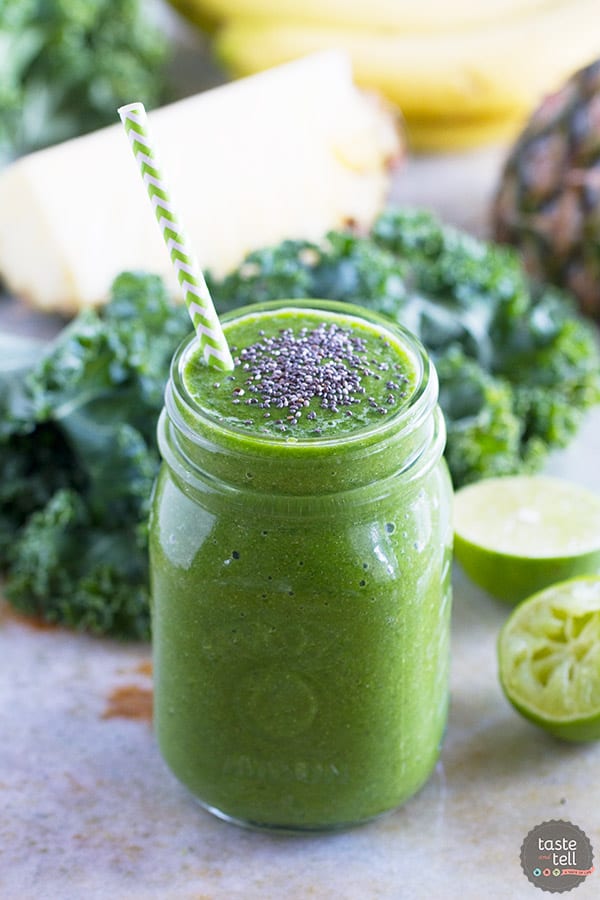 Yum

You guys – we have almost made it! This is cookbook review #51 for the year. Let me tell you – when I made the goal to review 52 cookbooks this year, I thought it would be easy. No big deal. But if you have been reading all month, you know that I have kind of slammed you with cookbook reviews this month because I was so far behind! At one point, I considered giving it up, but I'm glad I stuck with it. And at the same time, I'm glad it's almost over. 😉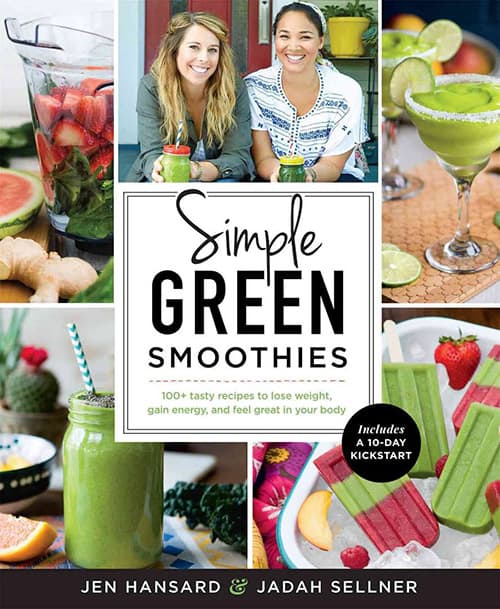 Today's review- Simple Green Smoothies – couldn't come at a better time. With all of the sweets and eats of the last few days weeks, and the upcoming New Year's Eve festivities, I know I'm going to need a good re-start. And what better way to do that than with some good for you smoothies?
You all already know that I'm a big fan of the smoothie. (Hey- I have my own book all about them!) But I love that this book is filled with over 100 green smoothie recipes. I love that smoothies are a way to make one simple change in your day that will benefit you in a big way. And with over 100 recipes, you are sure to find lots that you will fall in love with!!
You all may already be familiar with the very popular Instagram account – SimpleGreenSmoothies. Authors Jen and Jadah started sharing green smoothie recipes there and not only did their Instagram account turn people into green smoothie fans, but they have since started the very popular 30-Day Green Smoothie Challenge on their website – Simple Green Smoothies. And now you can have access to so many recipes with this book right at your fingertips!
Here are the details:
Number of Photos: Many. There isn't a photo of every recipe, but probably every other. And let's be realistic – a green smoothie is a green smoothie – just different shades of green. 🙂 So not having a photo of every single recipe isn't a huge deal. But let me tell you – the photography in this book is gorgeous, and making green smoothies look appetizing over and over again can't be easy. But it is definitely accomplished in this book!!
Difficulty Level of Recipes: Easy. They are smoothies. Nothing complicated here!
Availability of Ingredients: Easy. The vast majority of the ingredients are all produce, and the few ingredients that aren't should be easy to find at most grocery stores or Whole Foods.
Other Recipes I Want to Try:
Banana Split
Mango Ginger Zinger
Citrus Crush
Peach Party
Berry Power Bar
Acai Smoothie Bowl
Buy Simple Green Smoothies on Amazon.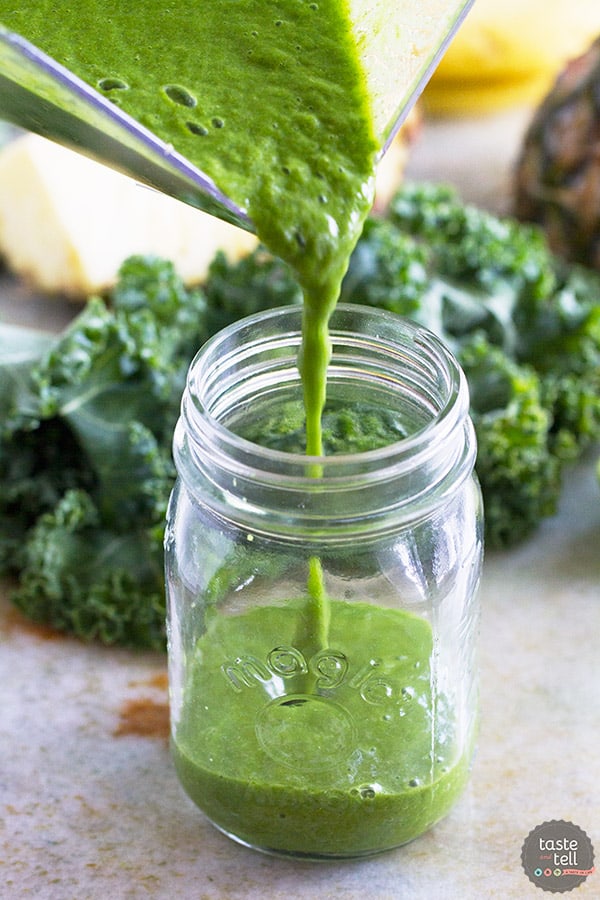 Since there are so many recipes in this book that I would love to try, I pretty much just played recipe roulette to decide where to start. I opened up the book, and it must have been fate because I already had all of the ingredients on hand for this Pineapple Banana Kale Smoothie Recipe. In the book, it's called the Pineapple Banana Bliss smoothie, and it's filled with kale, pineapple and banana. It also has a squeeze of lime and some chia seeds. The first thing that I loved about this recipe – and that I had never tried before – is that it calls for blending the kale with some water before adding the rest of the ingredients. Such a great tip! This way, if you don't have a super strong blender, you should still be able to blend the kale up nicely.
I loved everything about this Pineapple Banana Kale Smoothie Recipe. The pineapple and banana are sweet enough to mask the bitterness of the kale, and with a frozen banana and frozen pineapple, the texture was just how I like them. I shared this smoothie with my boys, and they both gulped down their servings and then begged for more. It was one of those rare times when you feel like you are totally winning at the parenting thing!
And now I'm ready to up my green smoothie game in 2016!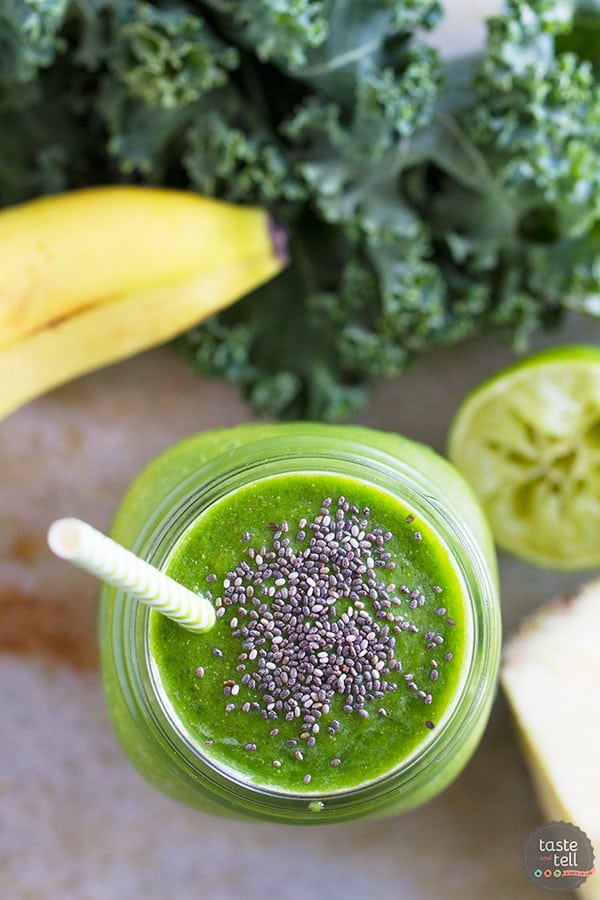 Like what you see here? Make sure you are following Taste and Tell for more recipes and ideas!
Facebook | Pinterest | Instagram | Twitter | Google+ | Weekly Newsletter | Feedly | Bloglovin
Print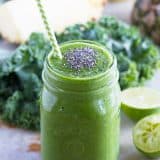 Pineapple Banana Kale Smoothie Recipe
Author:

Prep Time:

5 mins

Total Time:

5 mins

Yield:

2 servings
---
Description
Filled with lots of good for you ingredients, this Pineapple Banana Kale Smoothie is filled with iron, potassium, fiber and so much more. And it's so delicious, even the kids will love it!
---
Ingredients
2 cups kale, stems removed
2 cups water
2 cups chopped pineapple (I like frozen)
1 banana (I like frozen)
Juice of 1/2 lime
2 tablespoons chia seeds
---
Instructions
Blend the kale and the water in a blender until smooth.
Add the remaining ingredients and blend again.
---
Useful Products:
Don't miss a thing! Follow me on Pinterest to see what I'm pinning!
Visit Taste and Tell's profile on Pinterest.



**A copy of this book was sent to me by the publisher for review purposes, but all opinions are my own. This post contains affiliate links. If you purchase an item from Amazon from the link Taste and Tell receives a small commission. Thank you for supporting Taste and Tell through your purchases!**