All of the wonderful spices of chai tea are showcased in these Chai Spiced Cupcakes that are simple yet packed with flavor.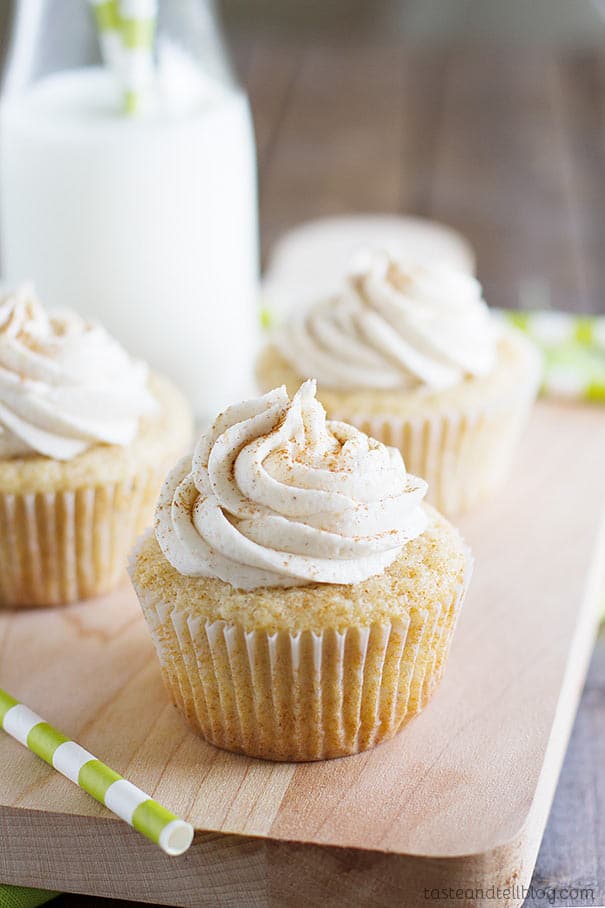 So, I'm not a tea drinker. When I was overdue with my last baby, I had read that raspberry leaf tea helped to induce labor, and I tried. But no. I have never been able to do it. I like the idea of sitting down at night with a warm mug of herbal tea, but well, it's just not for me.
I know that chai tea has become really popular in the last few years. But because of my non-tea ways, it has been one of those trends that I've just skipped over.
But then, as I was reading through a cookbook one night, I came across this recipe. And while I would have normally skipped over it, for some reason, I read through that recipe.
Wait – a recipe for chai spiced cupcakes, but there isn't actually any tea in them?? I was definitely intrigued.

I've obviously been missing out. Because these chai spices? The flavors are phenomenal. You make a spice blend that has all of the flavors of chai tea, and then you add some to the cupcakes and some to the frosting. These cupcakes are warm and perfectly spiced and full of flavor. They may not look like anything special, but the flavor is perfection.
The original recipe said that the recipe made 12 cupcakes, but when I made my first batch with 12, the cups definitely had too much batter in them and the cupcakes were a mess. So on my second try, I made 17 cupcakes and they came out perfectly. So I think that this recipe should make between 16 and 18 cupcakes.
You may not find me sitting down with a warm mug of tea at night, but don't be surprised if you find me sitting down with one of these Chai Spiced Cupcakes!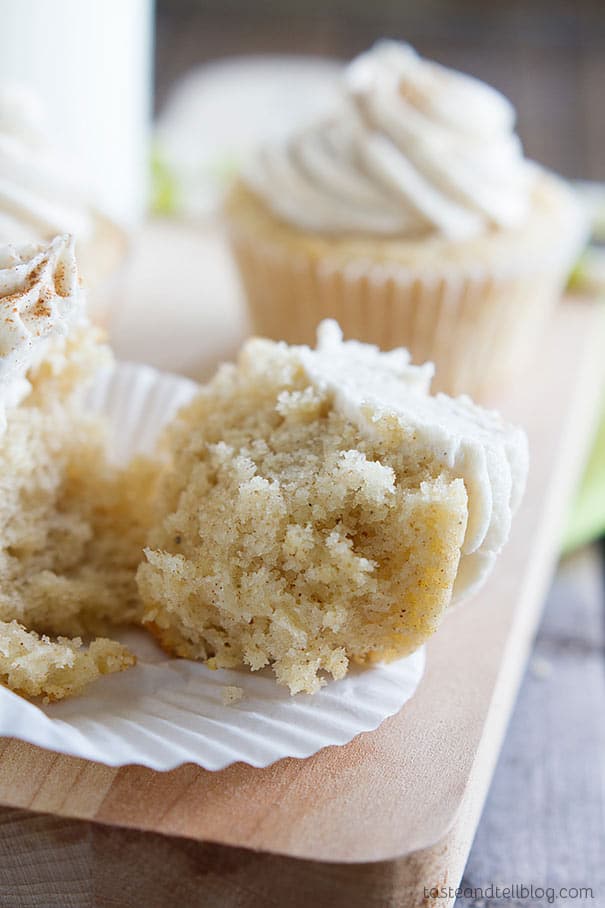 Like what you see here? Make sure you are following Taste and Tell for more great recipes and ideas!!

Facebook ** Pinterest ** Twitter ** Instagram ** Google+
or you can subscribe to my newsletter or Feedly or Bloglovin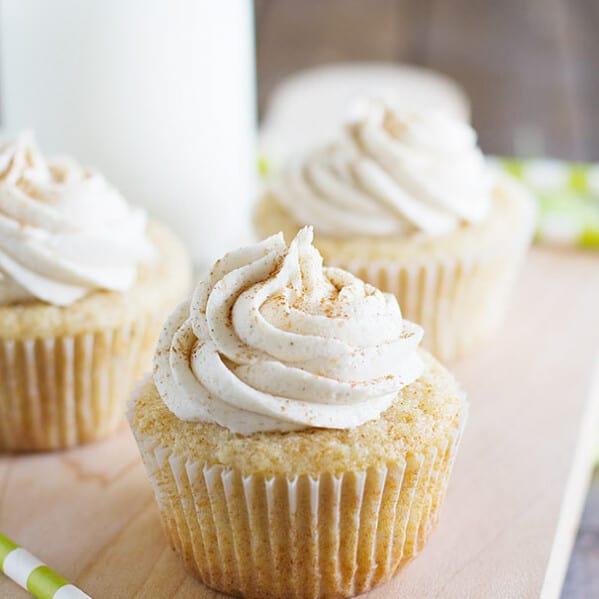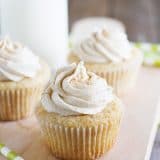 Chai Spiced Cupcakes
---
Author:
Prep Time: 15 mins
Cook Time: 20 mins
Total Time: 35 mins
Yield: 16-18 cupcakes 1x
Description
All of the wonderful spices of chai tea are showcased in these Chai Spiced Cupcakes that are simple yet packed with flavor.
---
Scale
Ingredients
Cupcakes:
1/2 teaspoon ground ginger
1/2 teaspoon cinnamon
1/2 teaspoon cardamom
1/2 teaspoon ground cloves
1/8 teaspoon black pepper
1 cup sugar
1/2 cup butter, at room temperature
1 egg
1/2 teaspoon vanilla extract
1 1/2 cups all-purpose flour
1 1/2 teaspoons baking powder
1/4 teaspoon salt
2/3 cup milk
Frosting:
1/2 cup butter, at room temperature
3 1/2 cups powdered sugar
1/2 teaspoon vanilla extract
2 tablespoons milk
cinnamon
---
Instructions
Preheat the oven to 350ºF. Place cupcake liners in 16 muffin cups.
In a small bowl, combine the ground ginger, cinnamon, cardamom, cloves and black pepper. Set aside.
In a large bowl, cream together the sugar and the butter until light and fluffy. Beat in the egg and the vanilla, scraping down the bowl as needed. In another bowl, combine the flour, baking powder, salt and 1 1/2 teaspoons of the reserved spice mixture. Alternate adding the flour mixture and the milk, beating just until combined after each addition.
Fill the prepared cups 2/3 full of the batter. Bake for 18-20 minutes, or until a tester inserted in the center comes out clean. Cool for 10 minutes the remove from the pans to cool completely on a cooling rack.
To make the frosting, in a large bowl beat the butter until fluffy. Slowly beat in the powdered sugar, vanilla and remaining spice mixture. Beat until smooth. Add enough of the milk to reach your desired consistency. Pipe the frosting onto the cupcakes, and if desired, sprinkle with cinnamon.
More Favorite Cupcakes: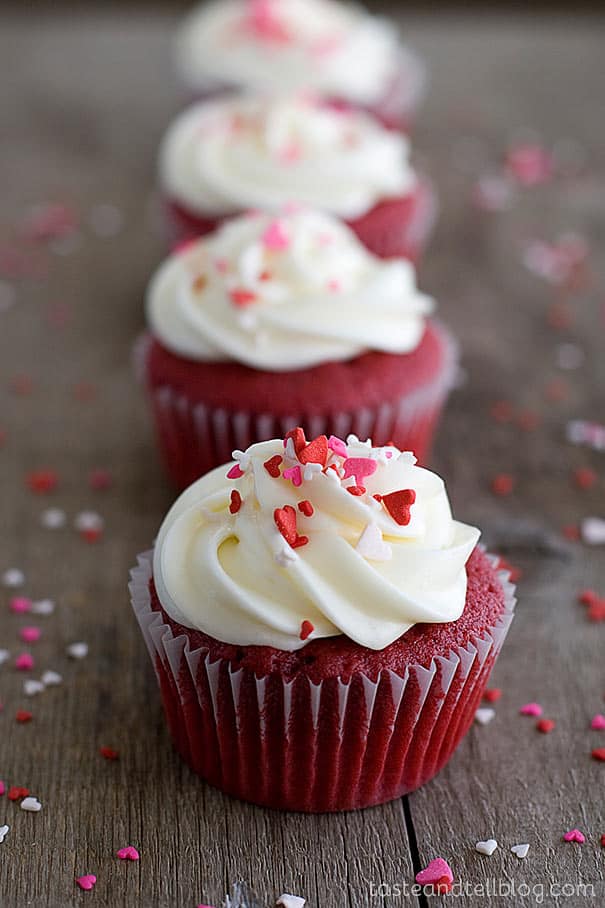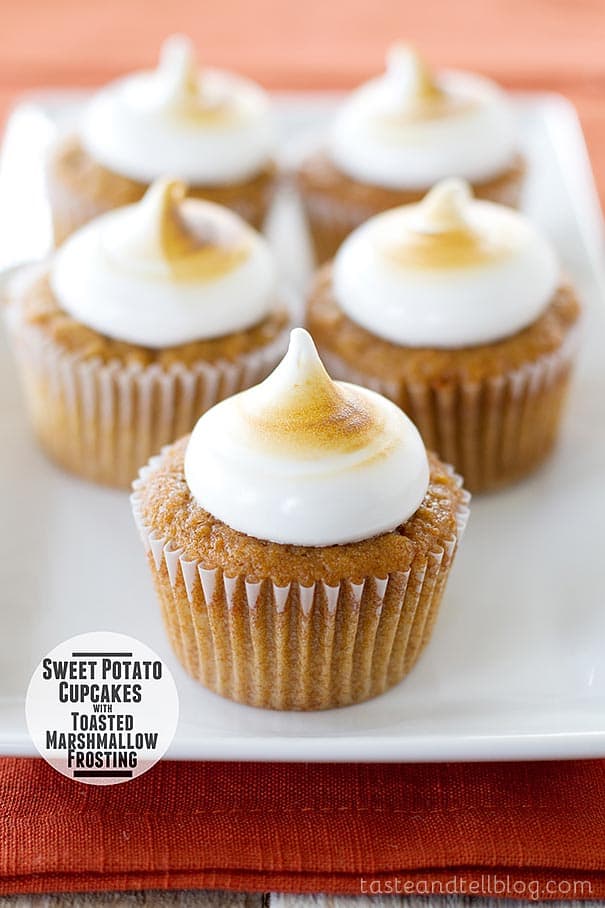 Sweet Potato Cupcakes with Toasted Marshmallow Frosting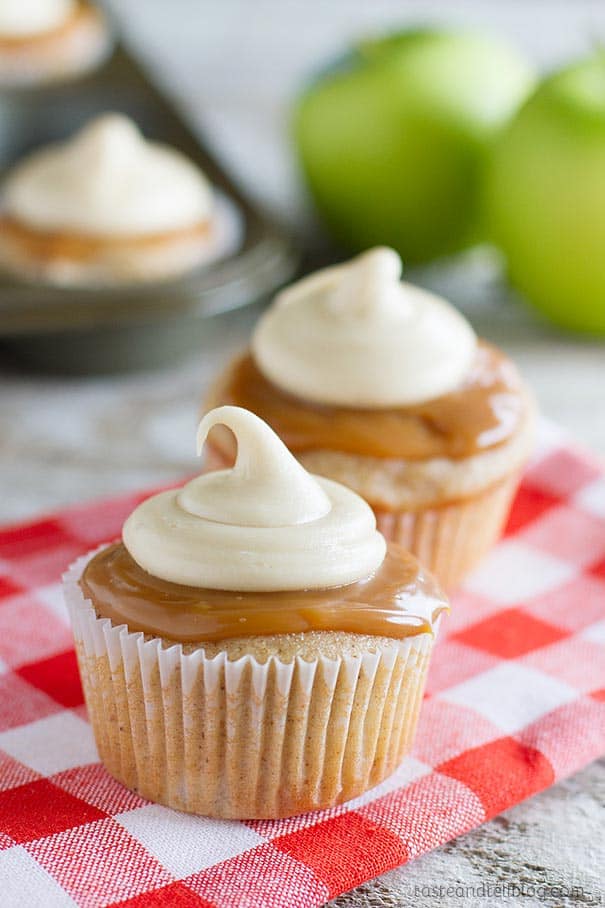 Caramel Apple Cupcakes
Around the Web:
Brown Sugar Butterscotch Cupcakes from Sally's Baking Addiction
Junior Mint Cupcakes from Food Fanatic
Banana Chocolate Toffee Cupcakes from Dessert Now, Dinner Later