A beef and bean enchilada is topped with a homemade enchilada sauce.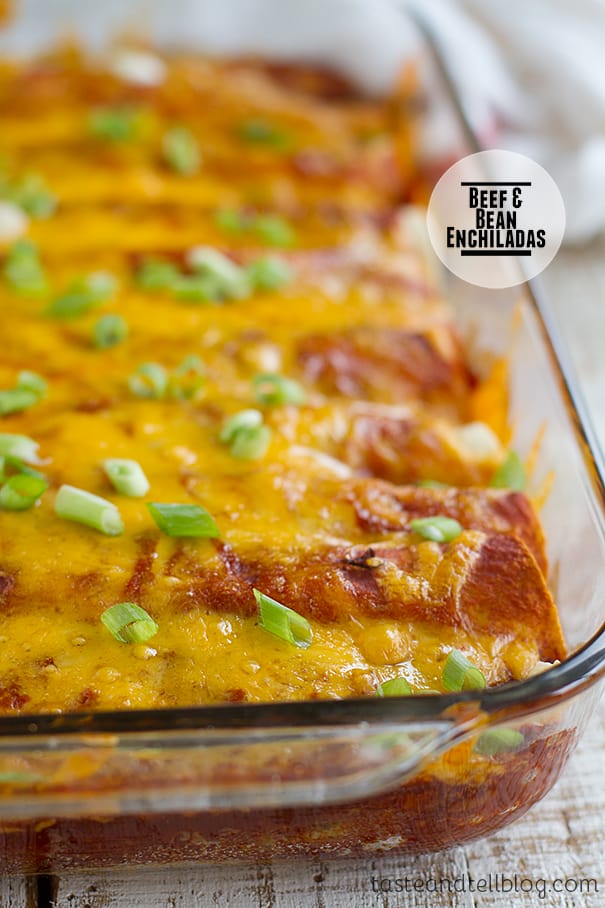 Photo Updated May 2014
UPDATE: The recipe and photos were updated May 2014. The enchilada sauce was completely changed to a delicious and easy red enchilada sauce that will now become a regular. It is quite easy, and can be multiplied so that you have more sauce on hand.




I haven't done a "Bad Photo Sunday" in quite awhile, but this one is bringing it back!! I actually wouldn't have even bothered posting about these enchiladas, but they make me one cookbook closer to completing my Cookbook Project, and I didn't want to have to scramble to make another recipe from this cookbook.
These enchiladas require you to make your own enchilada sauce. This was the first time I have ever done this – I usually used the canned stuff – and I probably won't try it again, at least from this recipe. It wasn't that it was bad, but it just wasn't good enough for the effort. We love enchiladas in every shape and form at our house, so these definitely were good enough to eat for dinner, but I do think there are better recipes out there.
Now only 4 more cookbooks to go to complete my goal for the year!!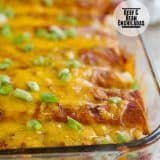 Beef and Bean Enchiladas
---
Prep Time: 40 minutes
Cook Time: 25 minutes
Total Time: 1 hour 10 minutes
Yield: 6 servings 1x
Description
A beef and bean enchilada that is topped with a homemade enchilada sauce.
---
Scale
Ingredients
Enchilada Sauce
2 oz New Mexico red chile pods
1 1/2 cups water
1 1/2 tablespoons flour
1/4 teaspoon garlic
1 teaspoon salt
Enchiladas
1 pound ground beef
1 clove garlic, minced
1 teaspoon salt
1 tablespoon chili powder
1 can (15 oz) black beans, drained and rinsed
10 (9-inch) flour tortillas
2 cups shredded cheddar cheese
sliced green onions, for serving
---
Instructions
To make the enchilada sauce:
Remove the stems, seeds and veins from the chile pods. Rinse well. Place them in a pot and cover them with water. Place over medium-high heat and bring to a boil. Once the water starts to boil, reduce the heat and place a cover on the pot. Simmer for 20 minutes, turning the chiles over after 10 minutes to ensure they soften evenly.
Drain the chiles and allow them to cool.
Place the chiles in a blender along with the 1 1/2 cups water, flour, garlic and salt. Process until smooth. Strain the sauce through a fine sieve to remove the seeds and skin and discard. Season the sauce with more salt if needed.
To make the enchiladas:
Preheat the oven to 350F.
In a medium skillet, brown the ground beef, breaking it up as it cooks. add the garlic, salt and chili powder and continue to cook for another minute or two. Stir in the beans and cook for a few minutes to heat through. Remove from the heat.
To assemble the enchiladas, place 1/3 cup of the meat filling down the center of each tortilla; roll up. Arrange the enchiladas seam side down in a 9×13-inch baking dish. Pour the enchilada sauce over the top. Sprinkle the cheese on top, then bake until the cheese is melted and the enchiladas are heated through, about 25 minutes.
Serve topped with sliced green onions.