The ultimate Tex-Mex burrito – this Frito Pie Burrito is filled with chili, green chile queso, pico de gallo, avocado cream and jalapeños, all wrapped up in a tortilla.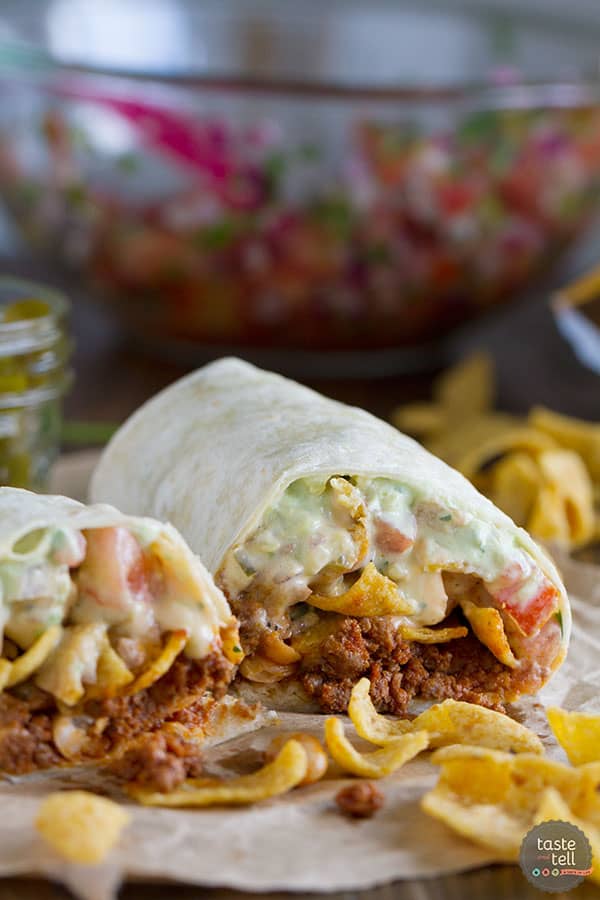 Have you ever seen a food that made you stop dead in your tracks?
Awhile back, I was watching an episode of The Rachael Ray Show. I will DVR the show, and will often have it on while I am working at night, watching it in the background. But on this particular show, she said 3 words that made me stop what I was doing and watch with all of my attention:
Frito Pie Burrito.
It was one of those moments that I knew I couldn't wait until I could get into the kitchen to recreate that recipe. Apparently, this is the new big thing in New York City. There is a restaurant that created a loaded Frito Pie Burrito, and other restaurants are following suit.
Now, Frito Pie totally reminds me of my childhood. It was a camping staple, and a baseball game staple. Many Frito pies were consumed every summer.
Well, today's recipe takes the summer out of the equation and takes that Frito pie and wraps it up burrito style – a perfect Tex-Mex meal for any time of year.
After looking at Rachael's recipe, I decided to take the basic concept of her recipe, but to kind of go on my own for the actual recipe. What I ended up with was burrito perfection.
Let me break it down for you: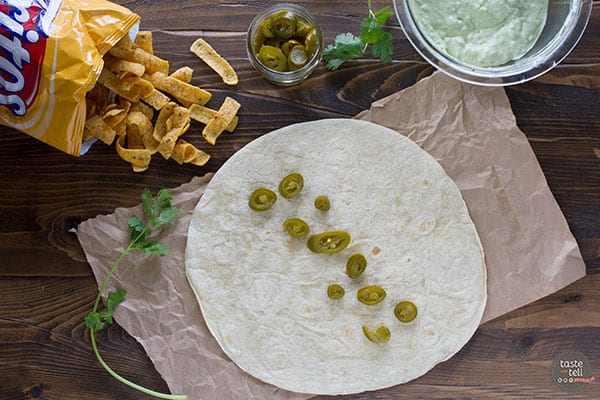 You'll start with pickled jalapeños. No need to be an ingredient snob here. Pickled jalapeños belong on a Frito pie, so of course you'll need them in your burrito.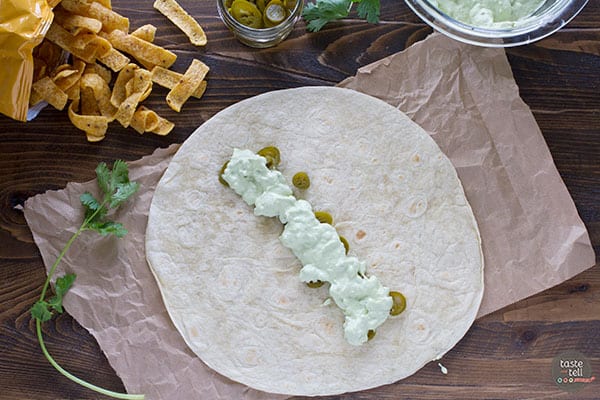 Next step – avocado cream. Enough said.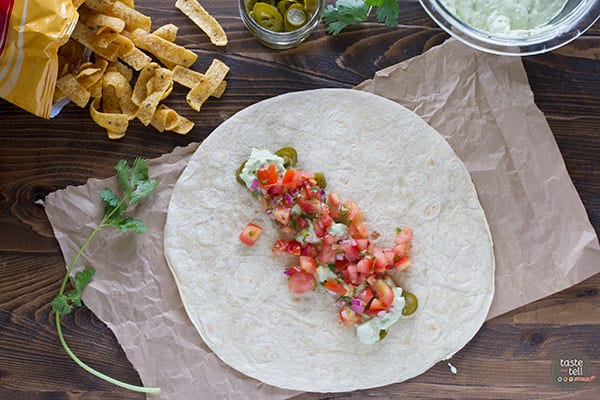 An easy homemade pico de gallo goes next. A little bit of fresh to bring it all alive.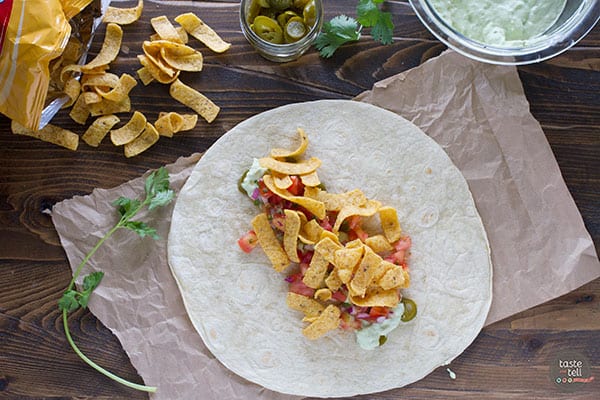 Then the Fritos, because you obviously can't have a Frito Pie Burrito without the Fritos. #duh






Now it's getting good – you smother the top with Green Chile Queso. You're welcome.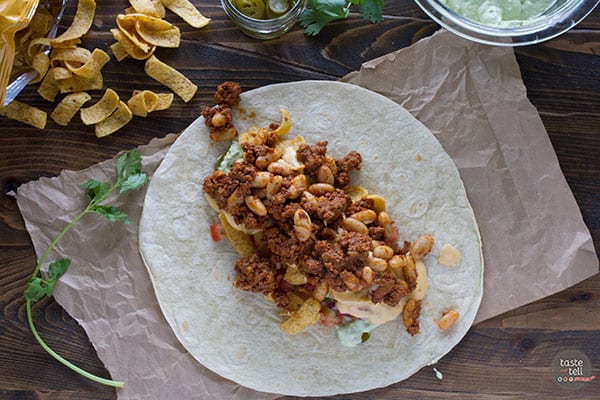 And last, but certainly not least is the chili. This is Frito pie on steriods. Wrapped in a tortilla.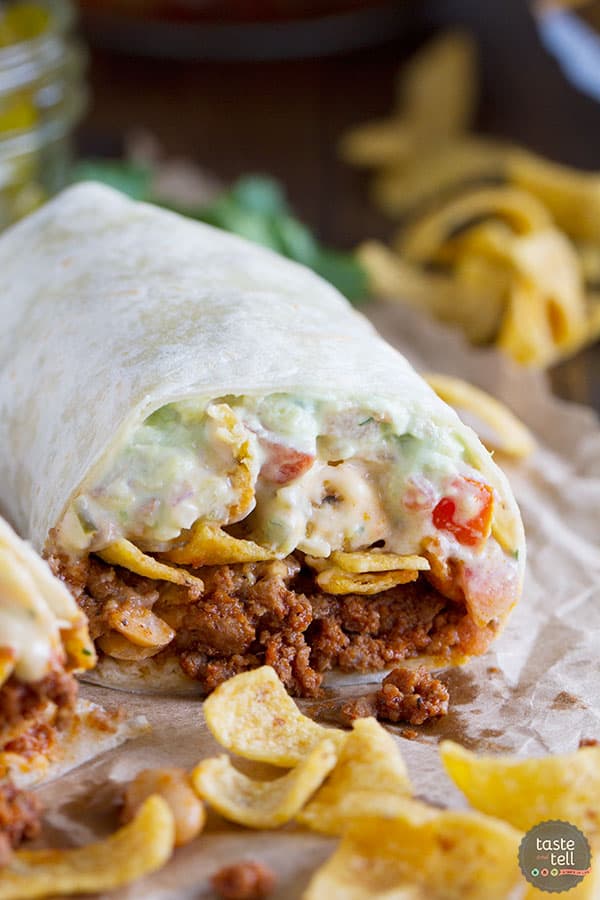 This is definitely not an every day dinner, but if you are feeling like a little indulgence, this is what you need to make. These Frito Pie Burritos are right up my alley, and I enjoyed every single bite. And I love that I don't have to wait for a camping trip or a night at the ballpark to enjoy one of my favorites! These Frito Pie Burritos definitely belong in the record book!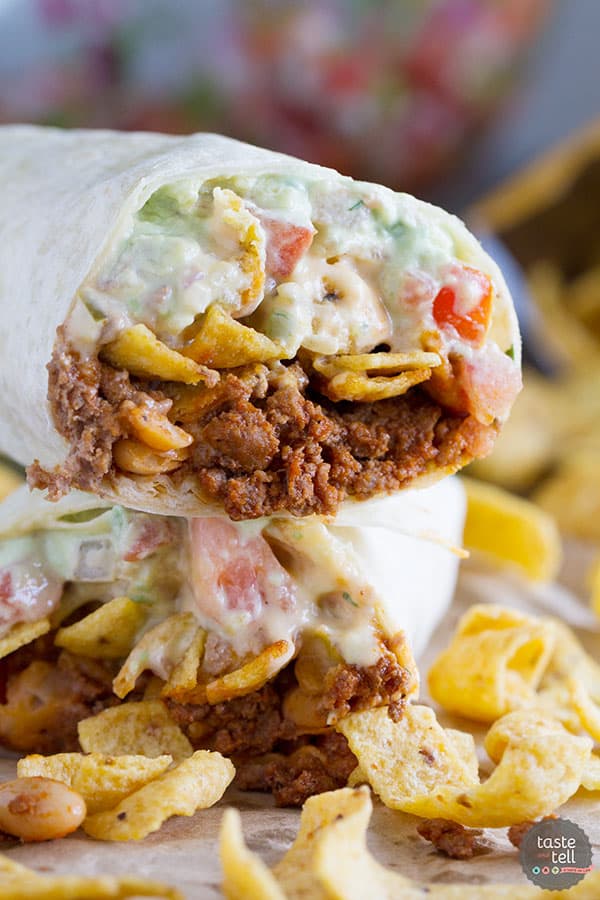 Like what you see here? Make sure you are following Taste and Tell for more recipes and ideas!
Facebook | Pinterest | Instagram | Twitter | Google+ | Weekly Newsletter | Feedly | Bloglovin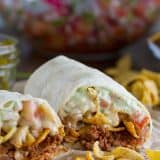 Frito Pie Burrito
---
Author:
Prep Time: 30 mins
Cook Time: 30 mins
Total Time: 1 hour
Yield: 4 servings 1x
Description
The ultimate Tex-Mex burrito – this Frito Pie Burrito is filled with chili, green chile queso, pico de gallo, avocado cream and jalapenos, all wrapped up in a tortilla.
---
Scale
Ingredients
Chili
1 lb ground beef
1 (8 oz) can tomato sauce
tomato sauce can of water
1 teaspoon all-purpose flour
1 teaspoon chili powder
1/2 teaspoon salt
1/2 teaspoon pepper
1/2 teaspoon onion powder
1/2 teaspoon garlic powder
1/4 teaspoon unsweetened cocoa powder
1/8 teaspoon cumin
1 can (15.5 oz) beans, drained and rinsed (I used cannellini beans, but pinto or kidney would work well)
Pico de Gallo
2 large tomatoes, diced
1/2 cup finely diced red onion
1/2 jalapeño, seeds and ribs removed, minced
1/2 cup cilantro, minced
juice from 1/2 lime
salt
Green Chili Queso
2 tablespoons butter
2 cloves garlic, minced
1/2 jalapeño, seeds and ribs removed, minced
1 generous tablespoon cornstarch
1 1/2 cups milk
4 oz cream cheese, cut into cubes
8 oz sharp cheddar cheese, shredded
1 (4 oz) can green chiles
salt and pepper
Avocado Cream
1 avocado
1/2 cup sour cream
juice from 1/2 lime
salt
Burritos
4 large (12-inch) tortillas
pickled jalapeños
2 cups Fritos corn chips
---
Instructions
Make the chili:
Cook the ground beef in a large skillet over medium-high heat until browned and cooked through, breaking up the beef as it cooks. Add the tomato sauce, then fill the can with water and add that water. Stir in the flour, chili powder, salt, pepper, onion powder, garlic powder, cocoa powder and cumin. Cook until it starts to bubble, then reduce the heat and continue to simmer until the chili is thick, 30-45 minutes. Drain and rinse the beans and add them to the chili, and continue to cook until warmed through.
Make the Pico de Gallo:
In a medium bowl, combine the tomatoes, red onion, jalapeño and cilantro. Stir in the lime juice and season to taste with salt. Refrigerate until ready to use.
Make the Queso:
Melt the butter in a large saucepan. Add the garlic and jalapeño and cook until softened, a minute or two. Whisk in the cornstarch. Slowly pour in the milk, whisking constantly. Bring to a boil and let cook until slightly thickened, then add in the cream cheese. Cook, whisking constantly, until the cream cheese has melted and the sauce is smooth. Slowly add in the cheddar cheese, stirring until melted. Stir in the green chiles. Keep warm.
Make the Avocado Cream:
Remove the pit and the skin from the avocado and mash in a bowl. Stir in the sour cream and lime juice. Season to taste with salt.
Assemble the Burritos:
Working with one tortilla at a time, leaving 1 1/2 to 2 inches of a border on each side, start layering with pickled jalapeños, avocado cream, pico de gallo, about 1/2 cup of Fritos, queso sauce, and then chili. Fold the edges over the filling, then wrap and roll the sides into a burrito. Serve immediately.
Don't miss a thing! Follow me on Pinterest to see what I'm pinning!
Visit Taste and Tell's profile on Pinterest.


More Frito Favorites: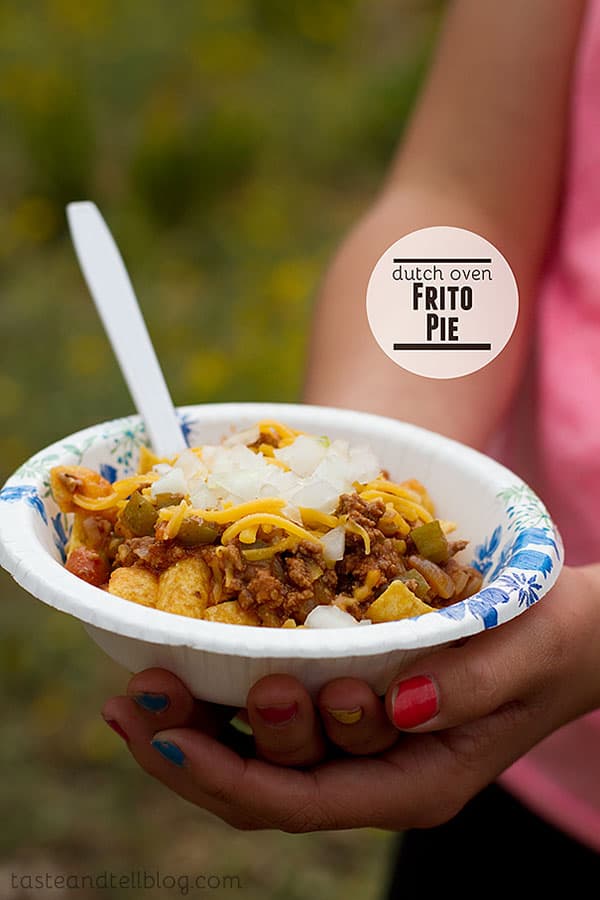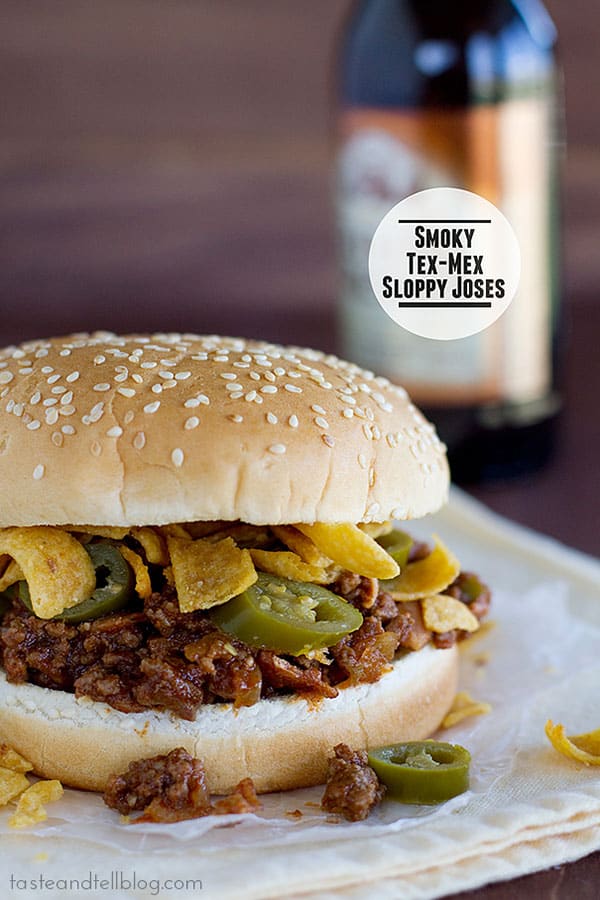 Around the Web:
Frito Pie Huevos Rancheros from Barefeet in the Kitchen
Frito Chili Cheeseburger from A Spicy Perspective
Frito Snack Mix from RecipeGirl