If you love pork, this tamale pie is for you. Filled with chorizo, bacon and ground pork, this meal in comforting and delicious.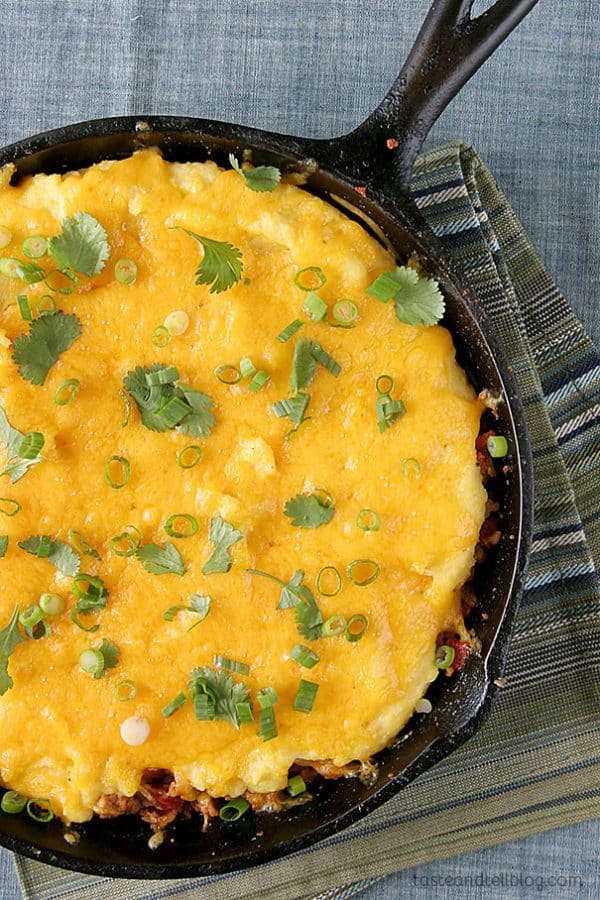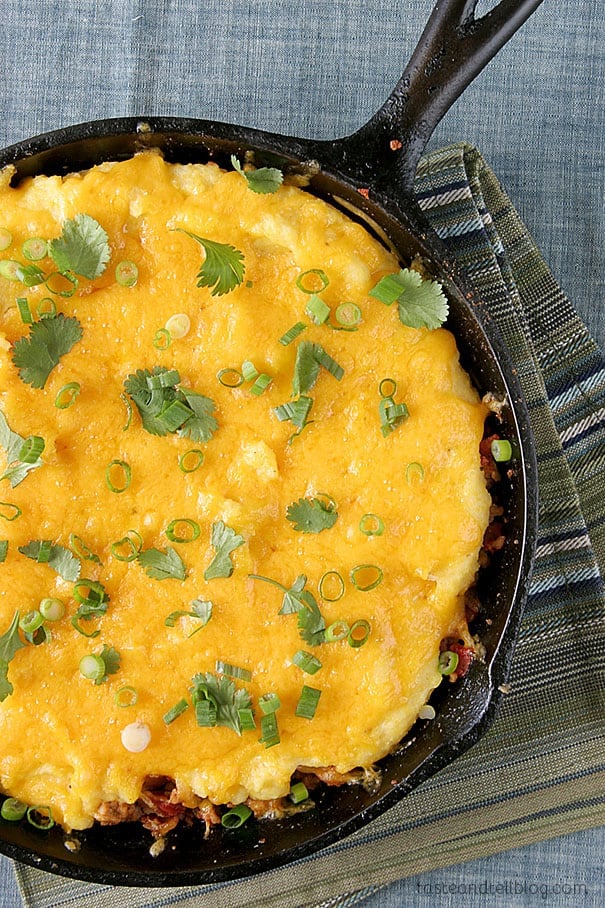 Utah is a very finicky state.  Yesterday, it was a gorgeous day with temps in the 70s.  It's supposed to be even warmer today, and then all of a sudden, there is supposed to be a high of 48 on Sunday.  Yeah, quite the temperature change.
I've lived in Utah long enough to know that just because the calendar says that it is spring, that doesn't mean it's time to put away the coats, turn off the heater, or say goodbye to comfort foods until next fall.  Nope, here in Utah you never know – you can still have a snow storm in April or May!!
But let's be honest – I still even enjoy a good, comforting meal any time of year.  Maybe not as much as in the winter months, but sometimes, you just want a bowl full of comfort.  And that is exactly what this meal was to me.  I actually had already made a few things from this (March) issue of Every Day with Rachael Ray, and I had inteded to retire the issue to the bookcase for the time being.  But then one night, I was watching a DVR'd episode of The Rachael Ray Show, and she made this Tamale Pie.  My husband saw it, and couldn't stop talking about how good it looked.  So out came the issue, and this pie was put on the menu.
My husband rarely request meals, but now I'm wishing he would do it more often.  This was definitely a once in awhile meal, but it was so good.  If you are a pork lover, this is one that you don't want to miss.  It was comforting, and spicy, and everything I look for in a tamale pie.  And there is just something about a meal cooked in a cast iron pan that I love.  Pure comfort food.  Loved it!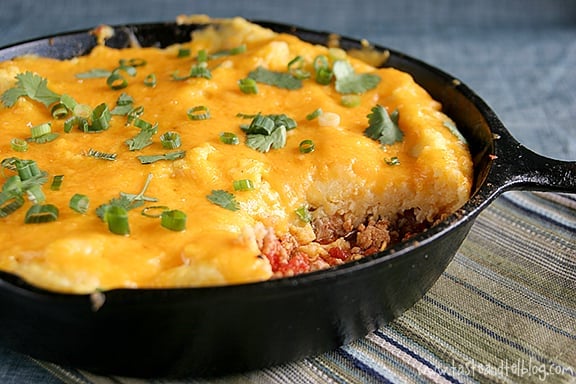 Like what you see here? Make sure you are following Taste and Tell for more great recipes and ideas!!

Facebook ** Pinterest ** Twitter ** Instagram ** Google+
or you can subscribe to my newsletter or Feedly or Bloglovin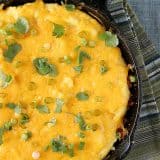 Pork Lover's Tamale Pie
---
Total Time: 30 minutes
Yield: 4-6 servings 1x
Description
If you love pork, this tamale pie is for you. Filled with chorizo, bacon and ground pork, this meal in comforting and delicious.
---
Scale
Ingredients
1 cup milk
1 cup cornmeal
2 cups boiling water
salt and pepper
2 tablespoons butter
1 teaspoon honey
1 tablespoon extra-virgin olive oil
2 oz. Mexican chorizo
4 sliced bacon, finely chopped
1 pound ground pork
1 teaspoon dried thyme
1 tablespoon chili powder
1/2 tablespoon ground coriander
1 small onion, chopped
3–4 cloves garlic, minced
1 cup beef or chicken broth
1 (10-oz) can diced tomatoes with chiles, drained
1 1/2 cups shredded cheddar cheese
cilantro and sliced green onions, for garnishing
---
Instructions
In a medium saucepan over medium heat, warm up the milk. Whisk in the cornmeal, then the boiling water. Turn the heat to medium-low and cook, stirring occasionally, until it is very thick, 15-20 minutes. Season with salt and pepper, then stir in the butter and the honey.
Meanwhile, preheat the broiler. In a large ovenproof skillet, heat the oil over medium heat. Add the chorizo adn bacon, and cook for 3 minutes. Stir in the ground pork and cook, breaking up the meat until it is browned, about 8 minutes. Season with the thyme, chili powder, coriander, salt and pepper. Add in the onion and garlic and cook for a few minutes. Stir in the broth and cook for 1 minute. Add the tomatoes, and cook until heated through.
Spoon the cornmeal over the pork mixture. Top with the cheddar, then brown under the broiler until melted and bubbly.
Serve from the skillet, garnished with cilantro and sliced green onions.