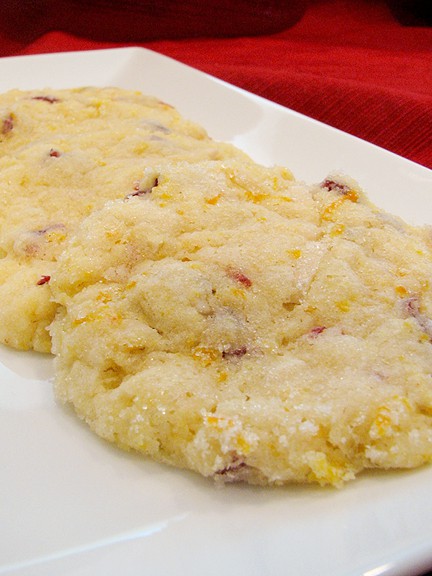 Another Peabody recipe (or maybe I should say Peabody's mom). I may not ask her to refund my money for the ingredients, but I might have to ask her to pay for my trips to Weight Watchers after having eaten too many sweet treats!!!
I thought these cookies sounded very refreshing. I didn't have pistachios – in fact, I have been having a hard time finding unsalted pistachios anywhere. I should have gone with the macadamia nuts, but I had some slivered almonds on hand, so I used those. They didn't take away from the cookie, but they didn't add anything either. In fact, I could barely tell that they were in the cookie. The only thing that went wrong for me was that I couldn't get the cookies moist enough to roll into dough. I had to add a couple of tablespoons of water, and that seemed to solve the problem. Mine didn't turn out as pretty as Peabody's, but they still tasted really good! Her mom said that they taste even better the next day, so I am excited to try one at lunch today to see if that is true for me.
Again, I won't repost the recipe, but please go to Peabody's site and give these a try!!!