Only 6 minutes prep time and easy clean up, this Thirteen Spice Skillet Chicken Thighs with Creme Fraiche is a super easy, yet sophisticated weeknight meal.

Yum


I love to cook. No secret there. But just because it's something that I love to do, that doesn't mean that I am always wanting to make elaborate, fancy meals. In fact, the exact opposite is true. When I'm menu planning, I'm always on the hunt for easy, fast recipes that don't have ingredient lists that are a mile long.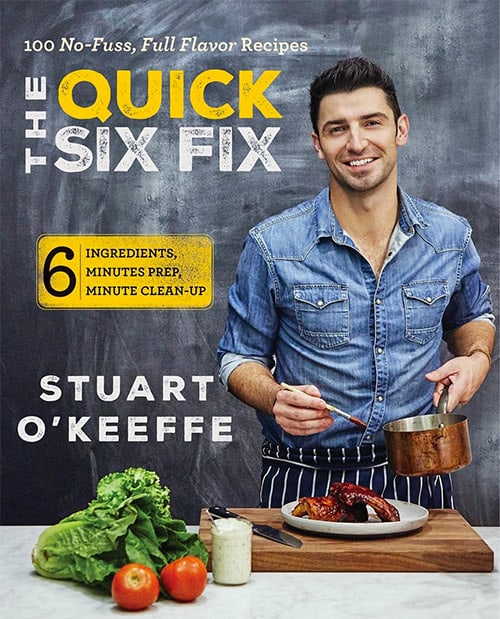 Enter today's cookbook review – The Quick Six Fix by Stuart O'Keefe. I actually first heard about this book while watching The Rachael Ray Show, where he was on cooking from his book. While I always love recipes that promise to be under 30 minutes, I was intrigued by the premise of this book, which is a little different. Every recipe has 6 ingredients (kind of – more on that below), 6 minutes prep time and 6 minutes clean up. What??? A book that is making clean up easy? I think that is what intrigued me the most, because we all know that clean up is the worst part cooking dinner.
I do think I need to explain the 6 ingredients, because many of the recipes actually have more than 6 ingredients. It's really six key ingredients. Meaning you probably have the other ingredients in your pantry as staples. He actually includes a list at the beginning of the book with a checklist of pantry staples. And while not all of the recipes are truly 6 ingredients, most are under 10, and really, I do have a lot of the ingredients on hand.
Here are the details:
Number of Photos: Many. Not all of the recipes have photos, but the majority of them do. The photos are gorgeous!
Difficulty Level of Recipes: Easy. Since the recipes in the book are 6 minutes of prep, they are all pretty easy.
Availability of Ingredients: Easy. Again, since there isn't a long ingredient list, the ingredients are pretty basic. You probably have many of them on hand.
Other recipes I want to try:
Speedy Gonzales Eggs
BLTA Steak Salad
Butternut Squash and Coconut Soup
Lemony Artichoke Spaghetti
Ten-Minute Coconut Shrimp Curry
A Very, Very Garlic Chicken
Sticky Ribs
Raspberry Custard Pots
Buy The Quick Six Fix on Amazon.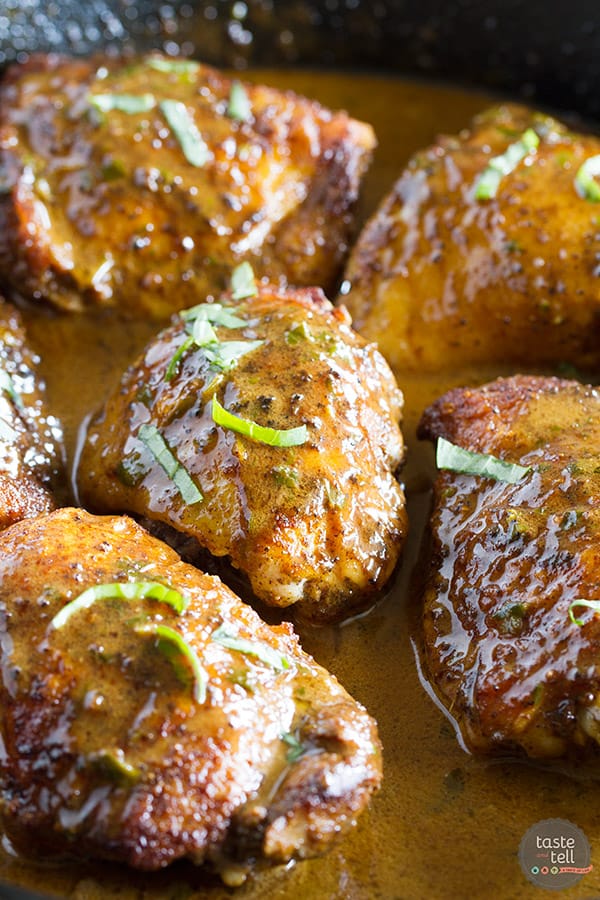 And now the Thirteen Spice Skillet Chicken Thighs!! One thing I have to get out of the way before I talk about the chicken – one of the reasons I chose this recipe is because of the photo. It is gorgeous! But the sauce in the photo was a shade of white, while mine turned out nice and brown. So I was totally prepared for this to be a fail, thinking that maybe I had done something wrong. But it was delicious – I think there just may have been some extra photo styling going on for the photo in the cookbook. 😉
That being said, I loved these skillet chicken thighs. The original recipe actually calls for chicken breasts, but the grocery store didn't have any bone-in, skin on chicken breasts. And since I actually prefer thighs, I went for the thighs. And don't let the "thirteen spice" scare you away. Apparently, Old Bay Spice is a mixture of 13 spices, so you get the bang of 13 spices with one! I did have 2 small problems with the original recipe. It was a bit salty, so I cut the salt out of the recipe I'm printing here. And the original recipe says to cook chicken breasts for 15 to 20 minutes, but my thighs weren't even done at that point. Again, the recipe below is adapted, but this would be a great time to have an instant read thermometer on hand so that you can cook them perfectly. Thighs are a bit more forgiving than breasts, so that's a great reason to use thighs, as well.
I also ended up adding 8 oz of creme fraiche instead of the 4 oz called for in the recipe. Mostly because we like things saucy, but also because I had an 8-oz container, and I didn't want the other 4 oz to end up getting lost in the fridge and going bad. But 4 oz should be sufficient.
But really – the end product was delicious. And prep and clean up really were that easy. In fact, I'm sure it took less than 6 minutes to clean up, because all I had to do was throw away a ziplock bag and clean one pan. This Thirteen Spice Skillet Chicken Thighs with Creme Fraiche was a winning dinner!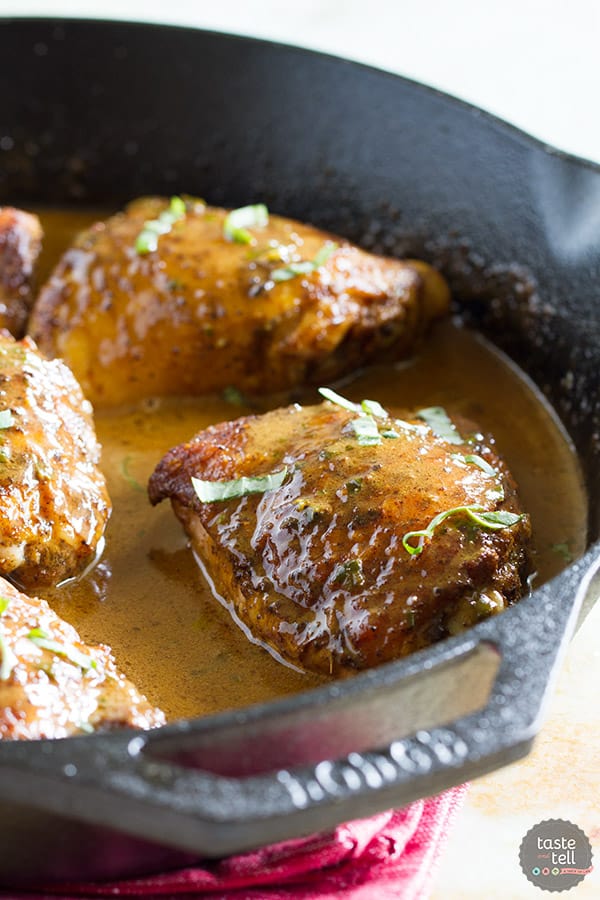 Like what you see here? Make sure you are following Taste and Tell for more recipes and ideas!
Facebook | Pinterest | Instagram | Twitter | Google+ | Weekly Newsletter | Feedly | Bloglovin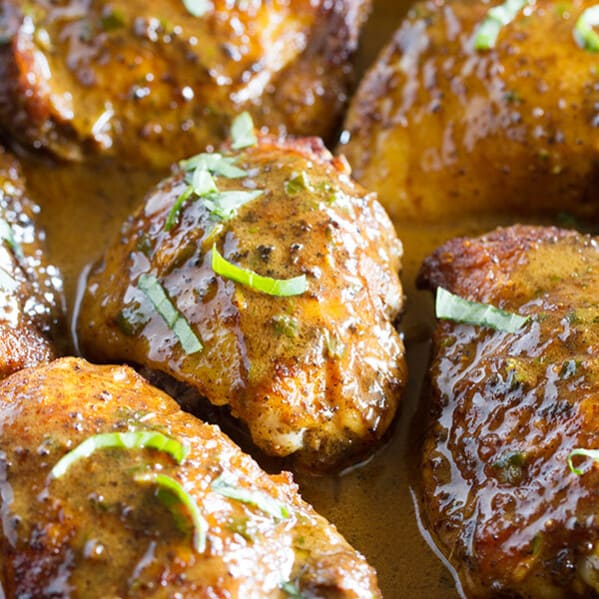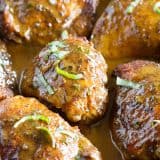 Thirteen Spice Skillet Chicken Thighs with Creme Fraiche
---
Author:
Prep Time: 6 mins
Cook Time: 35 mins
Total Time: 41 mins
Yield: 3-4 servings 1x
Description
Only 6 minutes prep time and easy clean up, this Thirteen Spice Skillet Chicken Thighs with Creme Fraiche is a super easy, yet sophisticated weeknight meal.
---
Scale
Ingredients
6 bone in, skin on chicken thighs
2 tablespoons Old Bay Seasoning
1/2 teaspoon freshly ground black pepper
1 tablespoon unsalted butter
1 tablespoon vegetable oil
1 cup chicken stock
juice of 1 lemon
4 oz creme fraiche*
2 tablespoons chopped basil, plus more for serving
---
Instructions
Pat the chicken thighs dry, then place in a large ziplock bag. Add the Old Bay Seasoning and the pepper, then seal the bag and shake to coat the chicken with the spices.
In a large skillet over medium-high heat, melt the butter with the vegetable oil. Add the chicken, skin side down. Cook until browned, about 5 minutes.
Flip the chicken over, then add the chicken stock and the lemon juice. Continue to cook until a thermometer inserted in the chicken registers 165ºF, 20-30 minutes.
Remove the chicken to a plate. Turn the heat down to low and add the creme fraiche and basil. Allow the sauce to heat through, about 2 minutes. Add the chicken back to the pan and spoon the sauce over. Sprinkle with additional basil and serve.
Recipe Notes:
*I ended up using 8 oz of creme fraiche because we like things saucy. Feel free to add more if wanted.
Adapted from The Quick Six Fix
More Chicken Thigh Recipes: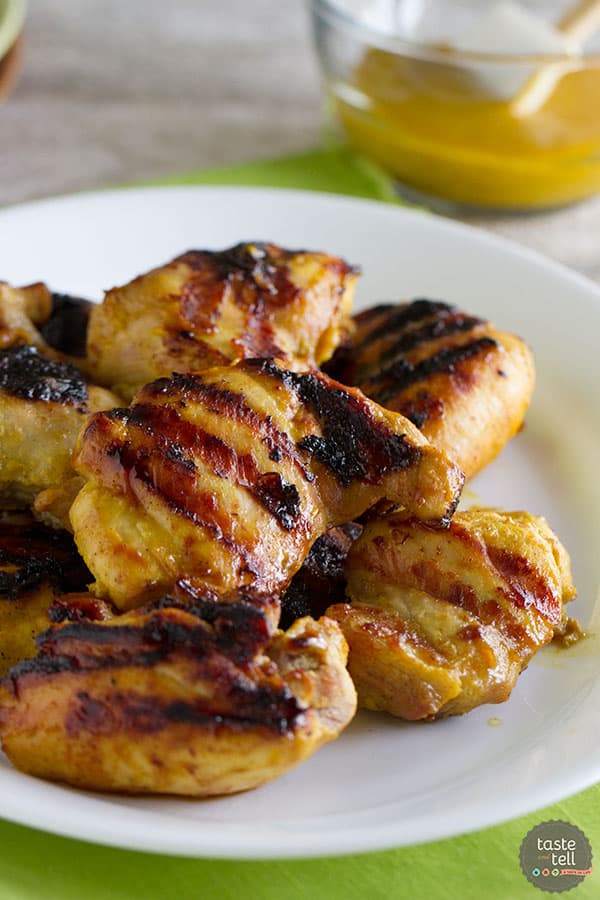 Grilled Brown Sugar Mustard Chicken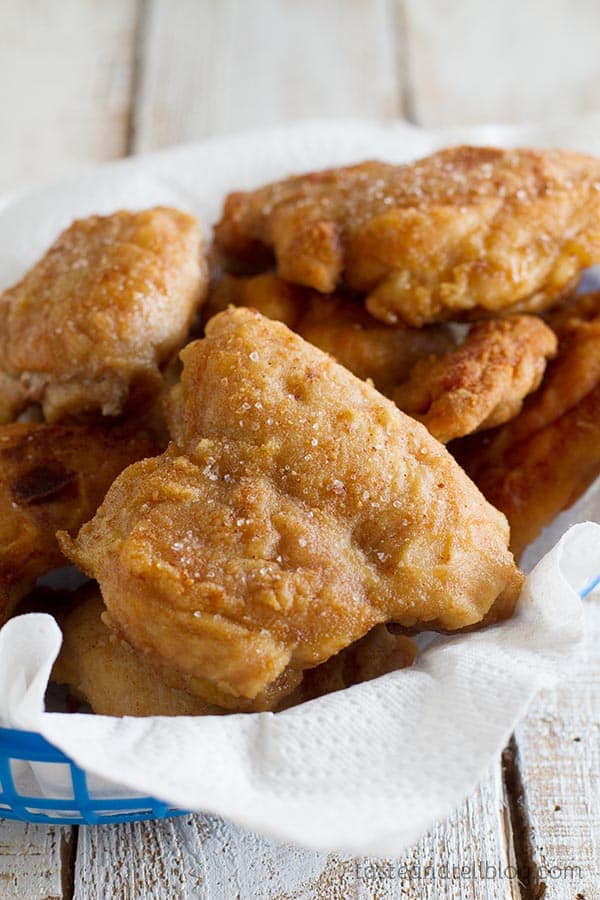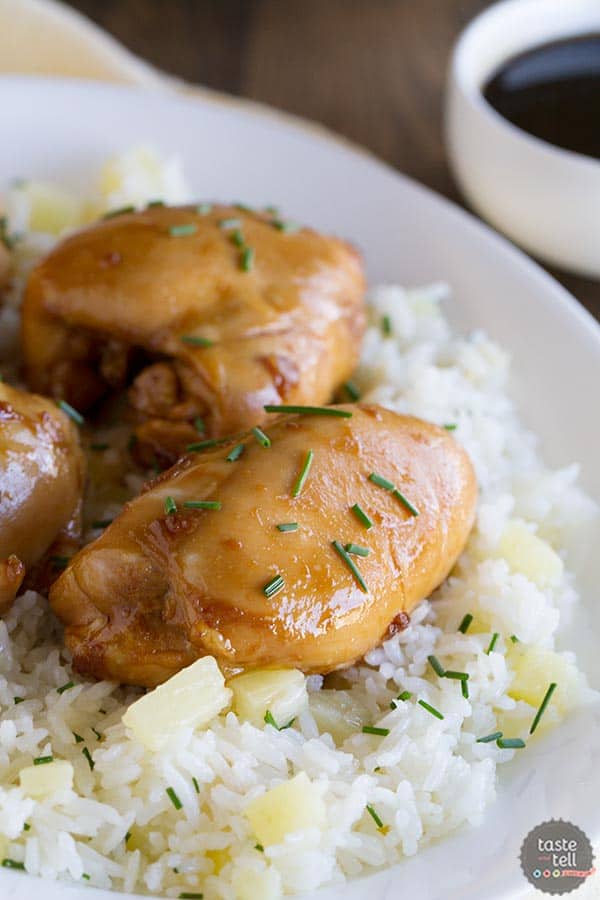 Sweet Asian Chicken with Pineapple Rice
Around the Web:
Crispy Skillet Chicken Thighs with Lemon Garlic Orzo from Gal on a Mission
Vietnamese Caramel Chicken from Rasa Malaysia
Sweet and Spicy Honey Dijon Glazed Chicken from Carlsbad Cravings
Don't miss a thing! Follow me on Pinterest to see what I'm pinning!
Visit Taste and Tell's profile on Pinterest.



**A copy of this book was sent to me by the publisher for review purposes, but all opinions are my own. This post contains affiliate links. If you purchase an item from Amazon from the link Taste and Tell receives a small commission. Thank you for supporting Taste and Tell through your purchases!**