Green Pozole – a recipe for a comforting Mexican soup with hominy, chiles and mushrooms.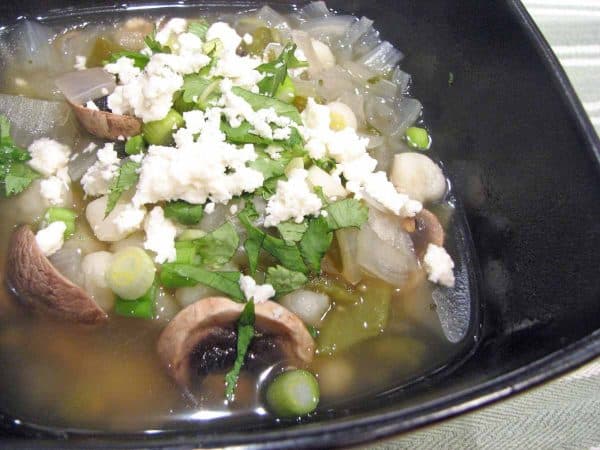 I have been very uninspired to type up this post. I'm not quite sure why, because the meal was delicious. I think it's the photo. When I finished making this, it was already quite late outside and completely dark. I snapped some photos anyway, and when I went to look at them on the computer, they were horrible. So instead of posting this on Friday, like I usually do with the cookbook of the month recipes, I went home at lunch and tried to take a decent picture in the sunlight. And this is what I got. Maybe it's just not a very photogenic meal!!
When this book was chosen as the Cookbook of the Month, I decided to try one recipe from each of it's chapters since it has 4 chapters and I have 4 weeks. The first week was from the Meat and Fish chapter, this week is from the Soups, Chilis and Stews chapter, and I have both Sides and Desserts to go. (Yes, dessert from the slow cooker – I'm so excited!!) There were many tasty soups to choose from, but this one for Green Pozole really stood out to me, so it was chosen. The original recipe calls for dried pozole, but says that if you can't find it, to substitute hominy. Well, I looked at no fewer than 5 different grocery stores over a week and couldn't find the dried pozole, so I picked up a can of hominy. I should have gone to a Mexican supermarket – I'm sure they would have had the dried posole – and next time I will do that. Because I chose the canned hominy, I cut back on both the amount of liquid that I added and the cooking time from the original recipe. Also, my chiles were so hot – I could feel them on my hands after cutting them in half. I ended up only adding 3 of the 6 chilies, and my mouth was on fire when I ate this. I usually don't find Anaheim chilies to be that hot, but I must have got a really hot batch!!
Overall, I really liked this. It had lots of flavor, although I'm sure it would have been a lot better with the dried posole. I used queso fresco to top the bowl of posole, and I'm not sure that queso fresco really tastes like much to me. I used it in a dish earlier in the week and thought the same thing. I wish I would have tried it with feta. But overall, a very satisfying meal!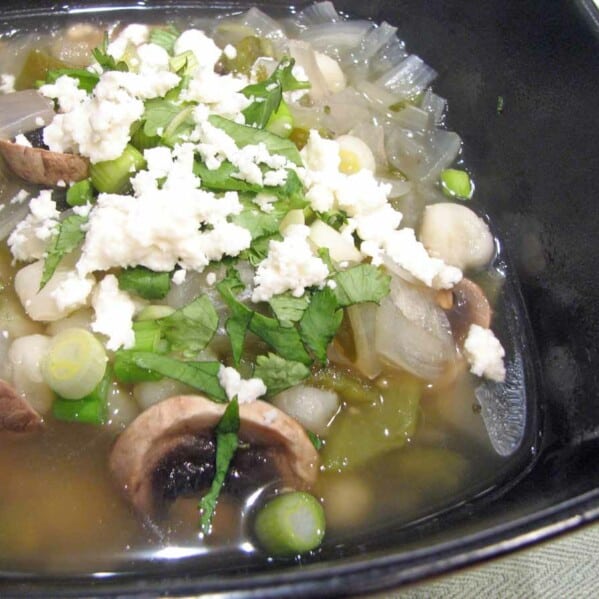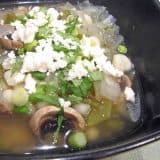 Green Pozole
---
Author:
Prep Time: 40 minutes
Cook Time: 7 hours
Total Time: 7 hours 40 minutes
Yield: 4 servings 1x
Category: Soup
Method: Slow Cooker
Cuisine: Mexican
Description
Green Pozole – a recipe for a comforting Mexican soup with hominy, chiles and mushrooms.
---
Scale
Ingredients
6 Anaheim chilies, sliced in half lengthwise
6 ounces dried pozole, or 1 12-oz can of hominy*
6 cups chicken stock or water*
1 large onion, coarsely chopped
2 teaspoon dried oregano
2 teaspoons cumin seeds, crushed
1 cup sliced white mushrooms
salt
Crumbled feta cheese or queso fresco, for garnish
1/4 cup sliced green onion tops, for garnish
1/4 cup coarsely chopped cilantro, for garnish
1 lime, sliced into wedges
---
Instructions
Preheat the broiler. Place the chilies on a baking sheet, skin side up. Broil for 10 minutes or until skins turn black, about 10 minutes. Take out of the broiler and cover with a dampened kitchen towel for about 20 minutes. Peel off the skins, removing stems and seeds. Chop the chilies.
Combine the posole and water or broth in the slow cooker. Cover and cook on low for about 6 hours**, until the posole is plump and tender. Add the chilies, onion, oregano, cumin, and mushrooms and continue to cook for 1 to 2 hours. Season to taste with salt.
Spoon into bowls and garnish with queso fresco, green onions, and cilantro. Serve lime wedges on the side.
Recipe Notes:
*If using canned hominy, I cut the broth back to about 4 cups.
**I cut the cooking time to about 3 hours because I used canned hominy.
Slightly adapted from The Gourmet Slow Cooker: Volume II