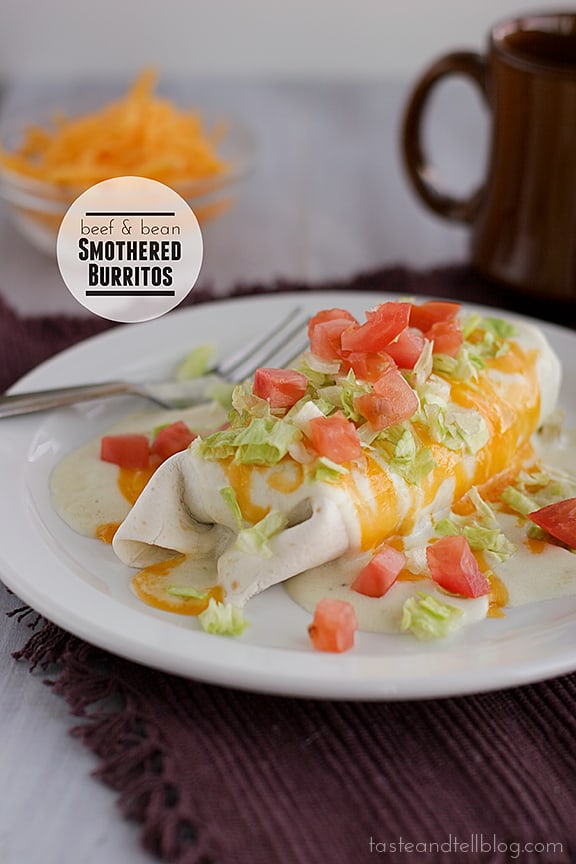 In high school, we had an open campus. Which pretty much meant that no one stayed at school for lunch. At least anyone that I know. In fact, in my whole 3 years of high school, I never once ate in the cafeteria.
The town I grew up in wasn't huge at all, but there wasn't a local hangout like you see depicted on many tv shows. But we did have fast food.
And since we were all poor high school students, more often than not we ended up at Taco Bell. Sad, but true – that's what I remember about high school lunches.
Today, I prefer to get my Mexican fix at home. In fact, in the last 4+ years, I've been to Taco Bell twice. Both pregnancy cravings. And both times I got sick. But tacos and burritos at home? I could seriously go for that every day.
These Beef and Bean Smothered Burritos are definitely a step (or two) above those fast food burritos. And guess what? I'm guessing you could have these made in less time than it would take to drive to the local fast food drive thru. A simple beef and bean mixture, made with my favorite – Old El Paso refried beans, is wrapped up inside a tortilla and then the whole thing is covered in a delicious green chile sauce. Top it with cheese, lettuce and tomatoes and you are in Mexican food heaven. And a food coma when you are finished, but it's totally worth it!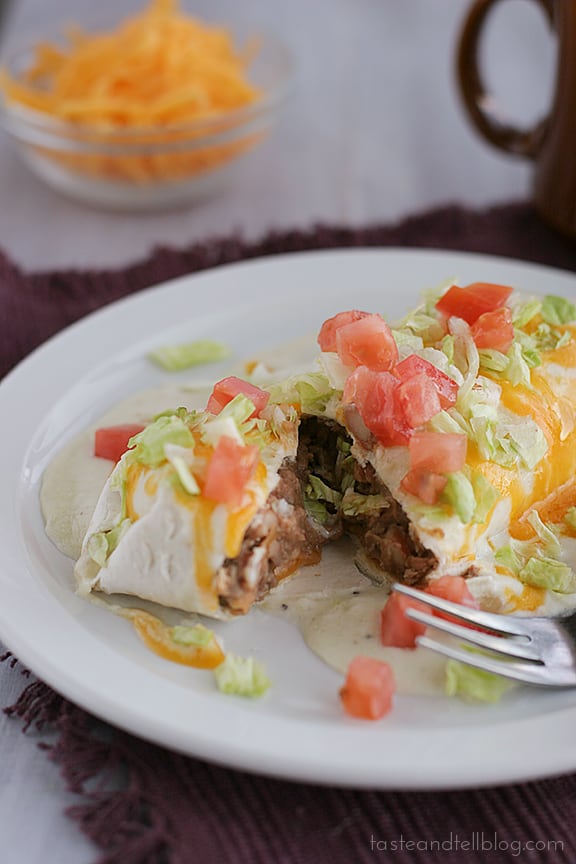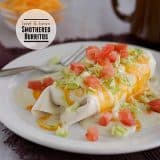 Beef and Bean Smothered Burritos
---
Prep Time: 15 minutes
Cook Time: 15 minutes
Total Time: 30 minutes
Yield: 6 servings 1x
Description
Make Mexican night special by smothering beef and bean burritos with a delicious green chile sauce.
---
Scale
Ingredients
Burritos
1 lb ground beef
1 teaspoon cumin
1 teaspoon chili powder
1/2 teaspoon coriander
salt and pepper to taste
1 (16 oz) can Old El Paso® Traditional refried beans
1/4 cup water
1 1/2 cups shredded cheddar cheese
6 (8-inch) flour tortillas
Green Chile Sauce
1/4 cup butter
1/4 cup flour
2 cups chicken broth
1 cup sour cream
1 (4 oz) can (4.5 oz) Old El Paso® chopped green chiles, undrained
shredded lettuce and diced tomatoes, for serving
---
Instructions
Cook the ground beef in a large skillet over medium high heat until no longer pink, breaking up as it cooks. When it is almost done, add the cumin, chili powder, coriander, salt and pepper. When completely cooked, stir in the refried beans and water. Stir to combine and remove from heat.
Meanwhile, in another skillet over medium heat, melt the butter. Add the flour and whisk together. Cook for 1 minute. Slowly whisk in the chicken broth. Let it come to a bubble and cook, stirring often, until it starts to thicken. Remove from the heat and stir in the sour cream and green chiles.
Assemble the burritos: Working with one tortilla at a time, spread 1/6 of the beef mixture down the center of the tortilla. Sprinkle about 2 tablespoons of the cheese over the beef. Fold in two ends of the tortilla, then roll into a burrito. Place the burrito on a plate and spoon some of the Green Chile Sauce over the burrito. Add 2 more tablespoons of the cheese over the top. Top with shredded lettuce and diced tomato.
More Burrito Favorites: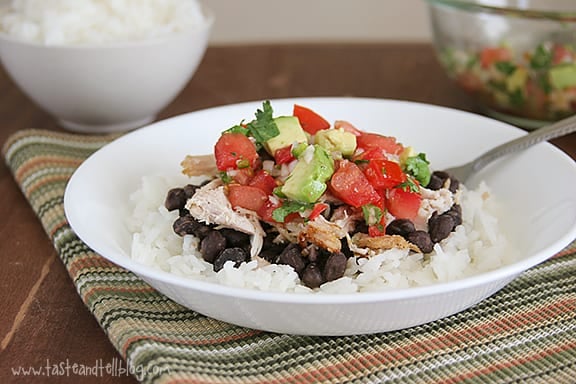 Burrito Bowls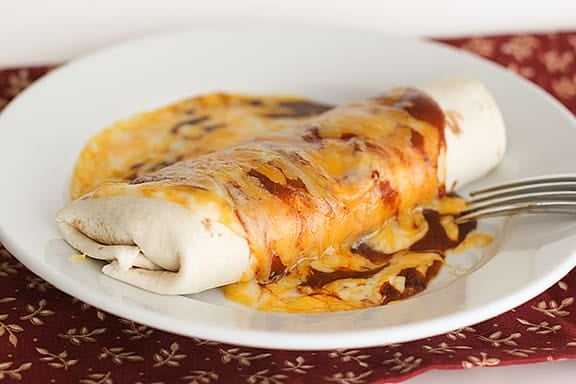 Chili Potato Burritos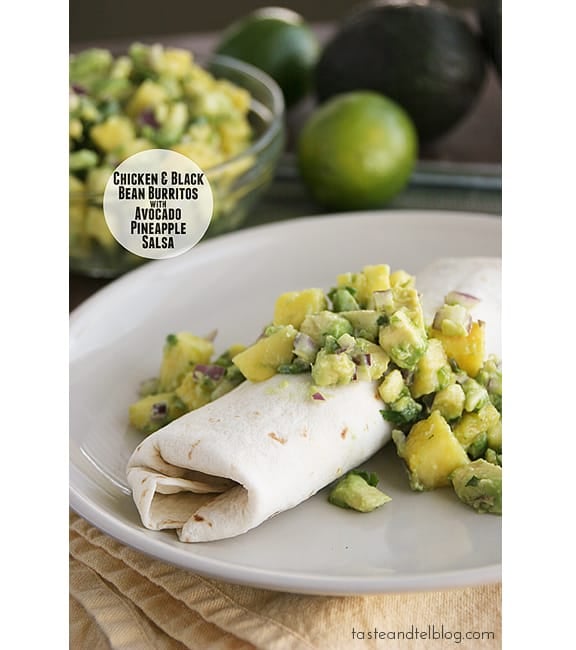 Chicken and Black Bean Burritos with Avocado Pineapple Salsa
Around the Web:
Slow Cooker Chipotle Beef Burritos from Pass the Sushi
Chili Cheese Crunch Wraps from I Wash You Dry
Cheesy Sausage Breakfast Burritos from Cafe Zupas
**This post is sponsored by Old El Paso, but all opinions are my own.  I love Old EL Paso products!**