Want to make breakfast special? This Sunrise Sweet French Toast is the best way to celebrate a special day or show someone special that you love them. Sweet and special!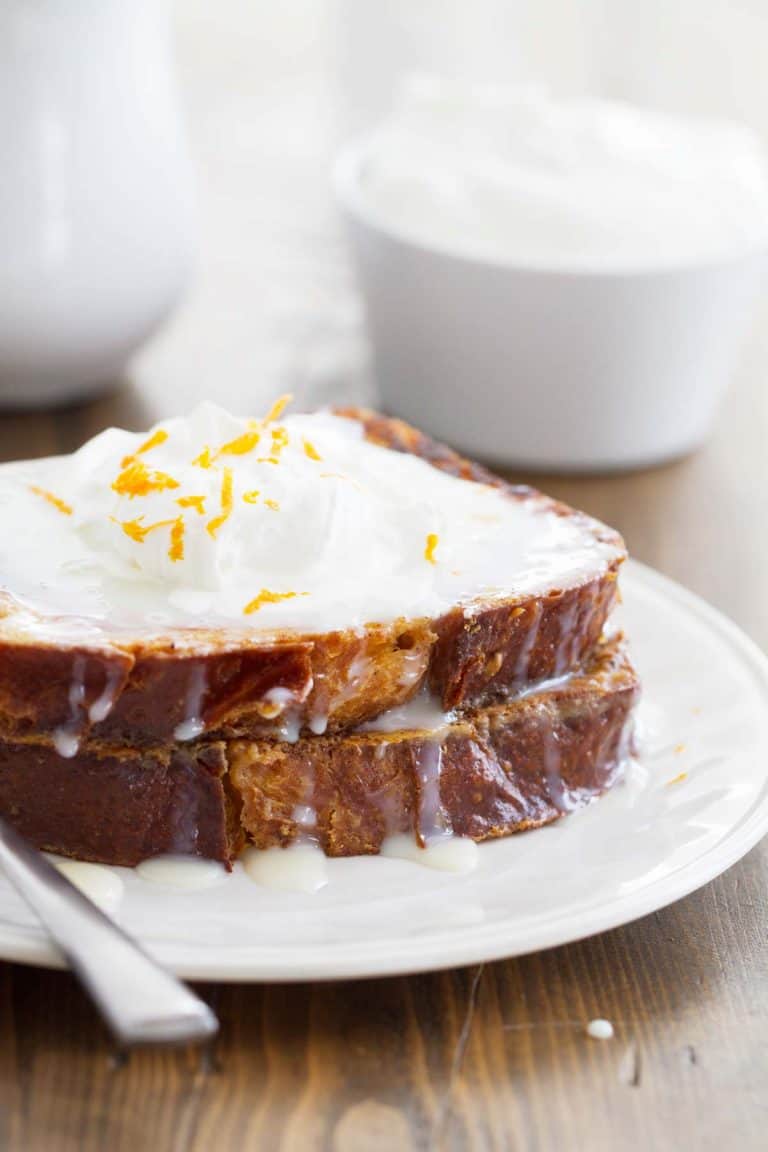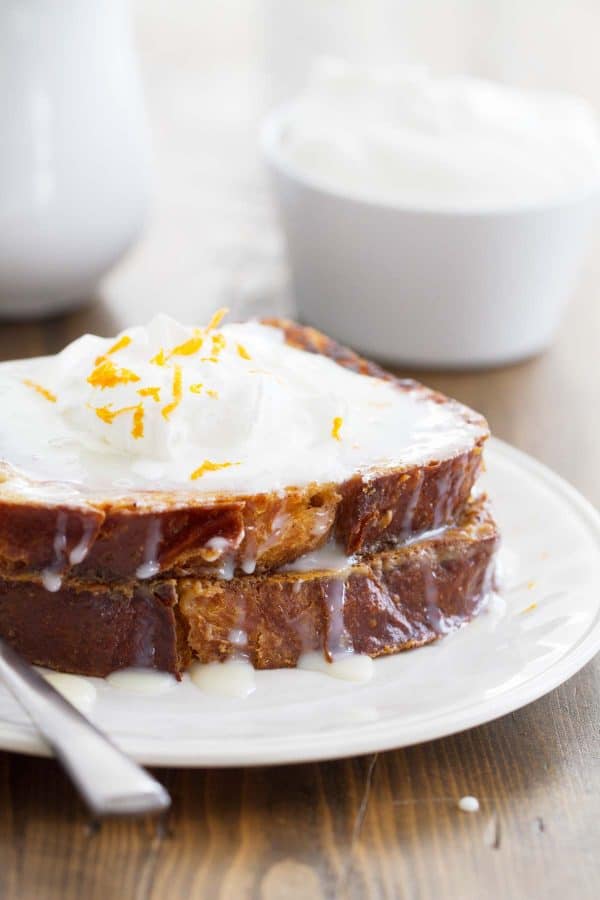 I have such a special place in my heart for breakfast recipes. Especially sweet breakfast recipes. I think my kids take after me, too, because you can bet that most mornings, if it were up to them, we'd have French toast, pancakes or muffins. Except for my youngest. For him it's scrambled eggs, every day of the week.
Most mornings are pretty rushed around our house, so if we do have pancakes or French toast, it's just the basics. But every once in awhile, there is a special occasion or a reason to have an extra special breakfast. And this Sunrise Sweet French Toast is what you need for one of those special mornings.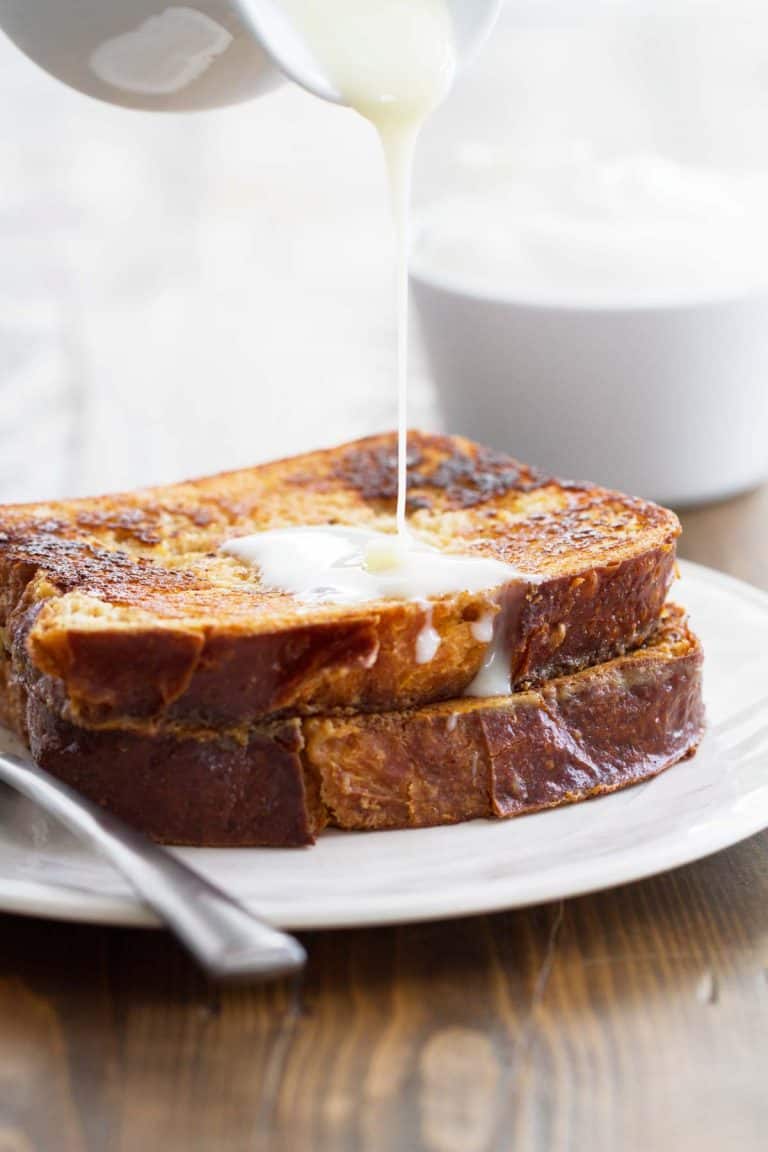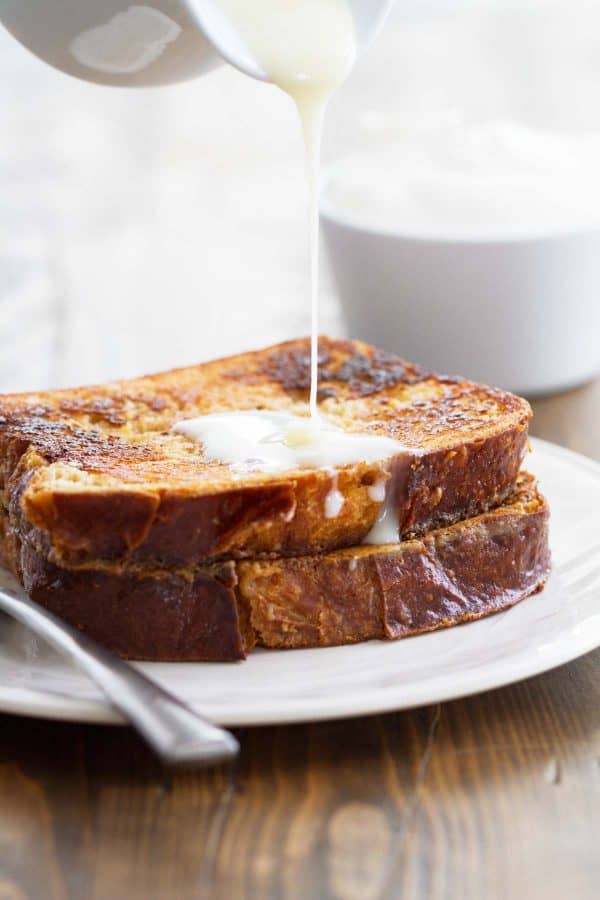 I actually found the original recipe (for Cuban French Toast) on the side of the Kroger evaporated milk. I cut that recipe out, and have been holding onto it for months. When I went to make it, I quickly realized that I could not actually make Cuban French Toast because Cuban bread is not easy to find where I live. I contemplated making my own, but in the end, a loaf of Brioche bread won out. I ended up changing the recipe just a little bit to make it work with the bread that I had, but I fell in love with what I ended up with.
But do you want to know what really makes this sweet French toast stand out? The sweetened condensed milk. I'm not a stranger to serving sweetened condensed milk on brioche, (and maybe that's why I was drawn to the brioche for this recipe), and now I'm going to be wanting sweetened condensed milk on all of my French toast!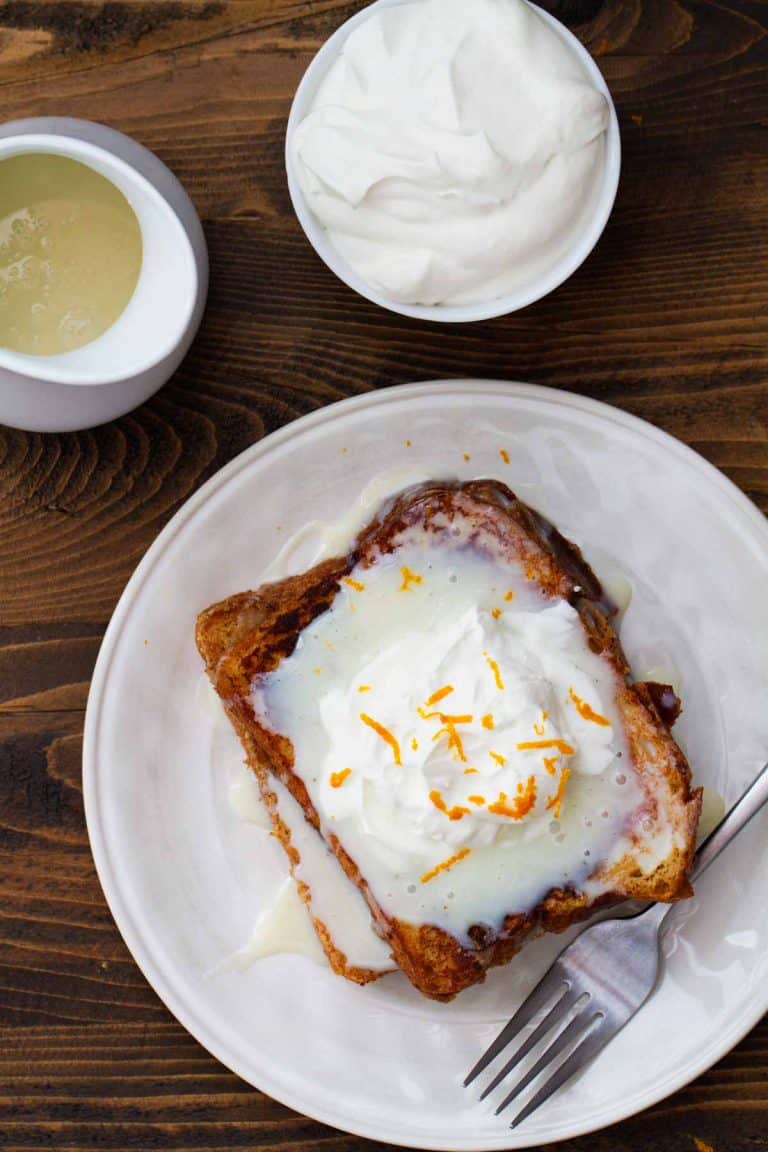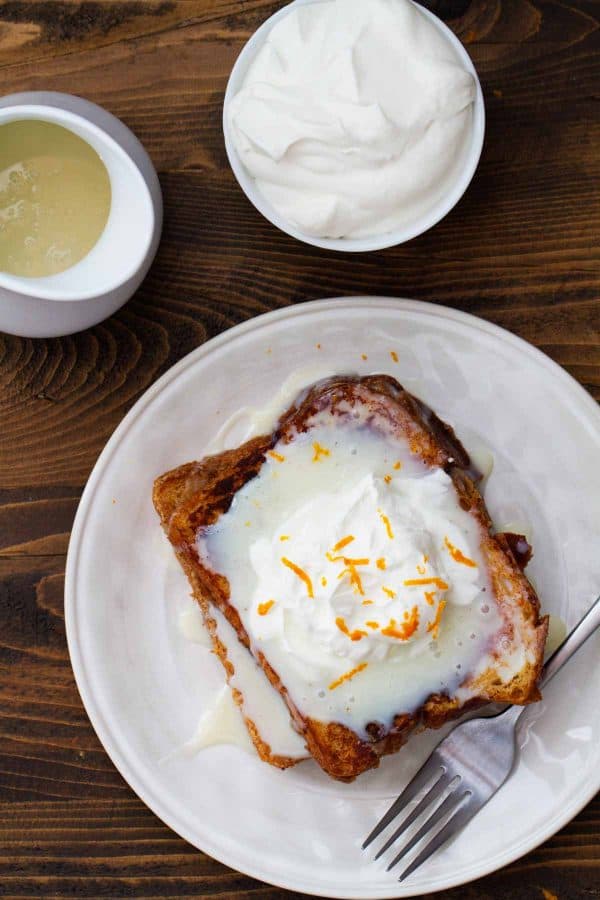 Tips for Making Sweet French Toast
One thing I quickly learned with this sweet French toast is that using a griddle is far superior to a regular skillet. The skillet worked fine for the first few pieces, but the sugar started to burn on the pan, causing the second half of the French toast to have some places with burned sugar. The second time I made this, I used a griddle where I could cook all of the slices (or at least most of them) at once, eliminating the burnt sugar. I actually don't love the griddle I have, but if I were to buy a new one, this is the griddle I would buy.
When I'm normally making French toast, I don't add any sugar. But recipe is a special occasion recipe, and has a good amount of sugar. You need to make sure you are stirring the mixture every once in awhile, or the sugar will all end up just at the bottom of your bowl instead of distributed evenly to each slice of bread.
I use a pie plate for mixing and dipping, but if you do the same, make sure you use a deep dish pie plate so that you aren't overflowing.
Store any leftover in the refrigerator. And this Sunrise Sweet French Toast actually reheats really well!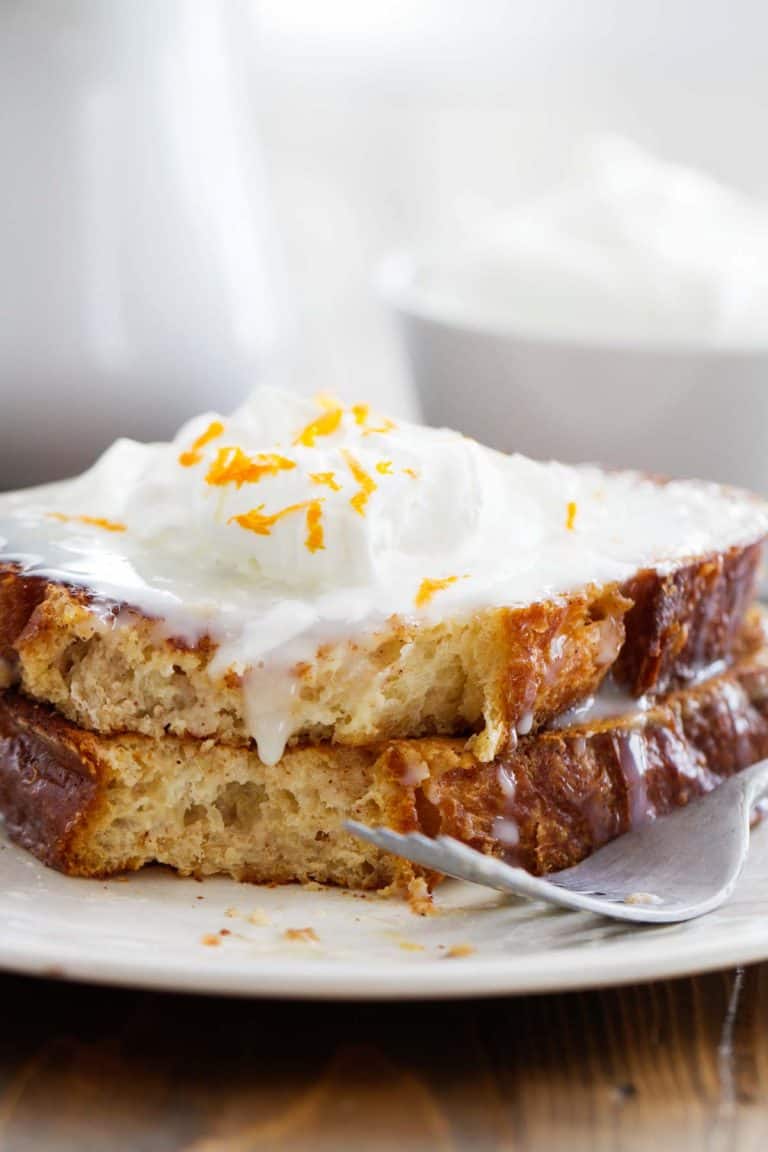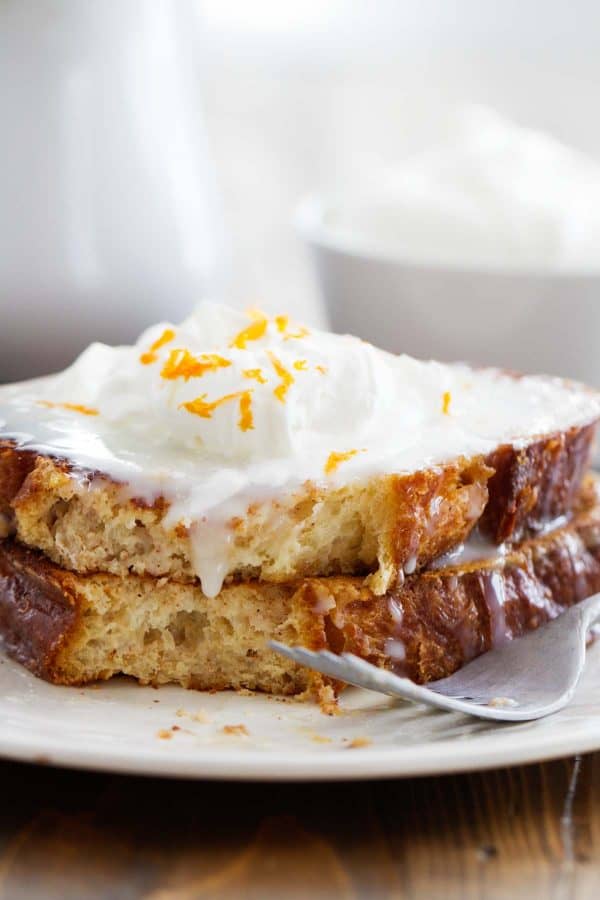 More must have breakfast recipes
Cranberry Cinnamon Rolls
Banana Coffee Cake with Honey Glaze
Beginner's Cinnamon Pull Apart Bread
Ice Cream Soaked French Toast
Cheesy Baked Breakfast Sliders from The Cookie Rookie
Brown Sugar Peach Pancakes from Sweet Basil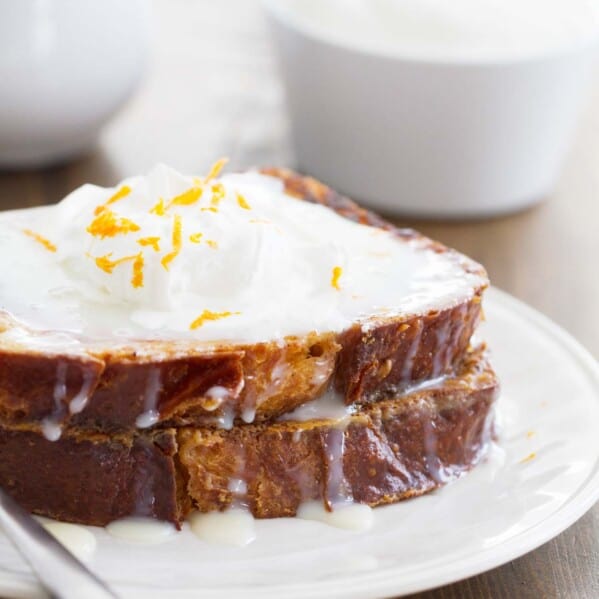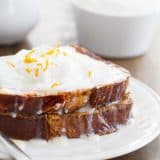 Sunrise Sweet French Toast
---
Author:
Prep Time: 15 mins
Cook Time: 15 mins
Total Time: 30 minutes
Yield: 8 servings 1x
Category: Breakfast
Description
Want to make breakfast special? This Sunrise Sweet French Toast is the best way to celebrate a special day or show someone special that you love them. Sweet and special!
---
Scale
Ingredients
1/2 cup granulated sugar
1 1/2 teaspoons cinnamon
3 eggs
1 (12 oz) can evaporated milk
1/4 cup orange marmalade
1 tablespoon vanilla extract
1 (18 oz) loaf brioche bread
2 tablespoons butter
Sweetened condensed milk and whipped cream, for serving
---
Instructions
Preheat the oven to 325ºF.
Combine the sugar and the cinnamon in a large shallow bowl. Whisk in the eggs. Stir in the evaporated milk, marmalade, and vanilla extract.
Cut the bread into 16 slices.
Heat a large griddle over medium heat.  Melt the butter on the griddle.
Dip a slice of bread in the egg mixture, then turn over, making sure to coat the slice completely. Place on the hot griddle. Continue with the remaining slices of bread, making sure to stir the egg mixture after every couple slices to ensure the sugar stays mixed in.
Cook each slice until golden brown on the bottom, about 2 minutes, then turn and cook on the second side until golden brown.  Transfer the cooked French toast to a baking sheet.
Once all of the French toast has been transferred to the baking sheet, cover the sheet with foil and bake in the oven for 10 minutes, or until heated through.
Serve topped with sweetened condensed milk and whipped cream, if desired.
Recipe Notes:
Adapted from a Kroger recipe
Nutrition information provided as an estimate only. Various brands and products can change the counts. Nutritional counts do not include sweetened condensed milk or whipped cream.
Nutrition
Serving Size: 2 slices
Calories: 368
Sugar: 30 g
Sodium: 76 mg
Fat: 13 g
Saturated Fat: 7 g
Unsaturated Fat: 1 g
Trans Fat: 0 g
Carbohydrates: 54 g
Fiber: 0 g
Protein: 4 g
Cholesterol: 85 mg
Like what you see here? Make sure you are following Taste and Tell for more great recipes and ideas!!

Facebook ** Pinterest ** Twitter ** Instagram ** Google+
or you can subscribe to my newsletter