Salty, sweet and savory, this Asian Ginger Chicken Salad is the perfect lunch or easy dinner. Filled with mandarin oranges, chow mein noodles, cashews, ginger marinated chicken and much more, this salad is filling and crave-worthy!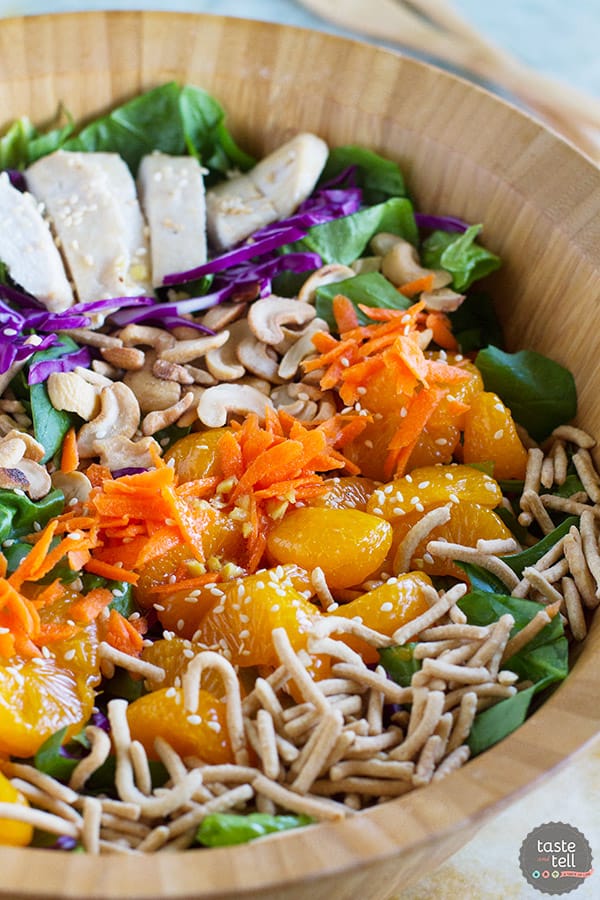 Yum


You know you are an adult when…
I find myself playing this game from time to time. I'll be sitting down at the beginning of the month paying bills, and I'll have this moment when I think – whoa! I'm actually an adult who has bills to pay. Or I'll be cleaning my house and have that same kind of moment, realizing that yes – I'm an adult and have to do this kind of stuff. Or just last night, as I walked out of the grocery store with $200 worth of groceries for 1 week. I couldn't help but think – yep, I'm an adult. No more surviving on a college diet of chips and salsa, Mountain Dew and cake mixes. (This is one of those things that I think back on and wonder "why". When I first moved away from home, my roommates and I were obsessed with cake mixes. There was a whole line of crazy cake flavors, and now I can't even remember what brand, but we would go and buy them all. Yeah, I don't know what I was thinking, either!) Gone are those days of $150/month grocery budgets.
Sometimes I long for the days of less responsibility and more play. But really, I wouldn't go back for anything. Along with the not-so-fun stuff like grocery bills and cleaning the toilets you get things like not having to go to school. Or getting to choose where to go next on vacation. Or sometimes eating cookies for breakfast. (Don't tell me you haven't done this before.)
You also know you are an adult when… you actually want to eat that salad for dinner.
Ok, maybe not the best segue, but how many kids do you know that would willingly choose to eat a salad for dinner? I know there are some (my daughter for instance), but I think a really good salad is something that you learn to appreciate in your older years. Especially when it is filled with ginger chicken, mandarin oranges, cashews, chow mein noodles and so much more – like in this Asian Ginger Chicken Salad. As much as I love a good cheeseburger, most nights, this salad would be just as tempting. And I don't think that is something that I would have ever said in my younger years. So I guess wisdom does come with age! 😉
But really – this salad. Not only is it easy on the eyes, but it packs so much flavor into something that is nice and healthy. I am a bit obsessed with Asian flavors, and sometimes I think my obsession is sneaking up on my obsession with taco-fying everything. Yes – I'm totally turning taco-fying into a word.
There is nothing boring about this salad. Really – I'll take this Asian Ginger Chicken Salad and being an adult any day!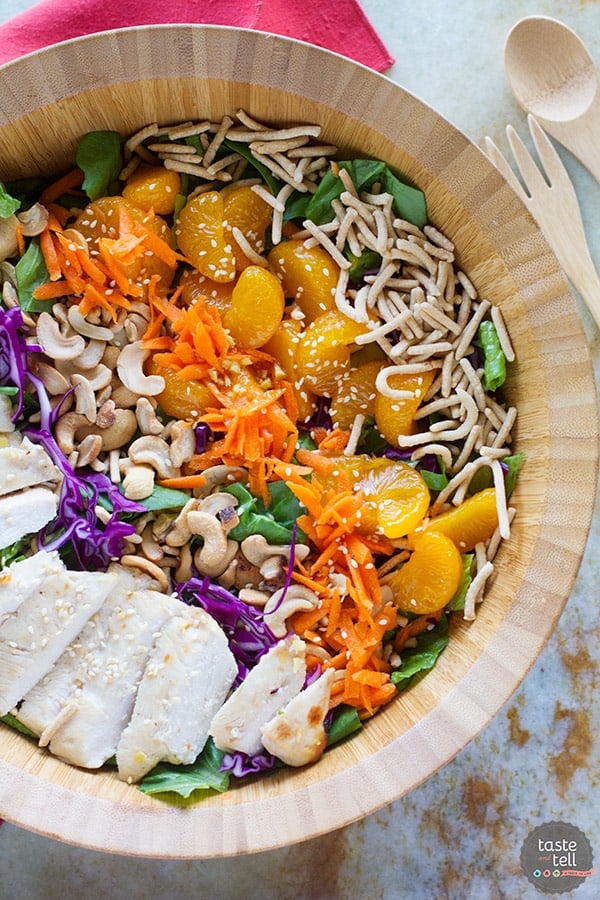 Like what you see here? Make sure you are following Taste and Tell for more recipes and ideas!
Facebook | Pinterest | Instagram | Twitter | Google+ | Weekly Newsletter | Feedly | Bloglovin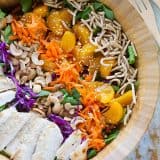 Asian Ginger Chicken Salad
---
Author:
Prep Time: 3 hours 10 mins
Cook Time: 12 mins
Total Time: 3 hours 22 mins
Yield: 8 servings 1x
Description
Salty, sweet and savory, this Asian Ginger Chicken Salad is the perfect lunch or easy dinner. Filled with mandarin oranges, chow mein noodles, cashews, ginger marinated chicken and much more, this salad is filling and crave-worthy!
---
Scale
Ingredients
1/2 cup apple cider vinegar
1/3 cup vegetable oil
1/4 cup packed brown sugar
2 tablespoons freshly minced or grated ginger
2 teaspoons reduced-sodium soy sauce
1 teaspoon salt
1/4 teaspoon pepper
4 boneless, skinless chicken breasts (about 1 1/2 lbs)
4 oz fresh spinach, chopped (about 5 cups)
5 oz fresh romaine, chopped (about 5 cups)
1 can (11 oz) mandarin oranges, drained
2 cups chow mein noodles
1 cup shredded red cabbage
2 medium carrots, peeled and shredded
3 green onions, sliced
3/4 cup salted cashews, toasted
2 tablespoons sesame seeds, toasted
---
Instructions
Combine the vinegar, oil, sugar, ginger, soy sauce, salt and pepper in a small bowl and whisk to combine. Pour 1/2 cup of the marinade into a large ziplock bag. Cover and refrigerate the remaining marinade.
Cut each of the chicken breasts open width-wise, creating two thinner breast pieces from each breast. Place the chicken in the bag with the marinade and turn to coat. Place the bag in a larger bowl to prevent leaking, and refrigerate for 3 hours.
Preheat the broiler. Line a baking sheet with foil and place the chicken on the foil; discard the remaining marinade in the bag. Place the chicken 4-6 inches under the broiler to cook, about 4-6 minutes per side, until cooked through (internal temperature is 165ºF.) Cut the chicken into strips.
In a large bowl, combine the spinach, romaine, oranges, chow mein noodles, cabbage, carrots and green onions. Top with the chicken, cashews and sesame seeds. Add the remaining marinade and toss to coat. Serve immediately.
SHOP THIS POST!
Don't miss a thing! Follow me on Pinterest to see what I'm pinning!
Visit Taste and Tell's profile on Pinterest.


More Asian Inspired Recipes: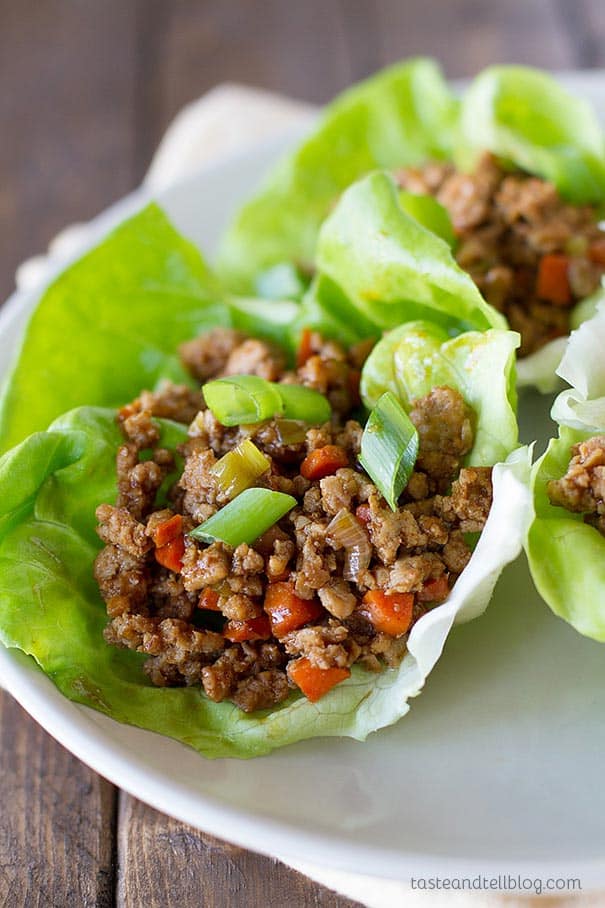 Sweet Asian Chicken with Pineapple Rice


Around the Web:
9 Layer Asian Salad from A Spicy Perspective
Asian Steak Bites from Barefeet in the Kitchen
Asian Chicken Kebabs from A Baking Addiction