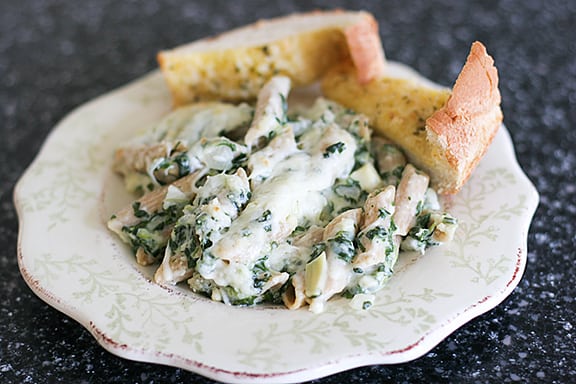 One thing about having certain days set aside for themes on my blog (Cookbook of the Month & Saturdays with Rachael Ray) is that I have to be really organized to make sure I have recipes to post those days. And lately, I am anything but organized. Which is why I am so proud of myself for even having this recipe to post today!! I mentioned that I have been watching my sister's kids all week. Well, before going over, I didn't have a recipe made for today's post yet. I didn't think it would be too big of a deal because the kids had to eat, so why not make something for them? Well, the only problem was that I didn't have any time to really figure out what to make. I had a minute here and 30 seconds there, but wow – taking care of that many kids is a lot of work! So I remembered a show that RR had earlier this year where they did the top 10 downloaded recipes of 2009. I thought I'd be safe going with the #1 choice!
What I didn't think about was that I was feeding a lot of children. Spinach and artichokes??? As I started making dinner, I started to get really worried. These kids are going to hate this! They kept asking what was for dinner, and I just told them special mac and cheese. I knew they would be leery if I told them what was actually in it. But guess what? We sat down to eat, and they mostly liked it! A couple of the kids picked out the artichokes, but everyone ate. The 4 year old twins cleared their plates! And Abbi devoured hers. So I'd most definitely call it a success!
This is supposed to be a change up of spinach artichoke dip. That is one of my favorite dips, so I'm surprised I haven't tried this before. Me – I loved this. It did have hints of spinach artichoke dip, and I got to eat it for dinner! I can see why this was the most downloaded recipe!
Spinach & Artichoke Mac 'n' Cheese
adapted from Rachael Ray
serves 4
total time: about 30 minutes
Salt
1 lb small penne pasta
2 Tbsp Extra Virgin Olive Oil
3 Tbsp butter
1 large onion, finely chopped
3 cloves garlic, minced or grated
3 Tbsp all-purpose flour
1/2 cup chicken broth
2 cups milk
A few grates fresh nutmeg
1 (10 oz) box frozen chopped spinach, defrosted
1 (10 oz) box frozen chopped artichokes, defrosted *
Ground black pepper
1 1/2 cups shredded Italian Fontina cheese, plus additional for sprinkling on top
1 1/2 cups grated Parmigiano Reggiano cheese, plus additional for sprinkling on top
Bring a large pot of water to a boil for pasta, salt water and cook pasta to al dente.
While the pasta water comes to a boil, place a medium pot over medium-low heat with 2 turns of the pan of EVOO, about 2 tablespoons, and the butter. Add the onion and garlic to the pan and cook the veggies until very soft, about 10 minutes. Then heat the broiler and position rack in the middle of the oven.
Turn the heat up to medium-high and sprinkle the flour into the pan. Cook for about 1 minute then whisk the broth into the pan, cooking for another minute. Whisk the milk into the pan and bring up to a bubble. Add the nutmeg, spinach, artichokes, salt and pepper to the sauce and simmer until thickened and vegetables are warmed through, 2-3 minutes more. Add 1 cup of each of the cheeses to the sauce and stir until melted.
Toss the prepared sauce with the cooked pasta and transfer to a casserole dish. Sprinkle some more Fontina and Parmigiano over the top and bake until the cheese has melted and the top is golden brown, a couple of minutes.
*I can't find frozen artichokes anywhere where I live, so I used canned. Just make sure you don't get the marinated kind!