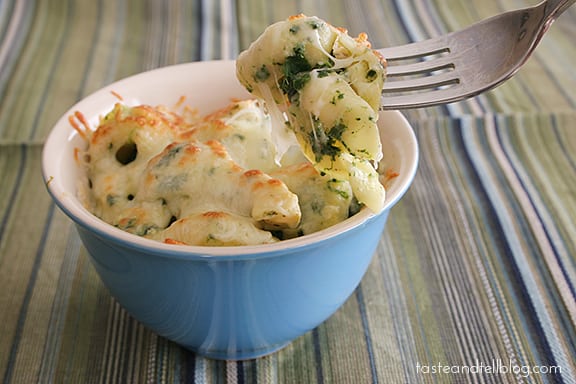 Towards the end of my pregnancy, I got really lazy. I was just so big and tired, and I didn't feel like doing anything. I figured that I'd get organized again once the baby came, so I didn't really care much as my office was becoming a huge, disorganized mess. I should have known better. As tired and big as I was, things really were easier to get done then than they are now with a newborn. Especially a newborn like mine that doesn't like to get put down. So I have to steal a few minutes here and there, just trying to get the laundry done and the kitchen clean.
But I also have a stack of recipes to blog about, and that stack is starting to drive me crazy. So hopefully with my next few posts, I can work through this stack and feel like I'm starting to get organized again!!
This recipe is one that is great for a night when time is running low. And if you are a fan of spinach artichoke dip, this has a lot of the same flavors. That is what originally attracted me to this recipe. Spinach artichoke dip in pasta form?? I'm in!!
 

Spinach and Artichoke Tortellini Bake
Everyone's favorite dip gets a makeover - into dinner!
Ingredients
2 pounds fresh or frozen ricotta-filled tortellini
salt
2 tablespoons butter
2 cloves garlic, finely chopped
2 tablespoons flour
2 cups milk
a few grates fresh nutmeg
1 10-ounce box frozen chopped spinach, defrosted and excess water squeezed out
1 13.75 oz can artichoke hearts, or 1 10-ounce box frozen quartered artichoke hearts, defrosted
ground black pepper
½ cup shredded Asiago cheese
½ cup grated Parmesan
½ cup mozzarella cheese
Instructions
Preheat the broiler.
Bring a large pot of salted water to a boil and cook the tortellini according to package directions. Drain and reserve.
Meanwhile, in a large pan, melt the butter. Add the garlic and cook until fragrant, 30-60 seconds. Whisk in the flour and cook another minute or two. Add the milk, whisking, and cook until the mixture has thickened.
Add in the nutmeg, spinach, and artichoke hearts; season to taste with salt and pepper. Add in the tortellini and toss to mix. Pour the mixture into a large casserole dish and sprinkle the top with the cheeses. Place under the broiler, just until the cheese is melted, a minute or two.
-------------
from The Rachael Ray Show