This Creamy Tomato Tortellini with Chicken and Bacon is super simple and makes a perfect weeknight dinner. Frozen tortellini and rotisserie chicken make it a super fast meal, too!
This post has been sponsored by Hunt's tomatoes. All opinions are my own.
The great weeknight meal. I know I preach it to you all of the time, but I am all about the weeknight meal.
Don't get me wrong. I love it when I have time to get in the kitchen and spend hours cooking something for my family. In fact, just last Sunday, I did that. I cooked a delicious dinner that took me about 2 hours. I had fun. I enjoy being in the kitchen. And then we sat at the table for 10 minutes and ate dinner and it was gone. Over. Done with. And I had a whole lotta dishes left to do.
But let's be honest. How often do I have 2 hours to spend making dinner? Pretty much never. Occasionally on a Sunday, but every other night? That would just never happen.
So it's all about the easy, fast, weeknight meal.
I have a few things that I look for when I'm making my menu and deciding what to cook up for those weeknight meals.
1 – It can't have too many ingredients. If I look at the list and there are 30 ingredients, it's a no go for me. I understand if there are a lot of spices, but if the recipe adds exponentially to my grocery list, I'll probably skip it.
2 – Prep time has to be short. For me, since I work from home, I don't mind if it takes a while to simmer on the stove, but prep time has to not take very long. 30 minutes max.
3 – I have to be sure that at least 2 of my family members will eat it. This is actually a lot more complicated than it seems, only because I have the world's pickiest eaters. You would think that they would eat everything since I have been making them a wide variety of food since they started eating solids, but it's not the way it goes. So if I make at least 2 of them happy, I count that as a win.
This Creamy Tomato Tortellini with Chicken and Bacon falls into all 3 of those requirements. Total win!! Few ingredients – check! 30 minute or less prep time – check! (It's actually only 30 minutes start to table!) At least 2 people in my family approve – check, check, check! This was actually when I knew I had a winner, because all three of my kids – plus my husband! – ate this. Without me having to bribe them or force them. Winner, winner!
This recipe takes some help by using frozen tortellini (which I often have in my freezer anyway) plus cooked, shredded chicken. I always have the shredded chicken in the freezer as well, but you can definitely pick up a rotisserie chicken from the grocery store.
My other secret ingredient are the Hunts Diced tomatoes. I don't have a ton of canned foods in my pantry, but I always have canned tomatoes. And Hunt's are simply the best. I love that the tomatoes are picked at the peak of ripeness. In fact, I personally think they often taste better than fresh tomatoes you buy in the grocery store. But the biggest selling factor for me is that instead of using chemicals, like lye*, Hunt's uses a process called FlashSteam™ to peel their tomatoes. This process uses steam from hot water, which means no chemical by-products are being put back into the earth. Sign me up!
To make this Creamy Tomato Tortellini with Chicken and Bacon even easier, you could even leave out the chicken, but I like the added protein. And my kids will actually eat shredded chicken, so I like to get it in there whenever I can.
This is yet another delicious weeknight meal that gets the two thumbs up!
Check out all of the products on hunts.com and follow Hunt's tomatoes on Facebook, Pinterest and Twitter for even more great recipe ideas!
*Lye peeling is generally recognized as safe by the FDA and has not adverse effects on the healthfulness of tomatoes.
Like what you see here? Make sure you are following Taste and Tell for more recipes and ideas!
Facebook | Pinterest | Instagram | Twitter | Google+ | Weekly Newsletter | Feedly | Bloglovin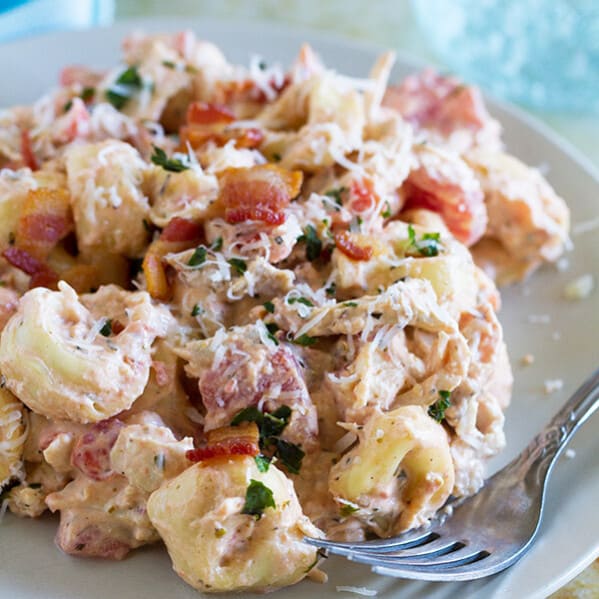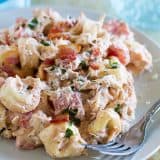 Creamy Tomato Tortellini with Chicken and Bacon
---
Author:
Prep Time: 10 mins
Cook Time: 20 mins
Total Time: 30 mins
Yield: 4 servings 1x
Description
This Creamy Tomato Tortellini with Chicken and Bacon is super simple and makes a perfect weeknight dinner. Frozen tortellini and rotisserie chicken make it a super fast meal, too!
---
Scale
Ingredients
4 slices bacon, chopped
3 cloves garlic, minced
1/2 cup chicken stock
2 (14.5 oz each) cans Hunt's Diced Tomatoes, drained
1 tablespoon Italian seasoning, crushed
8 oz cream cheese, softened, cut into cubes
2 cups cooked, shredded chicken (I used rotisserie chicken)
1 (19 oz) package frozen cheese tortellini
parmesan cheese, for serving
---
Instructions
Place the bacon in a large skillet over medium high heat and cook until the bacon is cooked and crisp. Remove with a slotted spoon. Discard all but about 1 tablespoon of the bacon grease, and return the pan to the heat. Add the garlic and cook until fragrant, about 30 seconds, then stir in the chicken stock and the diced tomatoes. Season with the Italian seasoning. Cook until heated through, then reduce the heat to medium-low. Add the cream cheese. Continue to cook, stirring often, until the cream cheese is melted and the mixture has slightly thickened, about 10 minutes.
While the sauce is cooking, cook the tortellini according to the package directions.
When the sauce is thickened, add the cooked tortellini, the chicken, and the bacon. Stir to combine. Serve topped with parmesan cheese, if desired.
Don't miss a thing! Follow me on Pinterest to see what I'm pinning!
Visit Taste and Tell's profile on Pinterest.



This is a sponsored conversation written by me on behalf of Hunt's. The opinions and text are all mine.