A roasted red pepper pesto is the star in this easy vegetarian pasta dinner. This Roasted Red Pepper Pesto Linguine is easy enough for a weeknight, but fancy enough for a special dinner.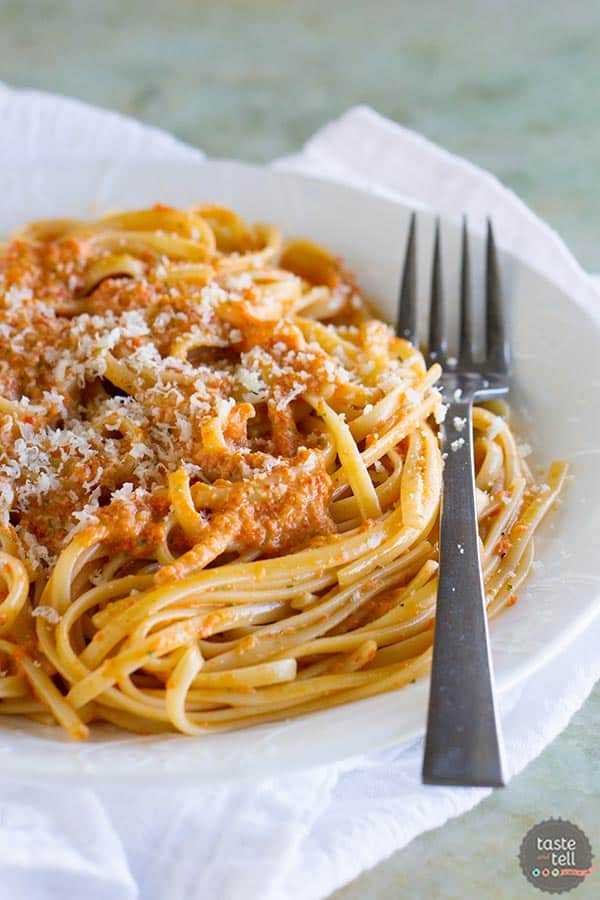 There are a lot of different kinds of cookbooks that I love. One of those types are the cookbooks that come from well known or favorite restaurants. But unfortunately, many times, the recipes used in restaurant kitchens don't convert over to cookbook recipes. While I love this type of cookbook, more often than not, the recipes just don't stack up to my expectations. I think it's mostly because chefs in these kitchens don't always go by measurements (and even if they do, they are making food in a much larger scale). And chefs learn to make these recipes by sight, by smell, by feel. Sometimes it's hard to scale the recipes down and give the instructions.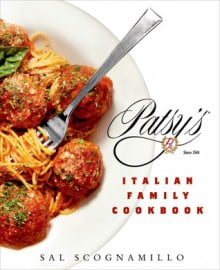 Luckily, this is one of those cookbooks that don't stack up! Patsy's Italian Family Kitchen comes from the famous New York City Restaurant, Patsy's Italian Restaurant. A restaurant that has been around for more than 70 years, and is a true family restaurant, where third generation executive chef Sal J. Scognamillo runs the kitchen.
Patsy's is one of those restaurants that is well known – so well known that many celebrities are known for being regulars. Everyone from George Clooney, Michael Buble, Martha Stewart and Sean "Diddy" Combs. Even the forward is written by long time customer Ben Stiller.
Patsy's Italian Family Kitchen is full of recipes based on the recipes that were brought with the family from Naples. They are true family recipes, that have been made in the family for generations. The book features over 100 recipes and lots of full color photos. As well as commentary from some of the restaurants most well known customers.
Here are the details:
Number of Photos: Many. There are lots of full color photos, although not a photo of every recipe. There are also photos of family members and celebrities throughout the book, which is fun to see.
Difficulty Level of Recipes: Medium. I think for the most part, the recipes are pretty easy to follow, but they aren't super basic just throw everything into a pot type recipes. But I do think that anyone should be able to make them if they can follow a recipe.
Availability of Ingredients: Easy. I didn't see any ingredients that are out of the ordinary in this book.
Other recipes I want to make:
Eggplant Bruschetta
Three Bean Soup
Steak Oreganata
Chicken Pizzaiola
Pan-Seared Halibut with Mustard-Caper Sauce
Rigatoni Quattro Formaggi with Sausage
Zeppole
Struffoli
Chocolate and Hazelnut Gelato
Buy Patsy's Italian Family Cookbook on Amazon.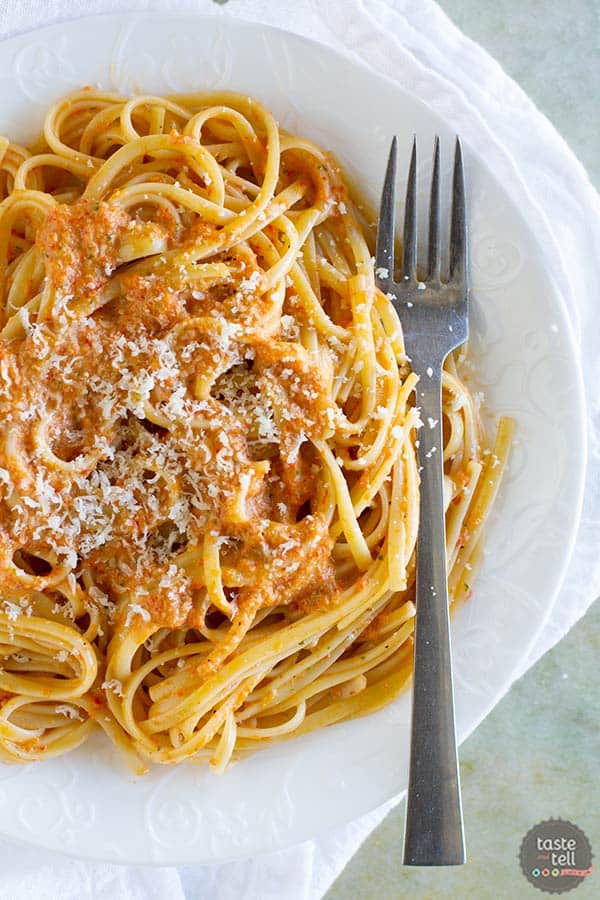 I definitely chose one of the easier recipes in the book to make, but it was such a great choice. The minute I saw the recipe for this Roasted Red Pepper Pesto Linguine, I knew I wanted to try it. Technically, you could make this with jarred red peppers, and cheapo Parmesan cheese, but when you are making something with so few ingredients, it really is best to pull out the best. (PS – I buy my Parmigiano-Reggiano at Costco and it's a pretty decent price thee!)
Really, the only thing to be said about this pasta recipe is that my family loved it. Abbi had 3 servings, and Camden and Easton almost cleared their plates (which is pretty much a miracle.) We usually have leftovers with recipes that make 4 servings, but we ate almost every last bit of this pasta. So that pretty much explains how much we liked it. 😉
This is a fun book with some great Italian influences. I know I can't wait to dig in a little further!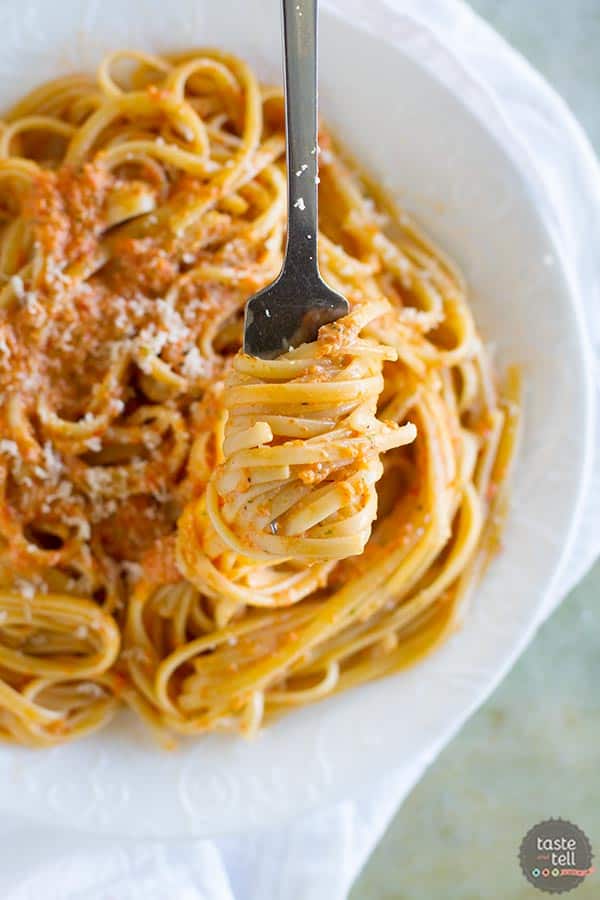 Like what you see here? Make sure you are following Taste and Tell for more great recipes and ideas!!

Facebook ** Pinterest ** Twitter ** Instagram ** Google+
or you can subscribe to my newsletter or Feedly or Bloglovin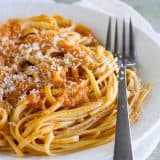 Roasted Red Pepper Pesto Linguine
---
Prep Time: 20 mins
Cook Time: 30 mins
Total Time: 50 mins
Yield: 6 servings 1x
Description
A roasted red pepper pesto is the star in this easy vegetarian pasta dinner. This Roasted Red Pepper Pesto Linguine is easy enough for a weeknight, but fancy enough for a special dinner.
---
Scale
Ingredients
2 large red bell peppers
1/3 cup extra virgin olive oil
1/3 cup freshly grated Parmigiano-Reggiano cheese
1/4 cup packed fresh basil
1/4 cup half and half
2 cloves garlic, minced or grated
salt and freshly ground pepper
1 lb linguine
extra freshly grated Parmigiano-Reggiano cheese, for serving
---
Instructions
Place an oven rack about 6 inches below the broiler and preheat the broiler. Place the peppers on a broiler pan or baking sheet and broil, turning occasionally, until the skin is blackened and blistered, 12-15 minutes. Remove the peppers from the oven and place in bowl. Cover the bowl with plastic wrap, and let the peppers sit until cool, 10 to 15 minutes. Use a small knife or your hands to remove the skin, then remove the seeds and stem from the pepper.
Place the peppers in a food processor along with the olive oil, Parmigiano-Reggiano, basil, half and half and garlic. Process until smooth. Taste and season with salt and pepper to taste. At this point, you can cover the pesto and let it sit at room temperature for up to 2 hours.
Bring a large pot of water to a boil. Add the linguine and cook until al dente. Reserve a mug full of the starchy cooking water before draining the pasta. Once drained, return the pasta to the pan. Add about 3/4 of the pesto and as much of the cooking water as needed to make a creamy sauce.
Transfer the pasta to a serving plate and top with the remaining pesto. Serve with additional Parmigiano-Reggiano.
Follow Taste and Tell's board Cookbook Reviews on Pinterest.


**The publisher sent me a copy of this cookbook for review purposes, but this is not a sponsored post and all opinions are 100% mine. This post contains affiliate links. If you purchase an item from Amazon from the link Taste and Tell receives a small commission. Thank you for supporting Taste and Tell through your purchases!**