Sometimes all you need is a nice bowl of soup to warm you from the inside out. This Easy Vegetable Soup with Pasta is perfect for an easy lunch or a sick day.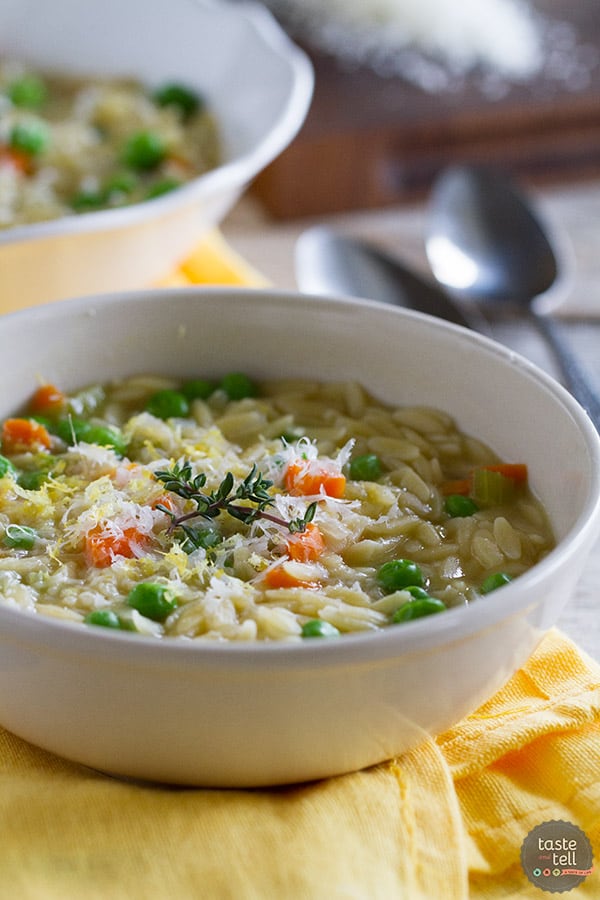 Yum

I am a sucker for those big stacks of cookbooks sitting on the shelf at Costco. They get me every time. I often have to completely steer clear of the book section, because otherwise, I know one or two will end up in my cart.
Today's cookbook review is a result of a shopping trip to Costco. I just couldn't resist.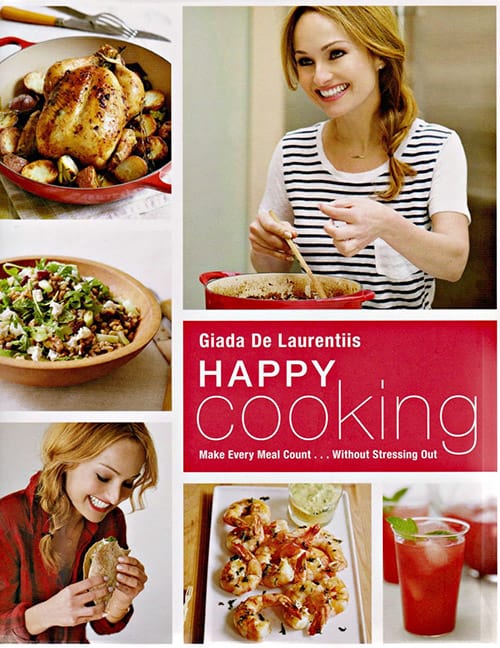 I am a fan of Giada De Laurentiis, and own a few of her other cookbooks, but this one – Happy Cooking – interested me because in it, she talks about how she likes to find balance with the way she eats. Eating healthy and clean most of the time, with occasional indulgences. I am not one to deny myself of a treat every now and again, so I love the premise of this book.
I can't say that I want to make every single recipe in the book, but I have definitely bookmarked a few recipes. I don't feel like it's a "diet" book, (which it's not), but there are some great, well-rounded recipes.
Here are the details:
Number of Photos: lots. Not every recipe has a photo, but most of them do. I do have to mention, though, that you will get a lot of photos of Giada throughout the book. If you have any of her other books, you will know what to expect. I don't think the lifestyle photos were overwhelming at all, though, and the food photos are definitely more prevalent.
Difficulty Level of Recipes: easy to medium. Overall, most of the recipes are quite simple, but there are a few throughout the book that may be a little bit more intimidating.
Availability of Ingredients: easy to medium. Again, most of the ingredients should be pretty easy to find, but there are a few that may be more difficult, like caviar or the star pasta from the original recipe that I am featuring today.
Other recipes I want to try:
Polenta Waffles with all the Fixings
Mediterranean Chile Chicken Wings
Hummus Salad
Slow Cooker Black Bean and Pork Stew
Seared Cod with Tangerine and Arugula
Cheese Souffle
Salt-Roasted Sweet Potatoes
Pumpkin Ginger Chocolate Muffins
I was going through the book for the first time, marking all the recipes I wanted to make, and for some reason, what is probably the most simple recipe in the book is the one that popped out for me. A simple vegetable soup. With pasta. You can't forget the pasta.
The original recipe is called Pastina Soup, using little tiny star pasta. Giada calls the final soup a cross between risotto and a thick stew. I think that is what got me – it sounded so comforting and a great way to stay warm. But when I went to the grocery store, the little star pasta was nowhere to be found. So the first time I made this soup, I used a ditalini, which while it was delicious, the final soup was not what I was imagining. The pasta did cook to al dente, but it didn't get creamy at all, which is what I was kind of hoping for/expecting. So I decided to try again. I knew I could search different grocery stores or order the star pasta online, but I wanted to make sure I was making something that is easily accessible for all of you, as well. When I thought about the fact that she said it was somewhat like a risotto, I thought to try orzo, since I have seen versions of fake-out risotto that have used orzo. And the orzo was a hit!!
The final "soup" was not really soup-like, as the pasta absorbed just about all of the liquid. I'm sure you could add more broth or water to make it feel more like soup, but I was happy with how it turned out. The pasta combined with the vegetables, the cheese, and the little touch of lemon zest on top made this one comforting bowl of food. I can totally see myself making this for lunch, or for if one of my kids are home sick. It may be simple, but sometimes a simple vegetable soup is just what I need!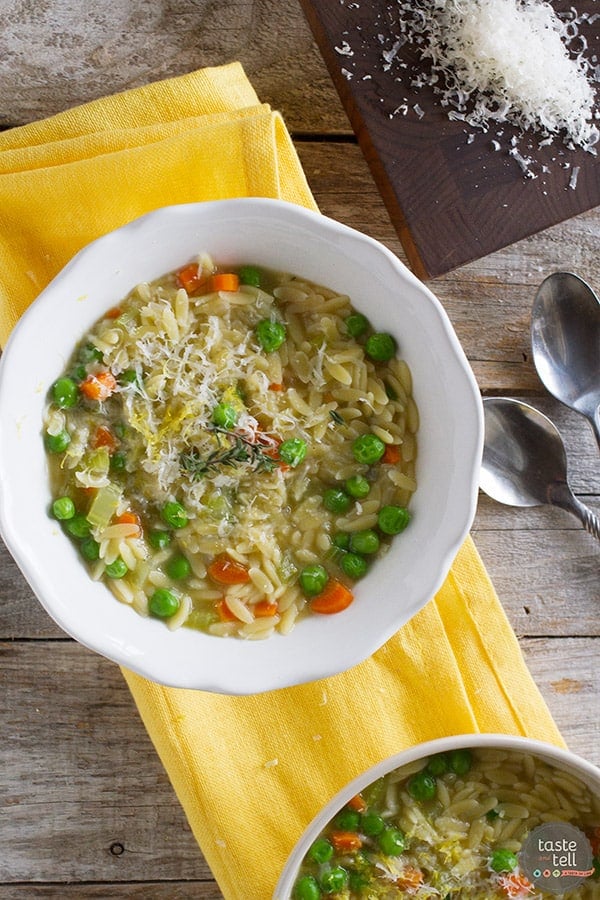 Like what you see here? Make sure you are following Taste and Tell for more recipes and ideas!
Facebook | Pinterest | Instagram | Twitter | Google+ | Weekly Newsletter | Feedly | Bloglovin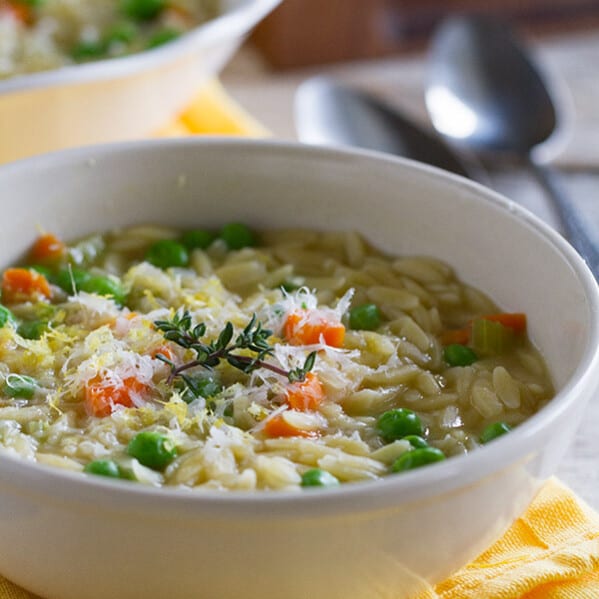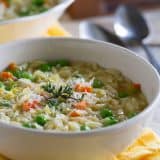 Easy Vegetable Soup with Pasta
---
Prep Time: 10 mins
Cook Time: 25 mins
Total Time: 35 mins
Yield: 4 servings 1x
Description
Sometimes all you need is a nice bowl of soup to warm you from the inside out. This Easy Vegetable Soup with Pasta is perfect for an easy lunch or a sick day.
---
Scale
Ingredients
1 tablespoon extra virgin olive oil
1 celery stalk, chopped
1 medium carrot, peeled and chopped
2 shallots, minced
3 fresh thyme sprigs
3/4 teaspoon kosher salt
1 piece Parmesan rind (about 2 inches)
4 cups low-sodium chicken broth
1 cup water
1 1/4 cups orzo pasta*
1 cup frozen peas
freshly grated Parmesan cheese, for serving
freshly grated lemon zest, for serving
---
Instructions
Place the olive oil in a medium saucepan over medium heat. Add the celery, carrot, and shallots and cook, stirring frequently, until softened, about 5 minutes.
Add the thyme, salt, pepper, Parmesan rind, chicken broth and water. Let the soup simmer for 10 minutes.
Add the pasta and stir to prevent it from sticking to the bottom of the pan. Bring to a simmer, and continue to cook for 8-10 minutes, until the pasta is cooked to al dente and the soup is slightly thickened.
Remove the thyme sprigs and the Parmesan rind from the soup. Stir the peas into the soup and cook for one more minute. Remove from the heat. Ladle the soup into bowls and top with Parmesan cheese and lemon zest.
Recipe Notes:
* The original recipe calls for a small star pasta, which I couldn't find at my grocery store. I substituted orzo, which is bigger than a normal pastina soup, but it worked out great and I can easily find orzo.
Very slightly adapted from Happy Cooking
Useful Products For this Recipe:
Don't miss a thing! Follow me on Pinterest to see what I'm pinning!
Visit Taste and Tell's profile on Pinterest.



**This post contains affiliate links. If you purchase an item from Amazon from the link Taste and Tell receives a small commission. Thank you for supporting Taste and Tell through your purchases!**