Pasta with Chickpeas, also known as Pasta e ceci, is a comforting Italian stew. This version is flavored with garlic and rosemary.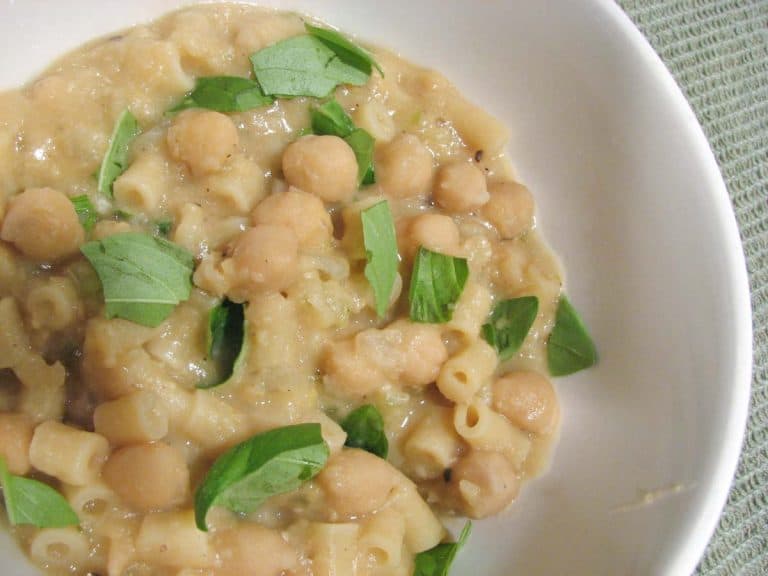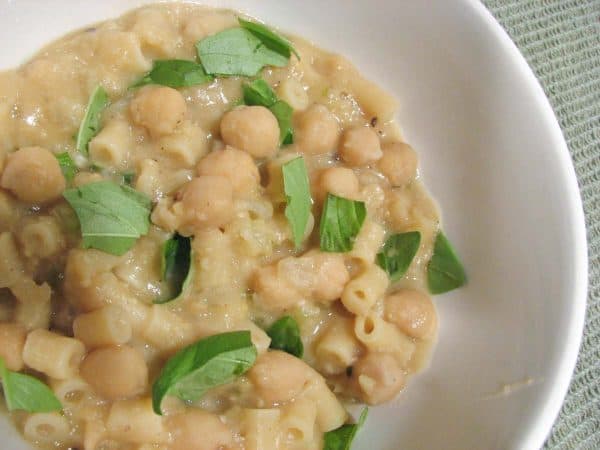 I have a new found love for Jamie Oliver. I said before that I have not been very familiar with him, except for a couple of episodes of his show that I have caught on BBC. So I basically bought this cookbook blindly. The first recipe was great, this second recipe was wonderful!! It amazes me that such simple ingredients can be combined to make such a wonderful meal!!
Jaime Oliver classifies this as a soup in the book, but it could easily be classified as a pasta dish as well. I could have added a bit of boiling water as suggested to thin it out, but I really liked the thick consistency. This recipe took a bit longer than the first recipe from this book, but it was well worth it!
The only thing I would change for next time would be to add more rosemary. I didn't add enough, and that flavor did not come through for me. And I would definitely recommend serving this with the fresh basil or parsley – I used basil and the flavor went really well.
This is a popular Italian recipe, and it changes form region to region. I love recipes like this that have been around for generations, where everyone has their own twist on it.
Before I get to the recipe, I have a question to ask – I am putting together my Christmas wish list, and will be including several cookbooks. What is your favorite cookbook? I especially want to know if you know of one that I don't have that I should have!!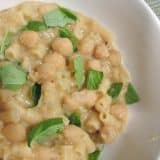 Pasta with Chickpeas
---
Author:
Prep Time: 15 mins
Cook Time: 45 mins
Total Time: 1 hour
Yield: 4 servings 1x
Category: Soup
Method: Stove Top
Cuisine: Italian
Description
Pasta with Chickpeas, also known as Pasta e ceci, is a comforting Italian stew. This version is flavored with garlic and rosemary.
---
Scale
Ingredients
1 small onion, peeled and finely chopped
1 stick of celery, trimmed and finely chopped
1 clove of garlic, peeled and finely chopped
Extra virgin olive oil
A sprig of fresh rosemary, leaves picked and finely chopped
2 14–oz. cans of chickpeas
2 1/4 cups of chicken stock
3 1/2 oz. ditalini or other small Italian "soup" pasta
Sea salt and freshly ground black pepper
Optional: a small handful of fresh basil or parsley, leaves picked and torn
---
Instructions
Put the finely chopped onion, celery, and garlic into a saucepan with a little extra virgin olive oil and the rosemary and cook as gently as possible, with the lid on, for about 15-20 minutes, until all the vegetables are soft, without any color.
Drain your chickpeas well and rinse them in cold water, then add them to the pan and cover with the stock. Cook gently for half an hour and then, using a slotted spoon, remove half the chickpeas and put them to one side in a bowl.
Puree the soup in the pan using a handheld immersion blender. If you don't have one, you can whiz it up in a food processor instead, then pour it back into the pan. Add the reserved whole chickpeas and the pasta, season the soup with salt and pepper, and simmer gently until the chickpeas are tender and the pasta is cooked.
At this point, if the soup is a little thick, pour in some boiling water from the kettle to thin it down, and add more salt and pepper if needed. Serve drizzled with good-quality extra virgin olive oil. Lovely sprinkled with some freshly torn basil or parsley.