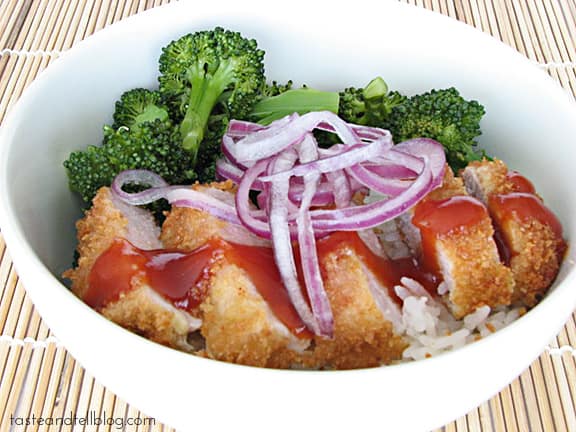 There are recipes that you make, and afterwards you think that you will make them again, but then they are forgotten, never to be made again. And then there are recipes that you make, and can't get out of your mind ever again. And all you want to do is make it over and over again. This is one of those recipes.
This Rachael Ray recipe was the surprise winner of the week for me. I knew it would be good, because what isn't good when you coat it in panko and fry it?? But the whole meal combination was just spot on, and all of the flavors went so well together. This one is going on my favorites list.
I was a little afraid of the pickled onions. I had never done anything like this, and I didn't know if I would like it. But it was a perfect accompaniment to this dish.
The recipe calls for 4 boneless pork chops, but I used a pork loin and cut it into 1/2 inch thick pieces. This worked perfectly – almost better in my opinion, because I prefer a pork loin to most of the boneless chops I can find here.
Definitely a delicious meal! And even though these recipes aren't actual "30-Minute Meals", this one was done in just about 30 minutes. I'll be having this one again!!
 

Sweet & Sour Pork Rice Bowl
Pork is coated with panko breadcrumbs and fried, then served over rice with a sweet and sour sauce and pickled red onions.
Ingredients
¼ cup plus 1 tablespoon mirin
½ cup thinly sliced red onion
2 large eggs
3 teaspoons soy sauce
½ cup flour
1¼ cups panko
Four ½ inch-thick slices boneless pork chops, or sliced pork loin
¾ cup vegetable oil
¼ cup ketchp
Cooked white rice, for serving
Steamed broccoli, for serving
Instructions
In a small bowl, pour ¼ cup mirin over the onion and let marinate. In a shallow bowl, lightly beat the eggs with 1 teaspoon soy sauce. Place the flour in another shallow bowl; place the panko in another separate bowl.
Coat the pork with the flour, shaking off any excess. Dip the pork slices in the egg mixture, letting the excess drip off, then coat with the panko.
In a large skillet, heat the oil over medium-high heat until rippling. Add the pork and fry, turning once, until golden and crisp, about 5 minutes on each side. Transfer to paper towels to drain.
In a small bowl, stir together the ketchup, remaining 1 tablespoon mirin and 2 teaspoons soy sauce. Add 1 teaspoon water to thin if desired.
Slice the pork. Divide the rice among 4 bowls and top with the pork, sauce and pickled onion. Serve with steamed broccoli.
-----------------------
from [Every Day with Rachael Ray March 2008|In a small bowl, pour ¼ cup mirin over the onion and let marinate. In a shallow bowl, lightly beat the eggs with 1 teaspoon soy sauce. Place the flour in another shallow bowl; place the panko in another separate bowl.
Coat the pork with the flour, shaking off any excess. Dip the pork slices in the egg mixture, letting the excess drip off, then coat with the panko.
In a large skillet, heat the oil over medium-high heat until rippling. Add the pork and fry, turning once, until golden and crisp, about 5 minutes on each side. Transfer to paper towels to drain.
In a small bowl, stir together the ketchup, remaining 1 tablespoon mirin and 2 teaspoons soy sauce. Add 1 teaspoon water to thin if desired.
Slice the pork. Divide the rice among 4 bowls and top with the pork, sauce and pickled onion. Serve with steamed broccoli.]