Pork and vegetables are combined with linguine and eggs in this easy Egg and Pork Lo Mein. Dinner is served for under 500 calories!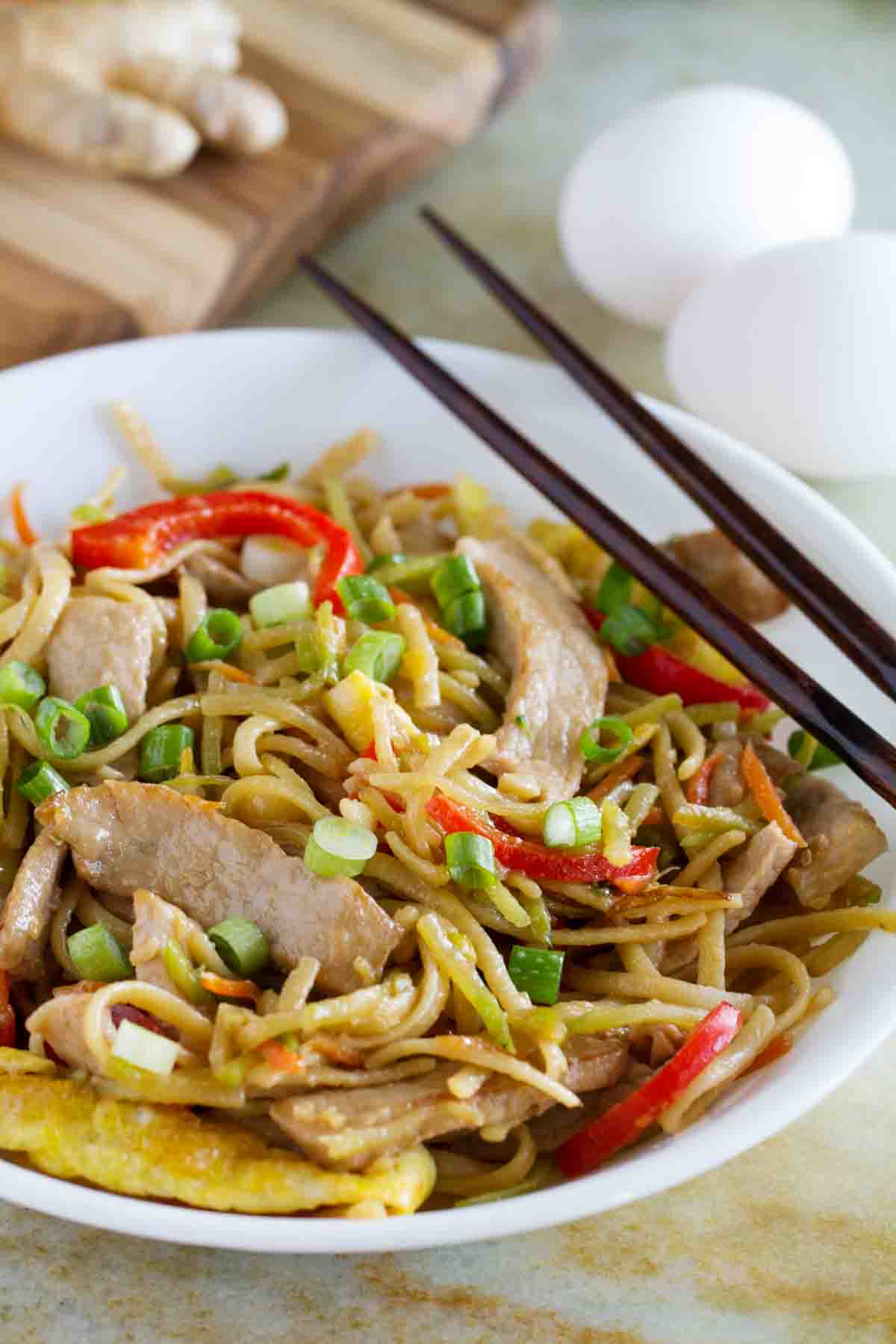 Well, I couldn't stay away from the cookbook reviews, could I? Here it is, not even halfway through January, and I'm already doing another. I'm telling you – I just have a thing for cookbooks. 🙂 And while there won't be nearly as many as there were last year, they will still come.
And today's book – The Best and Lightest – is perfect for this time of year, so of course I had to share it with you! I am starting to become obsessed with the Food Network cookbooks. When I saw this cookbook, I knew I had to have a copy. I have been trying to add more "healthy" cookbooks to my collection. But when I say healthy, I mean that I'm on the lookout for books that have recipes that are made with real, wholesome foods. And happily, this one fits the bill!
Each of the recipes in the book are less than 500 calories per serving, and all have the nutritional information listed. If you subscribe to Food Network Magazine, I'm guessing that you'll have seen the recipes, but I love having them all together in cookbook form. (This is the same reason I love to buy the end of year compilation cookbooks from different food magazines, as well.) There are breakfast, lunch and dinner recipes, as well as a small dessert chapter as well.
Here are the details:
Number of Photos: Lots. Every recipe has a full page photo. They are large and bright in Food Network fashion.
Difficulty Level of Recipes: Easy. I have always thought that Food Network recipes are geared towards the beginning cook, and I think this book follows suit. I wouldn't say they are completely basic, but they should be easy enough if you are following the recipe.
Availability of Ingredients: Easy. All of the ingredients should be easily found, or easily substituted.
Other Recipes I Want to Try:
Slow-Cooker Sweet Potato-Lentil Soup
Indian Chicken Wraps
Tangy Meatball Burgers
Spicy Chicken Enchiladas
Chile-Rubbed Steak with Creamed Corn
Roasted Pork with Cajun Slaw
Tilapia Masala with Rice
Polenta with Fontina and Eggs
Banana-Almond Pudding
Buy The Best and Lightest on Amazon.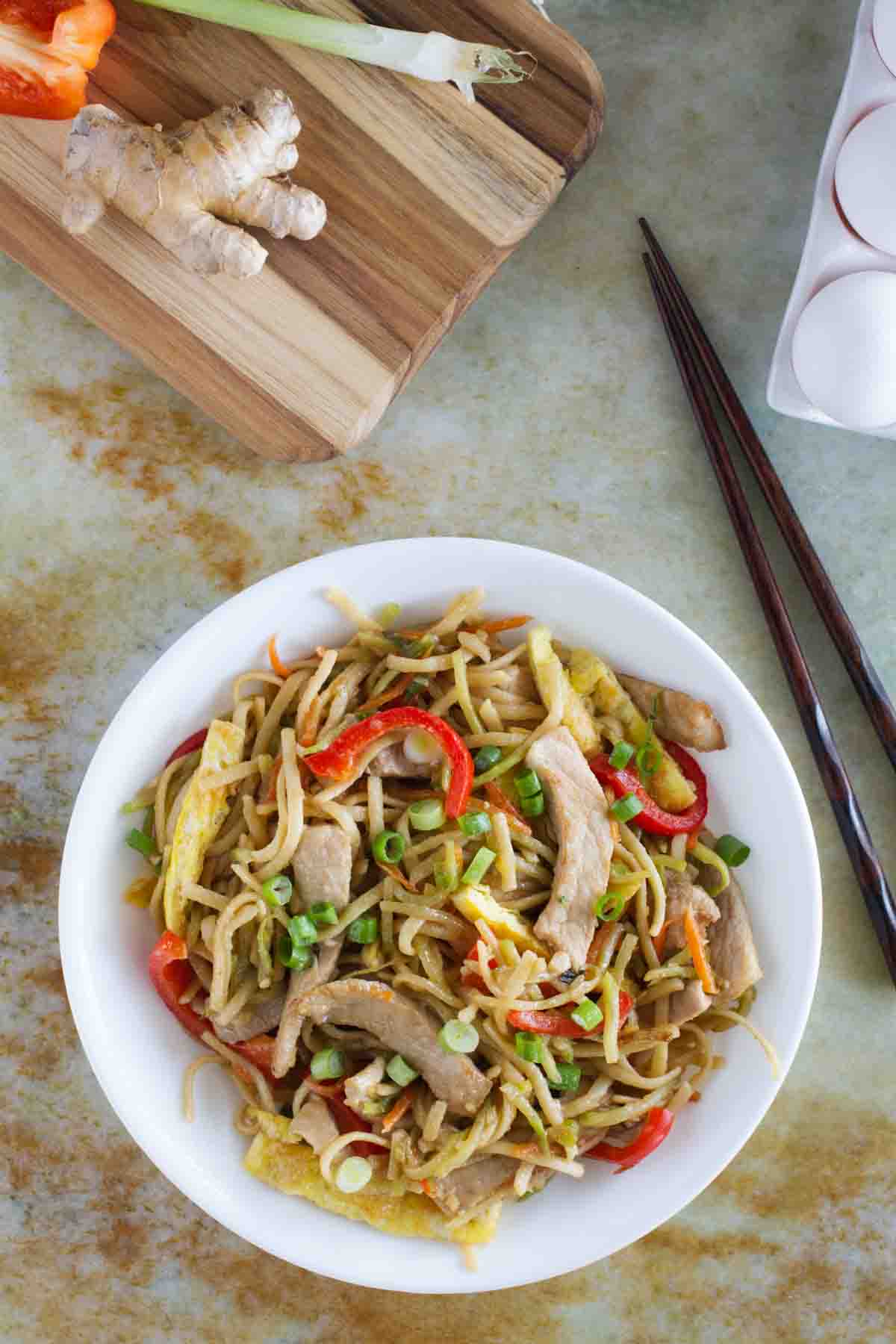 Honestly, I don't know what drew me towards this recipe. I think that it just looked good, so I went with it!! It was between this Egg and Pork Lo Mein and the Polenta with Fontina and Eggs, so I think I was just in the mood for something with eggs that day! But regardless of why I decided to make it, I'm glad that I did!
There is a lot going on in this pork lo mein recipe, so my biggest word of advice is to prep everything before you actually start cooking. If you have everything together, it cooks quite quickly, and it's a piece of cake. I do have to admit that I definitely overcooked my egg (and my noodles for that matter) but everything was so delicious that no one even noticed. This really makes enough to feed a crowd. The recipe says that it serves 4, but the servings really were quite large. Which I didn't expect for a "light" cookbook. I'm pretty sure that I didn't even eat 1/4 of the recipe, and I was definitely full. And you can eat a full quarter of this for under 500 calories!
I can't wait to explore even more of this book. I know that Polenta with Fontina and Eggs will be next! 😉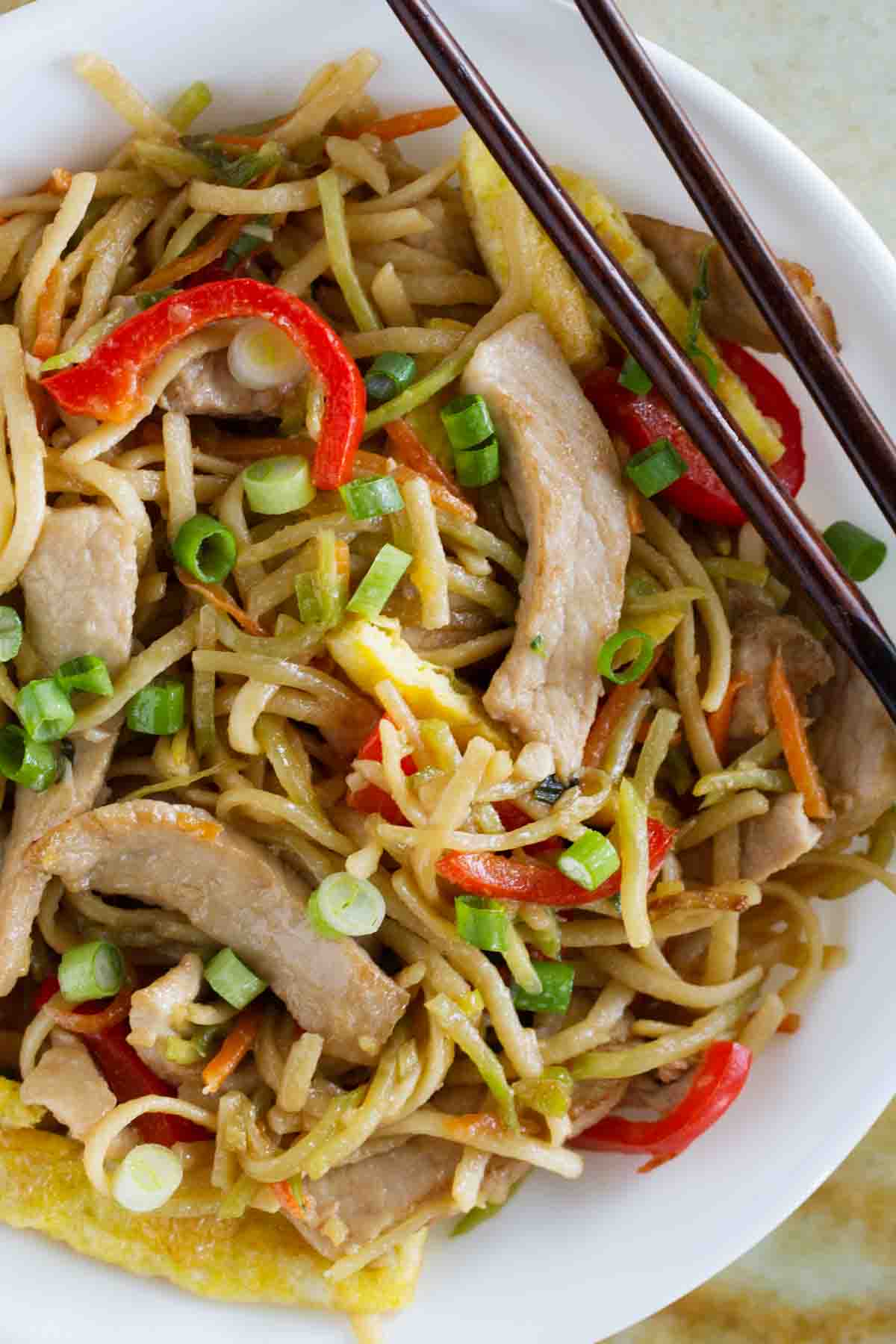 More Asian Inspired Recipes:
Chicken Lettuce Wraps
Mongolian Beef
Beef and Broccoli
Kung Pao Chicken
Egg Roll Recipe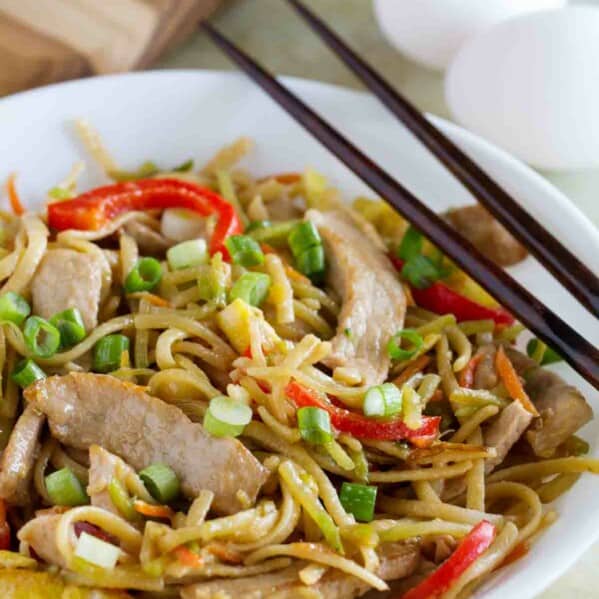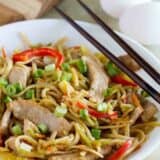 Egg and Pork Lo Mein
---
Author:
Prep Time: 10 minutes
Cook Time: 25 minutes
Total Time: 35 minutes
Yield: 4-6 servings 1x
Category: Main Dish
Method: Stove Top
Cuisine: Asian
Description
Pork and vegetables are combined with linguine and eggs in this easy Egg and Pork Lo Mein. Dinner is served for under 500 calories!
---
Scale
Ingredients
6 oz linguine (can also use dried lo mein noodles or spaghetti)
3 tablespoons soy sauce
2 tablespoons oyster sauce
1 lb boneless pork chops, about 1-inch thick, thinly sliced
2 1/2 tablespoons vegetable oil
2 eggs, lightly beaten
4–5 green onions, thinly sliced
1 tablespoons finely chopped, peeled ginger
2 cloves garlic, minced
3 1/2 cups broccoli slaw mix
1 red bell pepper, thinly sliced
---
Instructions
Bring a large pot of salted water to a boil and add the noodles. Cook until al dente. Reserve 3 tablespoon of the pasta water, then drain and rinse the noodles in cold water.
Meanwhile, in a small bowl, combine the soy sauce and the oyster sauce. Place the pork in another bowl. Stir one tablespoon of the soy sauce mixture into the pork.
Heat 1/2 tablespoon of the oil in a large skillet over medium-high heat. Add the eggs and cook, without stirring, until set, about 1 minute. Flip and cook for an additional 30 seconds. Transfer the eggs to a cutting board and cut into thin strips.
Heat the remaining 2 tablespoons of vegetable oil in the skillet. Add the pork and cook until golden, but not cooked through, about 2 minutes. Remove the pork from the pan to a plate, keeping the juices and oil in the pan. Add the green onions, ginger and garlic and stir-fry for 30 seconds. Add the broccoli slaw and bell pepper and stir fry 4 more minutes.
Return the pork to the skillet, then add the noodles, the reserved cooking water and the remaining soy sauce mixture. Continue to cook, stirring, until the pork is cooked through, about 2 minutes. Stir in the egg then serve.