A great make ahead meal, this Roasted Pork Tenderloin with Potatoes and Mustard Sauce can be prepped the day before, and all you have to do is roast on the day of!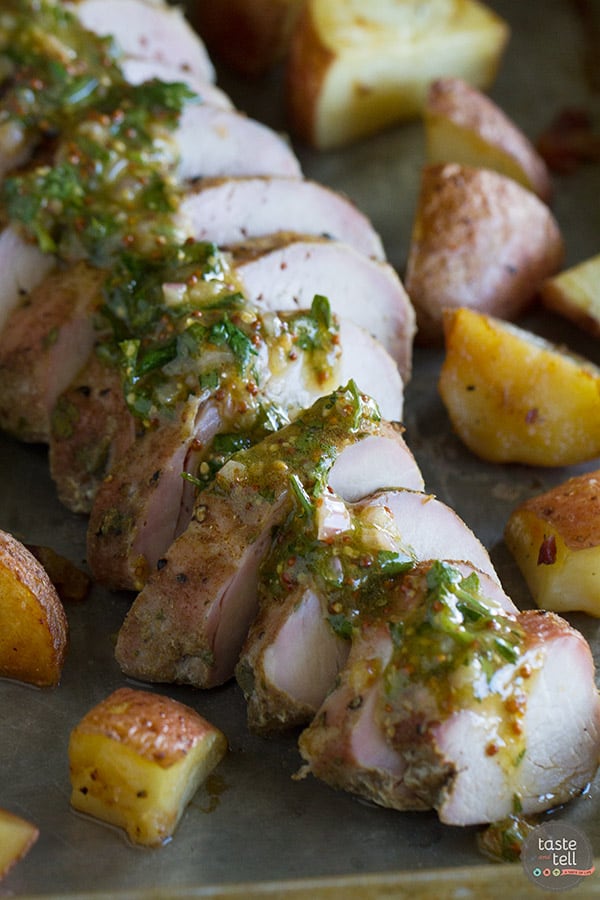 A few years ago, I was at my sister's house to watch her kids while she was out of town. She was part of a freezer meal group – a group of ladies that would exchange freezer meals once a month so that their freezers were always stocked with dinners. The plan for dinner that night was to bake up one of those freezer meals. I thawed it, put it in the oven, and then we all sat down for dinner. And it was bad. Really bad. We ended up eating cereal for dinner that night.
Ever since that night, I have been wary of make ahead meals, especially freezer meals. But I knew there needed to be a solution to make dinner a little easier.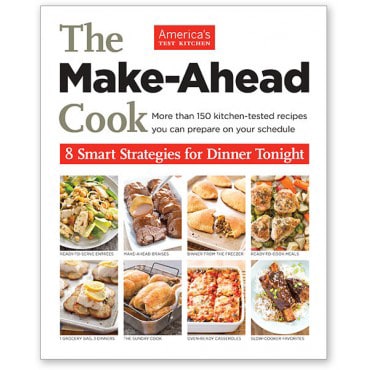 Enter The Make-Ahead Cook from America's Test Kitchen. I have been stocking my cookbook library with America's Test Kitchen Cookbooks lately, simply because I think their books are so full of useful information and solid recipes. So I knew that if anyone could make make-ahead meals that actually taste good, America's Test Kitchen would be the ones.
The first thing that I love about this book is that it isn't just filled with freezer meals. There are recipes for meals that can be made ahead of time and baked when you are ready. Slow cooker recipes. Recipes where you do most of the prep ahead of time, making dinnertime a breeze. There is even a chapter with 3 recipes that can be made from one grocery bag. And what may be my favorite – the chapter filled with a recipes where the leftovers are turned into creative second meals. And in true America's Test Kitchen fashion, there is a lot of information on why certain things don't work while others do. There is so much information in this book!! And so many great recipes. I've actually had this book for a few months now, and have made several recipes.
Here are the details:
Number of Photos: lots. There isn't a photo of every finished dish, but most of them do have one. Plus, there are a lot of "extra" photos in the book – some step by step photos, some kitchen tips. The photos in this book are more helpful than just showing the final dish.
Difficulty Level of Recipes: easy to medium. These are all typical America's Test Kitchen recipes, so if you have made some of their recipes, you will know what to expect. Some of the recipes do take more prep than others, but I really believe it's all worth it.
Availability of Ingredients: easy. From what I can tell, the ingredients are all pretty typical ingredients.
Other recipes I want to try:
All American Meatloaf
Crispy Pan-Fried Pork Chops
Baked Cod with Cherry Tomatoes and Chickpeas
White Bean and Kale Stew
Chicken Pot Pie with Crumble Topping
Baked Ziti with Italian Sausage
24-Hour Chopped Salad
Sesame Noodles with Chicken
Slow-Cooker Atlanta Brisket
Slow-Cooker Garden Minestrone
Beef Tamale Pie
Buy The Make-Ahead Cook on Amazon.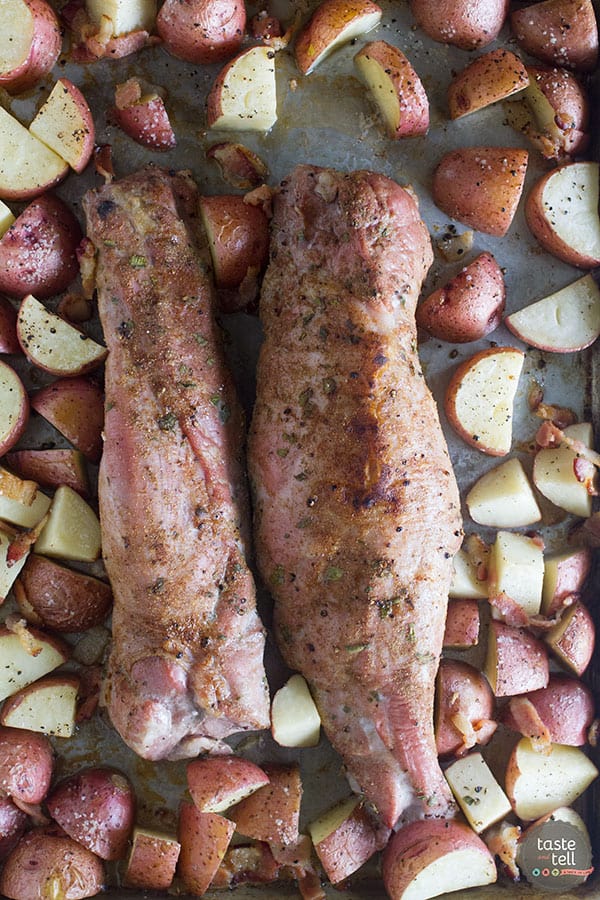 Want to hear a funny story about this Roasted Pork Tenderloin with Potatoes and Mustard Sauce? It is a prep ahead meal, so I did all the prep one day, then cooked it the second day. I took the pictures, then we ate it for dinner. We only ate one tenderloin, so I packed up the leftovers to eat another time. And when I went to put them in the refrigerator, I noticed the mustard sauce sitting there. We totally ate the whole meal without the sauce. (Which I guess goes to show that this recipe is even stellar without the sauce!) Luckily I had the leftovers, so I heated it all up the next day, took the photos with the sauce, then ate it for lunch and was pretty much blown away.
Really. I'm a fan of a good roasted pork tenderloin anyway, but I love the ease of this recipe. The prep isn't terrible, but the next day when all you have to do is cook the dinner, you'll be so happy that you prepped everything the night before. Especially if you have a needy 4 year old that seems to not want you to do anything when the time to prep dinner rolls around. The original recipe calls for a pork loin roast, but I had a package of tenderloins on hand, and this recipe transferred over beautifully.
I really did love everything about this Roasted Pork Tenderloin with Potatoes and Mustard Sauce. I love the idea of having all the prep done ahead of time, and still having a delicious, hot dinner. I can't wait to make even more from this book!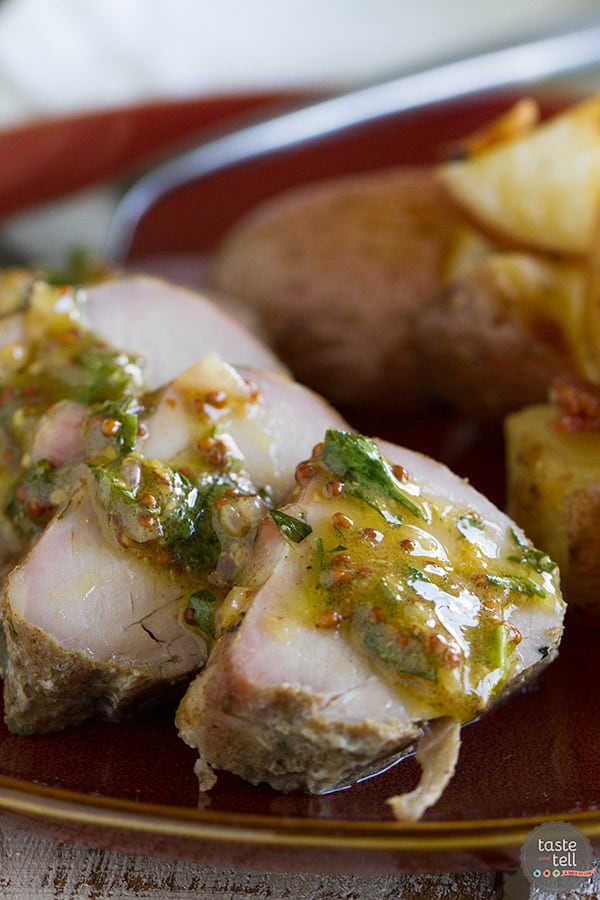 Like what you see here? Make sure you are following Taste and Tell for more recipes and ideas!
Facebook | Pinterest | Instagram | Twitter | Google+ | Weekly Newsletter | Feedly | Bloglovin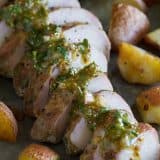 Roasted Pork Tenderloin with Potatoes and Mustard Sauce
---
Author:
Prep Time: 15 mins
Cook Time: 60 mins
Total Time: 1 hour 15 mins
Yield: 6-8 servings 1x
Description
A great make ahead meal, this Roasted Pork Tenderloin with Potatoes and Mustard Sauce can be prepped the day before, and all you have to do is roast on the day of!
---
Scale
Ingredients
1 1/2 teaspoons granulated garlic
1 1/2 teaspoons dried oregano
1 1/2 teaspoons ground coriander
1 1/2 teaspoons ground cumin
salt and pepper
2 pork tenderloins (2 1/2 – 3 lbs total)
2 1/2 lbs small red potatoes, unpeeled, cut into 1-inch pieces
4 slices bacon, cut into 1/2-inch pieces
6 tablespoons extra virgin olive oil
1/4 cup minced fresh parsley
1 shallot, minced
2 tablespoons whole-grain mustard
1 1/2 tablespoons white wine vinegar
pinch of sugar
1 tablespoon extra virgin olive oil, for finishing
---
Instructions
In a small bowl, combine the garlic, oregano, coriander and cumin. Add 1/2 teaspoon salt and 1/2 teaspoon pepper. Rub the spice mix all over the pork and wrap tightly with plastic wrap.
Place the potatoes, bacon and 2 tablespoons of the oil in a large ziplock bag and toss to coat. Press out as much air as possible.
In a small bowl, combine the remaining 1/4 cup oil, parsley, shallot, mustard, vinegar and sugar. Cover.
Store the pork, potatoes and dressing in the refrigerator for at least 1 hour and up to 24 hours.
When ready to cook and serve, remove the dressing from the refrigerator and allow it to come to room temperature.
Adjust the oven rack to the upper-middle of the oven and heat the oven to 325ºF. Line a baking sheet with foil and spray with nonstick cooking spray. Place the potatoes on the baking sheet in a single layer. Season with salt and pepper. Roast the potatoes for 30 minutes.
Remove the baking sheet from the oven, and with a spoon or spatula, push the potatoes to the sides of the baking sheet. Pat the pork dry and place in the center of the baking sheet. Return to the oven and roast until the pork registers 130ºF on a thermometer, 15-20 minutes.
Remove the pork and the potatoes from the oven and adjust the rack 6 inches from the broiler. Switch the oven to broil and return the baking sheet. Broil the pork and potatoes until the pork is spotty brown and registers 140ºF, 3-5 minutes.
Transfer the pork to a cutting board and tent loosely with foil. Let the pork sit for 10-15 minutes. Return the potatoes to the oven and continue to broil for an additional 5-10 minutes, until lightly browned.
Slice the pork into 1/2-inch slices. Serve the dressing with the pork and potatoes.
Don't miss a thing! Follow me on Pinterest to see what I'm pinning!
Visit Taste and Tell's profile on Pinterest.



**This post contains affiliate links. If you purchase an item from Amazon from the link Taste and Tell receives a small commission. Thank you for supporting Taste and Tell through your purchases!**